REPUX Significant Role in Developing Data Sharing Business in the Future
The Use of REPUX
Repux is developed to helps data collectors, application developers, and data users to share their data. The data will be shared with a revolutionary system which is not exists yet in the current marketplace.
The platform works as a protocol and by using this protocol all of valuable data can be monetized or exchanged to the corporate, individual users, collectors, developers, and users. The platform is using multiple decentralized technologies so it can be updated regularly based on what the users needs. Those technologies are including File System, SIA, Ethereum, and EOS
The idea is how to share valuable data easier for the beneficial of all members who are connected on the networks.
The Role of Artificial Intelligence
REPUX is supported with the latest technology including artificial intelligence and machine learning. By using Artificial Intelligence or AI, the platform will be developed faster. In fact, AI becomes one of promising technology in the market.
The most benefit is because Artificial Intelligence supports various types of economy aspects. When AI is installed there is a significant improvement on the machine learning ability. To make it perfect, the platform will also be supported by decentralized access to the valuable data. As the result, all members who are related to the REPUX's networks can share valuable data through application.
The different between the previous model and this model is on the ability to select valuable data only so the result will be better than before. Definitely, this platform is trying to make machine works maximally. When the platform is installed machine and computer system is able to do direct learning by only analyze the data given.
How REPUX Solve Common Issues
The challenge of introducing this revolutionary platform is about trust and transparency. The users need to know that they can believe the platform. They also need to make sure that everything will be done transparently for the advantages of all members.
REPUX is using the latest technology so those issues can be reduced. One way is by building blockchain compatible with the valuable data involved on the platform. The blockchain works by creating list of record continuously and will be secured by specific system known as cryptograph. As the result, all the data and transactions will be recorded automatically. At the same time, the users are able to check the record completely and it will be shown transparently.
As the result, common frauds and issues are solved brilliantly and all members get benefits from data sharing activity. Interestingly, the transaction can be used peer to peer and only trusted people who can join this platform. Definitely, REPUX is really a valuable platform for data sharing business in the future.
So many social networks and search engines earn on your personal data, but it can be stopped thanks to blockchain technology and project Repux.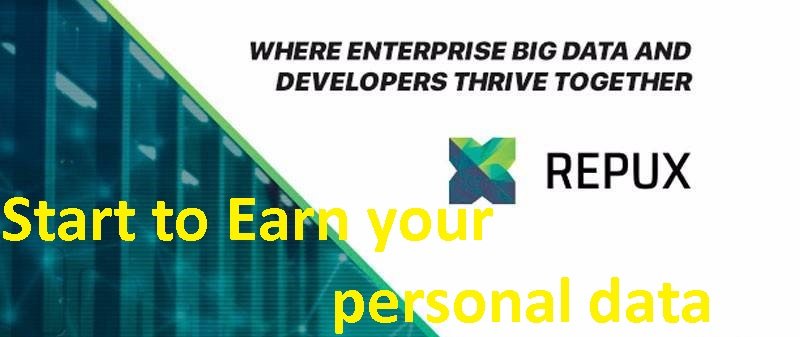 Repux platform will be a unified user database, and to combine several well-known decentralized technologies such as Ethereum, Sia and Eos. All this combined will give greater speed of transmission and data exchange between participants of the platform, ordinary users, businesses, online services.
That is, for your information, you will receive the reward token and provide it only to those who you want. Everything will be separated and sorted with the help of an artificial intelligence. This eliminates many of the intermediaries in the payment transactions will be low fees. There will be a selection of the best manufacturers, having quality information about their products and services.
It is a global market information where you will be able to get the reward for it is just a dream for every person who wants to earn in life, and to put the full stop in how to steal a websites our data get billions of dollars. All will be easy and convenient on a mobile app, because we are almost every day never part with it, it becomes us not only a communication tool, but also a good purse. The more cryptocurrencies increasingly part of our lives and many do in this state.
On the Pre-sale will be sold 500 million tokens. You can also participate, but will need to get verified and to be qualified investor.
The blockchain technology helps to record large amounts of information into a single "book" and allows only you to access it unless you allow others to do so. Your information will now be used only with your knowledge and all will be at the same time safely, transparently and openly.
More information you can find on these links:
My BitcoinTalk Profile:https://bitcointalk.org/index.php?action=profile;u=1500062