Review and analysis of ICO Edenchain

Official site
Soon after the Bitcoin cryptocurrency was launched, it became obvious that it has a number of critical limitations, one of which is the scripting language built into the protocol. Almost every time a business required to add a different type of token, it required changes to the Bitcoin protocol, which required a huge effort to update existing coded rules, pre-defined settings, and so on.
In response to Bitcoin restrictions, the Ethereum system was introduced, and some (but not all) restrictions were identified. In particular, the script language Ethereum was unlimited and allowed to write any types of smart contracts and support an unlimited number of types of tokens. Some progress has been made in other parts of the protocol, for example, Ethereum offers a more advanced approach to proving the effectiveness of mechanisms, but there are still two important issues that need to be addressed: safety and productivity.The
EdenChain
project suggests ways to address these two issues, and to some extent this will be the next evolutionary step after Ethereum. In fact, EdenChain uses many elements of Ethereum (for example, scripting language, virtual machine, etc.), but in many moments you can find some differences. From a security standpoint, unlike Ethereum, the EdenChain project is an "allowed block chain". This means that before someone can send transactions to EdenChain it is necessary to pass the preliminary qualification process and its approval. An obvious advantage is transparency (that is, it's impossible to hack anything or interfere with the process, since everything is registered, and each step has a name tag and a timestamp).
The effectiveness of the EdenChain project is to use a method other than Bitcoin, which can process a large number of transactions in parallel. Another significant improvement in performance is the availability of the load balancer and the processing of transactions according to their types. In other words, the EdenChain project is an autonomous platform that is based on certain Ethereum principles, and also includes elements of centralization, improved security and improved performance.
For whom the platform can be interesting?
Target audience of the EdenChain platform will find its response among holders of not only Ethereum, but also other crypto-currencies. Also, the project technology will be of interest to companies and start-ups who want to produce their own coins of digital value to qualified investors (such as hedge funds, brokers or banks) that may be interested in issuing crypto currency. At the same time, the platform will receive a good income due to fees for processing transactions and fees from companies planning to launch ICO on EdenChain.
About the EdenChain project product:
The product is a software platform that will be located in the cloud Amazon (scheduled for Q1 2019), and protective functions will be performed by Intel SGX. Several interfaces will be created for other applications for integration purposes. Because this is a server platform, it will not be available in the AppStore or Google Market directly, while client applications that interact with the platform will be available. Intellectual contracts EdenChain are similar to Ethereum, because they use the same standard, EDN is the ERC20 token.
Advantages of the project in front of competitors:
Comparing EdenChain with competitors (Ethereum, Stellar, ICON), we can conclude that against their backdrop, it looks quite solid, with its inherent evolutionary potential due to an innovative solution to eliminate the narrow approach of network decentralization.
High degree of protection, with the presence of a generation system, encryption and decryption of keys;
Highly efficient capacities with all necessary resources;
Blochain will be optimized and will be customer-oriented, according to its needs;
Use to protect the consensus algorithm in SGX Intel
Conditions for successfully completed ICO:
Name of the token: EDN
Number of issued tokens: 1 000 000 000 EDN
Number of tokens for sale: 400,000,000 EDN
ICO successfully completed
The rate of the token at the time of the ICO: 1 EDN = 0.06 $
Road map: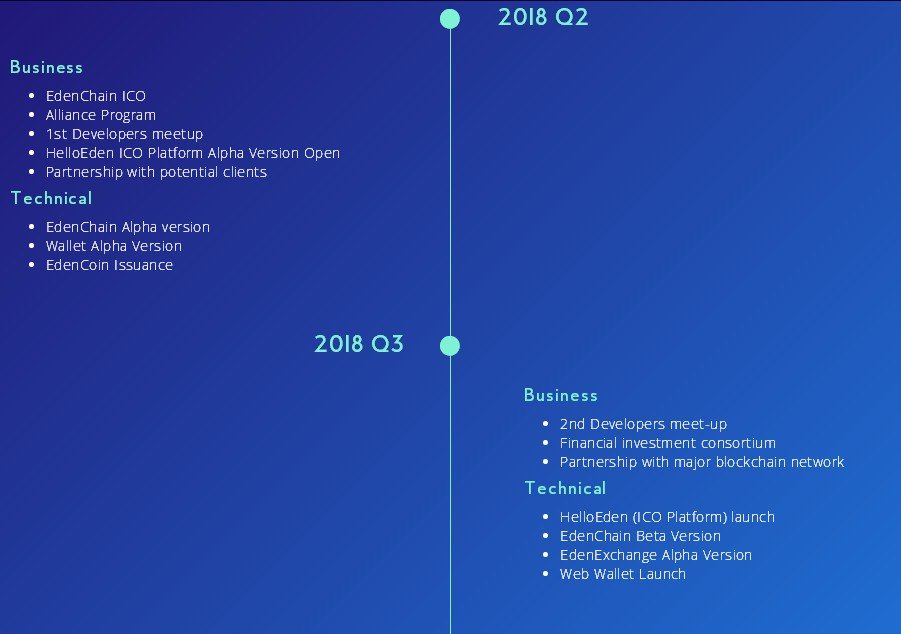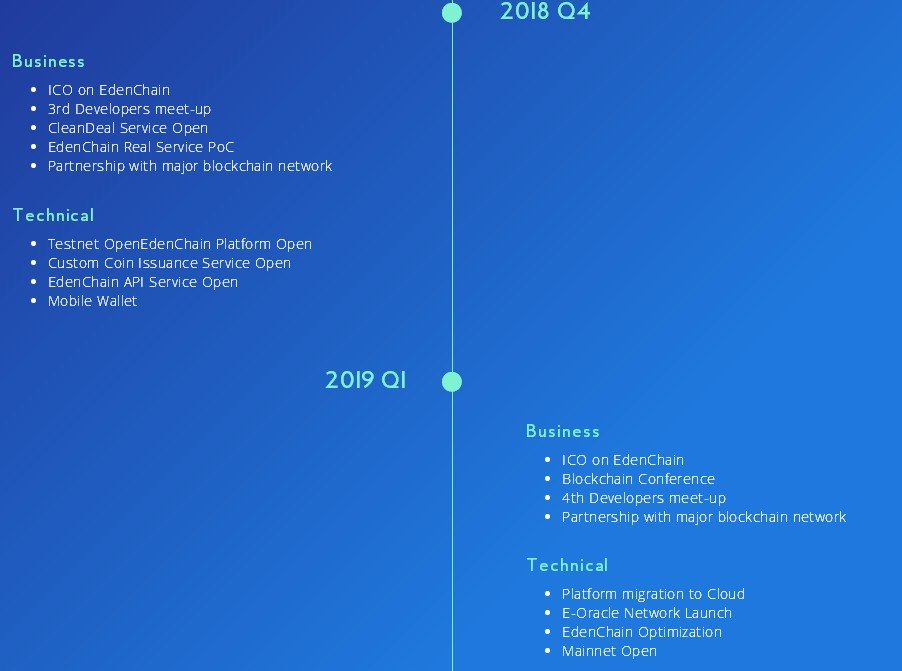 Team:
The main team and headquarters are in Seoul and include a fairly large number of experienced experts, advisors, not only in the crypto-currency, but also in the economic sphere, with the predominance of experience of the Korean and Asian industries. The team of the project Edenchain has many years of experience working with blockchain, cloud services and Big Data. More details with all its representatives can be found by clicking on this link.




Conclusion:
The South Korean platform for many Asian economies (with the exception of China), such as Malaysia or the Philippines, can be a good opportunity to improve economic opportunities. And if everything goes according to plan, then the time is not far off when European companies will also become interested in its services. I believe in these guys, in this project, that he will be able to solve the issue of integrating the real and virtual economy and provide the conditions for the creation of a new powerful economic system and a programmable economy. And about the interest shown to it by investors, showed the results of the ICO, which ended successfully.
More information can be found here:
---
Website | Whitepaper | Facebook | Twitter | Telegram
---
Author:
Bitcointalk username: aleksvip15My bitcointalk | Facebook | VK
0x8e65028a1b1f35bcfff35f97cb59c272a48012cf