REVIEW : BEHAVIOR PROFILE PLATFORM
BEHAVIOR EXCHANGE
We live in a very dynamic world in today's economy globe, with such improvement in the advancement of technology, consumers now have more options, more choices and more distractions during purchasing process.                                                                                      Personal Service : used to mean that the retailer of fruits& vegetables knew your name and what fruit and vegetables you liked to buy at their shop. Nowadays, personalization as become more complicated and more difficult to achieve- it means reaching the right people,in the right place at the right time.
Big brands industries such as Amazon, Netflix uses personalized marketing campaigns and strategies to provide consumers with the relevant experiences they demand. 60% of Netflix rentals stem from personalized messages based on a customers previous viewing behaviors, 35% Amazon sales based on unique behavior and purchases. By captivating their customers in the right moment and delivering relevant experiences, brands like theses are witnessing higher conversion rates and increased loyalty.
= but personalized marketing campaigns tailored to a shoppers individual preferences cannot succeed without the use of really big data thus, Behavior exchange makes it possible.
Behavior Exchange is a blockchain- based platform that uses blockchain and big data technologies to identify online users and customize website contents to your preference. The platform enable large amount of data. It can handle millions of visits per day, easily updated to process hundreds of millions and billions of visits per day. The Behavior Exchange platform primarily works on connecting three different units namely: web visitor, websites and B2c businesses in a different  unique way. Each Party exchange traffics  with other websites to help expand their websites reach and visibility with cross promotion.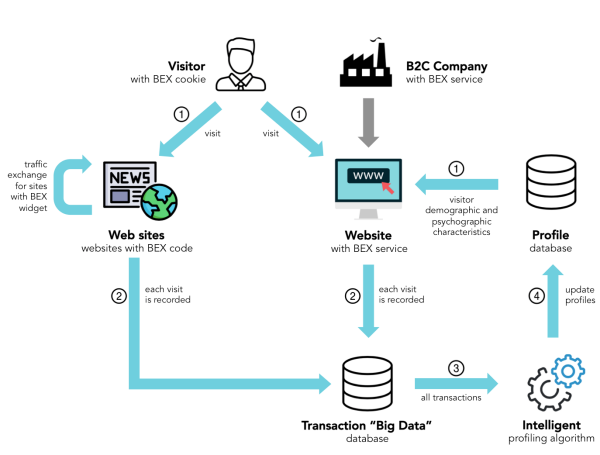 BENEFITS TO WEBSITES
Attract potential consumers and keep existing ones.
Increase sales and revenue.
Saves time.
To understand their visitors in real time.
Reduce or eliminate unnecessary and irrelevant ads.
Provide relevant information about online visitors to different websites.
BEHAVIOR EXCHANGE & E-COMMERCE
Commercial activities conducted online as grown tremendously as a whole but, primarily still at its earl developing stage with many areas having room for improvement. Overtime there will be a shift from the current  Business-to-consumer model , to Consumer-to-business model, in which businesses provide customized services and experiences based on customers specific needs, the QS thus!,
wouldn't it be better to see the content and offers that truly matched our interest and personality?                                                                                                                           
Behavior exchange will follow what you read and how you behave to determine your profile. B2C companies using  Behavior Exchange services will be able to know who is visiting their web in real time, effectively engage with them and show them the right products or services.
HOW DOES IT WORK
Company installs codes on its websites to start the service. As soon as a Bec cookie visitor visits your websites, the service will report directly to the website which will automatically display content depending on users profile.  The websites uses widget to records all visitors behavior. Data collected is processed by intelligent profile platform.
BENEFITS TO INVESTORS
Investors will benefit if the dollar price for today's bex token rises. Currently at 0.1$, if demand surges it will be really awarding for investors.
TOKEN AND ICO
Symbol: BEX
ICO period: from June 2018
Planned token price: 0.10 US $
Planned maximum limit: 21,000,000 USD
Currency of purchase: ETH, BNB (Binance Coin), USD, EUR
CONCLUSION
Behavior Exchange is a blockchain based project aiming to create decentralized profiling database for the benefits of online visitors and B2c companies. The team are highly experienced and working together for the greater success of the project.
As a consumer, this project will be of highly great benefit, apart from my interest and personality being matched, contents will be readily available and also i will be rewarded with bex token which will enable the purchase of products & services from the companies in the network under favorable conditions.
Website: https://behaviour.exchange/?utm_source=bounty&utm_medium=content&utm_campaign=website
Whitepaper: https://behaviour.exchange/wp-content/uploads/2017/11/BEX_Whitepaper.pdf?utm_source=bounty&utm_medium=content&utm_campaign=whitepaper
Telegram: https://t.me/behaviourexchange
Facebook: https://www.facebook.com/BehaviourExchange-150375779045471/
By Bitcointalk user: belushiiwuzeree
Profile: https://bitcointalk.org/index.php?action=profile;u=2191289