Review GIFcoin ICO
Table of contents:
GIFcoin platform
Goal
Problems and solutions
Benefits
How does it work
ICO Details
Conclusion
GIFcoin platform
Gifcoin is a new investment fund fully operating on the basis of the well-known and long-running betting website of VitalBet gambling.
The GIFCOIN project acts as a fundraiser for the purpose of substantially updating the VitalBet gaming platform with its further promotion and popularization as a global brand in the most promising online gaming markets.
The subject of investment here will be GIF's own crypto currency, the purchase of which in the long term is bound to bring a positive effect – after the implementation of all the planned plans, the project team will surely distribute all 80% of VitalBet's net profit between the owners of the tokens.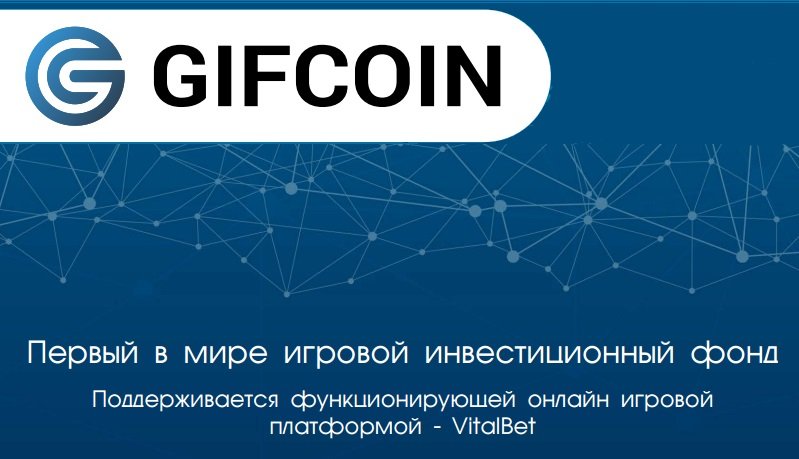 Goal
The goal is to enter the TOP-15 of the most successful gaming sites of the world by 2020, which use FIAT currency, and in TOP-3 gaming sites using crypto-currencies.
Of the 300,000,000 users who will bet using the currency, the goal in 2020 should be 0.6%, that is, 1,800,000.
Of the 5 000 000 users who will bet using the crypto currency, our goal in 2020 should be 10%, that is, 500 000.
The total will be 2 300 000 users – each of them loses $ 360 per year, or approximately $ 30 per month.
2 100 000 active players x 360 dollars of lost rates is equal to 756 000 000 million dollars of losses which will become profit VITALBET.
These profits of $ 756,000,000 are distributed as follows:
10% for administrative expenses
10% on the payment of winnings to players
15% on payments to our partners in accordance with the partner program
20% for advertising and marketing campaigns
45% of net profit
45% of the net profit is 340,200,000 US dollars. Of these 340,200,000 VitalBet will share 80%, which is 272,160,000 US dollars. These 272,160,000 will be distributed annually between 300,000,000 tokens as a share of profits. Thus, each holder of 1 GIFCOIN token will receive an annual profit share of 0.9072 US dollars.
Suppose you have 10,000 GIFCOIN tokens. You will receive an annual profit share of $ 9,072, which will be paid in ETH annually to your Ethereum wallet.

Problems and solutions
Entertainment is one of the most valuable aspects in our life. People spend thousands of dollars a year to have fun. Entertainment can be anything: watching movies, going to concerts, playing computer games, playing sports and even more. Entertainment is defined as something that someone likes to do, and he is willing to pay money for it. Most entertainment events require money, but some can also come back and earn you money. This applies to the gambling industry, where you can lose, and also win money on the correct prediction of a sporting event.
Gambling has interested people since ancient times. With the growing influence of the Internet, we are increasingly playing on the Internet. GIFcoin is the first global gambling investment fund that revolutionizes gambling markets.
Gambling is a giant industry around the world, with revenues in excess of $ 500 billion in early 2017, of which $ 220 billion was spent only on the sports betting market.
The anticipated growth of industry by 2020 will be about 3.3% per year. Growth is caused by the following reasons.
The stakes are much higher than the stakes in casinos or lotteries. Improved legalization and authorization of online betting rates, which allow users to place bets from anywhere in the world. The market segment will continue to grow in the coming years. Thanks to the ever-increasing use of the Internet and the increased legalization of online betting rates in many countries.
Benefits
There are many bookmakers, but VitalBet is different from them. Especially the opportunity to take bitkoyn. Cryptocurrency can be used for both bets and payments. Soon, it is planned to add several more virtual currencies to make the platform even easier to use. The percentage is not only payments in bitcoin, but also tariff options. Players can appreciate the "live" casino with real dealers, e-sports, video games, inplay, sports betting. As for the interface mainly on websites, it is difficult to understand what's what. VitalBet saves time and makes pastime as enjoyable as possible. The user sees a low-key, simple, but attractive design. On this unique platform, the player can use certain functions for his specific needs. Security is first of all. Finance and personal information about this user are also well protected. During the work of VitalBet there was not a single error, not a single cent was lost. Private rates are provided without hidden restrictions. The development team is proud of the power of the platform, and the flow of new users is growing.
How does it work
We will begin to disassemble the GIFcoin project from the key project of the VITALBET-site of rates. So, the launch of VitalBet, the high-end sports betting website, supported by the 8-fold world champion in boxing Manny Pacquiao, was not an easy task.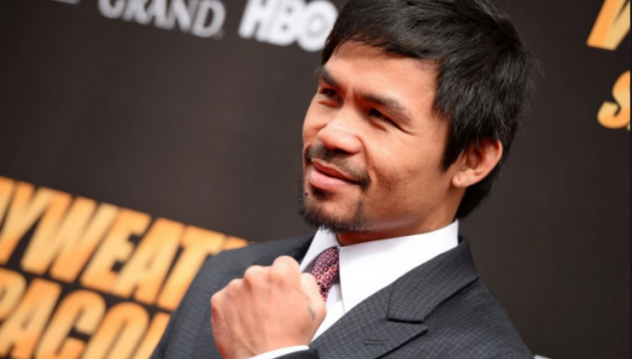 (Emmanuel Dapidran Manny Pacquiao, English Emmanuel Dapidran Manny Pacquiao, born December 17, 1978 in Kibawa, Bukidnon province, (Philippines) is a Filipino professional boxer serving in a welterweight class, also known as an actor and politician The first and, at the moment, the only boxer to become the world champion in eight weight categories, the World Champion in the easiest (WBC, 1998-1999), the 2nd lightest (IBF, 2001-2003), the semi-light (The Ring, 2003- 2005), 2nd semi-lightweight (WBC, 2008; The Ring, 2008), lightweight (WBC, 2008-2009), 1-Welterweight (The Ring; IBO 2009-2010), Welterweight (WBO, 2009-2012, 2014 -20 15, 2016-present) and the 1 st average (WBC, 2010-2011) weight categories)
The developers of VitalBet organized and assembled the strongest team, the professionals of their business. Which now provides its, players, high-quality service, around the clock. The use of advanced technologies, as well as a modern user interface, make VitalBet one of the things that other gambling websites lacked so far. A round-the-clock team that constantly improves and updates all events, so that the players of the site do not miss anything. Attracting a huge range of sports with numerous markets makes VitalBet one of the most versatile in the market today.
VitalBet also offers instant Lotto games, and for bitokoy fans there are unique dice games. Live Casino VitalBet offers roulette, blackjack, baccarat, lottery, offering an excellent selection of classics. Constant analysis and adherence to the latest updates on all sports gives us the opportunity to provide the highest and most attractive rates around the world. Having a strong team of professional traders, VitalBet provides 100% accuracy with odds on both pre-match and live events. VitalBet and partial redemption option allows customers to manage their rates in a unique way. It should be noted that VitalBet – the first and only bookmaker, offering Mystery Jackpots for all players! Regardless of how much the customer is playing, he can still win a large amount of cash. New VitalBet customers can receive € 50 Freebet for sports and 100% deposit bonus up to € 300 in VitalBet casino. And weekly and daily bonuses are provided to VitalBet customers! There is a loyalty program.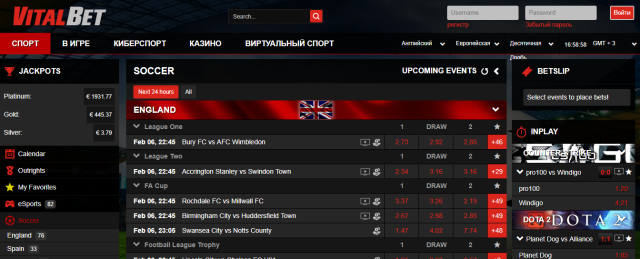 And as for security, VitalBet provides a great choice and methods of deposits. VitalBet is a safe place for the money of its customers. VitalBet guarantees full confidentiality of personal and payment details. The use of various identity cards and the availability of one of the safest data warehouses in the industry does not give room for concern. 24-hour customer support ensures that all questions are answered. You can contact us at support@VitalBet.com. VitalBet team is very fond of sports. For this reason, she makes significant efforts in developing a truly unique online betting site. The main product is the pleasure of customers from online gambling at any time and anywhere in the world. The company creates IT solutions for the satisfaction of its customers.
VITALBET processes any personal information provided (whether through the VitalBet website (the "Website"), the client's application form or any other means). By submitting your information to VITALBET and using the Website, the client confirms his consent to the use of personal information, as stated in the VITALBET Privacy Policy. Information and data about you that VITALBET can collect, use and process includes:
Information that customers themselves provide by filling out forms on the site or any other
Information that is submitted through a website or e-mail;
Records of correspondence, whether through the Web site, e-mail, telephone or other means;
Answers to surveys or customer research conducted by VITALBET;
information on transactions that are performed with VITALBET, whether through the Web site, telephone or other means;
Details of visits to the website, including but not limited to traffic data, location data, web logs and other communication data.
VITALBET can use personal information and data together with other information for the following purposes:
Betting processing, including card payments and online payments;
Settings and account management;
Compliance with legal and regulatory responsibilities;
Creation of personal profiles;
Carrying out of researches, interrogations and analyzes of clients;
Providing information on VITALBET advertising offers and products and services;
Monitoring transactions to prevent fraud, irregular rates, money laundering and fraud.
ICO Details
Name of the token: GIFCoin
Token: GIF
Total tokens: 300,000,000 GIF
Cost of the token: 1 ETH = 10,000 GIF
Minimum investment amount: 0.1 ETH
The maximum amount of investments: without restrictions.
Preliminary sale starts on February 22, 2018
Sales start date: March 16, 2018
Accepted methods of payment: only ETH

Conclusion
Through the ICO, the company plans to enter the honorary TOP-15 by 2020. In May 2018, a mobile application VitalBet for Android, iOS and Windows operating systems will be launched, as well as an updated website with an accessible affiliate program with such attractive conditions that will leave far behind competitors. (Wow, this is already interesting 🙂 In June, support for a number of popular crypto-currencies will be added. Well, by the end of the year, judging by the road map, the company expects an audience of around 1 million people.
Summing up, it can be noted that this ICO is an attractive investment! Passive income is always cool!

More information can be found here: