Review of MoviesChain Project – It's Independent filmmakers and technology come together through Mov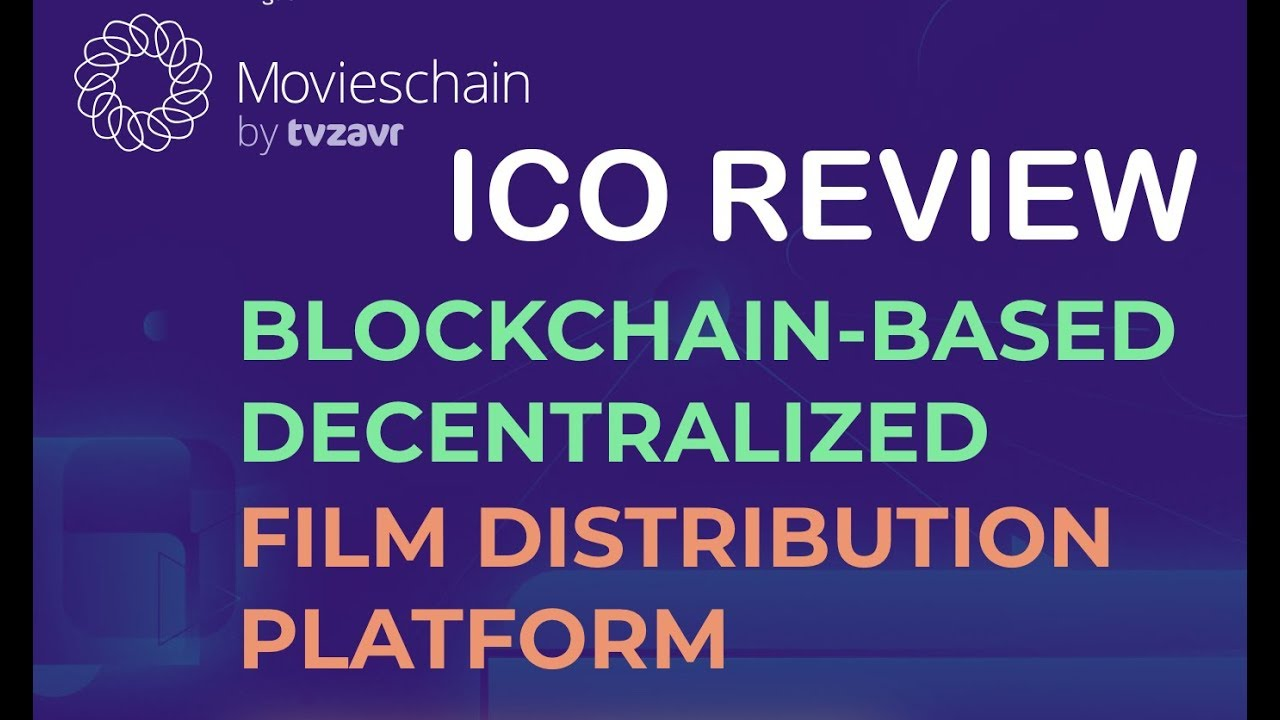 || Introduce for MoviesChain Project
We present the movie platform MoviesChain , which will allow independent filmmakers to show all their creations without having to resort to distributors and other companies that work as intermediaries. On the functionality of this platform, it will use the blockchain technology to facilitate transactions between users and filmmakers in a totally decentralized manner through the use of the platform token, the ZVR, with which it will be possible to acquire unique titles that are not found in No other closed content site like Netflix or Hulu. In this way it is demonstrated that the MoviesChain by TVzavr platform will have a large library of films.
Returning to the interesting point of transactions, which also shows a significant improvement over other similar platforms, since, as mentioned, thanks to the blockchain technology transactions do not require an intermediary which obtains high profit margins or that is capable of censoring the content, in this way, the creator, that is, the filmmaker himself, obtains greater profits and at the same time decreases the prices of the content, which brings greater access to the general public, thereby decreasing the content piracy.
It is also an interesting topic how the MoviesChain by TVzavr platform makes use of digital contracts so that the filmmakers can obtain up to 90% of the total profits, thus, the contract will release a code attached to the payment, which can not be altered during the transaction. Keep in mind that it is a very high percentage if we compare it with the percentage of profits that independent filmmakers may perceive, since they can be very close to 50%.
All the above shows how MoviesChain by TVzavr will work as a content system which can be adjusted as a video exhibition on demand (or in its initials in English, VOD) and, even, the developer, TVzavr, hopes to help the new independent filmmakers to enter without problems in the market and also to contact studios and large film companies. With these advantages in favor it is not surprising that the filmmaking team of MoviesChain by TVzavr expects a considerable growth due to the great advantages and innovations that are offered to the filmmakers, which would increase the amount of titles available and with it the influx of viewers. Thanks to the use of the ZVR token, portions of the profits would be rewarded to the holders of this token in the form of bonuses, which may be in cryptocurrencies or in ordinary money.
About MoviesChain
Established in 2009, we are a leading Russian video-on-demand company.
In 2010, we received $15 million in venture capital funding to establish a strong team of 70 specialists.
We had 68 million unique users in 2016; in 2017 we have 25 million users watching videos on our platform every month.
In 2016, we earned $6 million in revenue.
MoviesChain by TVzavr is powered by our unique content delivery network system and the Akamai network on 50 servers worldwide.
MoviesChain by TVzavr's entertainment content is cryptographically protected by our own unique data rights
management system, which has AES-128 standard at its core.
Since 2010, our content is available worldwide on Smart TV, Smartphones, and set-top-boxes.
Our advertising clients are the world's biggest corporations including those on the Fortune 500 list.
The MoviesChain oleh TVzavr akan merilis token (ZVR) yang dapat dibeli selama ICO pada 16 April.
MoviesChain frontend system has been functional since 2010 and our backend system will be ready by the time we close our ICO. The funds from the ICO will be used for marketing and purchase of video content.
||The ecosystem will evolve hand in hand with independent cinema.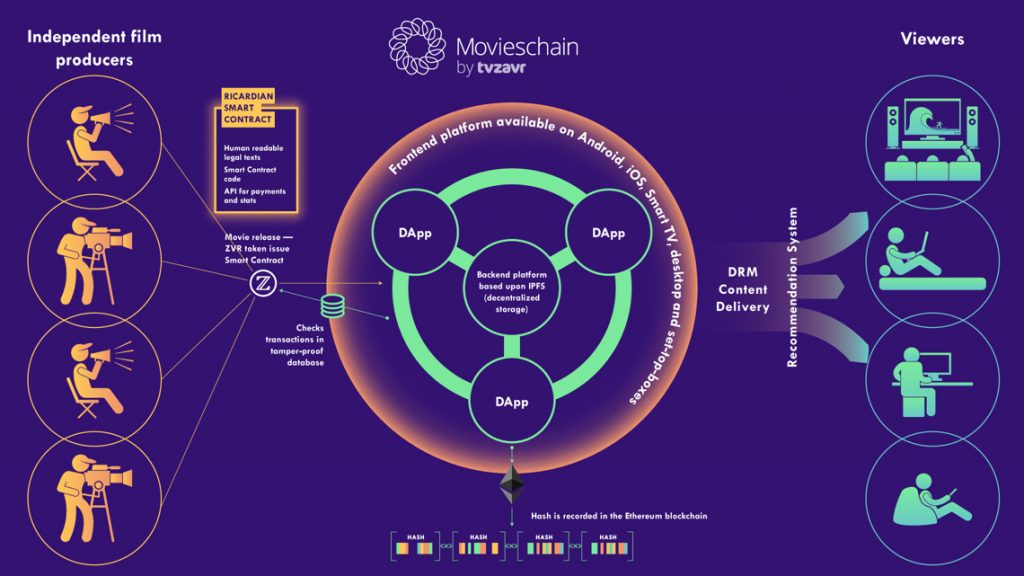 It has been mentioned that the movie market is huge, with profits of more than 21 billion dollars per year but, in addition to this, it represents around 20% of the annual profits of the film market in general (about 120 billion dollars), this sector has been strongly influenced by technological development due to the limited capacity they have to be distributed to the same extent as Hollywood productions, for example. Due to this, MoviesChain has sought to innovate by taking advantage of digital technology and the Internet, with which they plan to reach a much wider audience than through the use of movie theaters, taking into account that they are becoming increasingly common. platforms and Internet pages that reach 50 million users.
All these interesting factors coincide within the development of the MoviesChain by TVzavr platform, which becomes part of this market that grows vertiginously on a daily basis and specializes in the independent producer and creator because it knows their needs and limitations. In this order of ideas, the growth of this platform during the next few years will be influenced by user freedom and development, due to this, they have conceived a plan of intensive growth that expects to launch the alpha phase of the platform during the next months and reach full development by early 2019.
It is also an interesting topic how the areas of digital entertainment and cinema on the Internet (online cinema) has become more widespread along with the development of this technology. Due to this phenomenon, closed content companies have taken advantage of these advances to diversify as applications, in this way companies like Disney have developed electronic applications that give access to their content from all the aforementioned media. Thus, the MoviesChain by TVzavr platform does not seek to be part of this vanguard in the distribution of digital content, so users can make use of the platform in real time and from various downloadable applications.
But in spite of this, being able to massify the use of this system will require more than just creating these tools, for which, developers have opted for different ways to grow and expand. As the creation of the MoviesChain by TVzavr university in which users and artists can carry out or continue studies in the areas related to the creation of films and audiovisual content, said university will offer an education that claims to be avant-garde, of high quality, and free (or partially), you can buy various educational packages that will have prices ranging from 10 to 500 dollars, differing from traditional models of universities such as the Independent Film School, belonging to the University of California.
Apart from this, a proprietary social network will be integrated into the MoviesChain platform that will allow the integration of the users through the creation of content generated by these, in which it is expected that diverse stakeholders will join in all areas of the cinema (from production, direction , actors, moviegoers, among many others) and there they can interact and exchange experiences and expectations, with the ultimate goal of forming a work and production team that ends up generating many new independent filmmakers in a decentralized manner.
Also, MoviesChain by TVzavr aims to attract new investors in the future by creating their own platform in which it is possible to make investments to carry out productions collectively. The platform will give bonuses and loyalty rewards to users who use the MoviesChain matrix and, even, hopes to award the best artists and productions through local and even international contests sponsored by TVzarv. These actions can demonstrate a clear functionality of the platform, helping to boost the growth of the platform, since the development plans of the MoviesChain ecosystem are very broad. They hope to be able to do not only with the independent film market, in addition to this,
|| Important Information ZVR Token
ZVR will be launched from April 16 on the Ethereum blockchain in the form of tokens ERC20. 100 million ZVR will be issued in total, distributing 70 million ZVR during the initial offer.
The sale of ZVR tokens will last for three months. The minimum investment required (softcap) will be $ 5 million and the maximum (hardcap) will be $ 30 million. The price of the tokens will be determined when the offer begins. During the first stage, only participants on the white list who have registered at http://www.movieschain.io can buy chips. The first third of the participants in the first stage will receive a bonus of 25%. The remaining participants of the first stage will receive a bonus of 20%.
|| Ico sale and distribution details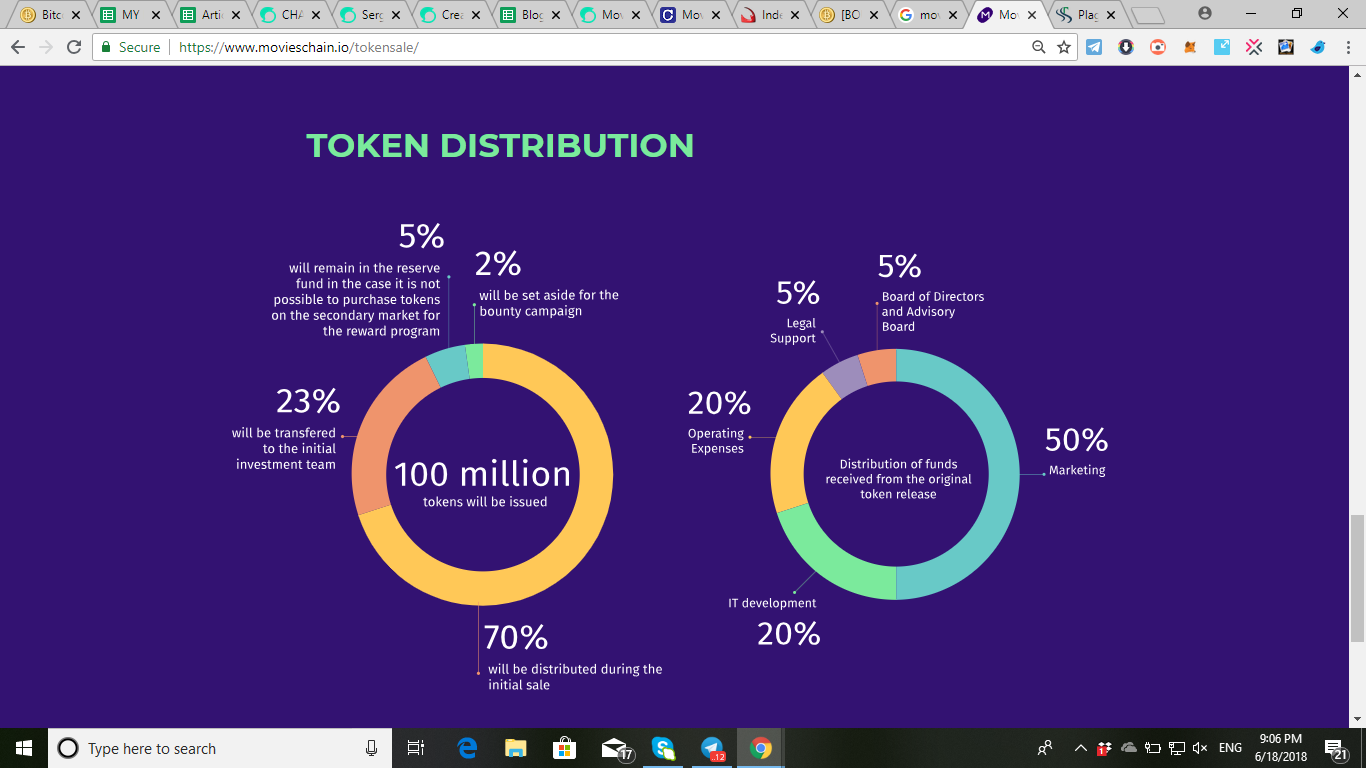 Token sales will take place in 5 stages. During the first stage, only whitelist members can get tokens. It is possible to whitelist by submitting personal data on the site.
The third member of the whitelist will receive a 25% bonus. The remaining whitelist members receive a 20% bonus.
The second stage has a 15% free tokens bonus.
The third stage has a 10% bonus of free tokens.
The fourth stage has a 5% bonus of free tokens
The fifth stage has a 3% free tokens bonus.
Bonus of up to 10% will be awarded for the number of tokens purchased:
10.000-50,000 ZVR – + 3% free tokens
50.000-150.000 ZVR – + 5% free tokens
150.000-350.000 ZVR – + 7% free tokens
Over 350,000 ZVR – + 10% of free tokens
Token sales terms and conditions will be clarified more closely with the Token sale launch.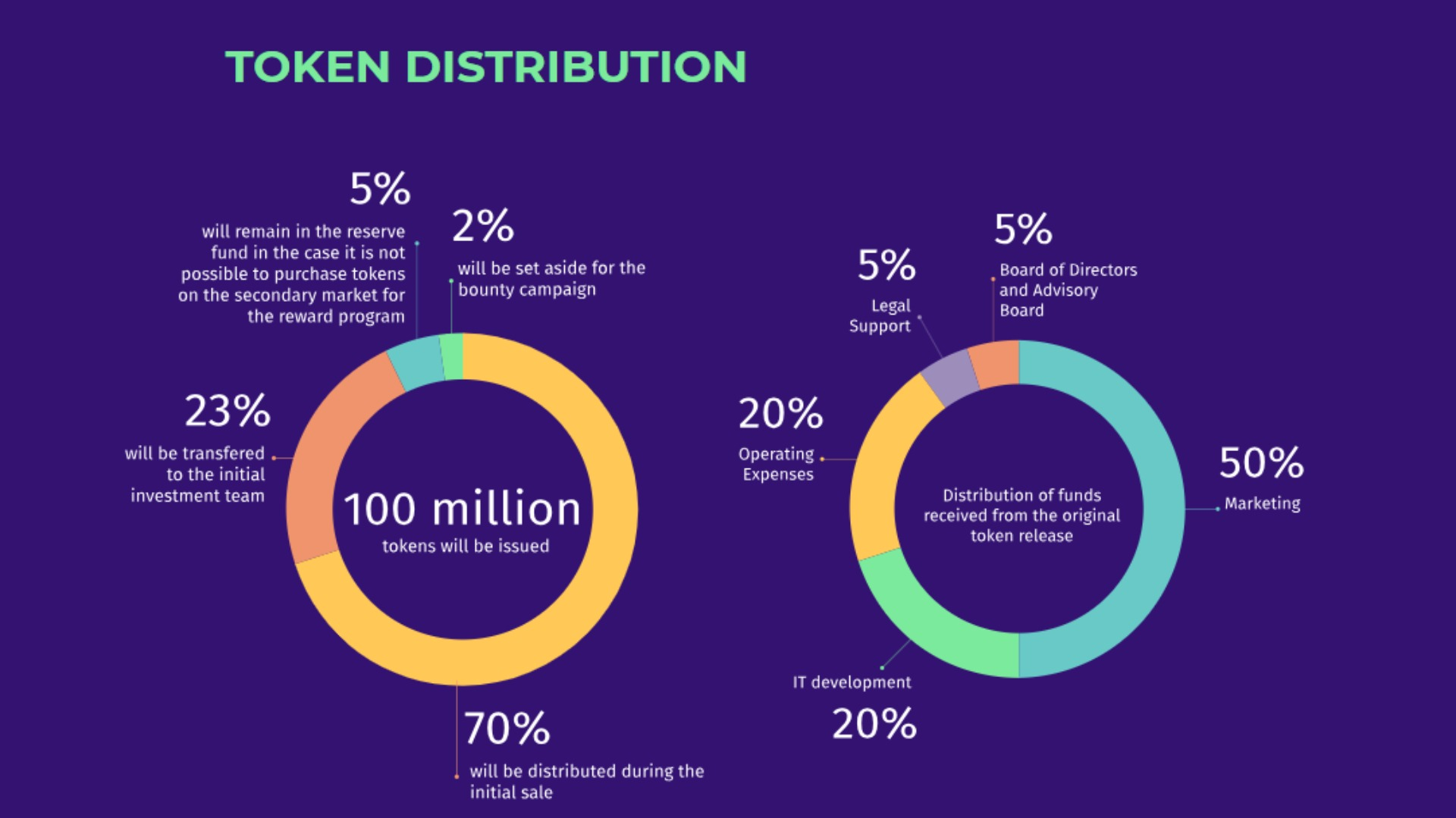 100 million tokens will be issued
70% will be distributed during the initial sale
5% will remain in the reserve fund in case it is not possible to buy tokens in the secondary market for the reward program
2% will be opted out for reward campaigns
23% will be transferred to the initial investment team
All allocations will be changed proportionally, keeping the same allocation percentage for initial sales, reserve funds, bounty campaigns, and team allocations, if less than 70 million tokens are sold during initial sales.
Distribution of funds received from original token release:
Marketing-50%
IT-20% Development
Operational Cost-20%
Legal Support-5%
Board of Directors and Advisory Board-5%
|| Team members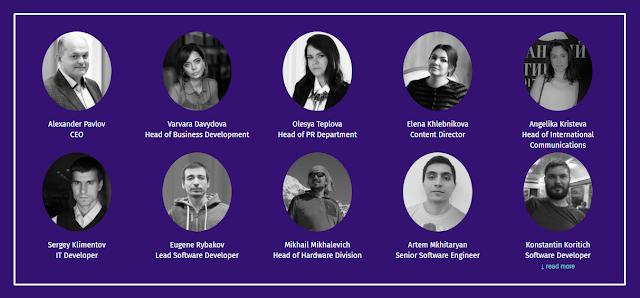 || Roadmap

|| Partners

|| Project conclusion
The project MoviesChain by TVzavr is a modern social system aimed at forming a marketing vision for independent producers. Thanks to advanced marketing solutions, a large number of spectators, an educational platform and croweding, every independent filmmaker can create high-quality content, easily inform the audience about his film and get an opportunity to finance their projects.
Official sources MoviesChain Project ;
Website: https://www.movieschain.io/
Ann: https://bitcointalk.org/index.php?topic=2954653
Bounty: https://bitcointalk.org/index.php?topic=3152436.0
Whitepaper: https: //www.movieschain.io/whitepaper/
Telegram: https://t.me/movieschain
Facebook: https://www.facebook.com/movieschain
Twitter: https://twitter.com/movies_chain/
Prepared by ;
My Bitcointalk Profile Link: https://bitcointalk.org/index.php?action=profile;u=1547972;sa=summary