Review of MYCRO: Getting jobs done is now easy through the blockchain Industry

If there's a particular reason I will consider myself being lucky to be part of this generation for, then it will surely be because I'm a living witness and beneficiary of the blockchain technology. Stories need not be told before people get to relies that the technology is here to revolutionize the whole world ecosystem, its getting obvious in most global sectors already and not only individuals are beneficiary of it, even corporate bodies and organizations are tapping into the potentials of the technology.
Briefly before I go off track, I present to you today like I have always done an excellent blockchain project but this time around, the global workforce is about to witness a positive change.
Its no other project than the MYCRO platform
Introducing MYCRO Platform
This is a platform that is connecting people looking for simple and payable job which will make them take full control of their time. It's of course a blockchain based platform with absolute transparency, trust, decentralization and safety.
Here on this platform, users are free to decide their preferred job depending on their schedule and capacity for both skilled and unskilled jobs.
The platform is absolutely decentralized without any service of middle men or intermediaries, therefore anybody in the world can connect to the platform without any limitation whatsoever.
Also I will like to inform you that MYCRO platform has no hidden charges and also with very low commission charges which is 5%.
How it works
On MYCRO, just a button click or two can get you a part time job of your choice which does not only benefit the job seeker but also the job provider because there is a considerable level of confidence he'll have knowing fully well that he got a trusted person from MYCRO.
As soon as the task given is completed by the job seeker, his/her payment would be made instantly through smart contracts which had earlier served as escrow to prevent funds being taken back by job provider.

This payment mode will be through MYO token which will serve as the fuel of the platform.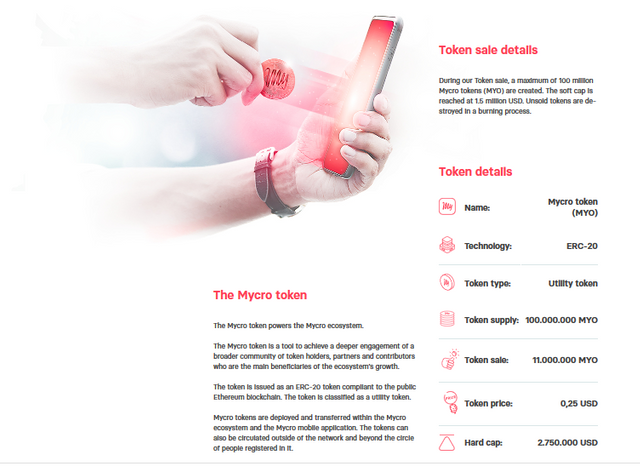 MYCRO Mobile App
This is a multi-feature decentralized app developed by the team to enable users connect with each other (both job providers and job seekers). This application is embedded with lot of functions and innovations such as home delivery jobs opportunities, house services, online jobs and other skilled services.
Conclusively, in my own opinion, this is just another great project we have in the blockchain industry with real-world value that will assist in getting jobs done. Not only does the project have all the needed potentials to get the job done accurately but also have experienced and professional team that is totally dedicated towards the success of the platform.
For more information and enquiries, kindly check the links below;
Whitepaper
Website
Telegram
Facebook
Medium
Github
Youtube
Instagram
Linkedin
My Bitcointalk username: amusanmikel2
Bitcointalk link: https://bitcointalk.org/index.php?action=profile;u=2305577