Review of Ubcoin Project – It's Trading platform of the future.

|| Introduce for Ubcoin Project
According to preliminary estimates, by 2025 the market capitalization of the Crypto-currency may reach 5 trillion dollars, and the number of crypto-investors will increase several times. Such forecasts are no longer in doubt today, but despite the huge popularity of tokens, the problem of using them as a payment tool has not yet been resolved. Separate companies, payment systems and shops already accept tokens, but the fragmented services do not allow to fully realize the potential of the crypto currency. In the foreseeable future, the emergence of integrated platforms that will enter the global market and provide free circulation of the Crypto-currency. Developments in this direction are already under way, and today we will consider one of such projects called Ubcoin Market.
Ubcoin Market is a project of Ubank, launched on the market in 2009. The development team already has a successful experience in implementing in 2011 mobile applications such as navigator NaviFon, and the messenger Utalk. In 2013, the company launched a mobile application that combined several payment services. Ubank also has agreements with Sumsung, Huawei and Fly about placing its application in the default partner phones.
what is Ubcoin Market?
This is a mobile application that opens access to the trading platform, where all calculations are conducted using UBC tokens based on smart contract technology. Users get access to tools for promoting ads, analyzing statistics, advertising campaigns, controlling sales, and so on
The platform will provide legal and technical security of transactions, as well as reduce the cost of goods by eliminating the unnecessary links of intermediaries. The reserve fund, which accounts for 31% of the released tokens, will be used to stabilize the UBC rate and prevent speculation. Developers of Ubcoin Market plan to create comfortable trading conditions for users of Eastern Europe, Southeast Asia, the Middle East and South America.
|| Target market problems

Crypto market has been suddenly collapsed since end-of-year 2017. The latest records of Google says that, number of searches related to cryptography has been vastly reduced during this year. With that all other information indicates that interest of people about cryptocurrencies has largely reducing.
Cryptography owns the highest and limitless capacity to grow beyond the limits. Many futurists have predicted about the future earth, with rumors of an earth 100% runs by blockchains.
Anyway, according to my opinion, crypto market capitalization must have reached multiple times more than the present value, But It hasn't. There should be a reason for everything. There is a another perspective to this problem.
These technologies, platforms, markets and tokens can look so perfect within the crypto nutshell, but not when considering the whole crypto empire. Trust and simplicity of the first step of a newcomer in cryptography is always wrapped by a thick layer of technical terms and facts. This leads to a psychological discomfort in the thoughts of a newcomer. Every access path to the crypto world is standing out of this psychological comfort zone. But it is the crucial part in the whole process. If anything or anyone can destroy this barrier, then the golden age of Cryptocurrencies will emerge immediately.
Just imagine you as a Newby and you want to invest your last month salary on Bitcoin. What you have to do? You have to go through a bank, crypto-fiat exchange, create a safe wallet, do many crypto transactions. Sudden you will be psychologically down to the ground, with your heavy baggage filled with half knowledges and immature experiences. Since you are a newcomer, there is a very low possibility to do a successful investment.
Here is the other major problem, current records shows that the present crypto holders has a increasing interest in exchanging their crypto money for tangible goods, but limitations and inefficiencies in existing procedures made them far away from that conception. Recently, lot of crypto projects has appeared holding promises to disrupt whole industries, but unfortunately ended up with tragedies.
|| Ubcoin Market Steps Forward.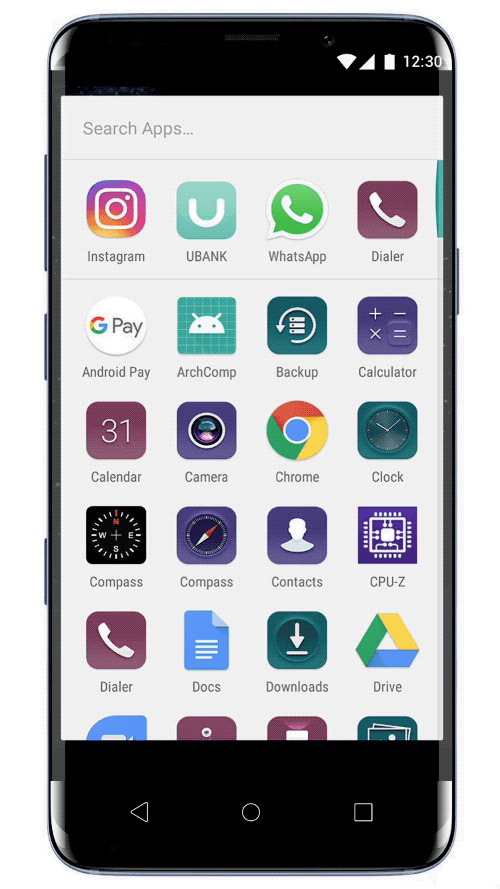 Vanishing all the barriers and limitations, "Ubcoin Market" is going to disrupt the investing methods of the crypto world. Ubcoin Market can define as a safe and instant goods to crypto exchange with many unique exposures. What if you have a possibility to exchange your smart phone to bitcoins? Without any intermediate bank, crypto-fiat exchange, crypto transactions, you will just become a bitcoin holder without much effort. That's what Ubcoin Market is all about.
Ubcoin Market has revealed the most wanted and exclusive path to invest in cryptocurrencies with a maximum level of safety and efficiency. This major disruption will increase the the flow of new investments, which lift up the total market capitalization of the crypto world to a unimaginable level.
|| Marketing Strategy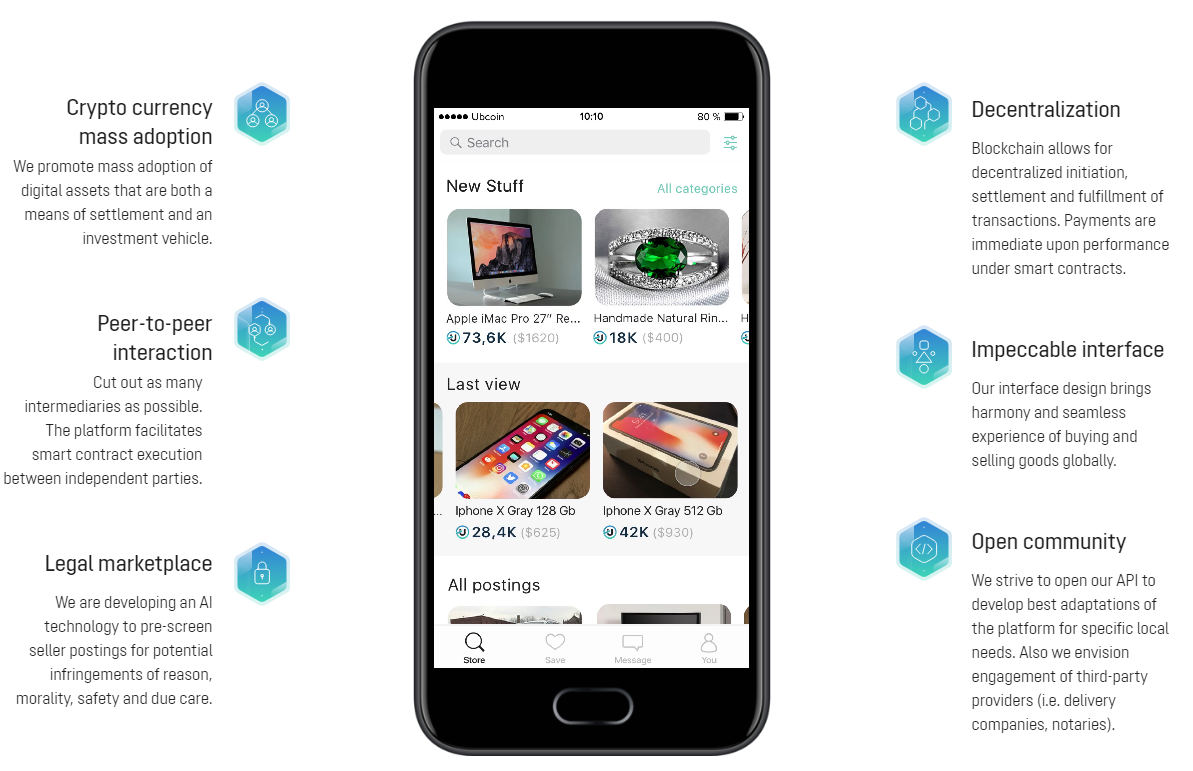 In the early stages of the project, the main focus is customer acquisition and rapid geographic expansion. While the right time to enter the market will change, Ubcoin seeks a market with a combination of substantial investor base cryptocurrency or interest in it, a warmer regulatory view on crypto transactions, below the bank population and peer-to-peer transaction proliferation. Ubcoin sees significant potential in developing the markets of Eastern Europe, Southeast Asia, South Asia, Middle East and Africa, Latin America.
One of ICO's most important objectives is to fund global expansion. Depending on the success of crowdfunding efforts, Ubcoin plans to spend between 25% and 40% on international marketing. Another major driver of business growth, starting in 2019, is beginning to attract sellers from the SME sector who are more likely to actively use additional paid instruments to promote the sale of their goods.
|| Why Invest In Ubcoin?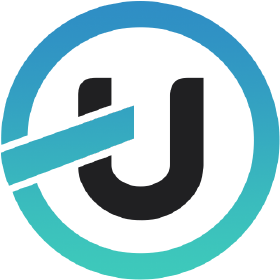 Ubcoin cut the transaction chain by using new revolutionary technology to bridge the gap between cryptocurrency and the real world. Investors are not betting on unknown discoveries or just an idea. The value comes from a team of experienced and transparent business models solve real problems and capture real opportunities that no one knows better than a crypto investor. Of course joining Ubcoin is a huge potential.
|| Ico and token details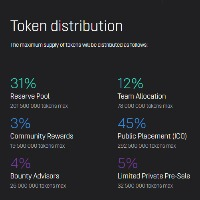 **General information:
the symbol is UBC;
the total number of tokens – 4 billion;
the cost of one token is 0.000089 ETH;
the minimum fee is 2 thousand ETH;
the maximum fee is 179 thousand ETH.
How will the tokens be distributed:
closed pre-sail – 5% (200 million maximum);
ICO – 45% (1.8 billion maximum);
community reward – 3% (120 million maximum);
Advisors and bounty pool – 4% (160 million maximum);
the project team – 12% (480 million maximum);
reserve fund – 31% (1.24 billion maximum).
Bonuses for investors:
Pre-session – 59%;
ICO (1st stage) – 29%;
ICO (2nd stage) – 14%;
ICO (3rd stage) – 0%.
|| Team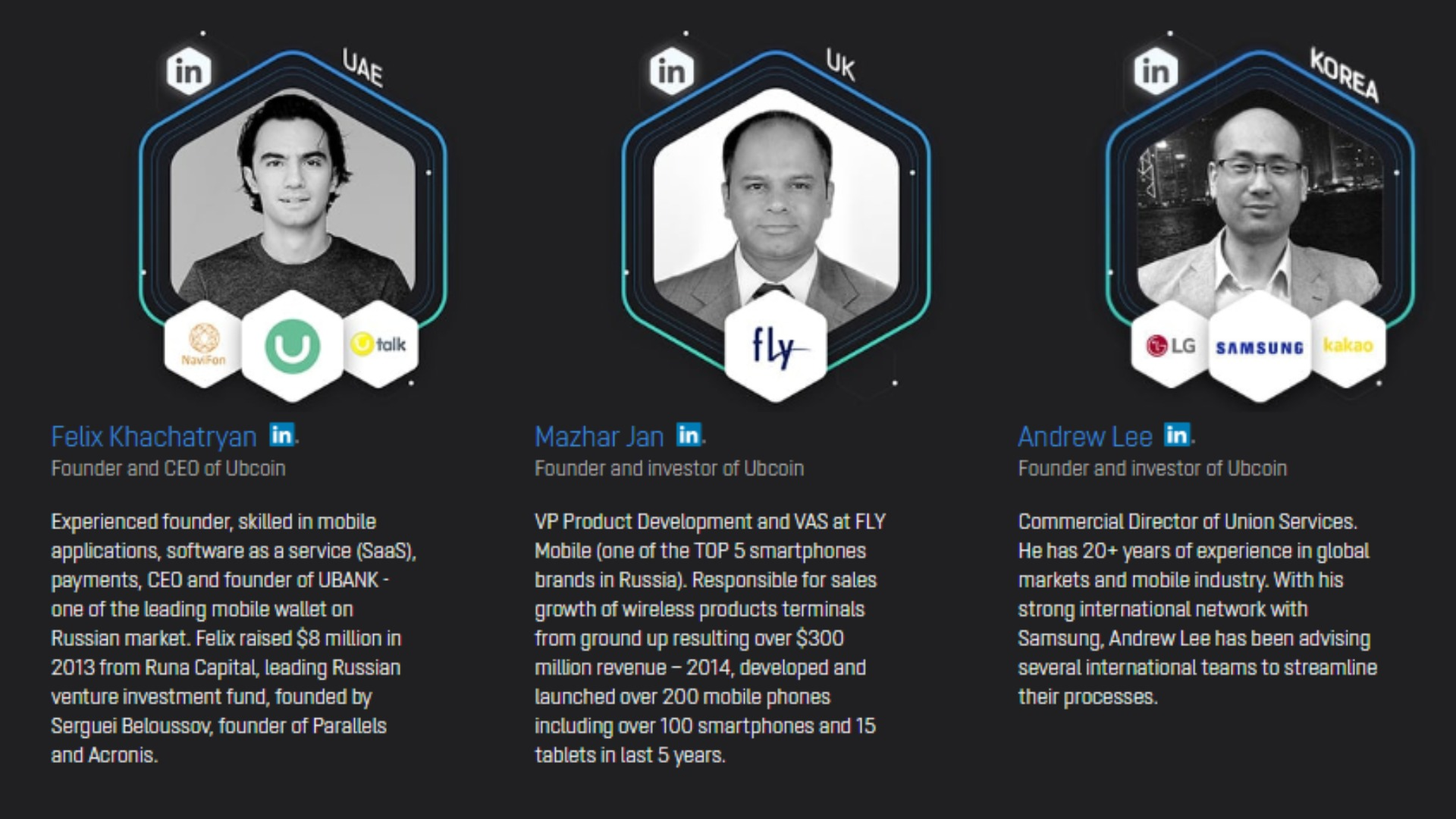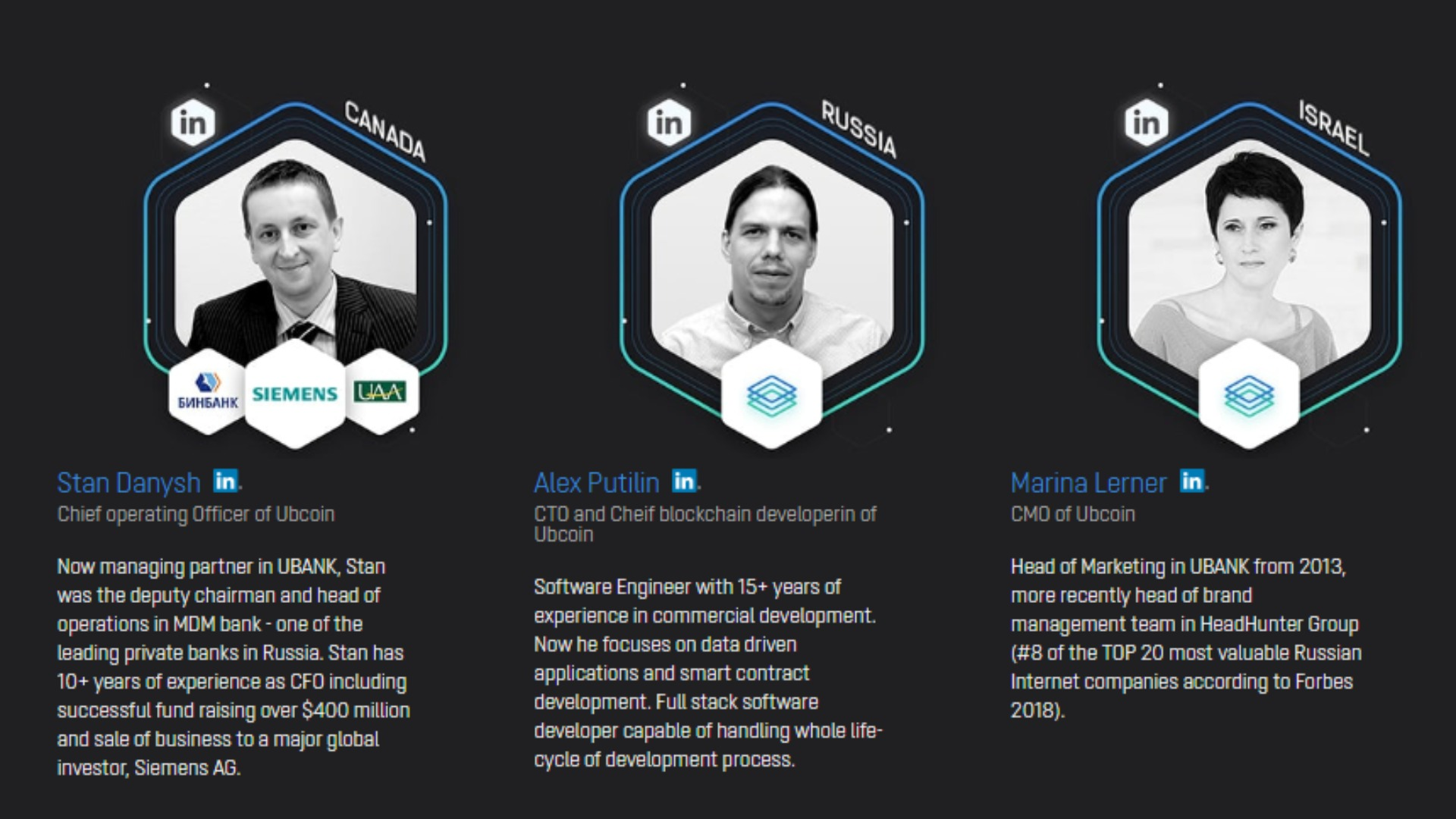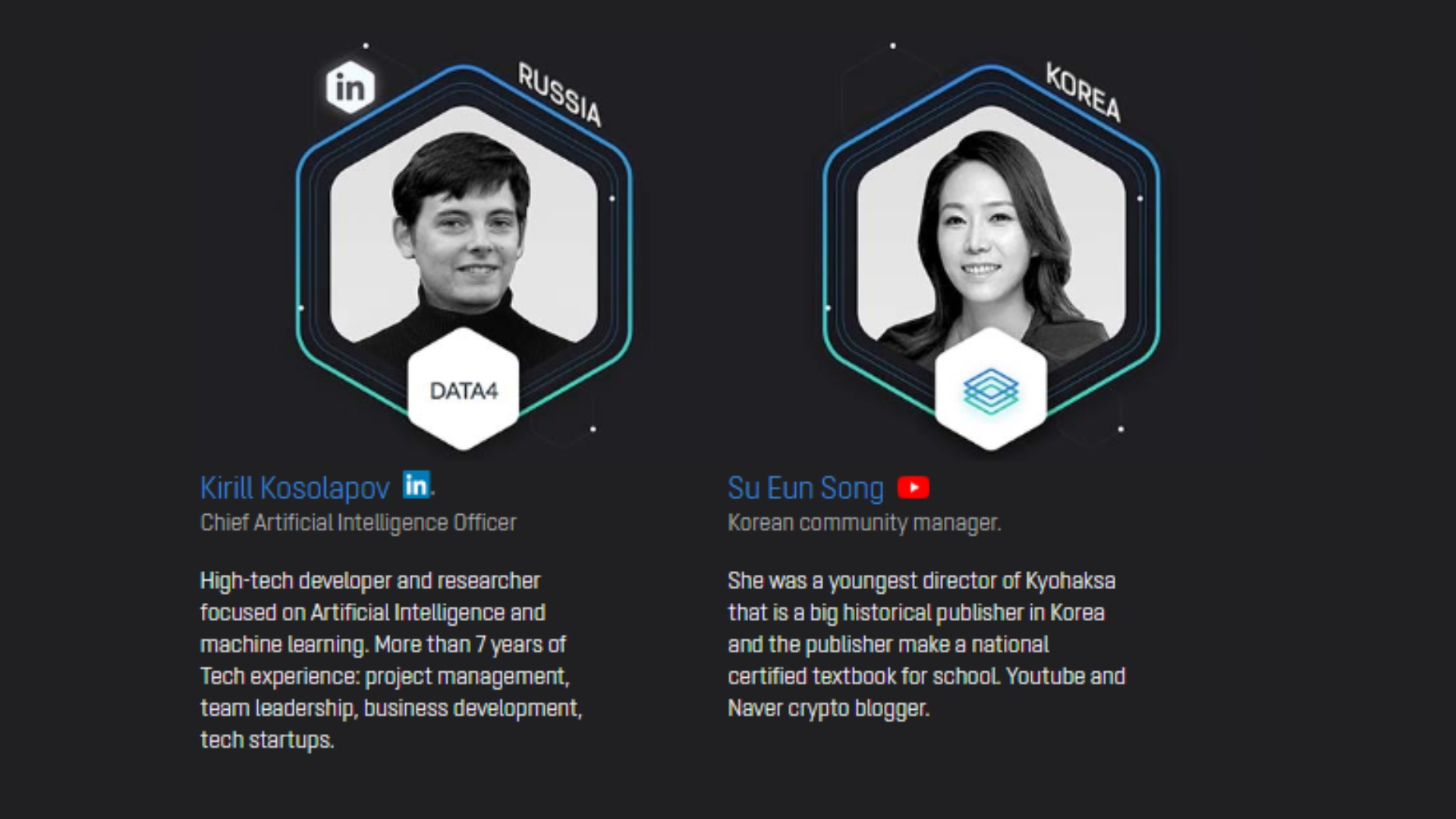 || Advisers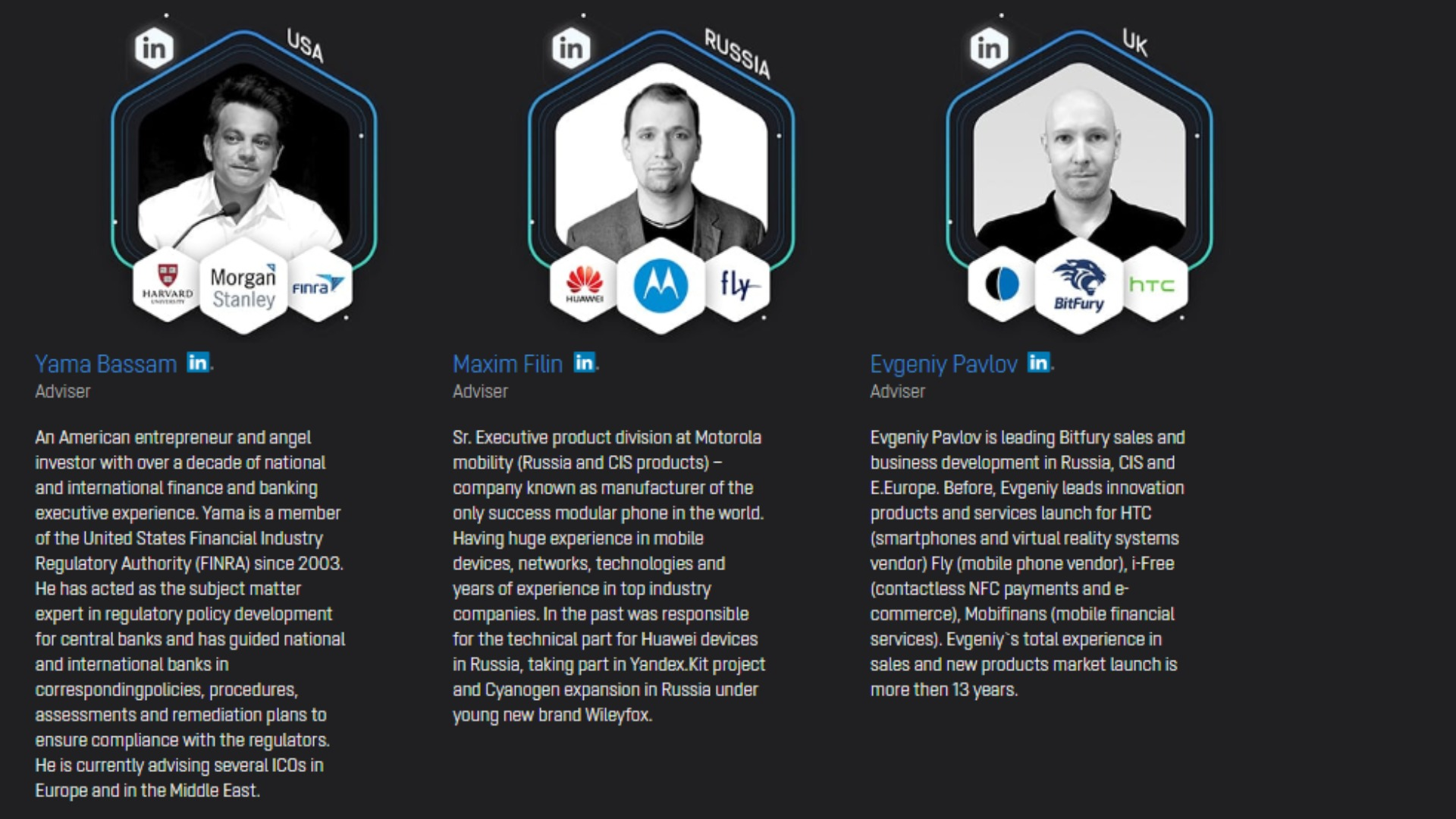 || Details of team and partners
The company employs 50 specialists in the field of management, software development, CEO and marketing:
Felix Khakhatrian (founder and CEO)
Expert in the development of mobile applications, software and payment systems. In 2013, attracted $ 8 million investment from the venture capital fund Runa Capital.
Mazhar Jan (co-founder of the company and investor)
An experienced developer and leader. Responsible for the development of additional services in the company FLY Mobile. In 2014, it ensured the growth of sales of wireless terminals, which brought FLY Mobile $ 300 million in profit. With his assistance, the company released 100 smartphone models in the last five years.
Andrew Lee (co-founder of the company and investor)
He is the director of the commercial department. Andrew Lee has more than 20 years of experience in global markets and the mobile industry. Conducted successful negotiations with Samsung and concluded a cooperation agreement.
Stan Danish (Deputy Director General)
Previously, he held the position of CFO in MDM Bank. During his time in the banking sector, he attracted investments of $ 400 million. Successfully collaborated with Siemens AG.
The advisory board of the company includes specialists in the field of jurisprudence, marketing and innovative technologies.
|| Roadmap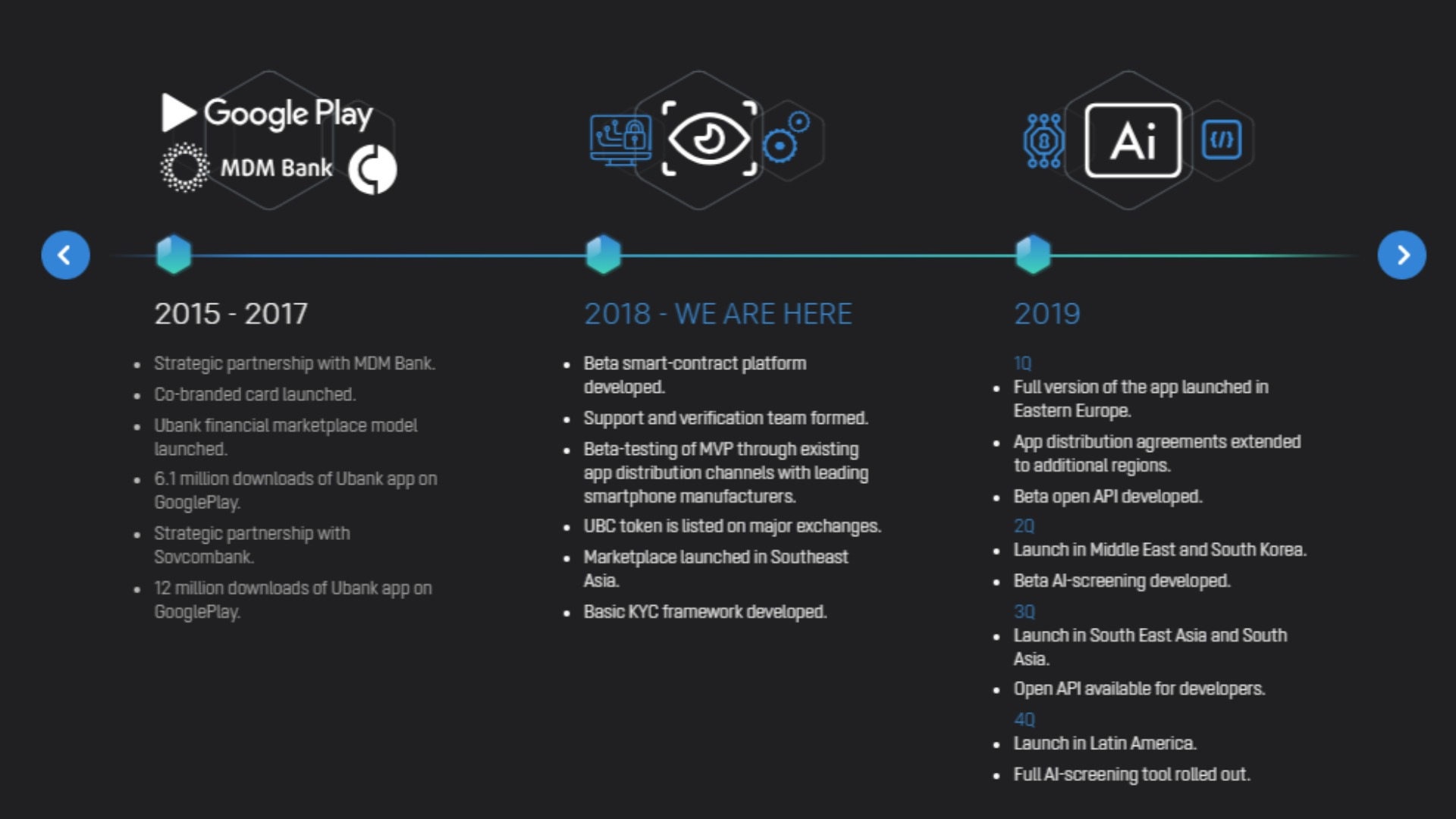 || Project conclusion
The new platform will primarily be of interest to owners of crypto-currencies. In the countries of South-East Asia, tokens are more often used as a means of payment, so the Ubcoin Market application has excellent prospects. The idea itself is not new, but in case of successful implementation, Ubcoin Market will be able to take a strong position in the market. The company has already signed contracts with Sumsung, Fly, Huawei, which will give undoubted advantage over competitors and increase the competitiveness of the application several times.
Official sources of Ubcoin Project
Official website: https://ubcoin.io/
ANN: https://bitcointalk.org/index.php?topic=3109856.0
White Paper: http://doc.ubcoin.io/whitepaper.pdf?v1
Facebook: https: //facebook.com/Ubcoin-838741126308809/
Twitter: https://twitter.com/ubcoin
Telegrams: https://t.me/ubcoinmarket
Prepared by ;
My Bitcointalk Profile Link: https://bitcointalk.org/index.php?action=profile;u=1547972;sa=summary