RICONA – The Ideal Lending and Trading Platform
PRESENTATION
RICONA Is based on Peer to Peer decentralized transactions, it brings to the table, the ability to trade in multiple cryptocurrencies as well as earn daily interest in a cryptocurrency of your choice. That can be Bitcoin, Litecoin, Ethereum, BitcoinCash, or RCA .
Our industry-leading online trading platform uses the best-in- class security protocols that allows a glitch-free trading experience and is much faster than most other P2P or banking networks.
The upcoming Ricona Coin ICO is the best way to get a foot in the door before the prices skyrocket. With assured returns on staking and lending program (with optional daily compound interest), the initial investment can be recouped or even doubled in less then 2 months. Investors can use their RCA Coins to buy or exchange with other cryptocurrencies or Fiat currencies.
WHY YOU SHOULD CHOOSE RICONA
Ricona is unlike any other lending platform in existence currently. We have a unique 'Multi Cryptocurrency Switching' technology that allows you to switch your cryptocurrency holding/lending on-the-y.
• In simpler terms, if you are currently holding Bitcoin with us, but in one week, Ethereum is trending and you discover that lending Ethereum offers you better returns than Bitcoin, we allow you to switch your holdings to Ethereum.And all it takes is a couple of clicks.
• More importantly, we allow you to earn your daily interest in your lent cryptocurrency (not only US$) with daily withdrawal feature.
• There is a maximum supply of 28 Million Ricona Coins, of which, only 9.1 million are available during ICO (4,550,000 Saleable + 4,550,000 Free Bonus at 1:1 Ratio which would be locked for lending purpose)
• No other lending platform offers a 'Lending Maturity Period' as low as 30 days in the entire crypto space. This allows you to withdraw all your investments (Plus your earned interest) in just 30 days. Most other lending platforms have a 90-day lock-in period, which we believe is too high and risky, in the extremely volatile Crypto Space
WHY USE RICONA (RCA)
We are reinventing lending and trading platforms, with a very special feature of Multi Crypurrency Switching technology which enables users to Earn Daily Interest for their desired Cryptocurrency and not only in USD. It's like switching your CryptoCurrency on the Fly. Simply mean, why would you keep lending your BitCoin onto our platform IF Ethereum Lending could give you better returns (or Vice versa)?
VALUE OF RICANA
Maximum Supply of the just 28 Million Ricona Coins from which only 9.1 Million is available during ICO period. Maximum supply ensures high price of Ricona coin due to number of supply is limited and demand is increasing over time.
No Other Lending Platform offers "Lending Maturity Period" as low as 45 days in the entire Crypto Space. Which simply means, you can pull out all your investment (almost double) in just 45 days whereas others are locking-in your funds for an average of 90 days, which is quite highly risky in this HIGHLY VOLATILE Crypto world.
For Individuals
Ricona Coins can be used to transfer funds to your family or friends or buying goods or services online irrespective of location while bypassing all unnecessary procedures of the banking sector.
For Businesses
All sort of businesses from local traders to online merchants, from huge corporations to e-commerce giant who needs to transfer money to their clients and suppliers. Lots of businesses and/or services have already opted for CryptoCurrency as a mean of payment for goods/services.
For Investors
Investors who want to diversify their investment portfolio could buy Ricona as an asset. Due to its limited supply, its demand would increase over time which will result in exponential growth of its value and price.
HOW TO PROFITS FROM RICONA COIN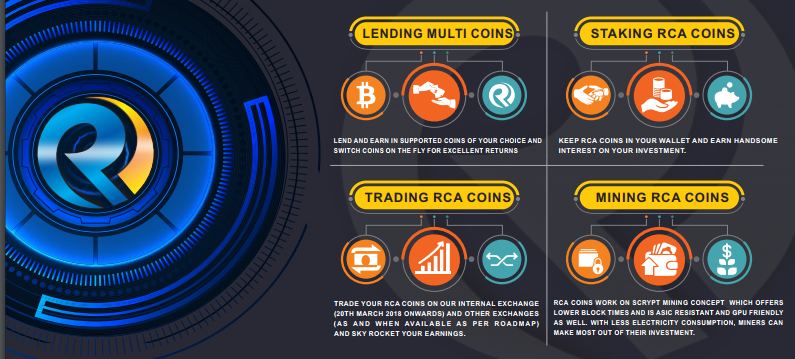 After ICO you can use Ricona (RCA) to:
• Trade RCA on Internal Exchange
• Lending on Lending Platform (Up to 55% monthly). We offer 2 Lending options.
A. Floating Interest Plan (45 Days Minimum): This option involves earning from RCA Trading Bot and Volatility Software. You can earn a daily profit based on your investment option. After completion of investment term, you will receive your CAPITAL BACK to take out from the RCA lending platform or optionally reinvest back to get 10% Bonus over and above your daily profit as per your investment plan
B. Fix Interest Plan (7 Days Minimum): You can earn upto to3% (as per your investment plan) (check Whitepaper for details)
• Staking RCA (March 25, 2018). You just need to hold your coins in your wallet to earn from this method. Simply mean, anyone holding Ricona Coin in their wallet will receive interest on their balance in return for helping in maintaining security & stability to the system.
ICO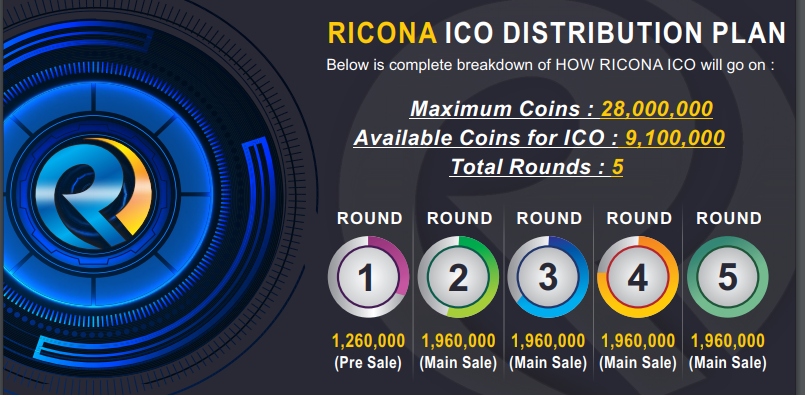 INVESTMENT OPPORTUNITY
Lending Multi- coins = lend and earn in supported coins of your choice and switch coins on the fly for excellent returns
Trading RCA coins = trade your RCA coins on our internal exchange and other exchanges
Staking RCA coins = Keep RCA coins in your wallet and earn handsome interest on your investment.
Mining RCA coins = can as well be mined using script concept of mining
Affilate/Refferer program = Earn to upto your third level
ICO ALLOCATION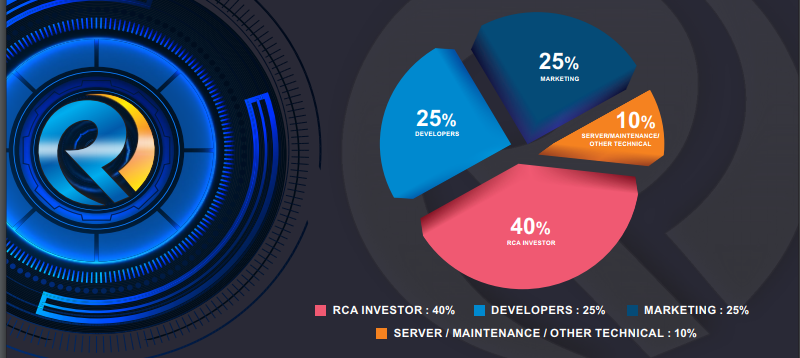 ROADMAP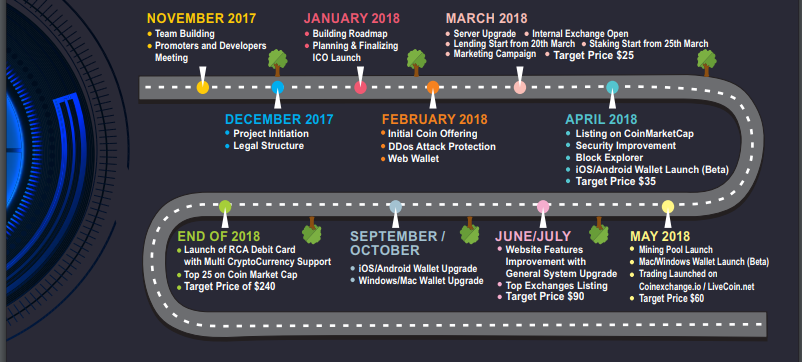 Be a part of this incredible project. Download the whitepaper for the full scoop.
Till next time…
For more information please visit the links below:
Website: https://www.ricona.io/
WhitePaper: https://www.ricona.io/Ricona-Whitepaper.pdf
ANN Thread: https://bitcointalk.org/index.php?topic=2850945
Facebook: https://www.facebook.com/RiconaOfficial
Telegram: https://t.me/RiconaOfficial
Twitter: https://twitter.com/RiconaOfficial
Instagram: https://www.instagram.com/RiconaOfficial/
Author: TheMichaelMatch
My BitcoinTalk Profile: https://bitcointalk.org/index.php?action=profile;u=1326035