RipaEx: A Hybrid Crypto Exchange
Ripa Exchange is a hybrid-decentralized exchange with a strong focus on lowering the entry level of opening new exchanges and giving crypto traders safe and secure trading partners to operate on a daily basis. RipaEx is a project to facilitate the uptake of standards to share liquidity between crypto assets marketplaces. The objective of RipaEx is the promotion of shared source code for wallets and exchanges in the virtual currency industry: it is the aim of this reference document to give in-depth information to prospective exchange developers, or exchange managers, to enable correct decision-making and to ensure success for their proposed projects.
The RipaEx believes that, despite the recent developments in the world of cryptocurrencies, it is still expensive to open, manage and build trust on a newly created exchange, for the following reasons:
High volume of resources, needed to run a reliable exchange platform;
High cost for building the platform;
High liquidity, necessary to run a profitable business in the first 5 years gap.
RipaEx is a project build on two pillars:
Ripa Exchange: an open source exchange based on the source code of Peatio (www.peatio.com)
Ripa Blockchain: a DPOS blockchain with its own XPX token that will serve to share liquidity between all Ripa Exchanges in the Ripa network.
The mission of the RipaEx project is "lowering the entry level of opening new exchanges and giving crypto traders safe and secure trading partners to operate with, on a daily basis." While, their main goal is to make this development concrete and have a reliable crypto asset marketplace network installed for the future generations. It is the aim of this project to offer an Open Source, efficient, reliable exchange platform. We want that the customer experience will be the sleekest possible, while making it safer to trade.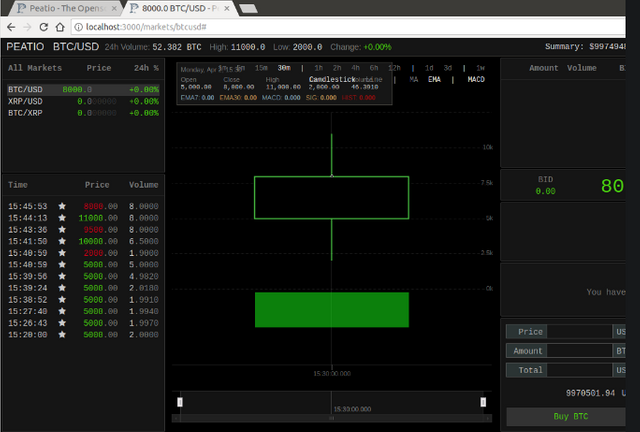 RipaEx Technology
Rubikube-Peatio fork (rubykube.io). Considered as the best open source crypto asset marketplace so far (modular, secure, functional);
DPOS ARK blockchain. The most democratic, clean and open source blockchain in the industry (cleaner than Bitcoin, because it is based on the Delegated Proof of Stake protocol; more democratic than LISK as it has the relation 1 address <=> 1 vote)
RipaEx Features
What makes RipaEx great is that it is is a highly customizable, open-source crypto exchange platform, packed with numerous features, including a high-performance trading engine. Being an open-source platform, RipaEx will encourage contributions from a community of users, thereby making the platform more powerful, and at the same time, guarantee greater security, reliability and transparency. Thanks to the Ripa Liquidity Service Provider (RLSP) technology, liquidity among the Ripa network will be shared.


RipaEx Token (XPX)
Token use case
The XPX token has been thought for the following purposes:
to list new cryptocurrencies on Ripa Exchanges
to advertise new projects
to buy RipaEx gadget on the RipaEx Store
to pay for the sell of goods & services on authorized resellers with our RipaEx POS (Point of Sale)
to share liquidity between Ripa Exchanges in the same network
Token Sale
XPX is the RIPA token being sold at ICO. The token will postulate a key part in financing the task and adscititiously being the official cash for installment of administrations inside the system, for example, posting cryptographic forms of mazuma, advancing incipient activities, sharing liquidity between organize trades notwithstanding installments at RipaEx Store.
RipaEx ICO stage commenced in July and goes through December 2018, this stage was subdivided into little times of rebates on the token buy, over the long haul the rebates are likewise diminishing. There are rewards being offered inside those eras in integration to another reward substantial until the finish of the ICO of € 1000.00 in exchanging expenses when the trade is live (legitimate for buys of at any rate € 100.00 in XPX tokens).
Author:

Bitcointalk Username: binar234
Profile Link: https://bitcointalk.org/index.php?action=profile;u=2053245