RUSGAS: BLOCKCHAIN PLATFORM FOR A TECHNOLOGICAL BREAKTHROUGH IN THE GAS INDUSTRY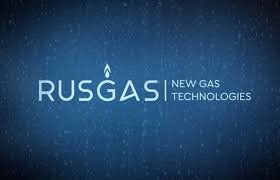 The petroleum industry greatly needs the RusGas project. Petroleum, as we know, is the source from which the worlds satisfies its huge energy needs. Petroleum is used for many things including electricity, motor fuels, production of pharmaceuticals, plastics, clothing etc. Without this precious petroleum resource, it is hard to think what our world would be like. However, it is a shame that during petroleum production, to this day, huge gas resources are constantly wasted as they are flared or are merely used for heating purposes. For example, in Russia, about 10 bcm of associated gas is flared annually. This is obviously a huge waste that has and continues to be detrimental both economically and environmentally to our world, and requires immediate attention. It will shock you that each cubic meter of natural gas can produce much more ammonia, methanol, di-methylether, and many more. However, for gas resources to be maximized and well utilized, a lot of factors must come to play. The need for innovations and technological developments cannot be overstated. This should be on the rise to cater for the already ailing technologies currently used in the oil and gas industry. Should well improve technologies be brought into the petroleum industry, oil and gas operations will become more efficient and will be able to satisfy our dynamic world both economically and environmentally, to name a few. There should be constant, adequate and productive oil and gas prospecting and exploration, prompt commissioning of new gas and oil production capacities and field development, regular and efficient production through the use of improved technologies, the environment should be better conserved, and much more. At the moment, the world is lacking in these areas and more needs to be done to improve the situation, else we will find ourselves in unpleasant conditions. More research needs to be done in terms of finding new and economically profitable conventional and unconventional reserves and as such already existing research and development teams have to be expanded and better funded to be more responsible and capable. Better investment policies (a new investment policy based on self-financing of the oil and gas sector development) in the petroleum industry will help address current and future development challenges in the petroleum industry. To this end, RusGas, a promising technological project that allows everyone to join in in substantially improving the oil and gas industry, has been set up. With the aid of the RusGas project, the economic and environmental situation of the world will be greatly improved as there will be improved technological innovations that will help grow the industry. The Rusgas project will largely leverage the blockchain technology in its offering so that anyone can be able to invest and share in the expected profits, thus breaking the high-entry threshold that would otherwise rule out many investors, and expand the control over decision making. With RusGas, there will be direct funding of developments by investors through the use of the RusGas RGS tokens, direct interaction of investors and their investments. The RusGas project is simply unique and proffers solutions to the existing challenges facing the oil and gas industry, gas mostly. I refer you to visit the RusGas whitepaper at https://rusgas.io/wp-content/uploads/2018/03/RUSGAS-Whitepaper_en.pdf for more details on this unique project.
TOKEN SALE DETAILS
Token Ticket: RGS
Pre-sale start date: 3rd April, 2018
Pre-sale end date: 16th April, 2018
Pre-sale cap: $ 12 million
Pre-sale token price: 0.018
Main sale end date: 11th June, 2018
Softcap: $2 million
Hardcap: $60 million
Sale stages: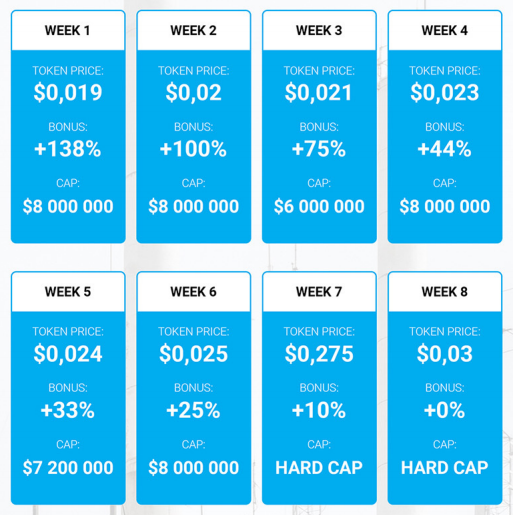 Note that, token sale ends when the hardcap is reached or on the normal end date. Should the hardcap be reached before the end of the token sale, all received funds will sent back to their owners (investors). Funds will also be returned to owners (investors) should the sofcap not be achieved. The first 500 ICO investors will have all unsold tokens distributed among them based on the amount they initially invested. After the token sale event, RGS tokens can be sold or bought on many exchanges. The tokens will be listed on more exchanges as the Rusgas company grows and as user request becomes widespread. Very importantly, within 2 months of the completion of the token sale, RGS token owners will receive a new RusGas cryptocurrency on a 1:2 ratio. For more details on the token sale, please visit the website at https://rusgas.io/en/ .
TOKEN DISTRIBUTION
60% – Received by token holders
10% – Included into development fund (stake will be unfrozen by 3% each time after first two periods of 3 and 9 months as specified by the Road Map)
20% – Team (Team's share will be unfrozen by 5% each time after 6 and 12 months and by 10% after 15 months under the supervision of Escrow)
5% – Bounty rewards
5% – Advisors and marketing team
FUND (ETH) DISTRIBUTION
10% – Provided to marketing companies
10% – Grants for training of best students in Chemistry and Physics field with subsequent employments in research teams
8% – Reclamation of natural environment and animal care
2% – Planned for assistance to preserving the lifestyle of indigenous people of Siberia
20% – Developing an ecosystem for interaction of researchers and major gas companies
6% – Search for and assess promising research projects
44% – Financial support of research
ROADMAP
Please visit the whitepaper at https://rusgas.io/wp-content/uploads/2018/03/RUSGAS-Whitepaper_en.pdf for details on the roadmap.
TEAM
The team is made up of proven technocrats, some of which are:
Kadushev Vladimir Boshaevich – General Director of OOO Kada-NefteGaz
Mikhail Evgenyevich Starobinets – Chief Geophysicist at OOO Kada-NefteGaz
The future of gas technology in Russia will be greatly improved and its effect will trickle into the rest of the world. I, therefore, urge everyone to participate the RusGas token sale event and share in its benefits.
For more information on this project and to connect with other unique participants across the globe, please feel free to click on any of the following links:
Website: https://rusgas.io/en/
Whitepaper: https://rusgas.io/wp-content/uploads/2018/03/RUSGAS-Whitepaper_en.pdf
ANN thread: https://bitcointalk.org/index.php?topic=3301479.0
Facebook: https://www.facebook.com/RusGasOfficial
Twitter: https://twitter.com/RusGasOfficial
Telegram channel: https://t.me/rusgas_official
VK: https://vk.com/rusgasofficial
Published by: charleyles
Bitcointalk URL: https://bitcointalk.org/index.php?action=profile;u=1344011
Ethereum wallet address: 0x69C516900e939e97C7c60Ca59bdaF15295556838