S.E.D.O. System based on Blockchain
Introduction about SEDO Document in Blockchain
About SEDO
The processes of working with human documents have evolved from a long time, from raw paperwork to process systems that work with digitized electronic documents. There is no denying the advantages of traditional electronic document systems, but they still cannot provide absolute reliability, as well as ensure the integrity of the documents. The reason is that these systems are managed by decentralized models with administrators, and not all of them are reliable.
But with the development and introduction of new technologies such as blockchain, it allows us to create systems that automate and manage processes related to human-document interaction. Since then, it is more effective by increasing the speed of information provision, data collection, and reporting. The SEDO project is developing to provide the best solution.
SEDO is a platform that uses blockchain technology to change the way we work with documents. The main problem that SEDO deals with is protecting any document from unauthorized changes as well as protecting users' personal information.

How does it work?
The main feature of the SEDO project is its unique modular structure, whose components will synergistically give us a unique product.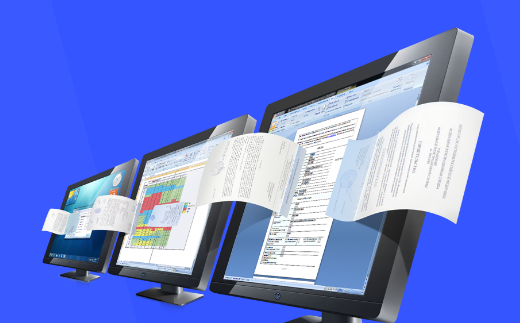 The following can be distinguished from the main modules:
Core (SEDO Core) – the main component that provides the basic structure of the system and is responsible for the interaction of modules with each other;
SEDO Temporary Storage – is responsible for transferring documents between network participants via the P2P protocol;
SEDO Service Bus (SSB) – a module for integration that provides system interaction with third-party applications;
EDMS – a module that provides the basic functions of an electronic document management system. As a platform to build EDMS, SEDO plans to use an open source engine from CUBA. The machine has proven itself on the market, it has very high popularity among the same developers. With the help of CUBA, you can quickly make the necessary applications from scratch.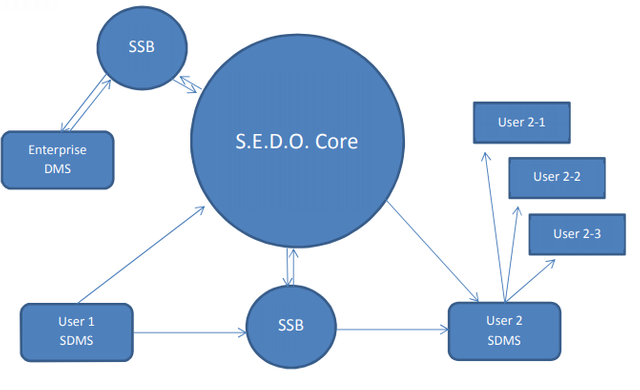 In this system, all network participants will be able to work with documents, make corrections and check all operations. Operations with documents are located in blocks and distributed between network participants. Document security is guaranteed by constant transaction verification.
As we understand it, in addition to its main function, SEDO can also be used in areas such as online orders at online stores and online entries for various shows, entertainment shows, etc.
In such cases, SEDO will also solve the main problems of this area, namely: a large number of sites and services that require user registration, forcing users to provide personal data. SEDO will allow you to store all your personal data in a hidden repository, access that will be exclusive to participants in the transaction. This will be done through information encryption.
Business model
Whether it's a big company, either private, when we have to work with documents, we are still drowning in a pile of paper. Automation of all processes related to people's interactions and documents will be very useful in our rapidly growing industry. And the basic concept of the SEDO project idea is to turn all administrative work into "paperless work".
I propose to consider the main advantages of electronic document management:
First, save time for employees: employees will spend less time searching for paper documents;
Second – the place will be used more productively due to the fact that many spaces are freed up, which were previously occupied by paper documents;
Automatic storage of all files and documents and, therefore, less likely to lose one or another document, which you can randomly remove;
It is possible to track the status of all documents at any stage. Also, the ability to quickly and easily find the requested document and get a full report of what happened to this document, who edited it, etc .;
There will be the possibility of remote work for employees;
All postal and shipping costs are reduced to zero;
Removed many routine tasks, therefore all employees will be able to get more satisfaction from working in the office. They don't need to do a lot of tedious and routine work with documents.
The key platform features
high level of abstraction regarding the technologies it based on (Vaadin, Spring, EclipseLink, etc.)
pre-installed and integrated components that solve many typical tasks of the corporate systems.
visual development tools and advanced template code generation.
in total, this allows to minimize the time spent on "system" tasks, configuring the project infrastructure, the integration of technologies and components, development of basic functionality.
SEDO Coin Course
There is no coin on the coin market, but it is possible to track courses directly from the exchange. On this day, January 6, 2019, the cost of SEDO coins is $ 0.079, and at its peak, the cost is $ 0.1. Given that the listing was only in December, prices showed themselves to be very stable in falling market realities.
There is no information about capitalization. Daily trading volume of 6 $ 100. Most of the trade occurs at the Yobit stock exchange.
Where to buy SEDO tokens
Not long ago, or rather in December 2018, the SEDO team flooded their tokens in two cryptocurrency exchanges. The first exchange is Yobit, here you can buy SEDO tokens for 6 currency pairs, including for rubles.
And the second exchange of cryptocurrency, where we can buy SEDO – Graviex tokens. There we will be able to buy SEDO tokens in currency pairs with BTC and ETH. The main trade takes place at the Yobit exchange.
Dеtаіl Of SEDO TOKEN 
Token nаmе: SEDO
Total Suррlу : 50,000,000 SEDO
Blосk reward: 25 SEDO
Blосk tіmе: 10 Mіnutеѕ
GPU & CPU Mіnеаblе: Unіԛuе mіnеr
Dіffісultу Rеаdjuѕtmеnt: еvеrу 1024 Blocks
Dеvеlореr fundѕ : 1,000,000 SEDO
Bаѕеd tесhnоlоgіеѕ: OXBITCOIN
SEDO TOKEN SPECIFICATION
SEDO ROADMAP:
The project roadmap can be divided into two parts: before switching to your own blockchain and exchanging tokens (as discussed above), and afterwards.
SEDO EXCHANGE
( For more detailed information )
#Document_flow #docflow #Document_management_system #Sedo_pow_token #sedocoin
*AUTHOR*