The emergence of email as a vital communication platform cannot be understated. However, individuals and businesses alike continue to misuse the tool and fail to grasp the fundamental tenets that make email so powerful – in both a positive and negative capacity.
As a business, it is critical for you to publish email addresses where your clients can reach you. In today's business world, it is even more critical than publishing a telephone number. We are all accustomed to sending our queries to a "support@" or "info@" mailbox. However, how many businesses actually respond to these emails? People fear sending emails to these generic mailboxes as they are often unmanned and leave most of their contents unanswered. As a business, the only thing more critical than publishing an email address is actually responding to emails that are sent to said address. Failure to do so tarnishes your brand and alienates your client base.
As with all business communications, a timely response to any email is critical. In an age where information is so widely available and competition is fierce, delayed responses to email can be the death knell for any business. If you are not able to respond to your customers within 24-48 hours, you need to re-evaluate your commitment to providing customer service via email.
Email problems can arise with your account itself or with the configuration of your email client (the software you use to access your email account), and it's not always easy to tell which of these is to blame. Keeping your account within its allotted storage size by deleting and/or moving messages, and properly specifying your preferred address, will save you from the most common problems with mail receipt. With regard to sending mail, correctly specifying your SMTP mail server in the configuration of your client, and using the proper addresses for your recipients, will avoid two of the most common problems.

Introducing Safe.Ad
This is the next generation e-mail system that is being created to meet the following requirements:
It is compatible with existing mail protocols (resolved);
It does not have a single center for data storage and management (decentralization);
Public keys and identification data of users are stored in blockchain and therefore cannot be masqueraded or compromised. Recipient identification is guaranteed, and public keys can't be replaced by a third party (resolved);
All data that is sent and stored is reliably encrypted, with no exception. That includes metadata, headers, and attached files (resolved);
There is no message size limit (resolved);
No additional software required, everything works in any browser, including those on mobile devices (resolved). Installing the application on your mobile device will improve the user experience, but is not necessary;
The cryptographic architecture is optimized for data streaming and may be adapted to other types of applications, such as group calls, video-conferences, etc. (resolved);
Public API providing access to user keys allows creating third-party applications based on the new architecture and integrating existing systems into the new platform;
Our solution is several times less expensive than existing commercial applications (starting at $1 per month), including a long period of free use for new customers;
Spam protection implemented at the system architecture level;
Open source software, the code can be checked and modified by the community;
The system offers essential performance equal to existing email platforms while
providing dozens of revolutionary features
WE ARE DEVELOPING
A cryptographic architecture that is suitable for other uses besides e-mail is also being developed.
Some of the examples provided refer to using our architecture in data streaming. However, this particular email application only uses it if the email traffic is limited to our ecosystem;
It is not used for email exchange with external sources.
The first application to use our new platform was our email app. It became the first example that showcased the speed, reliability and convenience of our new technology.
File storage turned out to be a very organic addition to our e-mail client, so we combined
both into one interface. But if you look at the encryption principles that we used in this application, it is clear that this technology can be employed to create a protected messenger or an application for voice calls or video conferences and so on.
THREE STAGES OF MESSAGE
AUTHENTICITY
All incoming messages from external sources are encrypted with the same algorithm as our client software use, but here it is done by the server. As soon as the message comes to us for processing, the handling and encryption are the same. All attachments are also encrypted. The original message is deleted immediately, with no copies or back-ups of the original text or files ever made. But it must be understood that if the message text was unen-crypted at any time, it is considered to be a priori saved somewhere else. These messages are marked with an icon of a red open lock in reading mode.
Messages received from internal users are always encrypted and are never stored or transmitted in open form anywhere, except on sender and recipient devices. All files, both stored and attached to letters, are encrypted.
The maximum security level is achieved for letters from an internal contact with key verification. If you see a green lock
icon while reading a message, you can be 100% sure that your correspondent is not fake, and the data is reliably protected. For this though, you must verify the contact yourself, because
nobody will do it for you.
To achieve maximum security and comfort, we recommend you
use internal addresses for all participants, and verify each corre-
spondent who is vitally important to you.
Competitive advantages of the project
• Maximum encryption strength
• Contact & signatures verification
• Maximum efficiency
• Without trace
• Native encryption
• Protection against XSS attacks
• Open-source code
• Protection of user data
• Optimized functioning with files
• Fast navigation
• Incredible message size
• Secure feedback
TOKEN AND ICO INFORMATION
The SAFE token system is introduced for payment for the Safe service which will ensure that all your correspondence and the contents of your inbox and sent box remain safe from prying eyes and from unauthorized access by advertisers and malicious attackers. The SAFE tokens will also be released on stock exchanges to allow for their conversion.
Half of the SAFE tokens will be available for sale and the other half will remain owned by the SAFE Company. As the number of users grows, the SAFE tokens available in circulation will go down which will increase their exchange rate. Their exchange rate will depend on the number of users and the overall appeal of the safe e-mail service.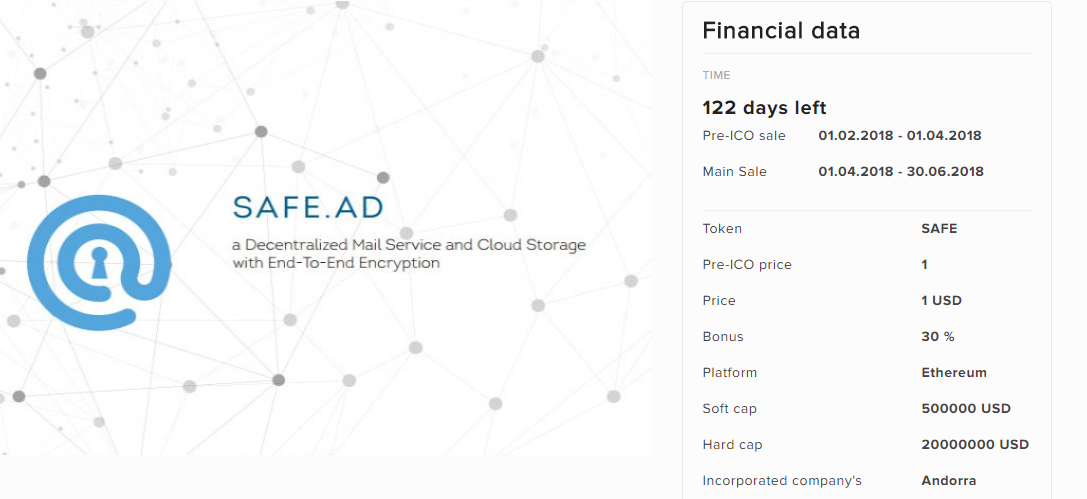 Token distribution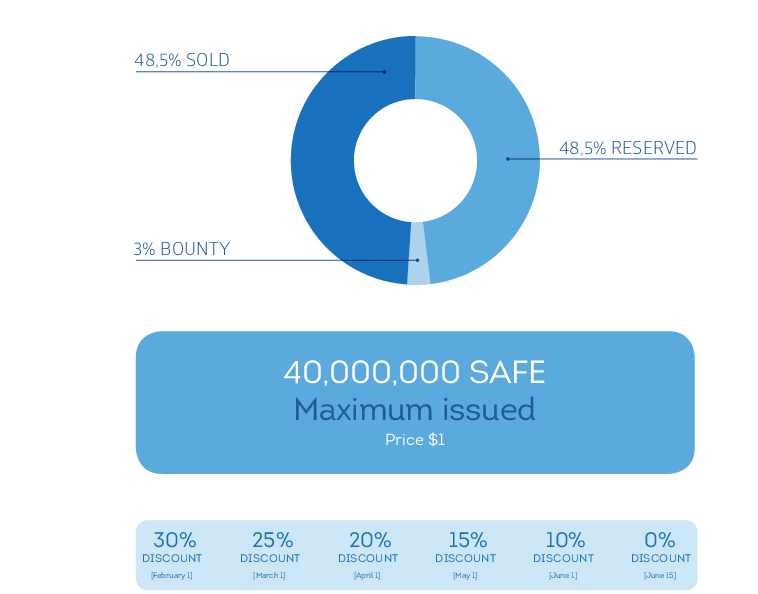 ICO Details
Public ICO Start: Feb 1st
Public ICO End: June 30th
The total number of tokens: 40,000,000 SAFE token
Tokens available on sale (Pre-Sale + Public ICO): 19,400,000 token
Price of 1 SAFE: $1
Accepted payments: ETH
Token Limit: 40,000,000
Hard Cap: $20 million
Soft Cap: $3 million
The open sale of SAFE tokens will be held in 2 stages:
PreSale (to be whitelisted): 30% discount in February; 25% discount in March;
Public Sale: 20% discount in April; 15% discount in May; 10% discount before June 15th
Roadmap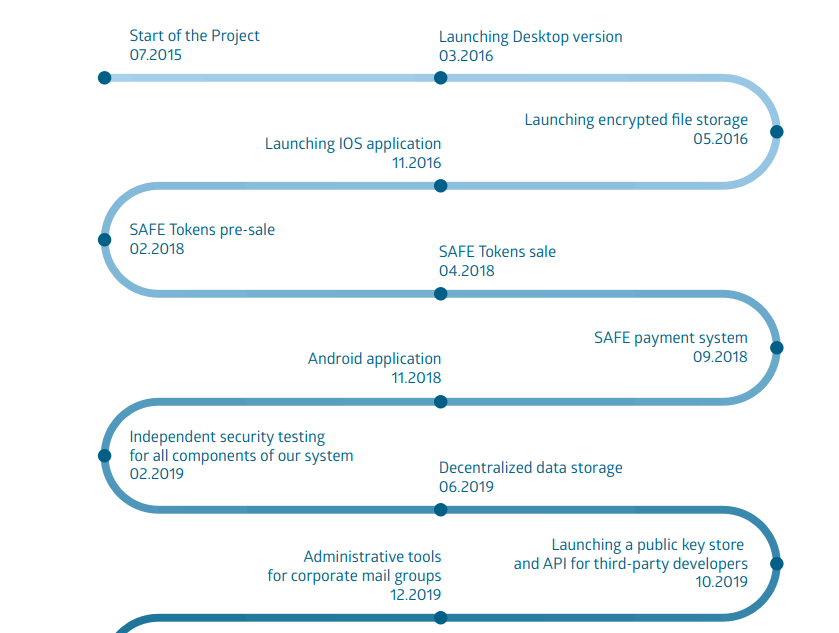 Be a part of this tremendous project and follow these links for more information;
Website: https://safe.ad/ico/
Whitepaper: https://safe.ad/docs/wp_en.pdf
Github: https://github.com/safead/client
Reddit: https://www.reddit.com/r/safead/
Telegram: https://t.me/safead
Author
nugezmils
BITCOINTALK PROFILE
https://bitcointalk.org/index.php?action=profile;u=1729621