Satt advertising transactions with a smart contract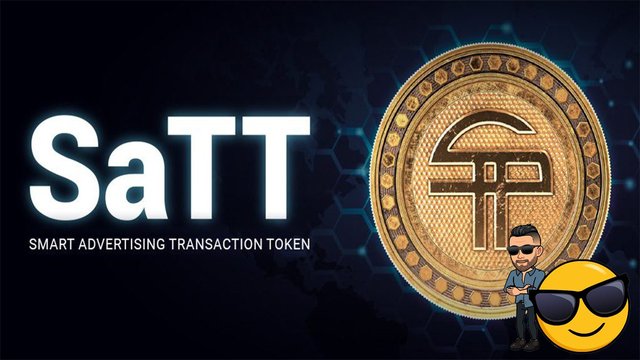 SaTT is a token-based blockchain utility that allows advertisement and payment exchanges.
SaTT is governed by a Smart Contract that lists advertising offers in the Ethereum blockchain, establishes the conditions for participating in campaigns, quantifies the success of the campaigns and guarantees the remuneration.
The advantage of a Smart Contract is to gather market offers in a decentralized database, set the rules that apply to advertising contracts, and automatically trigger payments when the transaction is performed. Means that the system is fast, cheap, secure and dynamic.
The goal of the project is to make the distribution of ads in the internet market fair, eliminating all restrictions and falsehoods induced by intermediaries of centralized companies.
Blockchain will include all current bids that allow any API or platform to perform operations, either as part of an ad moderator.
SaTT tokens will be used to regulate advertising transactions between advertisers and publishers, thanks to the SMARTCONTRACT technology of the Ethereum platform, SaTT tokens will make transactions faster and safer. Thanks to Smart Contract SaTT, an advertiser can easily create advertising campaigns whose terms of participation and results will be stored and registered by blockchain.
Website official SaTT : https://www.satt-token.com/
Problems with ads centering
Until now, there was no simple and effective offer to meet this need: it was human labor, agency work among others. Advertisers and publishers in many ad networks must rely on centralized ad agencies without being able to verify the statistical results provided, which can be distorted, making campaigns more expensive and dubious. In the event of a technical failure on a centralized platform, all ad campaigns will stop working until the issue is resolved, and if a centralized network is hacked, hackers can access all accounts on the system and cause problems.
SaTT project solution
The blockchain is a decentralized and distributed database that ensures the integrity of data and transactions. Thanks to the blockchain, advertisers and their campaigns are not connected to each other. Thus, they are not all affected by hackers or defects. Thanks to Smart Contract SaTT, ads and transactions are governed by stand-alone modules secured by the Ethereum blockchain. In the event of a malfunction of a module or Oracle, the integrity of other advertisers' ads is preserved.
The competition between Oracle modules ensures a high level of service and competitive rates. When using SaTTs, payments are immediate once the success criteria are met. Payments are not subject to transfer fees or currency conversion rates, providing the industry with significant savings.
Review and analysis of SATT ICO
https://www.youtube.com/watch?time_continue=42&v=PpiG6o8b8Y4
The crowdsale pool allocation is really detailed and professional
Extensive and successful history of the organization and the team of developers
More than 4 million users using your apps
Good social networks with active community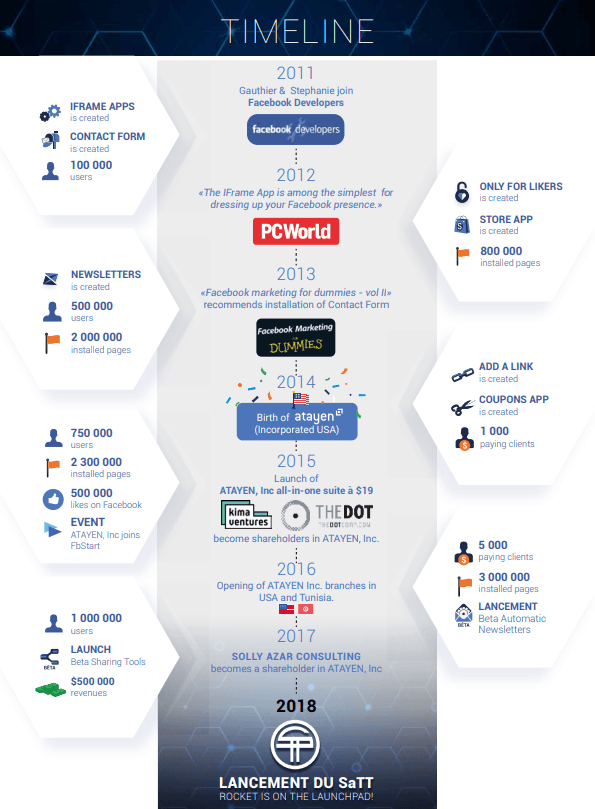 ---
Developer team
Gauthier BROS
CEO Linkedin
Stéphanie CLEMENT
CTO
Samir KSIBI
Associate Partner Linkedin
Geoffrey MOYA
Blockchain Expert Linkedin
Nicolas ROY
Assistant Director Linkedin
Caroline POURCHIER
Chief Design / UX Guru Linkedin
Mohamed BOUHAOUALA
Customer Service Linkedin
Mohamed Aziz BEN REJEB
Lead Developer Linkedin
Amel CHAMMEM
Web Developer Linkedin
Wiem BOUTITI
Graphic Designer
Mohamed MEZLINI
Backend Engineer Linkedin
What are the benefits of using the SaTT token
SaTT's primary interest is the use of the Smart Contract in dialog with third-party APIs to quantify the performance of a campaign and evaluate the value of the transaction.
Payments are immediate as soon as the success criteria are met. Payments are not subject to transfer fees or currency conversion fees, and billing data is falsification proof.
How to win tokens for free with bountys?
SaTT offers a great bounty program for content producers, through twitter, Facebook, telegram among others, we can acquire tokens as a reward for work!
For more information access BitcoinTalk: https://bitcointalk.org/index.php?topic=5104283.0
Information about the writer :
Bitcointalk profile : https://bitcointalk.org/index.php?action=profile;u=2250694
Autohor : jeaniever rahardian
Profil : https://bitcointalk.org/index.php?action=profile;u=2447510
ETH addres : 0x42836bf737eC833228344f0841C3bD14f4D67643