SaTT- REDEFINING THE FUTURE OF ADVERTISING USING BLOCKCHAIN.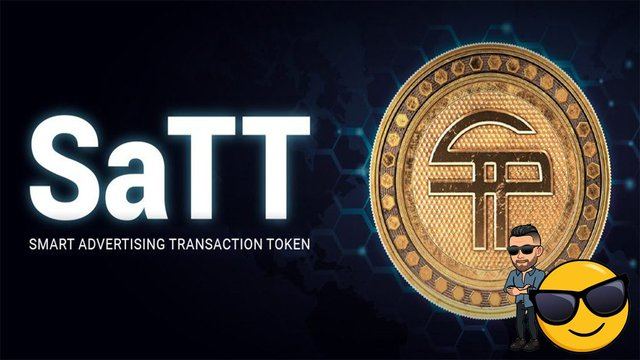 OFFICIAL WEBSITE OF SaTT. https://www.satt-token.com/
Their is a common saying that says "No matter how good a product may be, no matter how rich and profitable a service may be if you don't say here i am like the biblical Jesus nobody will no where you are and what you do".
Little wonder Advertising has been and will always be the most effective if not the only successful means by which business operators can reach their desired audience and increase the awareness of their brands, increase the level of demands for their goods and services which directly affect the proportion of their profit, thereby making it one of the largest industry in our 21st century and digital marketing ready to take the lion share of this field of endevour with the $1.2 Trillion Advertising industry also disrupted by the Blockchain Technology which will increase the growth rate of the Advertising industry to a greater height.
And as more and more people connect to the internet the larger the audience grows in a geometric progression, thus one can categorically say that the digital market in few years to come shall take over the whole advertising industry and these is the business environment in which SaTT Project is to operate on.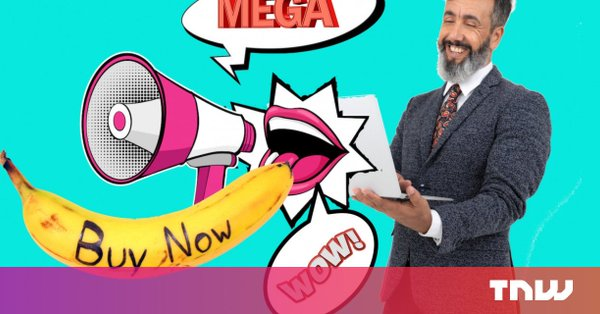 CHALLENGES THE ADVERTISING INDUSTRY IS FACING AND THE URGENT NEED FOR THE PROJECT CALLED SaTT – THE REVOLUTION OF ADVERTISING TRANSACTIONS.
To start with it is indeed admittedly quite unfortunate that for a company to Advertise her product she has to contact and contract a 'stranger' that is a centralized advertising agency to facilitate her work. And sadly advertising in its traditional sense has always been the work of humans, that is manual agency work ranging from running Ad campaigns, printing brochures and security data, all been manually done till date, too bad for our digital century !
To add salt to the existing injury these centralized traditional means of advertising used by advertising agencies today comes with so many flows and impediments which include but the following:
High cost of Advertising ( very expensive to bear) thereby making campaign to be highly expensive.
High chances of clients data been hacked due to lack of security by these traditional centralized advertising agents.
High level of commission fees.
Transfer fees.
In the face of Technical failure on a centralized platform all Ad campaigns will stop working pending when the issue will be resolved.
These traditional and centralized advertising agencies is based on a prohibitive cost of entry and monthly billing for the services they provide and the minimum fee for using their interface ranges from hundred to thousands of dollars per month.
The customer stand a chance of been blocked if there is no minimum amount on his balance to perform operations.
The list goes on and on, But thanks to God for the arrival of the project called:

SaTT is poised to providing us with a lasting solution to the identified problems above which our advertising industries are currently facing by creating a secure system of cooperation between advertising agencies and manufacturers of goods and services thereby eliminating fraud and ensuring that innocent advertisers pay for effectiveness of service and not mandatory monthly subscription that does not profit them.
SaTT AND HER SOLUTIONS. AND THE TWO PRINCIPAL BENEFICIARIES ARE FIRST:
THE ADVERTISER
SaTT with the assistance of her smart token and blockchain innovation will set up a bridge among advertisers and publicizing platforms to run advertisement crusades in a smooth way.
As per the SaTT Smart Contract, Advertisers can make publicizing efforts and the hidden information and the result of the outcomes are put away in a disseminated decentralized records, that is the blockchain which will be accessible by devoted APIs. At the end of the day, it implies that it won't be anything but difficult to mess with results. We are are also aware of the fact that advertisers pay publishers a predetermined huge amount of money for the campaign even when the campaign fails what a huge loss ! But SaTT through her smart contract shall nipp these anomalies out of the board indefinitely. with the help of her SaTT, Smart Contract communicate with thirty party APIs to assess the execution of every single advertisement and decides the expense to be paid to publishers in an instance. thereby sparing both parties of exchange charges as well as outrageous campaign cost while utilizing the SaTT Smart Contract. Also worthy of note is the fact that it is unimaginable on account of SaTT Smart Contract for data to be hacked and tampered with a thing that is a recurring decimal in the centralized traditional system of advertising, but here at SaTT Smart Contract campaign statistics is been tracked and the amount to be paid without any undue interference or misrepresentation.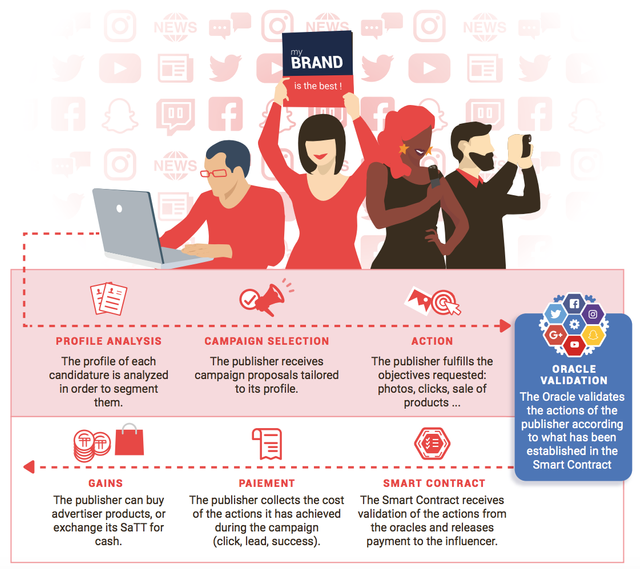 THE PUBLISHER.
Here at SaTT Smart Contract the publisher shall also benefit maximally, how you may want to no. The Blockchain makes it possible for the campaign to be adequately funded and payment made as soon as the campaign ends and immediately the campaign is completed the smart contract automatically releases the stipulated funds and transfer made directly to their account see more benefits in the picture below.
What a smart way of doing business!
(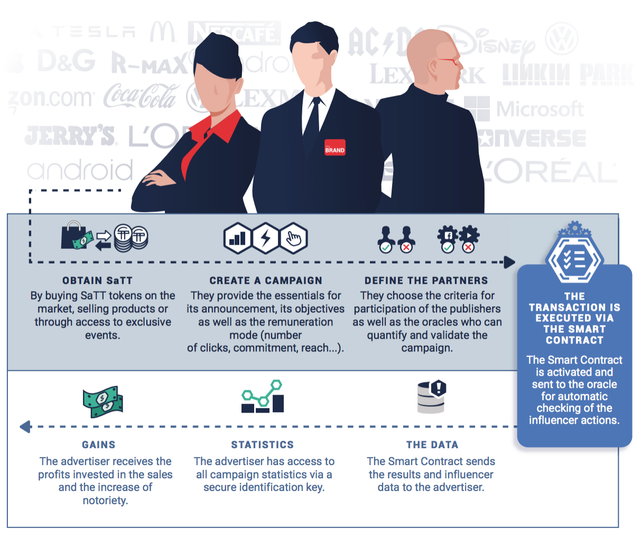 )
TOKENIZED ECONOMY AND BLOCKCHAIN.
The Smart Contract SaTT works in a decentralized and circulated way. The blockchain will incorporate every single current offer enabling any API or platform to perform tasks whether it is the creation as a feature of an adbuilder, the display to make a promotion catalog, or in Oracle for instance by giving the statistics expected to approve and evaluate the transaction. To make the SaTT progressively fluid, we will introduce the PayBySaTT work on our application store and offer a SDK for third-party designers with the goal that numerous items and exclusive events are payable in SaTT.
CROWDSALE AND INITIAL TOKEN DISTRIBUTION: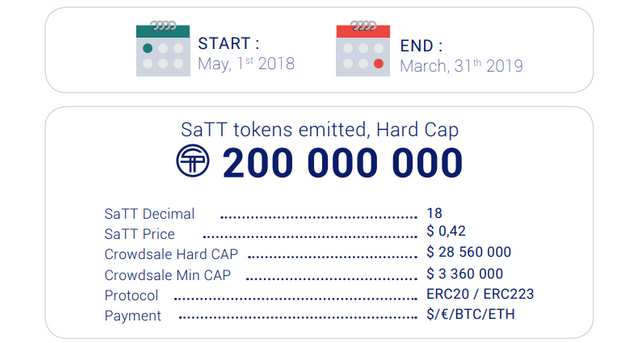 SaTT Token will be used to regulate advertising transactions between advertisers and publishers to be Instant, Transparent and Secure.
MY HUMBLE SUBMISSION.
SaTT is an ERC20 token created for the purpose of facilitating transactions with a smart contract, thereby eliminating late payment and expensive banking services. It is a centralised system for quantifying results of campaign, regulated by smart contract which list advertising offers with all data held securely in the Ethereum blockchain. And it quantifies the success and guarantees the final payment, what more! it is fast, inexpensive, versatile, save and secure.
Thus without any webit of reservation in my heart i humble present to you the project called SaTT for your consideration and investment and you will be excited you did. Tanks love you all as you kindly reciprocate with you likes and upvotes.
THE REPUTABLE TEAM MEMBERS: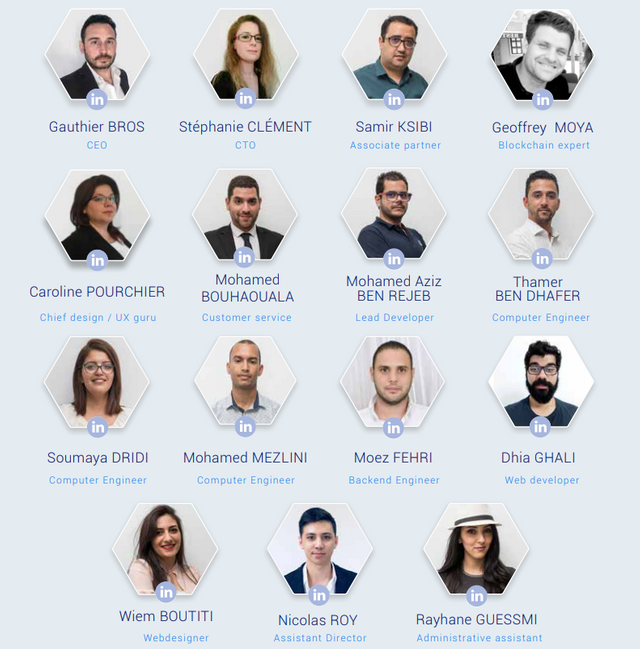 PLEASE SEE THESE LINKS FOR MORE DETAILS:
WEBSITE: https://www.satt-token.com
TELEGRAM: https://t.me/satttoken
WHITEPAPER: https://www.atayen.us/satt/files/ico_satt_en.pdf
ANN THREAD: https://bitcointalk.org/index.php?topic=3407522.0
FACEBOOK: https://www.facebook.com/SaTT.Token/
TWITTER: https://twitter.com/SaTT_Token
MEDIUM: https://medium.com/@satt.atayen
REDDIT: https://www.reddit.com/user/NicolasROY/
GITHUB: https://github.com/Atayen/satt
AUTHORED BY:
My Bitcointalk Name: crypto24hrs
My Profile link: https://bitcointalk.org/index.php?action=profile;u=1840912
My ETH Address: 0x73841c19B4044F4C7CB216EE428A66F8e5d122Fa