SATURN BLACK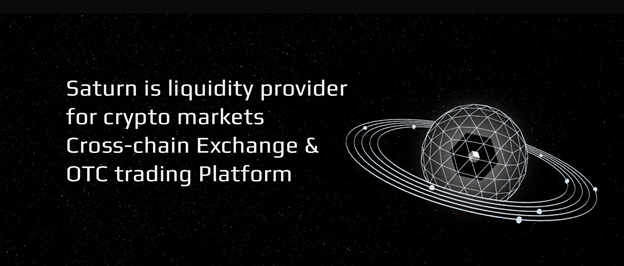 Cryptocurrency seems to become the potential market for investors and traders when Bitcoin achieved the amazing price at the end of 2017. The exchange of cryptocurrency is occurring excitingly and choosing a creditable exchange platform is really important. Because there are some hacked big exchange platform events such as Coinrail, BitGrail, Coincheck, Bithumb that create the anxiety of investors in cryptocurrency market. Besides that, the trading and withdraw fees are preventing the big investments into crypto market. And the delay time of withdrawing from exchange platforms is a problem as well. Saturn Black team was aware that issue thus they would like to provide a best solution to solve it.
What is Saturn Black?
Saturn Black is a cryptocurrency exchange platform allowing users to be able to conduct directly atomic exchange in crypto assets. Saturn Black platform is built on criteria of convenience and credibility, in which traders are possible to exchange wallet-to-wallet their crypto assets without the reliable third party.

Outstanding features
OTC cross-chain trading
The Saturn OTC service allows traders to carry out the transactions through the atomic swap protocol with the assurance by Saturn assets. The target customer of this service are professional investors because the transactions are possible to conduct with the large trading volume and highly minimal trading volume.
OTC auction
The Saturn OTC auction will allow owners to list their crypto assets on the auction at the beginning market price. And the exhibited assets are allowed to exchange with the large amount.
Exchange of atomic trades
This will be a peer-to-peer exchange applying atomic swap protocol to achieve the initial goal of Saturn Back exchange.
Transactions with EURO and USD
This function is implemented and developing to fully serve Saturn's users at the end of 2019. OTC cross-chain trade, OTC auction and Atomic exchange will entitle Saturn's users to exchange between crypto assets and EURO and USD. Exchange of crypto assets with USD, USDT and GUSD is possible to be used now.
Saturn token
The purpose of issuing Saturn token (symbol: XSAT) is to use it as a liquidity asset as well as a quotation asset in Saturn platform. In addition, Saturn team also plans to make XSAT token become a collateral asset but this decision will be considered later.
XSAT token is based on standard ERC-20, Ethereum blockchain. The information of XSAT token and token sale are following:
XSAT Contract address: 0x0d9e614937a308438337a2999acf64fc86bf098a (Do not send anything to this address! This is not a smart contract.)
| Total supply | 1,000,000,000 XSAT |
| --- | --- |
| For sale | 750,000,000 XSAT |
| Price per token | $ 0.125 |
| Private sale | November-December 2018 |
| Pre-sale | Announcement in December 2018 |
| Public sale | 1Q 2019 |
For more information about token sale, please visit Saturn website, Saturn Whitepaper or write to them sale@saturn.black
Token distribution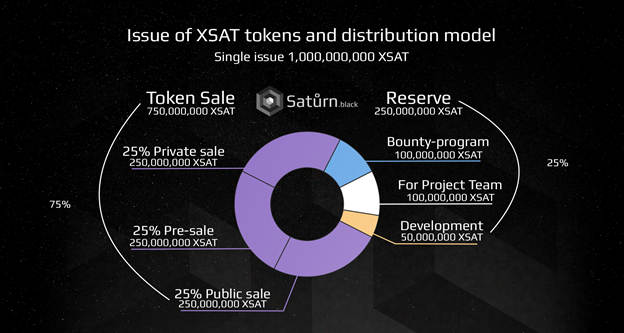 Saturn team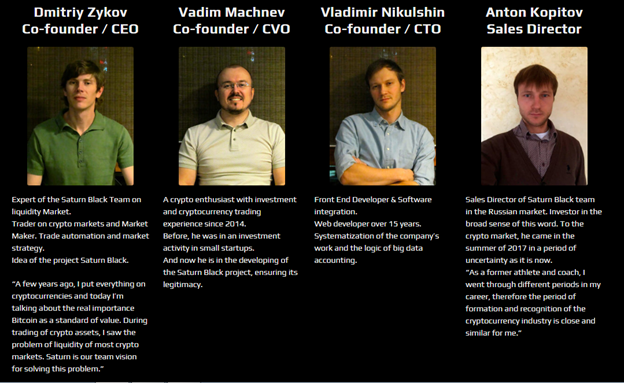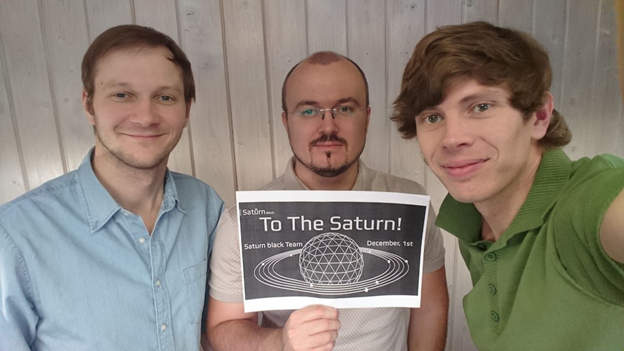 Saturn social media channels
Website: https://saturn.black/
Whitepaper: https://saturn.black/wp-content/uploads/2018/11/saturn-white-paper-eng-1.0.1.pdf
Telegram: https://t.me/saturn_ENGchat
Facebook: https://www.facebook.com/saturnatomic
Twitter: https://twitter.com/saturn_twitt
Medium: https://medium.com/saturn-black
Bitcointalk: https://bitcointalk.org/index.php?topic=5075635.0