SCAVO
SCAVO INTELLIGENT SOLUTION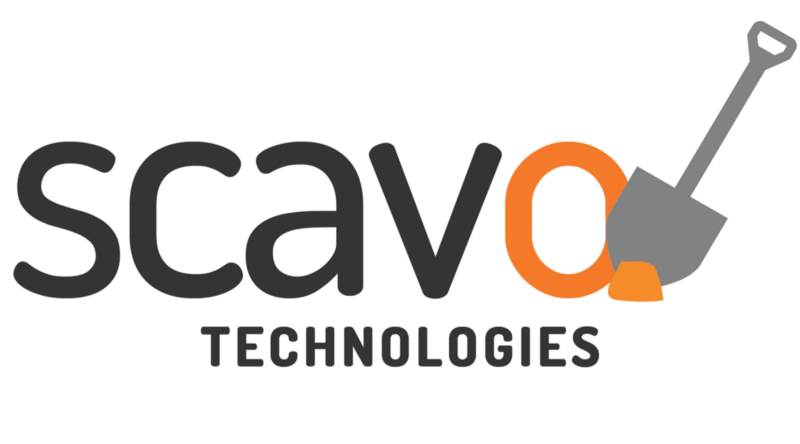 SCAVO technology is in the industry of telecommunications in Argentina. It involves construction of telecommunications data center infrastructure for crypto mining, using renewable resources. The project intends to solve three problems inherent in the modern cryptocurrency mining industry.
Mining cryptocurrency requires a huge amount of electricity, which is one of the main sources of costs of miners. Scavo has developed a new principle of providing mining centers with electricity using renewable energy sources, the cost of which is almost zero.
Centralization of mining in connection with the placement of farms in the countries with the most favorable conditions. Thanks to the Scavo solution, which allows to significantly reduce energy costs, mining center owners will no longer select a place for farms based on the price of energy in the regions.
Creating a self-supporting mining center is an expensive process. To do this, miners need to build their own power station, but the Scavo solution allows them to do without it. Thanks to the technology of Scavo, it takes 12 months to establish a fully independent mining center.
Scavo will be responsible for finding the optimal location for the farm and power plants, buying equipment and delivering it to the destination. The company will also be engaged in the Assembly of farms and organization of the cooling system. The main principles of the company's work is to provide access to clean electricity at a very low price, the use of industrial-class components for the production and assembly of various blocks that make up the cryptomining complex, energy efficiency and the necessary reliability for the process of mining cryptocurrencies in the long term.
Energy independence has become a key principle in the creation of the project. Achieving this goal allows to get rid of binding places with the cheapest energy, and also protects against fluctuations in electricity prices and changes in energy policy. Renewable energy sources make it possible to build mining farms even in countries where electricity prices simply make mining unprofitable. Building own power source takes 12 months, after which energy costs will decrease from $0.12-$0.15 kW/h to $0.01-$0.015. At the same time, the minimum service life of such a facility will be 10 years.
The goals of SCAVO technology are stated as below:
Building a long-term strategic relationship
Intelligent solutions to real problems
Use of cutting-edge technology
Acquisition and logistics
Self-sustainability
Scalability

In addition, SCAVO token is based on ERC-20 standard where total token supply is 200 000 000. The price of a SCAVO token is stated as USD 1 where all the payments are accepted only from bitcoin , ethereum , litecoin , monero , bitcoin-cash , dash , ethereum classic , zcash , decred , amero , ultranote , wire transfer and credit card. The minimum amount to be invested is recorded as USD 25. The total token supply is expected to distribute as follows.
Token holders – 88%
General reserve fund – 8%
Reward and intensive program – 2%
Founders and team – 2%
Token Information
Token Ticker: SCAVO
Platform: Ethereum
Type: ERC20
Country: ARGENTINA
Total Token: 200,000,000
Price: 1 USD = 1.0 SCAVO
Accepting: BTC, BCH, ZEC, ETH, ETC, XMR, DCR
Softcap: 500,000 USD
Hardcap: 83,600,000 USD
Website: Visit
Whitepaper : Download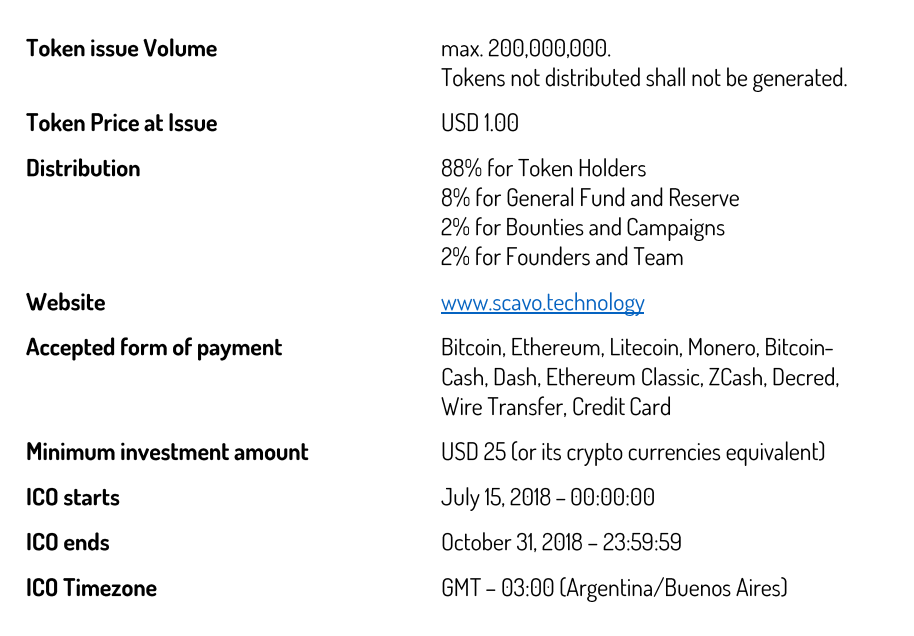 Useful Links:
Website: https://scavo.farm/
Whitepaper: https://scavo.farm/download/WhitepaperEnglishv1.15.pdf
ANN Thread: https://bitcointalk.org/index.php?topic=4832228
Bounty Thread: https://bitcointalk.org/index.php?topic=4832322
Twitter: https://twitter.com/SCAVOTech
Telegram: https://t.me/SCAVOTechnologies
Facebook: https://www.facebook.com/SCAVOTechnologies/
About Author:
Bitcointalk Username: Cevizo
Bitcointalk Profile Link: https://bitcointalk.org/index.php?action=profile;u=1977323
ETH:0x1ad209D66CDF9f49DB7B87Bd582DA32B2149968D