SEAL network is a blockchain based product verification and services network. Basically, SEAL network aims to allow everybody the ability to quickly confidently and economically identify the verification of an item that's SEAL enabled and to claim to move the hold of it applying the SEAL application.
The tech behind the SEAL network is the usage of NFC chips, which upon integration connect the product with its virtual counterpart on the block-chain. This is done with an easy tap or simple scan with any Smartphone device via the SEAL App. So basically, you only scan and let SEAL network to the rest of the work .
The idea of Seal network is to disrupt a counterfeiting field that is worth about one Trillion USD, by joining NFC chips and modern block-chain tech. I think this is an enormous use case for modern block chain tech that could help hugely decrease the wide amount of fake products that presently exist.
A blockchain is a digitized, decentralized, public ledger of all cryptocurrency transactions. Constantly growing as 'completed' blocks (the most recent transactions) are recorded and added to it in chronological order, it allows market participants to keep track of digital currency transactions without central recordkeeping. Each node (a computer connected to the network) gets a copy of the blockchain, which is downloaded automatically.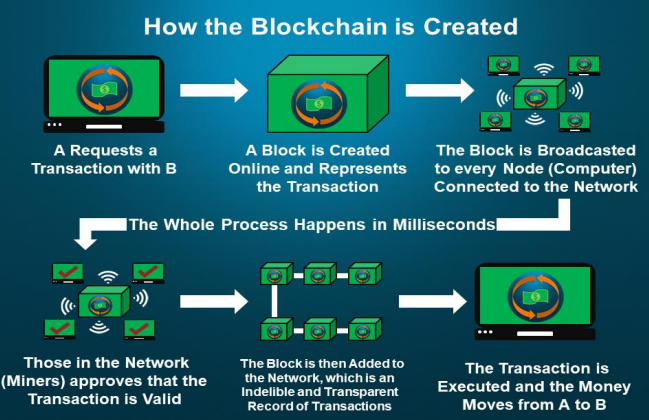 OVERVIEW OF SEAL NETWORK COMPANY
Bloomsix Established in 2008
Founded Bloomsix as a publisher and developer of premium social mobile games
Based in Amsterdam, the Netherlands
Independent company
Pivot to blockchain
Started mining Bitcoin and Litecoin in 2012 using gaming hardware
Developed primitive version of the Seal Network concept
Seal Network started
Developed first prototype in Q3'16
Set up the Seal Network team in 2017
Refined the proposition
Token sale preparations
VISION
Master plan – Phase 1 Infrastructure of Authenticity Seal's investments in the platform will lay the groundwork for the world's infrastructure of authenticity. This infrastructure is the basis upon which a service ecosystem can be built upon. Perhaps most notably, it would provide a way for brands to gather data and perform geographic and time series analysis on product streams. This is a leap forward in the maturity of insight-driven organizations. Other services are not limited to the previously highlighted services. In the future, Seal may further expand its service offering, for example with special customs and law enforcement software.
Master plan – Phase 2
Convergence of E-Commerce & Retail Seal has both E-Commerce and Retail applications. In retail, Seal can become a no-checkout method to pay for genuine products. Simply scan, pay and walk away. In E-Commerce, verifying and claiming the ownership of products could occur even before the product is shipped, or listed on sites like eBay or Amazon. Should the seller fail to send the product, the new owner can lock the product by marking it as lost or stolen.
Master plan – Phase 3
Currency of Authenticity Seal establishes itself as the currency of authenticity. The currency is optimized for transacting consumer goods. Using Seal to pay for products while directly claiming ownership provides both buyer and seller a guaranteed exchange of goods. With regular FIAT transactions, there is no way to tell with certainty whether (a) the product is genuine and (b) physical money / banknotes are not counterfeited.
WHAT TO STAND TO GAIN FROM SEAL NETWORK PLATFORM
Immediate verification of products by secure blockchain.
Brands can charge a variable fee depending on the product and added services and functions the chip provides. This helps fight counterfeiting and the consumer gets to support the designers and brands they love.
On the secondary market, it will be easier to sell your product at a higher price because other people can validate the authenticity. You can also claim an individual product as yours. There will be a small fee for change of ownership and claiming.
So brands can still make a very small cut on the secondary sale of an item and the seller can likely get a better price. Seal also cuts a very small cut of this fee which benefits token holders as a small percent of tokens are burnt with every transaction.
ICO and TOKEN SALE
Token Cap A maximum of 1.2b tokens will be minted and will never exceed this amount. No more than 492m tokens will be allocated for the token sale rounds. Discounts and bonuses depend on strategic partnerships and deal size.
KYC and AML is required prior to buying tokens. Buyers need to provide their details and the address that will be used to send Ether from. If tokens in the presale round remain unsold, they will be offered in the mainsale. Offered tokens that remain unsold after the main sale will be distributed proportionately to ALL token sale participants. Example: a Buyer purchases 3.69m Seal tokens during mainsale, 123m (25%) of tokens remain unsold. Buyer receives 1.23m [ (3.69 / (492-123)) x 123 ] additional tokens for a total of 4.92m tokens.
Actual prices will be in Ether and will be available on the website, along with the bonus structure. Prices will be in Ether instead of dollars to reduce exposure to ETH-USD volatility.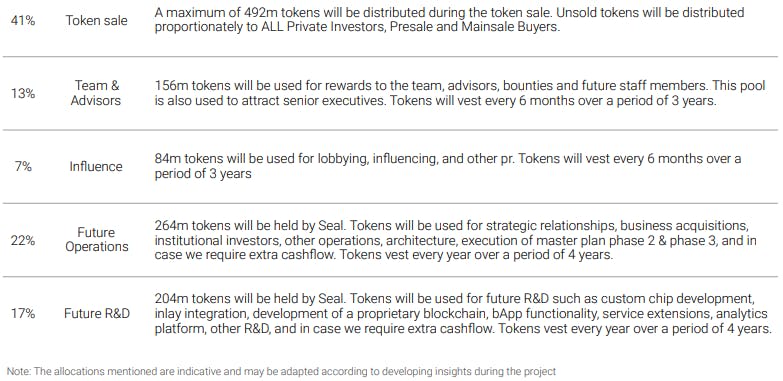 ROADMAP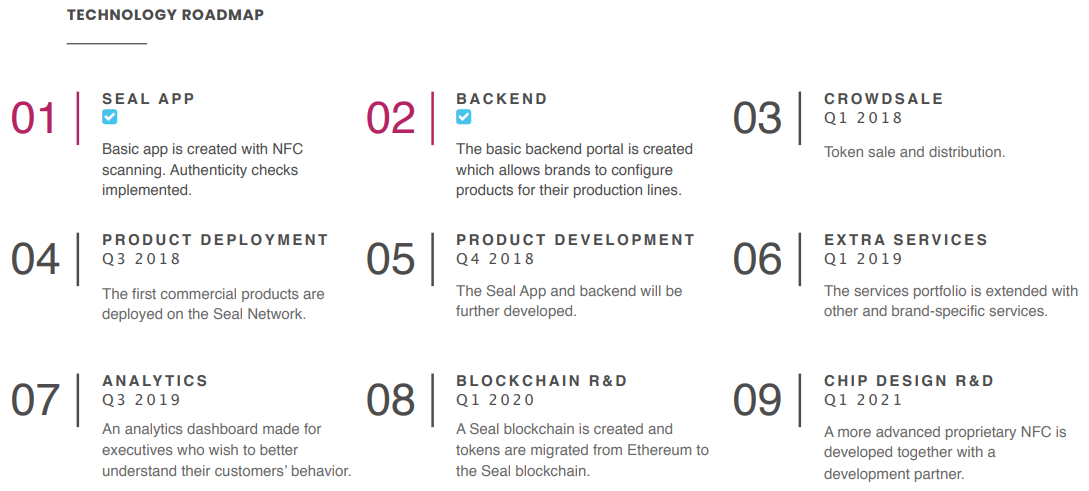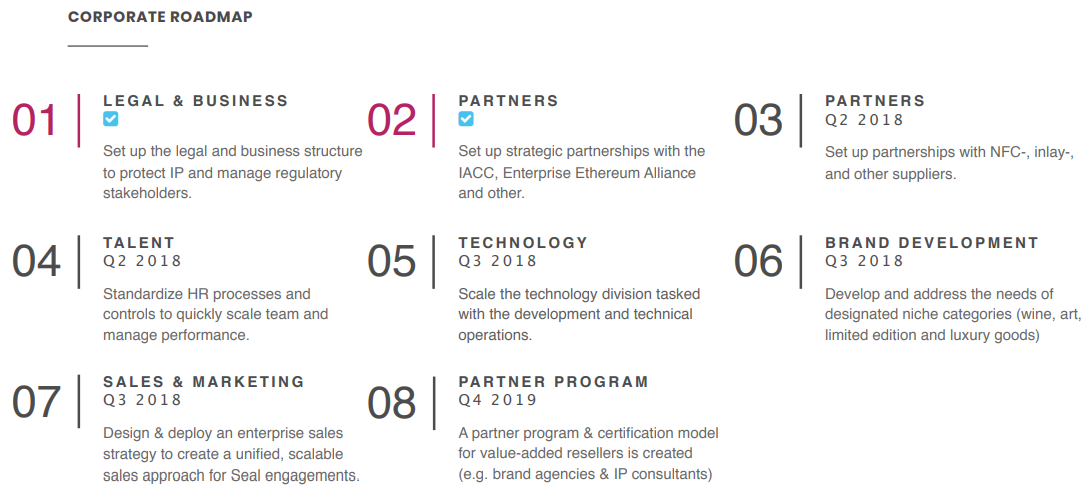 THE BRAINS BEHIND THE PROJECT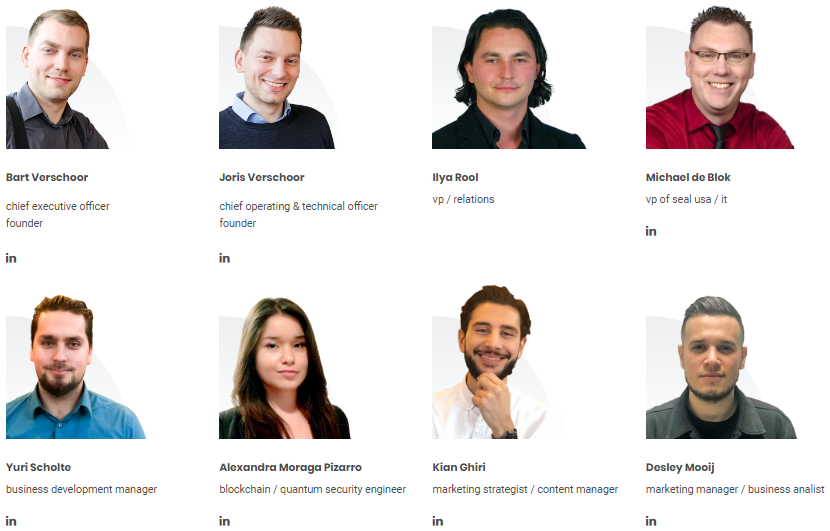 For more information, Kindly visit these links:
Website: https://seal.network
White Paper: https://seal.network/seal-whitepaper.pdf
Bitcointalk Thread: https://bitcointalk.org/index.php?topic=2929809.0
Bounty program: https://bitcointalk.org/index.php?topic=3217735
Telegram: https://t.me/sealnetwork
Twitter: https://twitter.com/seal_network
Facebook: https://www.facebook.com/SEALnetworks


Author
funkyies
BITCOINTALK PROFILE: https://bitcointalk.org/index.php?action=profile;u=1971452