I welcome you my dear subscribers and readers. Today we will talk about a very technological and interesting project, Seal Network, that is all set to provide a fast, simple, and secure way to provide products authenticity and other services.
Lately, a steadily increasing number of ICOs are being launched, and consequently, there is an increase in problems that plague these kinds of investments, such is the mistrust that potential investors have in the Crypto-Asset industry, because it's somehow hard to differentiate between a legitimate and illegitimate ICO project. As a result, even high quality and legitimate startups or existing companies struggle to have a successful ICO.
This calls for many stages of verification and due diligence to ensure that an investment is sound, well-organized and have general quality assurance. As a Crypto-Assets writer and enthusiast, it's a must to carry out research/due diligence in validating the legitimacy of an ICO project before writing on or recommending it. I have a number of questions I ask and things I look out for in an ICO project before I could give such a project a yes-yes. One of the things I look out for is "the Goals, the Team and the Partners" of the project. And in this particular ICO project I'm writing about, it's a yes-yes. Trust me, this is a great project.
Seal Network, if you haven't heard of it already, it's a unique project that is based primarily on verifying the authenticity of a product.
Seal is the best way for anyone to check if a product is genuine or fake. It combines NFC chips, which are embedded into physical products, the Seal app, and the Seal Network to provide a fast, simple, and secure way to provide products authenticity and other services. Seal makes it easy for anyone with a smartphone to recognize genuine or fake products
The team is absolutely amazing and they have been working on Seal as a whole for sometimes now. I have tracked the records of various members of the team and I can say that they are incredibly professional.
I personally have done a lot of digging on Seal Network and I am yet to find any major red flag that would make me give up on investing in their ICO. Knowing how much the core members of the team have sacrificed to build everything from the ground up gives me more hope about the company as a whole.
Seal's reputation speaks for itself and is strongly supported by various facts and by real business model that works every day. By investing in the project you can be 100% sure of the reliability of your investment, as you invest into business with real assets and real people.
Seal group, completely, every one of its representatives work for the advantage of the project/organization and are constantly prepared to help in any matter. If there are any doubts or questions, you can always contact support — technical support is ready to help at any time. They are dependably in touch and don't dismiss any issue. For sure, at the present moment when we are discussing ICO ventures this reality is very crucial.
All models made by the Seal advancement group are freely accessible, at the present time you can acclimate yourself with this platform.
Seal takes an interest in each conceivable crypto, blocking gatherings, and finish up genuine contracts.
Let's talk about their product and what kind of Solutions they provide.
Many people tend to think of buying knockoff designer goods as something normal and acceptable since the original is often perceived as overpriced. A common belief is that the difference in quality is not worth the heftier price tag.
But those consumers disregard the bigger picture—not only in terms of how much effort, skills, talents, research and time are behind this pricey original piece, but also in terms of what the counterfeit market means on the macro level and the danger it impose on the society or economy.
The masterpieces audiences love were once just a sketch on a piece of paper; take for example the journey of creating the Chanel 2.55 and Christian Louboutin iconic red-soled shoes; a long process and financial investment takes place until the products reach store shelves. For the designers, it is increasingly frustrating when a few minutes after each design is launched, a remote workshop somewhere, or a big factory, steal the designs they have been developing for months, and then sell replicas at a fraction of the original price.
Many patients have lost their lives because they were unknowingly administered with fake drugs. Rather than recover after taking the drugs, the condition of patients get worse, some even die, while some people laugh all the way to the bank.
Many of the fire disasters that happen have been traced to fake or substandard electrical cables or other electrical fittings melting and starting off the fire, while substandard tyres could burst suddenly with the car in motion, resulting in fatalities.
Seal offers a solution to these problems by facilitating a secure tokenized version of a physical product, Seal allows product-specific services to operate such as transferring ownership, theft prevention, insurance, but also brand activation campaigns and product analytics. Seal lets brands earn money every time their products change owners. For the first time in history, brands can earn money from items sold through the secondhand trade, while simultaneously protecting their markets from counterfeiters. Using the power of the blockchain, authenticity can be checked and ownership can be transferred decades from now, even if the product itself is discontinued, as long as people contribute to the decentralized Seal network.
SOLVING THE PROBLEM
Online Authentication:
Online authentication is the only way to ensure authenticity, but the data that resides on the product's embedded chip can be copied as well. Copies would still point to a valid product entry in the database. In order to solve the problem there must be a way to ensure the data is not duplicable. The blockchain is only one part of the solution. A dynamic chip, one that changes state each time you interact with it, prevents fraudsters from passing off the chip as real because every time an attempt is made to verify it, the data itself changes. The genuine and the counterfeit product will have out of sync information on it, which indicates the product is tampered with.
Make it Easy to Verify:
Checking whether a product that you intend to buy is authentic or not should be easy. Consumers cannot be expected to appraise the authenticity of products by looking at minute details and knowing production anomalies. The anticounterfeiting method must be tamper-proof, but it should also be effortless to verify the authenticity.
Remove Financial Incentive:
Counterfeiting is driven by financial motives. To stop the cat-and-mouse game between counterfeiters and security specialists, the ability to monetize large-scale counterfeiting must cease. Instead of fortifying the product itself with special markings or hard to counterfeit materials, we embed chips that are authenticated on a blockchain. We bring all these technologies together in the Seal platform.
A short list of possible services include:
Verify Authenticity (Already implemented): Consumers check the authenticity of a product.
Register ownership (Already implemented): Consumers claim ownership of a product. For insurance, P2P transactions & theft prevention.
Transfer ownership (Already implemented): Consumers transfer ownership of a product. This allows brands to earn money on the secondary market
Track Parallel Trade: Brands track the origin of products and see where they are being sold.
Product Recalls: Brands issue a product recall / product replacement by informing customers when they scan the faulty product.
Product Analytics: Seal provides geospatial/time series product analytics to brands.
Custom Integration: Brands use tokens to pay for API calls that redirect to a custom source such as an app or browser.
Theft-Prevention: Consumers mark products as lost or stolen. Displays a custom message triggered when scanned.
Seal APP: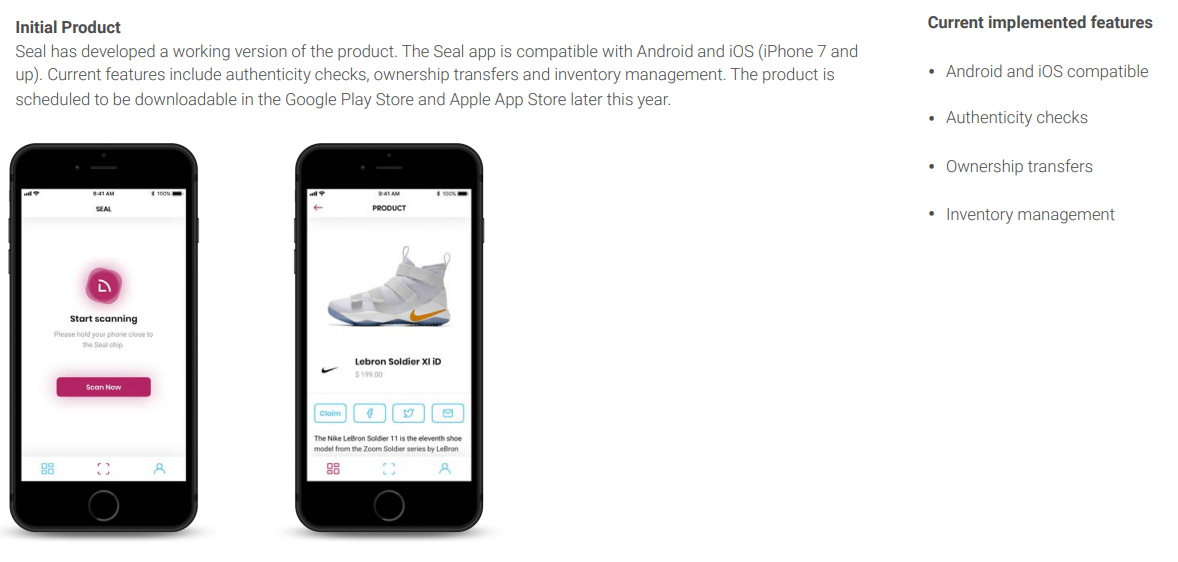 Seal has developed a working version of the product. The Seal app is compatible with Android and iOS (iPhone 7 and up). Current features include authenticity checks, ownership transfers and inventory management. The product is scheduled to be downloadable in the Google Play Store and Apple App Store later this year.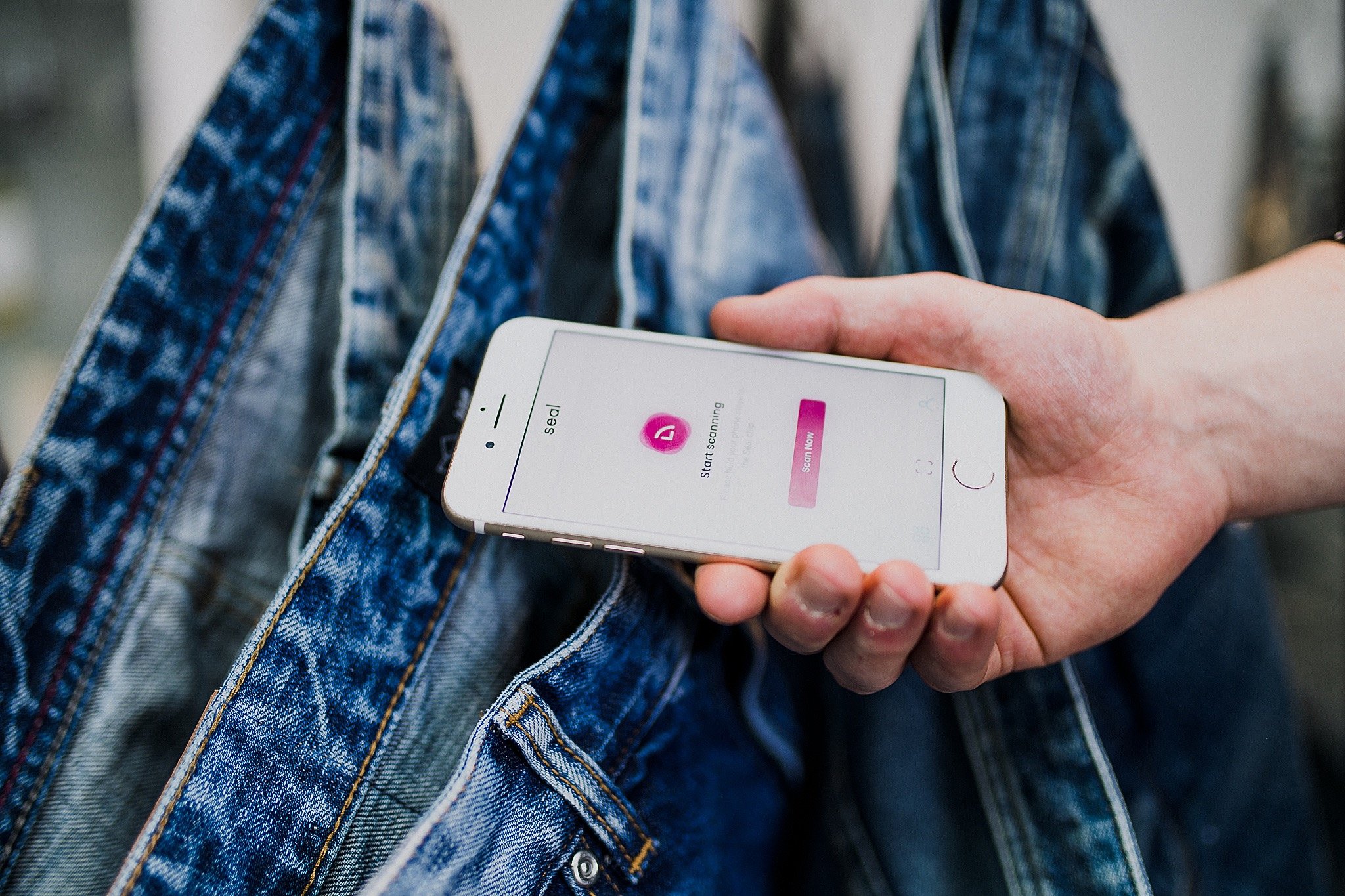 Current implemented features
• Android and iOS compatible
• Authenticity checks
• Ownership transfers
• Inventory management
BLOCKCHAIN
A blockchain is a special type of data structure (ie a database), in which the data is set out and built up in successive blocks. Each of the blocks of data includes a small piece of data that verifies the content of the previous block. As a result, if an attempt is made to modify an earlier block in the chain, all of the later blocks cease to match up. Imagine that the database looks like a tower of Lego pieces which follow a particular sequence red-green-green-blue-yellow-red. If a change is made to the second block, the rest of the sequence upwards from the second block will change and become, say, red-black-brown-orange-purple-pink. The system that maintains the blockchain will be able to detect and reject the attempted modification, and this is what makes the blockchain tamper-proof, in other word, secured.
Blockchain technology is widely used in Seal business processes which makes it impossible to substitute or lose any data.
Using Smart contracts makes Seal a reliable and impartial guarantor of fulfilling obligations to the investors/users of the project/platform.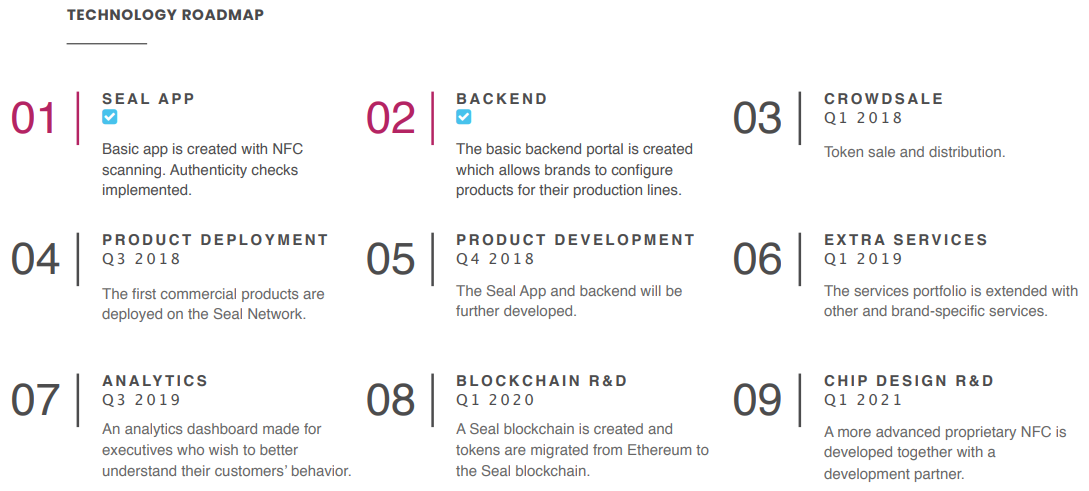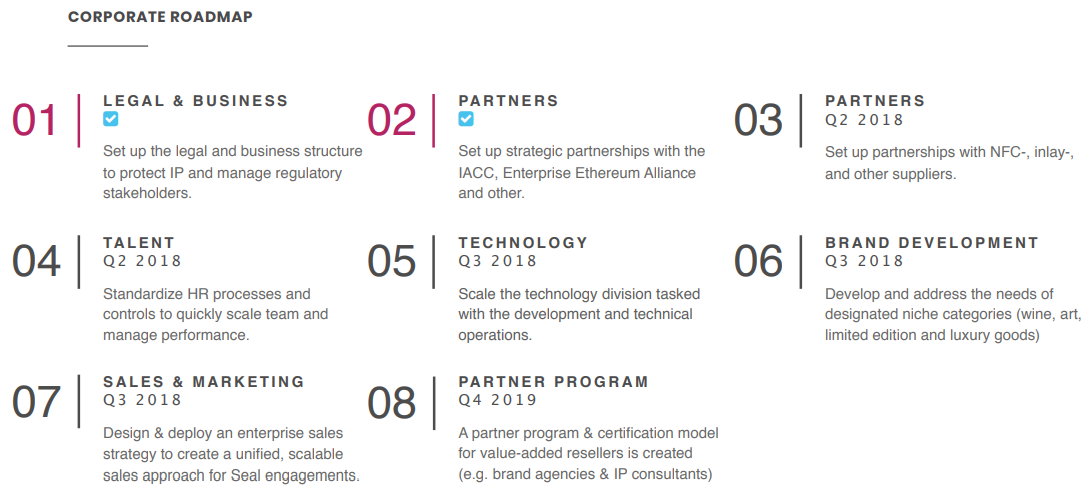 ICO and Cryptocurrency:
ICO is crowdfunding via use of cryptocurrency, which can be a source of capital for startup or existing companies. In an ICO a percentage of the newly issued cryptocurrency is sold to investors in exchange for legal tender or other cryptocurrencies such as Bitcoin.
Why you should invest on Early Stage:
Early stage and existing companies might worth extremely low and have huge potential to fast-growing. Smart startup companies today can scale up hundreds of time faster than they could just a few years back. There's never been better time to invest. This opportunity now available not only for venture capital or institutional investors, but for retail investors and for you too.
SEAL Tokens
SEAL Tokens is a valuable digital asset, SEAL Network's token, which will be used/tradeable at/on the biggest crypto currency markets. With the help of ICO SEAL plans to attract the investment resources at a wide range. As suppose, the token sale will be interesting for the owners of digital assets, who would like to transfer them into the more secured investment tool and not to tremble anytime they hear the news about the possible Bitcoin rate falling.
The SEAL token is mainly used to verify the authenticity of a product and to register / transfer the ownership of it using blockchain. This could also help preventing theft, tracking parallel trades on the secondary market or making specific product analysis.
KYC and AML are required prior to buying tokens. Buyers need to provide their details and the address that will be used to send Ether from. Tokens will be offered in the main sale if they remain unsold in the pre-sale round. Unsold offered tokens will be distributed respectively among all the token sale participants after the main sale.
In other to participate in the ICO, follow these steps below:
• Purchase the tokens: SEAL will issue a number of tokens during the ICO.
• Receive dividend payments: As a token holder, you have the right to receive payments equivalent to shareholder dividends.
• Convert your tokens into shares: As a token holder, you also have the right to convert your tokens into Ordinary Shares.
ICO Details :
The main ICO began on May 13, 2018 and will end on May 27, 2018.
Token: SEAL
Pre-ICO Price: 1 SEAL = 0.08 USD
Price 1 SEAL = 0.08 USD
Platform: Ethereum
Accepting: ETH
Minimum investment: 1 ETH
Soft cap: 3,000,000 SEAL
Hard cap: 33,000,000 USD
Country: Netherlands
Whitelist/KYC: KYC
Restricted areas: USA, China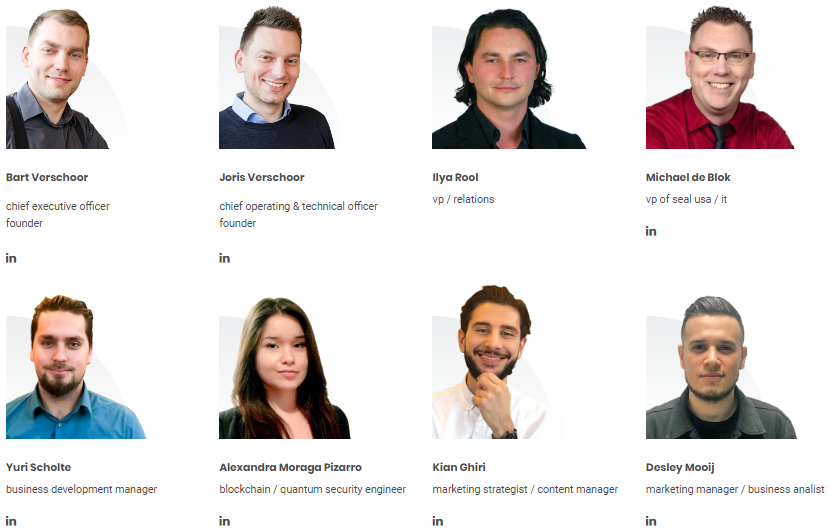 For More Info:
Website https://seal.network
Bitcointalk https://bitcointalk.org/index.php?topic=2929809.0
Bounty program https://bitcointalk.org/index.php?topic=3217735
Telegram https://t.me/sealnetwork
Twitter https://twitter.com/seal_network
Facebook https://www.facebook.com/SEALnetworks
White Paper https://seal.network/seal-whitepaper.pdf
Author: Cryptocraz
Bitcointalk Address:
https://bitcointalk.org/index.php?action=profile;u=1698372