Shopping And Earning Cashbacks Have Been Made Rewarding And Easy With DealJoy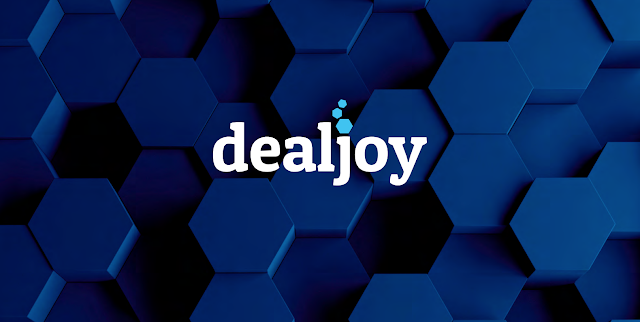 Dealjoy is a privacy-focused global cashback platform designed to connect online shoppers with their favorite merchants to provide instant crypto cashbacks. Dealjoy operates between customers and online merchants by negotiating and onboarding the best affiliate deals. As our members proceed to an online store through the Dealjoy platform, they will receive cashback commissions for their purchases, with virtually no identifying personal information given to a third party. Using blockchain technologies and our ERC-20 standardized token called DEAL, cashbacks will be provided privately, globally, and instantly without minimum payout limits.
How it works?
Cashback companies that work today use banking technologies, paper checks and payment processors, such as papal, in their work. Such transfers significantly reduce the speed of ongoing transactions, reduce the amount of refund and require a lot of personal information about the consumer.
Dealjoy allows you to make purchases, while providing a minimum of information that will be properly encrypted from the sellers.
Also, the platform is beneficial for the sellers themselves. Due to the constant increase in the number of platform users, the products and services presented on the platform will have a large client base, which will positively affect their profits.
Problem
Affiliate shopping networks have been a thing for quite a while, but traditional payment methods used to pay members are expensive in fees and require a lot of private details, time, and bureaucracy. Existing platforms utilize bank transfers, paper checks, and online payment processors such as PayPal to pay their customers. These payment methods are not private nor truly global and include various fees, such reducing cashback commissions and invading the privacy of users.
Solution
Dealjoy revolutionary solution to the problem is the Dealjoy platform, which pays out cashback commissions in own Ethereum compatible DEAL tokens. This allows us to concentrate on finding the best deals and bonuses for our members instead of dealing with international wire transfers, consequently requiring minimum payout limits and cutting down cashback percentages du to high payment processing expenses.
Dealjoy cashbacks are paid out near-instantly and without a minimum threshold. Members can withdraw their wellearned DEAL tokens to their wallets any time to be traded for other cryptocurrencies, or held for potential value appreciation The community-driven token model works to the benefit of token holders, lessening the circulating supply and creating buying pressure by repurchasing tokens to be distributed back to the community as commissions.
The Dealjoy Platform
The core of our business is the Dealjoy platform— an all-in-one dashboard for exploring and finding the best and most exciting cashback-offering vendors. Dealjoy can be accessed through the web platform and native Android and iOS apps. Members can browse through Dealjoy's virtual catalog of their favorite merchants and seek the best deals to earn DEAL tokens for purchases. When a customer finds an interesting merchant or deal, they can proceed to the website and start shopping.
Detail Dealjoy Token Sale
All cashback rewards will be paid to the customers in DEAL tokens to create a simple and engaging way of rewarding our members for using the platform.
The DEAL token is an ERC20-standardized token implemented on the Ethereum network. The platform was chosen for its broad adoption, fast transfers, and cheap transaction costs. Using ERC20 standard helps DEAL token to achieve a high adoption among external exchanges and the community
Token symbol: DEAL
Max total supply: 1,400,000,000 DEAL
Token standard: ERC20
Initial rate: 1 ETH = 40 000 DEAL
Tokens for sale: 980 000 000 DEAL (70 %)
Soft Cap: $1,700,000
Hard Cap: $8,400,000
Token Allocation
70% Private/Public Sale
10% Company Reserve
10% Team
5% Strategic Advisors
5% Marketing
Merchants
Dealjoy Ltd has already registered and signed affiliate marketing contracts with the following merchants. This means, that we are able to provide instant crypto cashbacks on all purchases from these merchants as soon as the Dealjoy Platform is launched, beta launch being scheduled to Q1 of 2019. The team is continuously working on onboarding more merchants to the Dealjoy platform.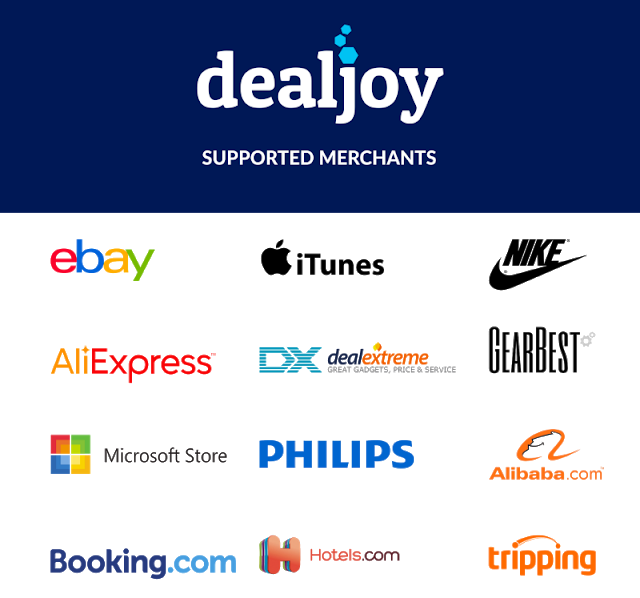 Conclusion
In conclusion, I would like to note that personally I have lost all doubts about the implementation of the project. After raising the actual issues, having effective tools for solving the problem, the only thing that could prevent high competition. This project has no Dealjoy and this makes it very attractive among investors.
For more information, please visit the link below:
Website : https://dealjoy.io/
Whitepaper : https://dealjoy.io/files/Dealjoy_Whitepaper.pdf
Facebook : https://www.facebook.com/Dealjoy
Twitter : https://twitter.com/dealjoyofficial
Telegram: https://t.me/dealjoy
Medium : https://medium.com/@dealjoy
bboyjohn
0xEeb4d21A988dd2431275bF462Cf632D59D62Ceb3