SIDERA: Revolutionizing Payment Process
From the release of Bitcoin open source implementation by Satoshi, so many challenges have been hindering main stream adoption of Bitcoin/cryptocurrency. One of these challenges facing main stream adoption of cryptocurrency has been the non-ease of use of bitcoin/cryptocurrency in carrying out day to day transactions. Because of this, the only thing one can buy with cryptocurrency are cryptocurrencies, and good number of would be users have no interest in trading cryptocurrencies.
Until it is possible for an average user to use cryptocurrency to pay for purchases like snacks, bag of rice etc. the relevance of cryptocurrency will still be limited to minute number of the world population. Out of the need to attract mass adoption of the use of bitcoin and other cryptocurrencies,  Sidera was born.
About Sidera

Sidera is a decentralized wearable device that allows a complete end-to-end solution for contactless and smartwatch retail point-of-sale (POS). Sidera network incentivize participation by providing hardware to retail stores.
This platform will provide users with a device known as Smartbit, which will let people receive, send and manage cryptocurrencies from their wrist in a simple and secure way. The smartbit is linked to an app which handles other features like address, blockchain synchronization and more.
Smartbit will be in the three version as listed below:
Bitband
Bitwatch
Bitwatch visionary
Features of smartbit devices
Smartbit devices are linked to an app that permits the smartwatch/wristband via Bluetooth, to manage task that run on the smartphone/PC application. Other important features of Smartbit are as follows:

Date and time with the current Bitcoin/ECR-20 price. The user has the possibility of choosing which specific currency to display e.g. BTC/USD, BCT/EUR, BTC/CYN.
The smartwatch allows users to receive phone notifications like every other smartwatch available in the market.
Users can receive and send Bitcoin/altcoin/ERC-20 from the smartwatch.
Token details
• Target: $15.000.000
• Total Supply: 51.000.000 EQUOS
• 1$ = 0.5 EQUOS
Road map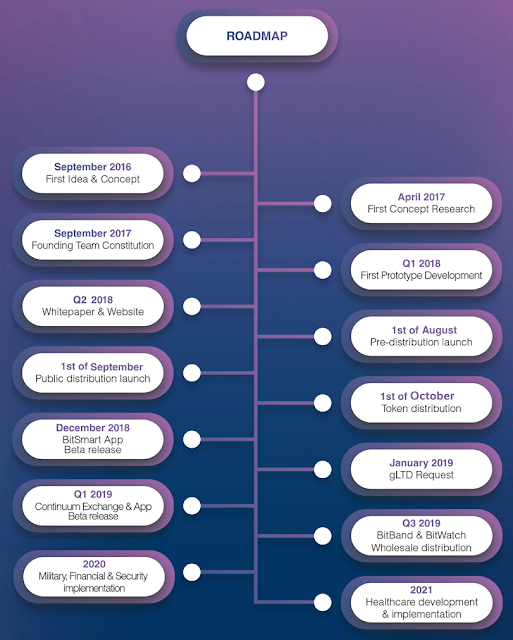 For further information on the project, please visit any of the following links;
WEBSITE WHITEPAPER> TELEGRAM LINKEDIN TWITTER FACEBOOK REDDIT
Author's Informations
Username: Nonycinta
profile link: https://bitcointalk.org/index.php?action=profile;u=2025909;sa=summary