SKARA- Connecting to the wider economy on the blockchain


The global phenomenon has received the attention of media and corporations, who increasingly benefit from involvement in the industry as sponsors, partners, owners and investors. However, few truly benefit from the economic gains associated with all of this activity-until now. Video games are everywhere. Not only are more people playing games than ever before, but more people are watching them and even winning money competing in them.
SKARA is a new entertainment universe that includes a multiplayer competitive eSports p latform, narrative role playing (RPG) games and mobile apps in a rich fantasy world described in a series of novels to be published January 2018. propose embedding blockchain at the heart of the SKARA ecosystem, in order to decentralize the benefits of participating in the games, both casually and competitively.
Imagine making real money while playing your favorite game. In SKARA, you can now do just that, legally. Video games have experimented with purely digital currencies and digital assets for years, often with great success. However, until the advent of blockchain technology, these economies existed in official isolation to the real economy. It is time to change this.
SKARA is one of the first games to overcome this barrier by creating a new cryptocurrency in the form of an ERC-20 token based off the Ethereum blockchain called SKARAT (SKARA Token – SKT), which can be traded on the open market. Through this new vehicle, participants in the SKARA community will be able to buy, sell and trade in-game assets without having to go to shady black markets. Such environments often facilitate the creation of off-game black markets where game resources are being traded for real money between people farming assets and those who don't want to spend the time doing so. Too often players are cheated out of money or hard won game assets opening up SKARA to these kind of transactions, players will benefit from the security of a controlled environment.
SKARA goes far beyond a simple video game. SKARA is a rich world thought up by creator Pablo Rodriguez—a world peopled by dramatically different cultures who compete to survive a cosmic disaster. By combining cross-platform video games with novels and comics, the SKARA Universe is fully intending to become a lasting cultural contribution of the same magnitude as Lord of the Rings or Star Wars. SKARA – THE BLADE REMAINS is designed for competitive eSports. It combines AAA level graphics, the intense feel of online multiplayer games with the soul of an RPG.
The combination of high quality, fast paced multiplayer action with a deep narrative driven by the players involved serves to create an absorbing experience that our global community cannot get enough of.
Will be an ERC20 Token,so it will be on Ethereum Blockchain,you tie your address to your SKARA account in order to trade with other players,or you can sell in the exchanges.
It seems the supply will be very limited,about 500,000.
And the prizes,rewards etc will all be paid in SKARAT,so you can use it to buy in game items or sell in the exchanges,the items that you earn in the game then can be sell in the in game market for SKARAT.
What your thoughts about this movement from the company? you think its a beginning of a trend that we gonna see in online games?
Will you play the game? will you buy the tokens as a player? or even as a investor?
The token sale will start at January 2018,lets see how well it will go.
Traction – The Story so Far
SKARA the company was founded in 2012 after several years of pre-production on the SKARA Universe. In 2014, SKARA – The Blade Remains was selected to join the Microsoft Ventures Accelerator Program in London as one of only two video game companies receiving access to the Xbox One Developer Program. SKARA has received multiple international awards and global recognition in its Early Access stage.
A playable Alpha version of SKARA has been accessible on STEAM Early Access intermittently since early 2017 in order to allow the developers to collect feedback and improve the game experience. This has also helped grow the SKARA community to the size it is today.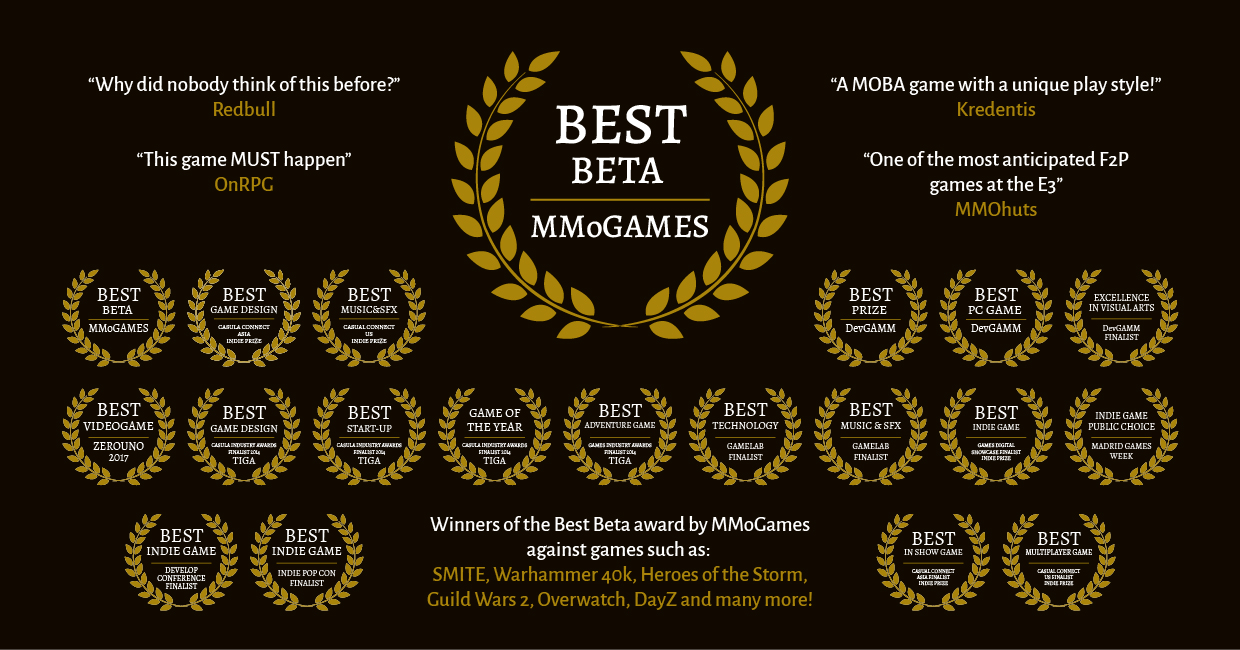 Metrics (in Alpha)
As a community driven project, SKARA's players have already demonstrated very high levels of engagement since inception and especially during time-limited events, continually breaking participation records with top players engaged in SKARA for more than 20 hours a day!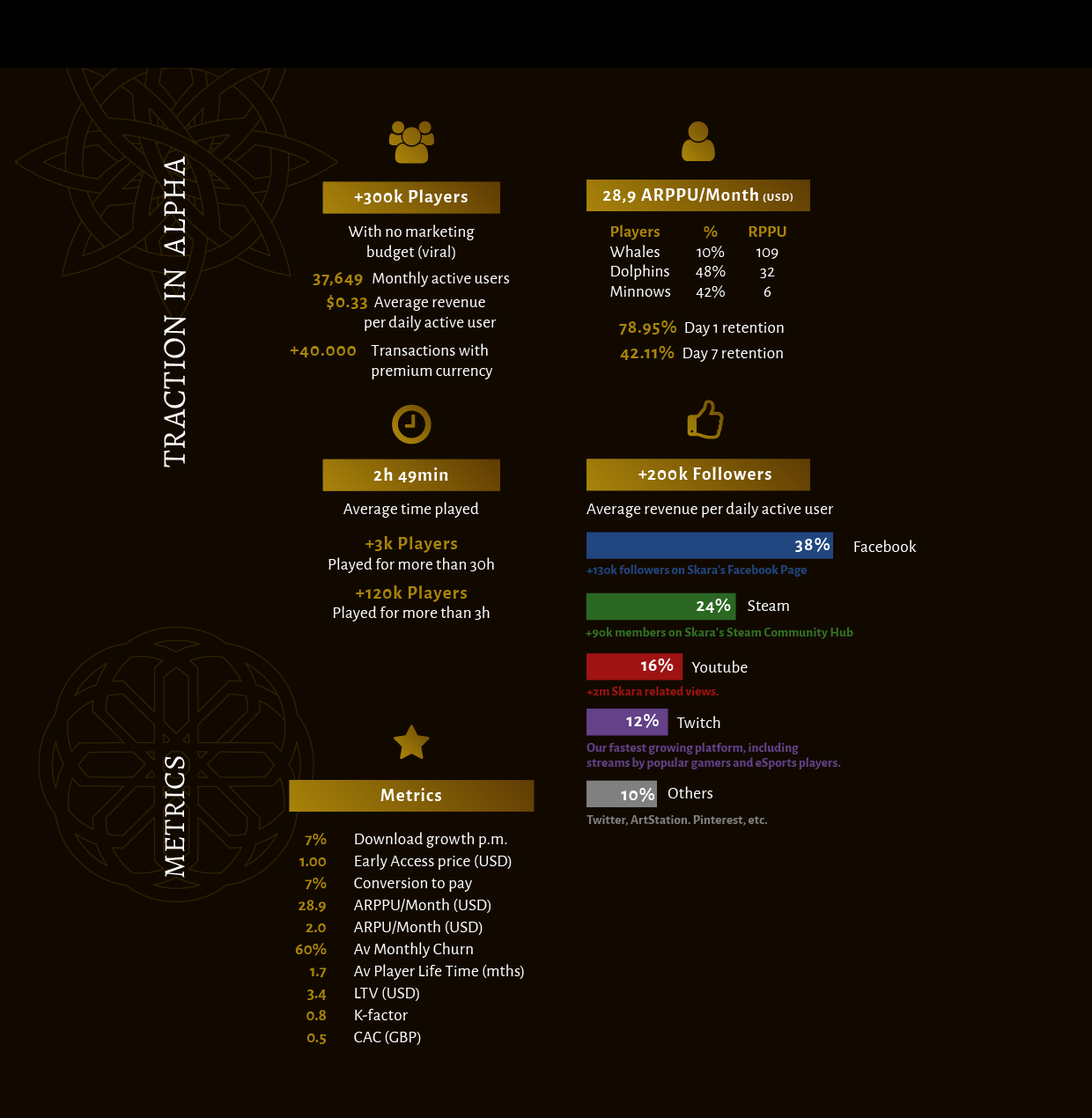 Leagues
SKARA is helping players develop regional professional eSports leagues (Premier and Secondary Leagues) where player teams compete with each other for prize pools. The best eight teams in each region will compete regularly in playoffs and championships. In early 2017, players organized the first tournaments with amazing success. Four teams with twelve players participated, creating their own team logos and broadcasting the competition online.
Betting
As a competitive and exciting game with high production value, SKARA will attract a large number of spectators willing to bet on their favourite players and teams.
In order to promote fairness and transparency, SKARA will build its own betting platform in which results will automatically update in real time. This solution is more efficient than using betting sites that rely on manual inputs in order to provide results, which is usually time consuming and prone to human errors. By synchronizing game results automatically, people will be able to bet in real time allowing odds to reflect the specific situation of the game more accurately at any given time.
Development Roadmap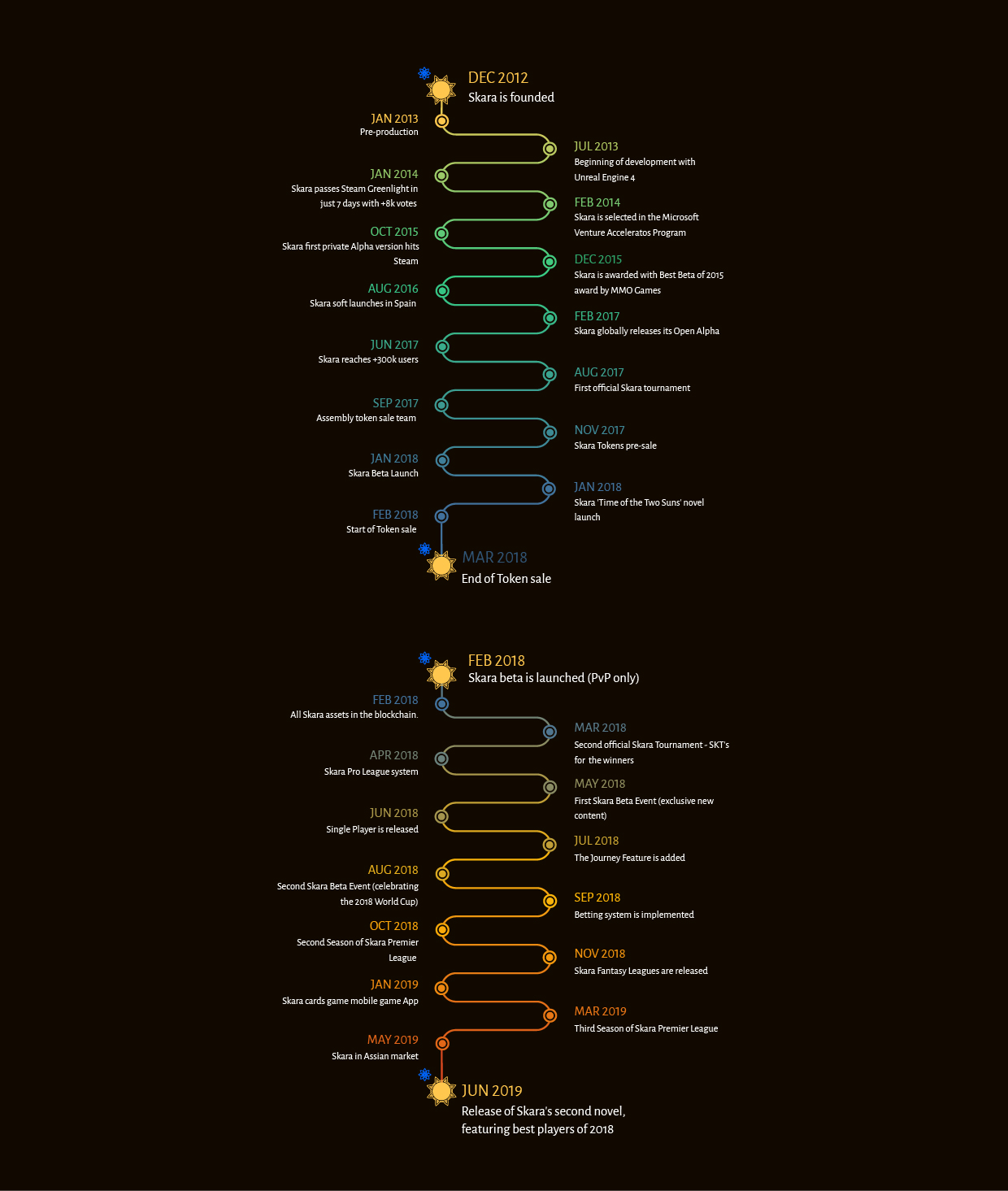 Market overview
Few industries are growing at the pace of the video games market as more people all over the world get access to computers and the internet. NewZoo's Global Games Market Report shows that 2.2 billion gamers across the globe are expected to generate $108.9 billion in game revenues in 2017. This represents an increase of $7.8 billion, or 7.8%, from the year before. Digital game revenues will account for $94.4 billion or 87% of the global market. The PC and console game markets will generate $29.4 billion and $33.5 billion in 2017, respectively.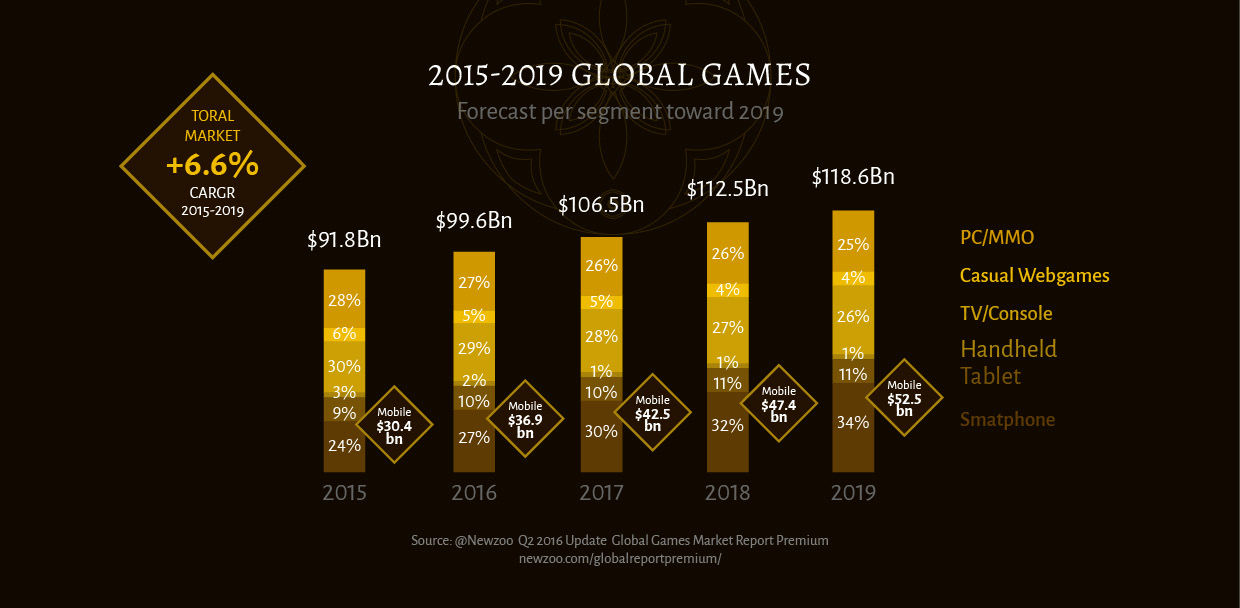 Real money' trading overview
'Real money' trading has a long and fairly sordid history, and has been illegal, or strongly discouraged by most Western game developers, especially in Massive Multiplayer Online Role Playing Games (MMORPGs), where real money trading is most common, since the games have virtual economies in which gold and other resources have real value.
Team Fortress 2 and Dota 2
These games contain a "cosmetic item market" (Workshop) where you can exchange your goods with another player for real dollars. This is all permitted, even encouraged, by Valve.
Second life
Second Life is a social RPG (a life simulator). It has a player-centric economy in which they can earn real money. Players can earn in-game currency – Linden Dollars (L$) by engaging in various activities in-game.
Entropia Universe
Entropia uses a micropayment business model, in which players may buy in-game currency (PED – Project Entropia Dollars) with real money that can be redeemed back into U.S. dollars at a fixed exchange rate of 10:1.
Diablo III
In July 2011 Blizzard announced that the Diablo III Auction House will have a real money aspect to it. The real money is only usable for item (and eventually character) sales for softcore (non-hardcore) characters, and it operates in tandem with the in-game gold trading auction house. Players may list items on either service.
Legal and compliance
Online betting is regulated in some shape or form in most countries, and SKARA will always operate within the legal frame established by those countries.
Most countries make a distinction between games of chance and games of skill, many also legislate differently on sport betting and games of cards such as poker. Some countries, like France, recognize eSports as a sport and have clear licensing rules and guidelines, others like the United Kingdom authorizes most forms of online betting within a simple regulatory environment; many countries in Asia simply authorize all forms of online gambling, whilst others forbid it.
SKARA TOKENOMICS
SKARA will be playable for free. Players will be able to acquire different kinds of assets in SKARA using two different currencies, a soft currency called Shard (that you can earn by playing the game) and a premium currency called SKARAT (which you can acquire with FIAT money). The SKARAT (SKARA Token) is a unit of value that will be created to self-govern our ecosystem, and empower SKARA users to interact with other products, while facilitating the distribution and sharing of rewards and benefits to all of our community and stakeholders.
In order to incentivise players to keep playing and spending money in SKARA, we need a large community of gamers engaged continually, this is only achievable with retention mechanics that will encourage participation. This is why the dual currency structure is important – the soft currency Shard rewards players who spend time in the game and helps keep them engaged.
Using tokens
SKARATs and valuable game items will be stored in a decentralized blockchain on the user's dedicated Ether wallet. The game will allow the user to link his blockchain identity (wallet) to his account in SKARA.
Accounting for game assets through the blockchain allows the users to take the value of their game items outside of the SKARA universe. By having the freedom to buy, trade and sell items, Skara assets (including SKARATs) become even more collectible and valuable.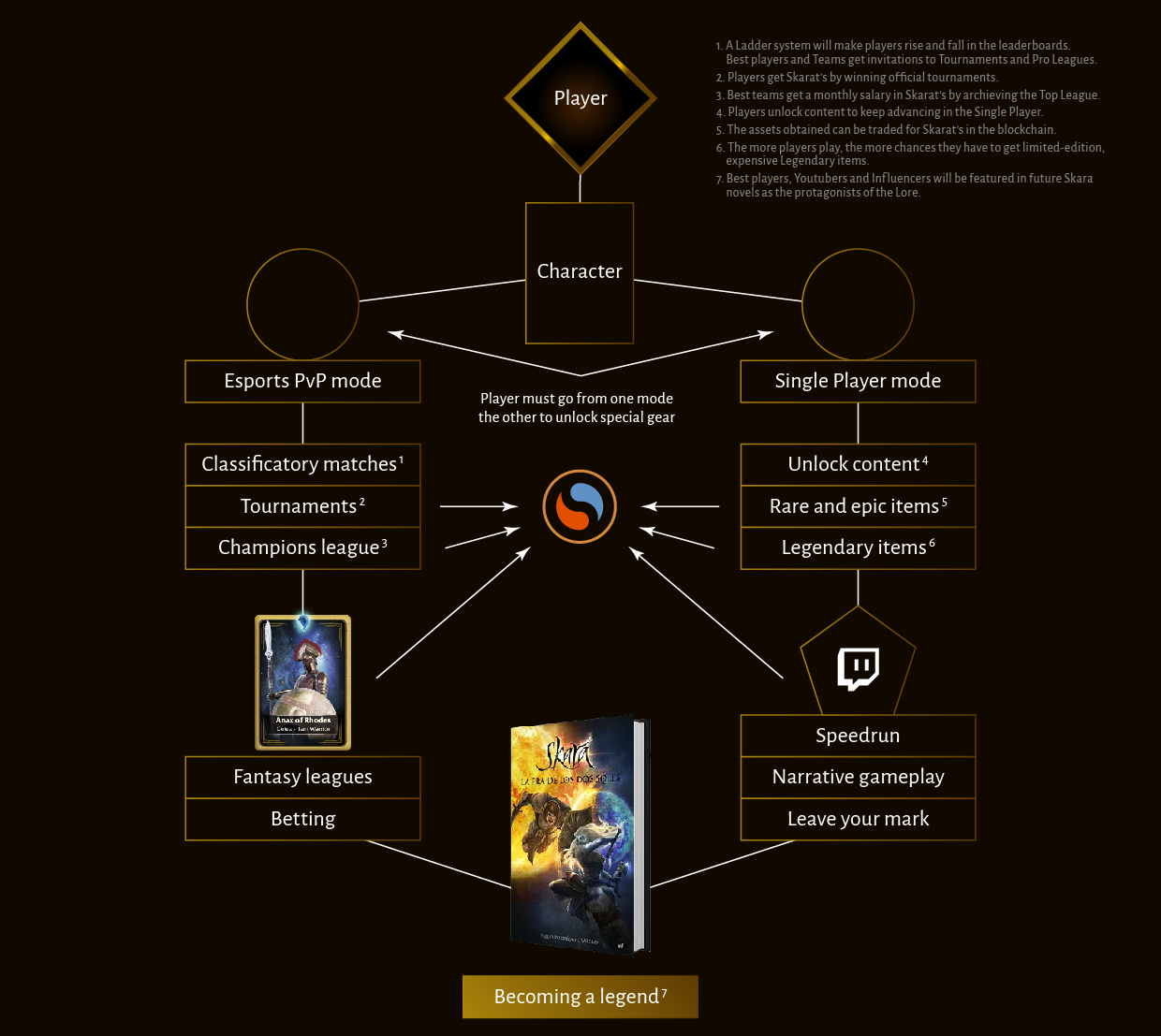 When a SKARAT enters the game, it gets parked in a SKARA – The Blade Remains Wallet, tied to a player's account. When the reverse process takes place, the token is moved from SKARA – The Blade Remains Wallet to the new owner's Ethereum wallet, and this SKARAT is no longer in the game. All such token transactions are stored on the blockchain. The SKARA – The Blade Remains game server has access only to those tokens that are held in the SKARA – The Blade Remains Wallet.
Burning tokens
Players spend SKARATs on unique game content, on player-to-player trades, or by participating in SKARA Tournaments (whether playing or betting). All this daily activity by the millions of players we are forecast to have playing SKARA creates a constant demand for SKARATs on the open market.
When a player purchases something, e.g. a weapon or a boost, from the game itself, we burn 50% of spent SKARATs, and move the remaining 50% to a special account called Game Funds.
It will be possible to transfer SKARATs between player accounts in case of trading on the open market.
In assume that 80% of the trades inside the game will be player-to-player, while the remaining 20% will be game-to-player.
Ways to purchase SKARATs by a player
During the SKARA Pre-sale between 28th November 2017, and 21st January 2018, and in the token sale event between 23rd January and 26th January 2018.
From another SKARAT owner, using an Ethereum wallet. After the completion of the token sale process we will open SKARAT for trading. A player will be able to purchase SKARATs on the market and move it to their game accounts.
Token Sale structure
I) SKARAT (SKT) is the token issued in the Token Sale.
II) SKARATs are ERC20 compliant Ethereum smart contract tokens.
III) Only ETH will be accepted as a contribution. You can use certain exchanges such as Evercoin, to contribute with Bitcoin, Litecoin, Dash and other cryptocurrencies. Contributions coming from exchanges will not be accepted and the money will be lost.
IV) To contribute into our token pre-sale or to comply with our Whitelist procedure:
· Visit https://www.skaratoken.com/
· Provide your email, telegram username and amount expected.
· A minimum of 10 ETH will be accepted for the pre-sale.
V) ETH/SKARAT price: We cannot determine the exact amount a token will cost in ETH until the token sale starts due to price fluctuations.
We will update the price of ETH according to the market at 2PM (CET) each day after the token sale goes live in order to adjust for any price fluctuations. To see the current SKARAT value, go to www.skaratoken.com
VI) Token release: The tokens will be issued within two weeks of the end of the token sale.
VII) Only purchased tokens will be minted.
Token distribution
We expect to issue a maximum of 20,000,000 SKARATs. When the token sale is completed, no more SKARA tokens will be issued. The tokens will be distributed as follows:
9% of the tokens will be distributed among co-founders and the team.
15% of the tokens will be held by the company to fund future marketing activities.
3% will be used for Bounty program and another 3% for advisers.
70% will be available to token sale contributors.
Pre-sale structure
All tokens sold in the pre-sale are subject to a minimum lockup of 3 months.
Sale bonus structure
Sale bonus structure
Stage Bonus
Whitelist – day 1 15%
Public – day 2 10%
Public – day 3 5%
Vesting
Shares for the SKARA team and those for advisors will be vested for a period of three years.
Pre sold tokens will also be vested for a period ranging between 3 months and two years, depending on the bonus.

ADVANTAGES AND GAINS FOR SKARAT HOLDERS
SKARA – The Blade Remains will boost demand for SKARATs from players by using two mechanisms:
· Selling of unique skins, weapons and items to players, exclusively for SKARATs
· Encouraging player-to-player trade conducted in SKARATs
· Betting on official tournaments using SKARATs
For any operation with SKARATs inside the game, those SKARATs first need to be purchased from the market and parked in the SKARA – The Blade Remains' Wallet. Every game-to-player operation with SKARATs leads to 50% tokens being burned, which decreases the total supply of SKARATs and increases the market value of each individual SKARAT.
Growth in the volume of in-game trade will simultaneously lead to SKARATs getting more valuable, and to a subsequent revenue increase. Therefore, we, as the creators of the game, are as much motivated to boost the SKARATs turnover and their market value as the token holders.
Development team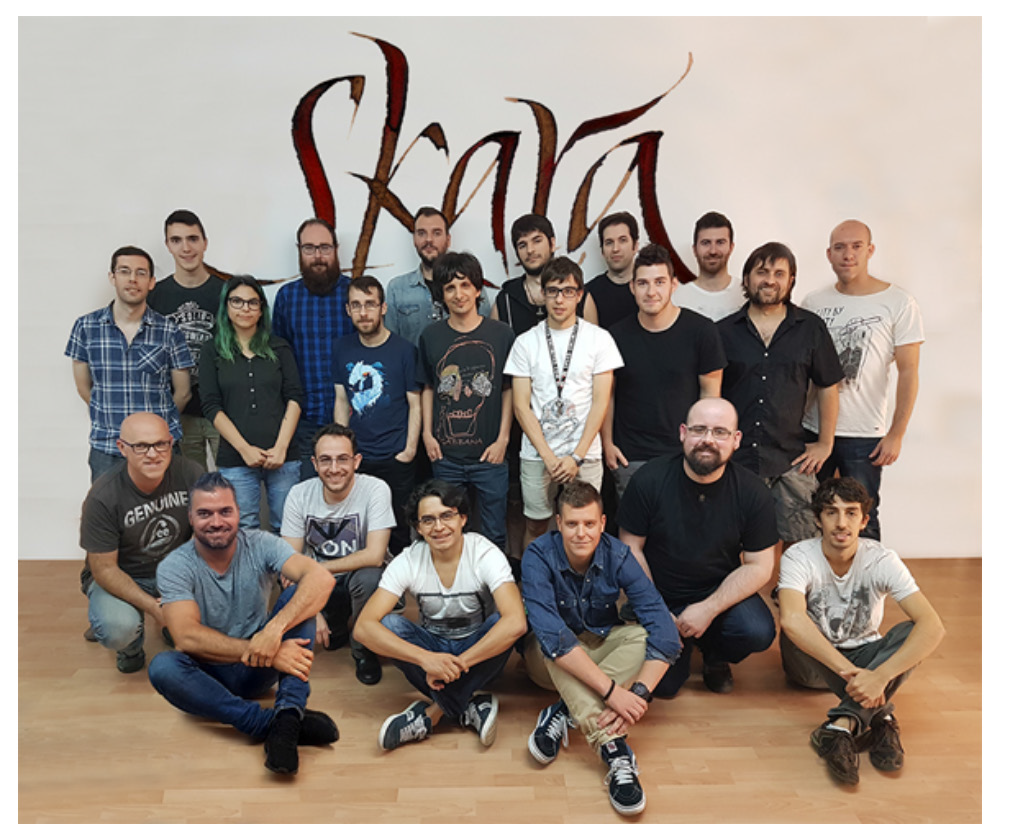 The token sale will start at January 2018,lets see don't be let :
sign up for the Pre-Sale, in the official site of the Token Sale:
https://www.skaratoken.com/token-sale
https://bitcointalk.org/index.php?topic=2473332.new#new
https://steemit.com/@skara
https://discord.gg/QRCBUQS
https://t.me/joinchat/GXWv8xIAxcYDZM4tA4cX4Q
https://medium.com/@SkaraTBR
https://www.facebook.com/SkaraTheBladeRemains/
https://twitter.com/skaratbr
https://bitcointalk.org/index.php?action=profile;u=1344739