SKYFCHAIN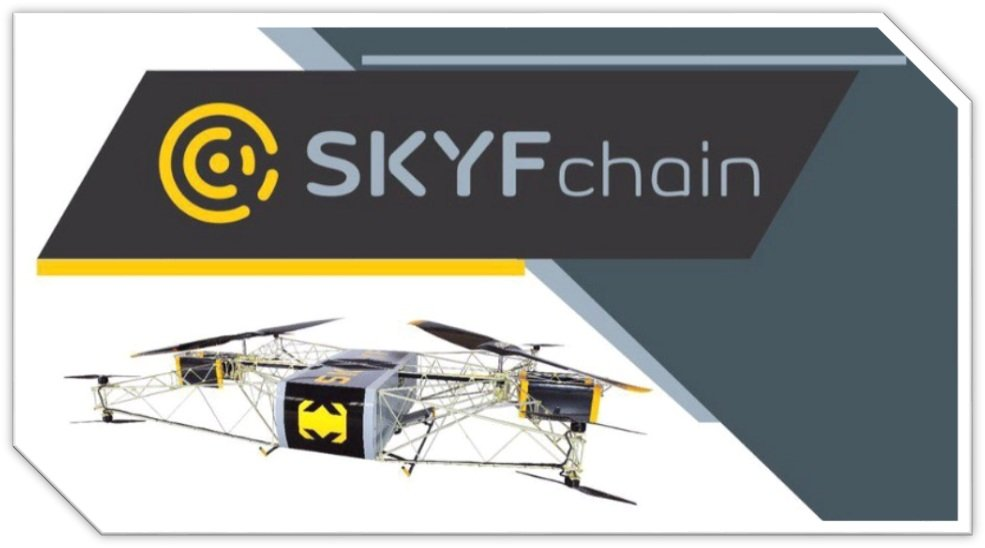 SKYFchain is the first B2R (Business-to-Robots) blockchain based operating platform. This private blockchain system provides independent secure data-exchange and payment channels for a total support of robot – centric logistics. The SKYFChain Operating Platform will based on private blockhain. It will use ERC20 compatible protocol for SKYFT tokens and build payment channels for exchange transactions. SKYFchain is unique because it will be designed to exclude the human as an intermediary and it will have access to confirmed clients of the first industrial heavy duty cargo drone – the SKYF drone, which is already flying. Technically, the main purpose of the SKYFchain is to integrate critical information for all market participants and organize execution of smart-contracts for transactions. SKYFchain aims to create the whole new industry of airborne cargo drones and later invite groundborne and sea-borne cargo robots for the new business opportunities.
TOKEN AND ICO DETAILS
Price 1 SKYFT = 0,065 USD
Bonus: Available
Available: Bounty
Platform: Ethereum
Receive: ETH, BTC
Minimum investment: 3000 SKYFT
Soft cap: 5000000 USD
Hard cap: 30000000 USD
Country: Estonia
Whitelist / KYC: Whitelist
SKYFT Token Details
SKYFT-token is the internal currency SKYFchain Details:
Fixed amount – 1 200 000 000 tokens
Two types of transactions, paid using SKYFT:
Transaction operations
Fintech Transactions
Super-node holders harvest 50% of the cost
25% of entry fee to token holder
25% of entrance fee to Community Development Fund
Allocation of SKYFchain token
44% Crowdsale
15% Network Development Fund
10% Community Development Fund
9.5% Reserve
1.5% Bounty Fund
20% Team

SKYF drone
The first and foremost heavy cargo drone introduced in the world was the SKYF. It is highly versatile in nature and has the distinct features of landing and vertical take-off capabilities. The SKYF drone is the best drone, while compared with the other drones available in the market. It finds a variety of applications in the industry of cargo robots. In addition, it also has its applications in some other fields such as logistics, agriculture and emergency relief.
WHY SKYF IS UNIQUE
Only SKYF incorporates a gas engine for lifting and smaller electric propellers for control. Two large propellers (2.8 m) are connected to the internal combustion engine to provide strong lift and long flight times. Eight smaller electric engines provide control. SKYF can carry a maximum load of 250kg (550 lb) up to 3 hours. Can carry 50kg up to 8 hours with distance of 350 km (220 miles). No other drones in the market are approaching this performance.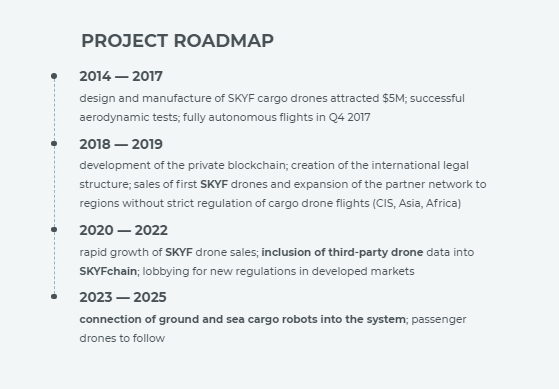 Key Fetures
SKYFchain is an operational platform based on B2R block circuits, applicable in all sectors of the developing freight robotics industry with an initial focus on the destruction of the unmanned aerial vehicle industry.
SKYFchain will be designed to exclude a person as an intermediary, and he will have access to confirmed customers of an industrial caterpillar unmanned cargo aircraft – a SKYF runner who already flies.
Technically, the main goal of SKYFchain is to integrate important information for all market participants and organize the execution of smart contracts for transactions.
SKYFchain strives to create an industry of unmanned aerial vehicles, and then invites sea and marine cargo robots for business opportunities in financing, production, operation, maintenance, insurance and authorization of unmanned aerial vehicles and robots.
Details of ICO SKYFchain
SKYFchain produces a number of SKYFT tokens that will be required for any transaction in SKYFchain. For any transaction in SKYFchain, the SKYFT token will be requested. The user requests transactions in SKYFchain and pays in cash through his smart contract. SKYFchain acquired SKYFT tokensat as a crypto for transactions. SKYFT in accordance with SEC USA
The Business Model
We issue a fixed amount of SKYFT tokens that will be required for any transaction within SKYFchain. The user requests a transaction in SKYFchain and reliably earns money from his clever contract. SKYFchain implements SKYFT tokens when crypto exchanging to execute a transaction.
The Platform
The SKFchain platform will store and verify all data related to drones operation. It will contain a shared distributed ledger that will be a trusted source of the industrial drone data such as the drone specs and maintenance history, pilot and operations license data and mission plan and routes. SKYF is the world's first industrial heavy cargo drone and the first cargo drone with the capability of vertical take-off and landing. It can be used in a range of applications with the most popular ones currently being agriculture, logistics and emergency relief. The SKYF can carry a useful load of up to 400kg and has a flight range of up to 350 km. The SKYF drone is versatile and can be quickly adapted to suit different purposes, national regulations, and climatic conditions. It would also act as a verification of the right of operation and route verification before each flight to ensure 100 % safety compliance. SKYFchain has the sole rights for mission planning, verification, and operations support of SKYF drones. According to the representative of SKYFchain Ilya Rodina, the QIWI division will be responsible for creating all the code and the blocking software itself, while SKYFchain will provide funds for development. To raise funds SKYFchain will hold an ICO, during which it is planned to raise $ 5-30 million. SKYFchain specializes in the design of unmanned drones, capable of carrying loads up to 250 kg for distances up to 350 km (at a load of not more than 50 kg). At the moment SKYF already has several prototypes of cargo drones, which undergo flight tests. The company plans to enter serial production in three years. The company expects the demand for the product from logistics companies to deliver goods to hard-to-reach areas, and from representatives of the agricultural industry – for pollination of crops with chemicals and all.
For more information, please visit:
Author
temillion
bitcointalk profile:
https://bitcointalk.org/index.php?action=profile;u=1839623
Disclaimer: This article was published in terms with the bounty campaign. I am not a project team member or its representative but a supporter of this tremendous project.