SKYFchain ICO
SKYFchain
Unmanned logistics will eliminate labor cost to save up to 50% by 2020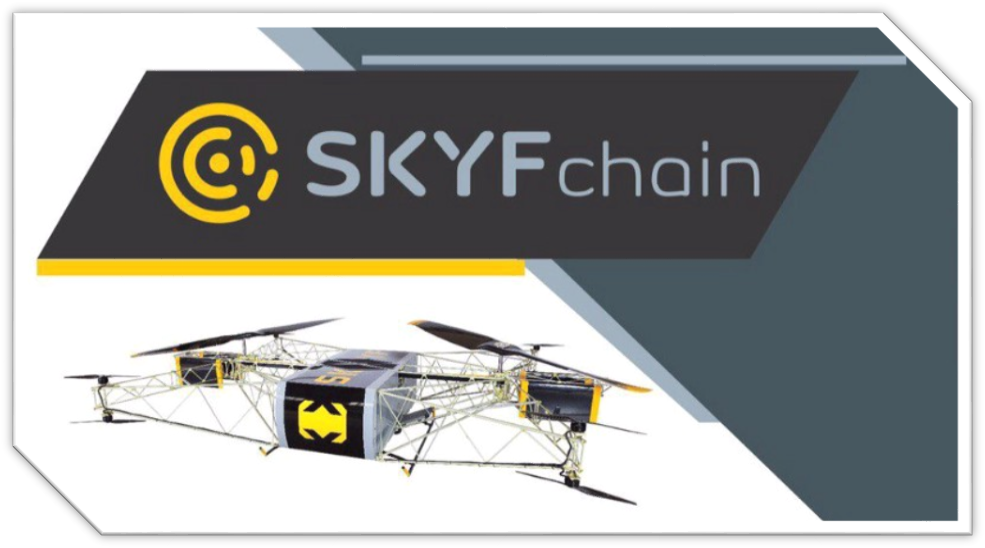 Blockchain technology is a unique opportunity to setup the drone cargo-operating platform
SKYF is the world's first industrial grade heavy cargo drone. We partner with our current clients in oil&gas, agriculture and logistics to make SKYFchain reliable and easy to integrate into today's supply-chain
20% of revenue for the first 1000 drones sold will be used to buy back SKYFT tokens (the equivalent of $50-70M) and fund the development of the SKYFchain Operating Platform
SKYFchain has exclusive rights for mission planning, verification and operations support of SKYF drones
SKYFchain is using the SKYFT token − a utility token issued at ICO. ITS PROPERTIES:
• Fixed amount of 1 200 000 000 tokens
• The ICO-end price will be ~0,065 USD per 1 SKYFT token
• SKYFT are compliant with SEC of USA and available for US investors
• Internal currency of the SKYFchain Operating System
How is SKYF unique from other drones out there?
Long flight time, heavy carrying capacity, and ease of production separate SKYF from any other commercial drone on the market. Only SKYF combines a gas engine for lift and smaller electric propellers for control. Two large (2.8m) propellers connect to an internal combustion engine to provide powerful lift and long flight time. Eight smaller electric engines provide control. SKYF can carry a max load of 250kg (550 lb) up to 3 hours. It can carry 50kg up to 8 hours with a 350km (220 miles) range. No other drone on the market comes close to this performance.
A little bit of information about drones
Dron – in the technological context, it's an unmanned aerial vehicle. UAVs can be remotely controlled, and can fly autonomously with the built-in software (flight plan), working in close connection with on-board sensors and GPS systems.
In recent past, unmanned aerial vehicles had exclusively military applications, where they were originally used to destroy aerial targets and collect intelligence information. Now drones have been widely used, ranging from search and rescue operations, surveillance, weather monitoring, traffic, fire extinguishing, for personal purposes, business with an emphasis on photo and video shooting, in agriculture and even in cargo delivery services.
First unmanned aerial vehicle was realized in 1935 using the example of the full-size biplane De Havilland DH82B "Queen Bee". It was equipped with a radio receiver and a control servo located in the back seat. Later it was used as a live target for training firing from anti-aircraft installations with the goal of training artillerymen. In total, 380 De Havilland DH82B "Queen Bee" aircraft were built. The term "drone" was born thanks to this historic event.
Integration of unmanned aerial vehicles and the Internet has made it possible to use drones everywhere in enterprises. Drones operate on IoT terrestrial sensor networks, help agricultural companies monitor lands and crops, energy companies use drones to inspect power lines and related equipment.
Great demand for commercial and private drones also caused a number of problems related to safety, regarding the consequences of collisions and loss of control. In this regard, many countries at the legislative level have introduced a number of amendments to the air code. There were no-fly zones.
SKYFchain OP business model
The main purpose of the SKYFchain OPis to integrate information for all market participants and organize the execution of smart-contracts for transactions. Transactions may vary in value and frequency. The platform will collect commissions from each transaction.All transactions will be paid in USDor other fiat currency but executed in system using the SKYFT tokens. SKYFT token will be the internal currency of the platform. Only 1.2 bntokens will be issued at ICO in form of Ethereum ERC20 tokens. This is fixed amount for all system. We are going to test the platform using SKYF drones, then we shall educate drone producers and integrate other drones into the system. When sea-borne and ground-borne cargo robots come into the market, we shall integrate them as well by organizing workshops with respective associations of producers.
TEAM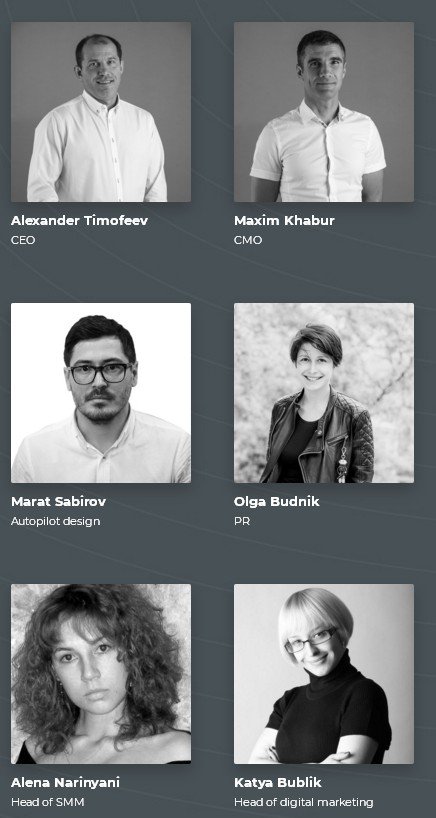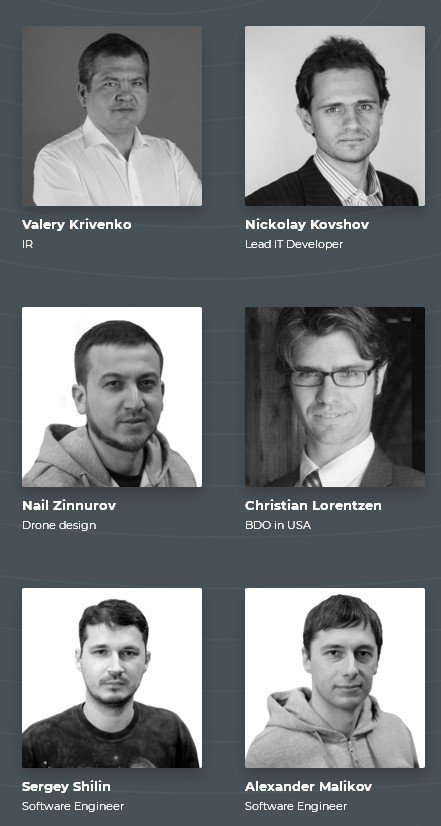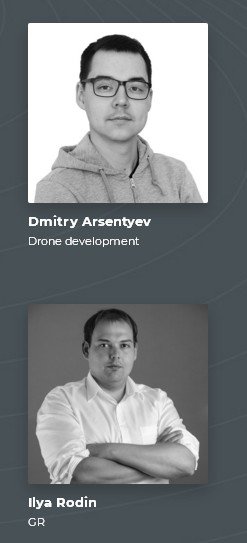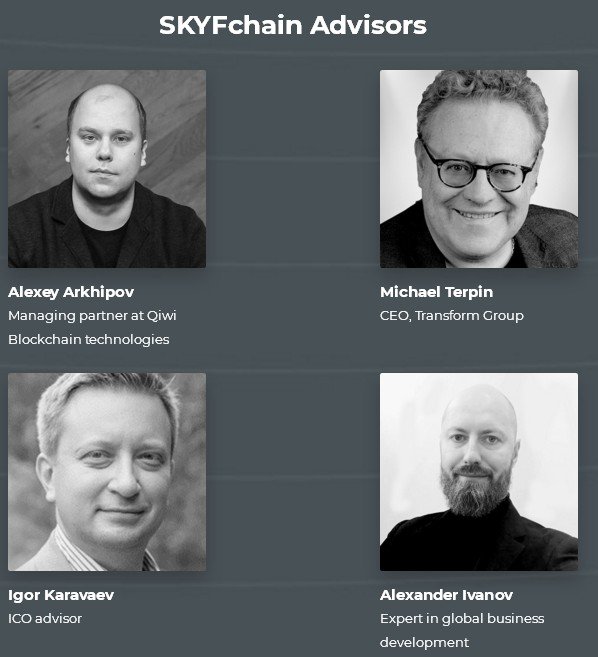 ROAD MAP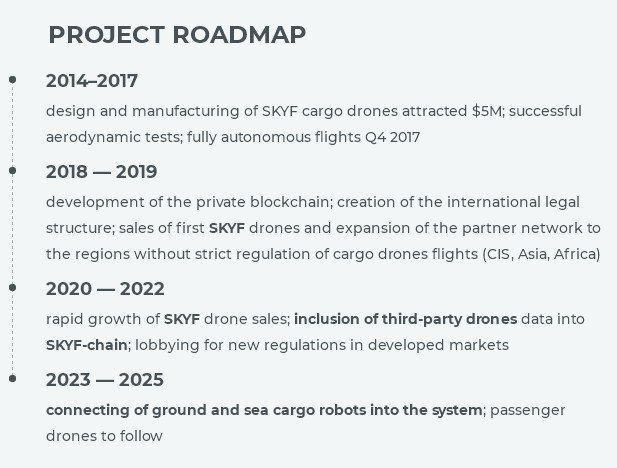 For more information;
Website: https://www.skyfchain.io/
Whitepaper: https://fpivc.box.com/v/SKYFchainWhitePaper
Telegram: https://t.me/SKYFchain_chat
Medium: https://medium.com/@SKYFchain
Github: https://github.com/SKYFchainofficial
Reddit: https://www.reddit.com/user/SKYFchain
Facebook: https://www.facebook.com/SKYFchain-2030350540582744/
Twitter: https://twitter.com/SKYFchain
E-mail: info@skyfchain.com