SKYFCHAIN PLATFORM: blockchain based business to robots system.
SKYF is an unmanned aerial carrier platform for vertical take-off and landing. It allows the development of unmanned aerial vehicles of various modifications for the execution of various tasks — from cargo logistics and crop dusting to fire extinguishing. At the moment, the carrying capacity of the platform is up to 250 kg, its flight range is up to 350 km (with a carrying capacity of 50 kg) and its flight duration is up to 8 hours (with a carrying capacity of 50 kg). SKYF is also the world's first cargo robots manufacturer.
SKYFchain is a logistics operating platform for clients of the SKYF drone. SKYFchain is the first blockchain basedB2R (Business-to-Robots) Operating Platform. Meaning, a client will pay SKYFT in order to use an unmanned aerial vehicle in order to complete various tasks. SKYFchain aims to solve many problems in the current drone market by ensuring safe, transparent and insured services.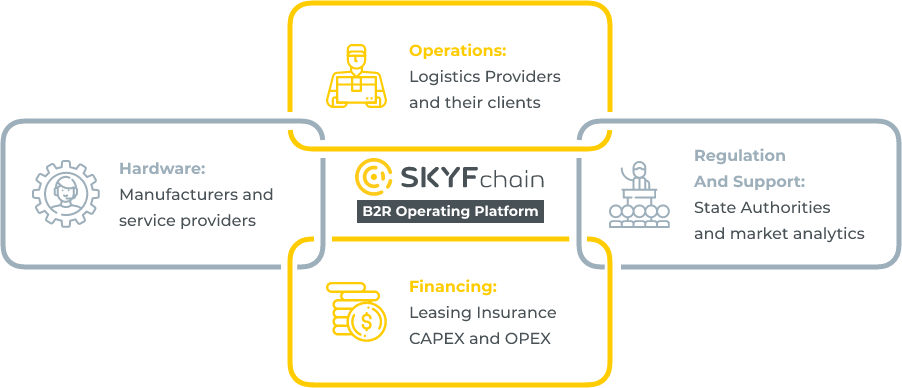 APPLICATIONS OF SKYF CHAIN
Aerial application of chemicals ; use of pesticides, fertilizers, pest control, organic fertilizers, etc.
Precipitation management  in summer and winter (accumulation of snow in fields, decrease of snow in cities), fire prevention and extinguishing
Forestry ; fast planting of seedlings in biodegradable capsules for the restoration of large forest areas after deforestation, fires, etc.
Logistics in oil and gas ; delivery of goods weighing 50–100 kg (food, spare parts, measuring equipment).
Postal Logistics ; delivery of goods weighing 20–100 kg (individual or assembled) from the terminal logistics centers to hard-to-reach residential areas
Marine Logistics ; delivery of medium-sized cargo (spare parts, mail, etc.) to ships at sea or on the move (makes it possible to significantly save time and fuel)
Geodetic works ; remote sensing with the use of professional radars of the terrain (weighing 30–50 kg) e.g., for the construction of power lines, roads, and pipelines
Emergency Situations  like delivery of food, rescue equipment and medicine to natural disaster locations, evacuation of the injured in distress at sea.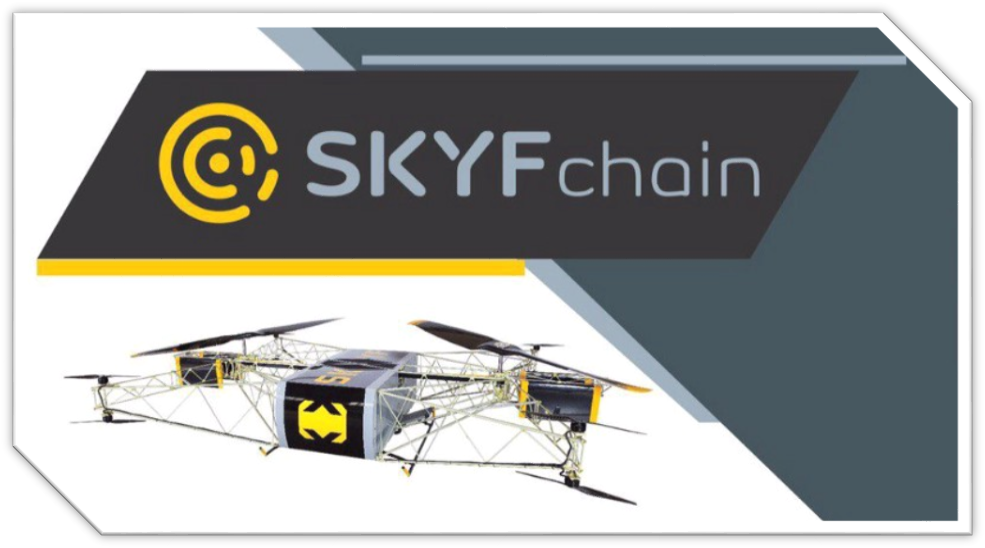 SKYFchain OP business model
The main purpose of the SKYFchain OPis to integrate info for all market participants and organize the execution of smart-contracts for transactions. Transactions might vary in worth and frequency. The platform can collect commissions from every dealings.All transactions are going to be paid in USDor alternative enactment currency however dead in system exploitation the SKYFT tokens. SKYFT token are going to be the interior currency of the platform. Only 1.2 bntokens are going to be issued at ICO in style of Ethereum ERC20 tokens.
HOW DOES IT WORKS?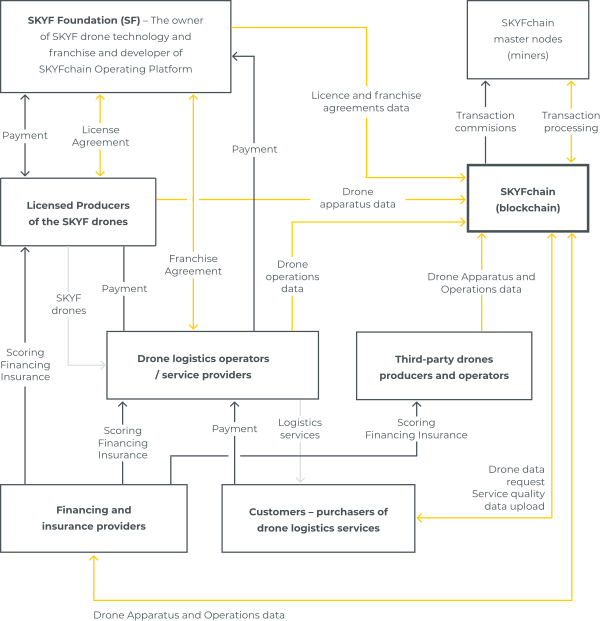 SkyF Chain Foundation is based on robust pilotless aerial vehicle SKYF pilotless Aerial Carrier which will be able to deliver packages over long distances. The multi-rotor, autonomous drone, known as SKYF, was designed with supplying and agribusinesses corporations in mind to form a air freight platform to assist business perform tasks. The vertical take-off and landing drone has applications in areas like the aerial application of pesticides and fertilizers, seed planting for forest restoration and emergency things for food and medication delivery. SKYFChain issue the mounted quantity of SKYFT tokens, which is able to be needed for any dealings within the SKYFchain. A user requests a dealings in SKYFchain and pays firmly in paper currency through his sensible contract. SKYFchain aquires SKYFT tokens at a crypto exchange to execute the dealings.
TOKEN DETAILS
SKYFT is the internal currency of the SKYFchain Operating System.
Name: SKYFCHAIN
Symbol: SKYFT
Type: ERC20
Min. purchase: 3000 SKYFT
ICO end price: 1 SKYFT = 0.065 USD
Accepted Currencies: ETH and BTC

Token Sale
Pre-Sale: Ended!!!
Sale
Start: March 10th
End date: June 15th
Visit https://www.skyfchain.io/ to purchase token, 10% Discount currently live.
TOKEN ALLOCATION
– 44% Crowdsale
– 15% Network Development Fund
– 10% Community Development Fund
– 9.5% Reserve
– 1.5% Bounty Fund
– 20% Team
MEET THE BRILLIANT TEAM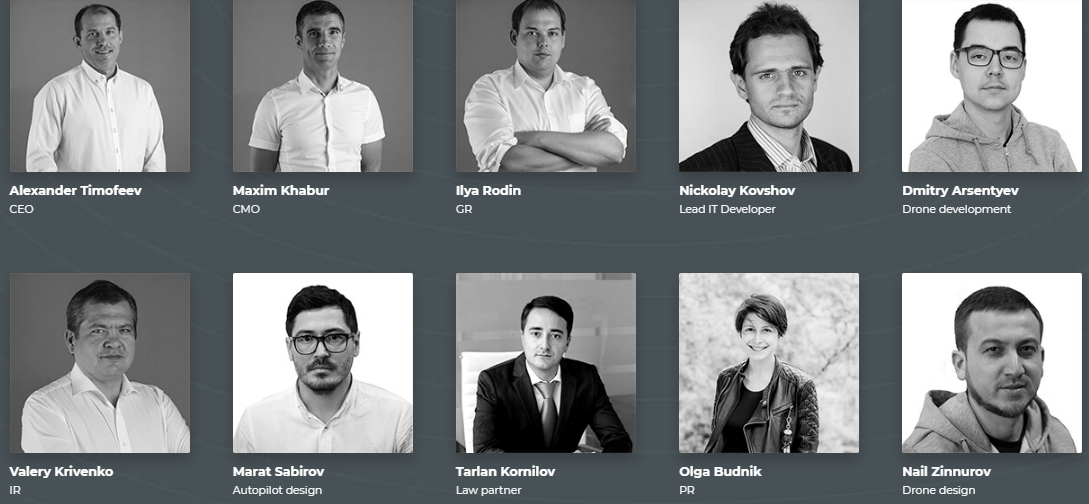 ROAD MAP
2014–2017
design and manufacturing of SKYF cargo drones attracted $5M; successful aerodynamic tests; fully autonomous flights Q4 2017
2018 — 2019
development of the private blockchain; creation of the international legal structure; sales of first SKYF drones and expansion of the partner network to the regions without strict regulation of cargo drones flights (CIS, Asia, Africa)
2020 — 2022
rapid growth of SKYF drone sales; inclusion of third-party drones data into SKYF-chain; lobbying for new regulations in developed markets
2023 — 2025
connecting of ground and sea cargo robots into the system; passenger drones to follow.
Kind Regards, ensure to join this incredible project.
FOR MORE DETAILS, CLICK/FOLLOW THE LINKS BELOW:
Website: https://www.skyfchain.io/
Whitepaper https://fpivc.app.box.com/v/SKYFchainWhitePaper
Telegram https://t.me/SKYFchain_chat
BitcoinTalk https://bitcointalk.org/index.php?topic=2799527
Twitter https://twitter.com/SKYFchain
Facebook https://www.facebook.com/SKYFchain/
Medium https://medium.com/@SKYFchain
Reddit https://www.reddit.com/user/SKYFchain
Instagram https://www.instagram.com/skyfchain.io/
YouTube https://www.youtube.com/channel/UCYOWJse0YFzxNfTEUL7qLpg

Author: Martilda
Profile link: https://bitcointalk.org/index.php?action=profile;u=1887582
Eth address: 0xd0D5d98857192B3931c831b7B809D47CD830da32