SKYFCHAIN – The First Business-to-Robots (B2R) Operations Based on Blockchain Technology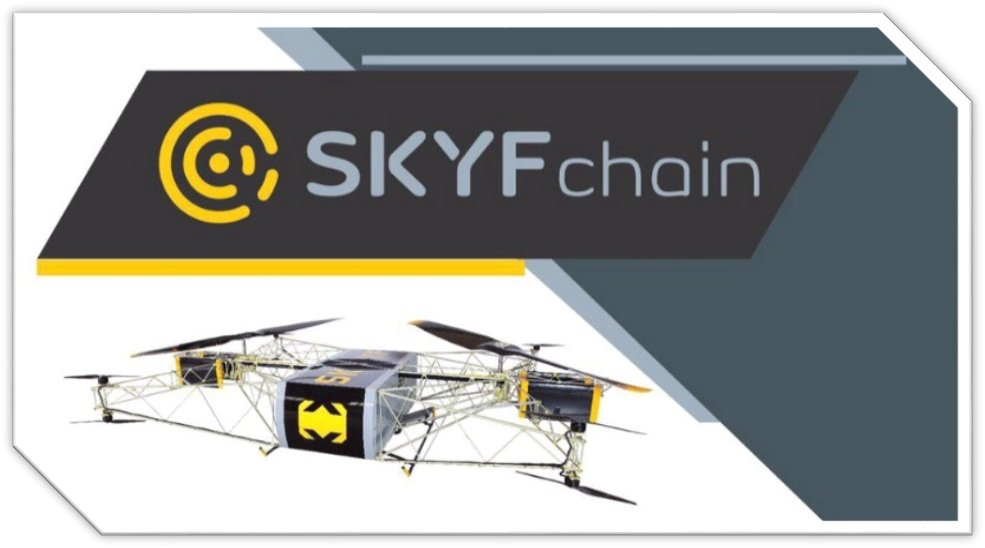 SKYFchain is the first B2R (Business-to-Robots) blockchain based operating platform. This private blockchain system provides independent secure data-exchange and payment channels for a total support of robot – centric logistics. The SKYFChain Operating Platform will based on private blockhain. It will use ERC20 compatible protocol for SKYFT tokens and build payment channels for exchange transactions. SKYFchain is unique because it will be designed to exclude the human as an intermediary and it will have access to confirmed clients of the first industrial heavy duty cargo drone – the SKYF drone, which is already flying. Technically, the main purpose of the SKYFchain is to integrate critical information for all market participants and organize execution of smart-contracts for transactions. SKYFchain aims to create the whole new industry of airborne cargo drones and later invite groundborne and sea-borne cargo robots for the new business opportunities.
SKYFCHAIN facilitates transactions via smart contracts. This means that when a user wants to make transactions, he should give a transaction request, and then he can make his fiat payments in a safe and secure manner. The node holders of SKYF chain are imposed a particular amount of charges upon transactions. Of course, the node holders are having a commission earning a potential of around 70% from each and every transaction done across the network. It uses a wide set of accounts for fund storage, in order to avoid hacking issues.It assures guaranteed returns to all the users. It permits all kinds of cryptocurrency transactions within the system. Once a user has completed his transactions, Skyfchain seeks a cryptocurrency exchange for acquiring SKYFT tokens, in order for those transactions to be executed perfectly. Its major functionality is storage and verification of data or information associated with the operation of the drone like routes, mission plans, maintenance details and drone specifications and so on. Such storage is usually facilitated by a shared distributed ledger available within the SKYF chain system. It authorizes its users to have complete control over their assets. Alexander Timofeev is the Founder as well as the Chief Executive Officer (CEO) of this platform. The clients of SKYFchain include Pony express, Avgust, and Russian post and so on. It has launched its ICO (Initial coin offering) for the purpose of fundraising.
SKYF's unmanned aircraft are suitable for various segments, including logistics, fire and fire extinguishers. Increase global SKYFchain that will generate the number of robots and shareholders in the system. The issue of unmanned industry organizations including expensive insurance and difficult regulations in some countries. The solution is SKYFchain OP is a transparent and trusted operating platform that offers direct access financing and control to those who have this industry growth.

HOW IT WORKS?
The platform is built upon a powerful unmanned aerial vehicle SKYF Unmanned Aerial Carrier that will be able to deliver packagesover long distances. The multi-rotor, autonomous drone, called SKYF, was designed with logistics and agribusinesses companies in mind to create a air freight platform to help business carry out tasks. The vertical take-off and landing drone has applications in areas such as the aerial application of pesticides and fertilizers, seed planting for forest restoration and emergency situations for food and medicine delivery.
SKYFChain issue the fixed amount of SKYFT tokens, which will be required for any transaction inside the SKYFchain. A user requests a transaction in SKYFchain and pays securely in fiat money through his smart contract. SKYFchain aquires SKYFT tokens at a crypto exchange to execute the transaction.
Project Concept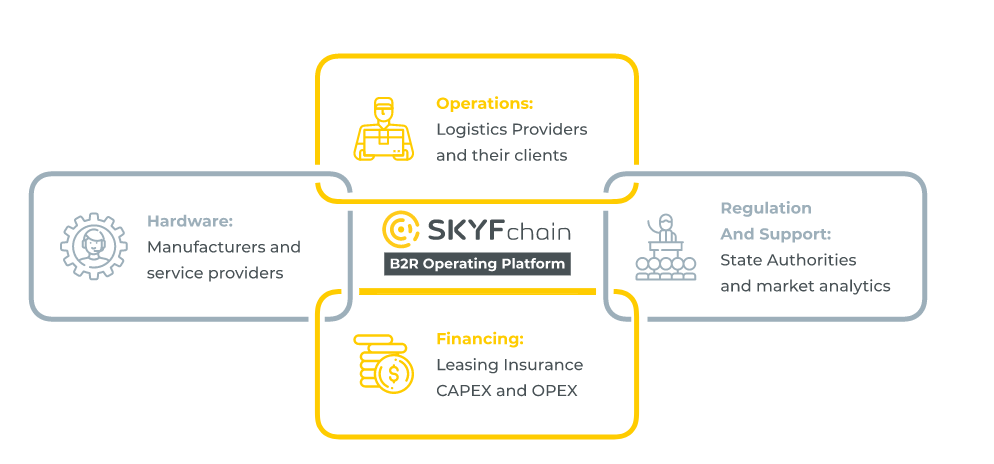 WHY SKYF IS DIFFERENT
Only SKYF incorporates a gas engine for lifting and smaller electric propellers for control. Two large propellers (2.8 m) are connected to the internal combustion engine to provide strong lift and long flight times. Eight smaller electric engines provide control. SKYF can carry a maximum load of 250kg (550 lb) up to 3 hours. Can carry 50kg up to 8 hours with distance of 350 km (220 miles). No other drones in the market are approaching this performance.
SKYFChain issue the fixed amount of SKYFT tokens, which will be required for any transaction inside the SKYFchain. A user requests a transaction in SKYFchain and pays securely in fiat money through his smart contract. SKYFchain aquires SKYFT tokens at a crypto exchange to execute the transaction.
TOKEN AND ICO DETAILS
Price 1 SKYFT = 0,065 USD
Bonus: Available
Available: Bounty
Platform: Ethereum
Receive: ETH, BTC
Minimum investment: 3000 SKYFT
Soft cap: 5000000 USD
Hard cap: 30000000 USD
Country: Estonia
Whitelist / KYC: Whitelist
SKYFT Token Details
SKYFT-token is the internal currency SKYFchain Details:
Fixed amount – 1 200 000 000 tokens
Two types of transactions, paid using SKYFT:
Transaction operations
Fintech Transactions
Super-node holders harvest 50% of the cost
25% of entry fee to token holder
25% of entrance fee to Community Development Fund
Allocation of SKYFchain token

44% Crowdsale
15% Network Development Fund
10% Community Development Fund
9.5% Reserve
1.5% Bounty Fund
20% Team
SKYF drone
The first and foremost heavy cargo drone introduced in the world was the SKYF. It is highly versatile in nature and has the distinct features of landing and vertical take-off capabilities. The SKYF drone is the best drone, while compared with the other drones available in the market. It finds a variety of applications in the industry of cargo robots. In addition, it also has its applications in some other fields such as logistics, agriculture and emergency relief.
ROADMAP AND DEVELOPMENT PERSPECTIVE
2014- 2017- Design and manufacture of SKYF cargo drones attracted $5M; successful aerodynamics: fully autonomous flights in Q4 2017
2018- 2019- Development of the private blockchain; creation of the international legal structure; sales of first SKYF drones and expansion of the partner network to regions without strict regulation of cargo drone flights ( CIS, Asia, Africa)
2020- 2022- Rapid growth of SKYF drone sales; inclusion of third party drone data into SKYFCHAIN; lobbying for new regulations in developed markets
2023- 2025- Connection of ground and sea cargo robots into the system; passenger drones to follow.
Above you can see the roadmap — how the team sees their nearest and long-term future.
Meet the team behind this amazing project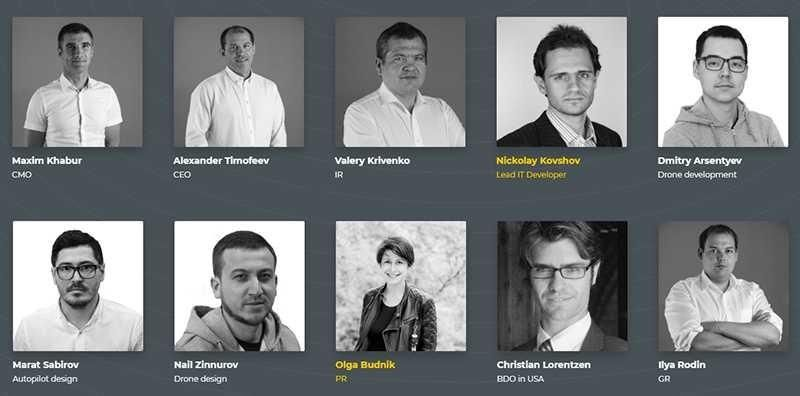 ADVISORS

For more information please visit the links below
Website : http://www.skyfchain.io/
Whitepaper : https://fpivc.app.box.com/v/SKYFchainWhitePaper
ANN Thread : https://bitcointalk.org/index.php?topic=2799527
Telegram channel : https://t.me/SKYFchain
Facebook : https://www.facebook.com/SKYFchain-2030350540582744/
Twitter : https://twitter.com/SKYFchain
Github: https://github.com/SKYFchain/skyfchain
Medium: https://medium.com/skyfchain-io
Reddit: https://www.reddit.com/user/SKYFchain
YouTube: https://www.youtube.com/channel/UCYOWJse0YFzxNfTEUL7qLpg
Author: Tosin David
BitcoinTalk profile link: https://bitcointalk.org/index.php?action=profile;u=1180815