SKYFCHAIN: THE NEW OPERATING PLATFORM FOR CARGO ROBOTICS INDUSTRY
(

)
Articulated robots are not new; they've been used in automotive assembly plants since the 1970's. For the air cargo industry, however, they represent a major shift towards a more automated and sophisticated future. But why has the industry taken so long to implement robotics? It boils down to need. Air cargo is growing into a more complicated and time-sensitive market. As such, robotics gives us the ability to streamline and elevate the industry to keep up with demand.
SKYFchain Operating Platform is the first B2R (business-to-robots) blockchain based operating platform applicable globally in all sectors of a developing cargo robotics industry. It will be initially developed and tested by using the first industrial cargo airborne robot, SKYF drone which will also give SKYFchain instant access to its client base for development of unmanned business processes. Later all other unmanned cargo systems: in the air, on the ground and at the sea will be connected to SKYFchain.
SKYFchain as a blockchain with built-in smart contracts will provide trusted source of data and reasonable control over unmanned assets for clients, logistics operators, insurance and leasing companies, banks, and authorities worldwide. It will unveil new profitable business opportunities for all industry participants, transportation system with lower risk for the society, and increased overall affordability of goods and services due to substantial cost cutting in the global supply chain.
SKYFT tokens are the currency for all operations in the SKYFchain. All contracts are processed in SKYFT tokens. Although tokens are issued at public Ethereum network they are also fully used at SKYFchain.
SKYFT properties include:
Internal currency of the SKYFchain OP required for any transaction,
• Fixed amount of 1,200,000 000 tokens,
• The ICO-end price will be 0.065 USD per 1 SKYFT,
• SKYFT tokens are compliant with USA's SEC and available for US accredited investors
• The blockchain super-node holders harvests 50% of transaction fees,
• 25% of transaction fees go to all token holders,
• 25% of transaction fees go to the Community Development Fund to sustain constant system development and expansion.
PRE-ICO & TERMS CROWDSALE
Launch of pre-ICO – 1st of March 2018
Pre-ICO target: $1,000,000
Pre-ICO Hard cap: $2,000,000
Tokens reserved for Pre-ICO: 51,300,000 SKYFT
Minimum tokens purchase volume: 3000 SKYFT
Collected funds will be stored on several accounts to limit potential impact of an attack by hackers. We accept contributions in ETH & BTC. If you want to contribute BTC, you still need the ETH address in order to receive tokens.
ICO is planned to be launched in May 2018
ICO Hard cap: $30,000,000
The final SKYFT token price at ICO – $0,065
SKYFT token available for purchase at ICO: 528,000,000
Unsold tokens will be burned.


TOKEN ALLOCATION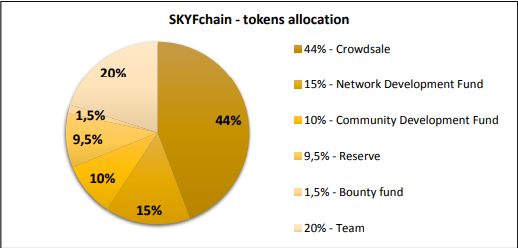 44% – Crowdsale
15% – Network Development Fund
10% – Community Development Fund
9.5% – Reserve
1.5% – Bounty Fund
20% – Team
USE OF FUNDS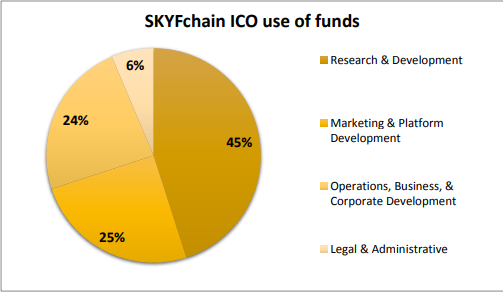 ![Skyfchain.PNG]
45% – Research & Development
25% – Marketing & Platform Development
24% – Operations, Business & Corporate Development
6% – Legal & Administrative
ROADMAP
2014 – 2017: Design & manufacture of SKYFchain cargo drones attracted $5M; successful aerodynamic tests; fully autonomous flights in Q4 2017
2018 – 2019: Development of the private blockchain; creation of the international legal structure; sales of first SKYF drones & expansion of the partner network to regions without strict regulation of cargo drone flights (CIS, Asia, Africa)
2020 – 2022: Rapid growth of SKYF drone sales; inclusion of third-party drone data into SKYFchain; lobbying for new regulations in developed markets
2023 – 2025: Connection of ground and sea cargo robots into the system; passenger drones to follow
TEAM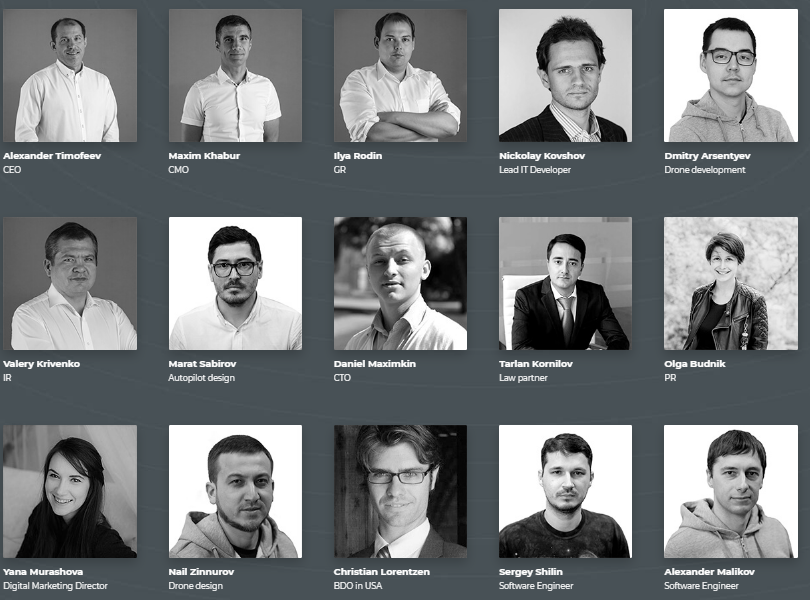 CEO – Alexander Timofeev
CMO – Maxim Khabur
GR – Ilya Rodin
Lead IT Developer – Nickolay Kovshov
Drone Development – Dmitry Arsentyev
IR – Valery Krivenko
Autopilot Design – Marat Sabirov
Law Partner – Tarlan Kornilov
PR – Olga Budnik
Drone Design – Nail Zinnurov
BDO in USA – Christian Lorentzen
Software Engineer – Sergey Shilin
Software Engineer – Alexander Malikov
ADVISORS


Managing partner at QIWI Blockchain Tecnologies – Alexey Arkhipov
Expert in global business development – Alexander Ivanov
Founder of CoinAgenda – Michael Terpin
ICO Adviser – Igor Karavaev
For more details on this project, please feel free to click on any of the following links:
Website: https://www.skyfchain.io
Whitepaper: https://fpivc.box.com/v/SKYFchainWhitePaper
Telegram: https://t.me/SKYFchain_chat
Medium: https://medium.com/skyfchain-io
Bitcointalk: https://bitcointalk.org/index.php?topic=2799527.msg28700556#msg28700556
Reddit: https://www.reddit.com/user/SKYFchain
Facebook: https://www.facebook.com/SKYFchain-2030350540582744/
Twitter: https://twitter.com/SKYFchain
Instagram: https://www.instagram.com/skyfchain.io/
Youtube: https://www.youtube.com/channel/UCYOWJse0YFzxNfTEUL7qLpg
Published by: tszone
Bitcointalk URL: https://bitcointalk.org/index.php?action=profile;u=1742409
Ethereum wallet address: 0x684c9d1c004AB2023E1d3ae9aEb902B514B703d1