SKYFCHAIN: THE NEW OPERATING PLATFORM FOR CARGO ROBOTICS INDUSTRY

Artificial intelligence is arguably the most exciting field in robotics. It's certainly the most controversial: Everybody agrees that a robot can work in an assembly line, but there's no consensus on whether a robot can ever be intelligent. Computers can already solve problems in limited realms. The basic idea of AI problem-solving is very simple, though its execution is complicated. First, the AI robot or computer gathers facts about a situation through sensors or human input. The computer compares this information to stored data and decides what the information signifies. The computer runs through various possible actions and predicts which action will be most successful based on the collected information. Robots will certainly play a larger role in our daily lives in the future. In the coming decades, robots will gradually move out of the industrial and scientific worlds and into daily life.
SKYFchain is the first blockchain based business-to-robots operating platform (B2R) and its main purpose is to integrate information for all market participants and organize the execution of smart-contracts for transactions. Some transactions may differ in value and frequency. SKYFchain operating platform is applicable globally in all sectors of a developing cargo robotics industry. This will help in the development and test using the first industrial cargo airborne robot-SKYF drone.
SKYFchain as a blockchain with built-in smart contracts will provide trusted source of data and reasonable control over unmanned assets for clients, logistics operators, insurance and leasing companies, banks and authorities worldwide.
PRE-ICO & TERMS CROWDSALE
Launch of pre-ICO – 1st of March 2018
Pre-ICO target – $1,000,000
Pre-ICO Hardcap – $2,000,000
Only 51,300,000 SKYFT tokens is reserved for Pre-ICO
Minimum tokens purchase volume is 3000 SKYFT
Collected funds will be stored on several accounts to limit potential impact of an attack by hackers. We accept contributions in ETH & BTC. If you want to contribute BTC, you still need the ETH address in order to receive tokens.
ICO is planned to be launched in May 2018
ICO Hardcap is $30,000,000
The final SKYFT token price at ICO – $0,065
SKYFT token available for purchase at ICO – 528,000,000
Unsold tokens will be bumed


TOKEN ALLOCATION
Crowdsale – 44%
Network Development Fund – 15%
Community Development Fund – 10%
Reserve – 9.5%
Bounty Fund – 1.5%
Team – 20%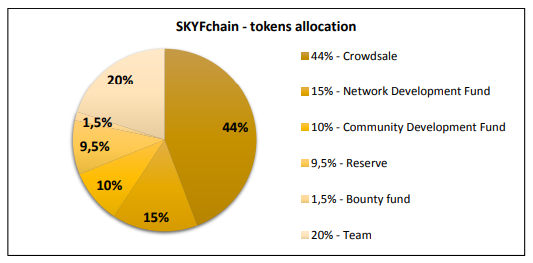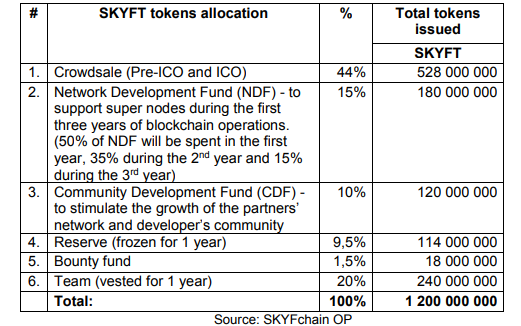 USE OF FUNDS
Research & Development – 45%
Marketing & Platform Development – 25%
Operations, Business & Corporate Development – 24%
Legal & Administrative – 6%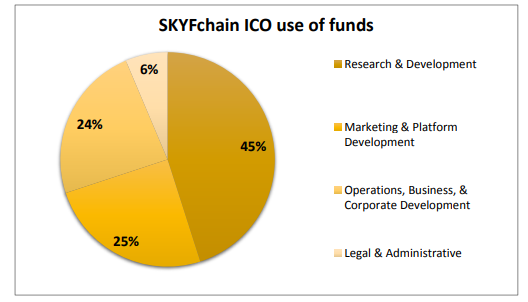 ROADMAP
2014 – 2017: Design & manufacture of SKYFchain cargo drones attracted $5M; successful aerodynamic tests; fully autonomous flights in Q4 2017
2018 – 2019: Development of the private blockchain; creation of the international legal structure; sales of first SKYF drones & expansion of the partner network to regions without strict regulation of cargo drone flights (CIS, Asia, Africa)
2020 – 2022: Rapid growth of SKYF drone sales; inclusion of third-party drone data into SKYFchain; lobbying for new regulations in developed markets
2023 – 2025: Connection of ground and sea cargo robots into the system; passenger drones to follow
TEAM
Alexander Timofeev – CEO
Maxim Khabur – CMO
Ilya Rodin – GR
Nickolay Kovshov – Lead IT Developer
Dmitry Arsentyev – Drone Development
Valery Krivenko – IR
Marat Sabirov – Autopilot Design
Tarlan Kornilov – Law Partner
Olga Budnik – PR
Nail Zinnurov – Drone Design
Christian Lorentzen – BDO in USA
Sergey Shilin – Software Engineer
Alexander Malikov – Software Engineer
ADVISORS
Alexey Arkhipov – Managing partner at QIWI Blockchain Tecnologies
Alexander Ivanov – Expert in global business development
Michael Terpin – Founder of CoinAgenda
Igor Karavaev – ICO Adviser
For more details on this project, please feel free to click on any of the following links:
Website: https://www.skyfchain.io
Whitepaper: https://fpivc.box.com/v/SKYFchainWhitePaper
Telegram: https://t.me/SKYFchain_chat
Medium: https://medium.com/skyfchain-io
Bitcointalk: https://bitcointalk.org/index.php?topic=2799527.msg28700556#msg28700556
Reddit: https://www.reddit.com/user/SKYFchain
Facebook: https://www.facebook.com/SKYFchain-2030350540582744/
Twitter: https://twitter.com/SKYFchain
Instagram: https://www.instagram.com/skyfchain.io/
Youtube: https://www.youtube.com/channel/UCYOWJse0YFzxNfTEUL7qLpg
Published by: tszone
Bitcointalk URL: https://bitcointalk.org/index.php?action=profile;u=1742409
Ethereum wallet address: 0x684c9d1c004AB2023E1d3ae9aEb902B514B703d1