SleekPlay – Content Monetization Reinvented
INTRODUCTION
The Blockchain is a rapidly growing technology that is engulfing every possible business domain. Therefore, many reports published have predicted a huge rise in the Blockchain market. According to reports, the Blockchain market is expected to extend to over 20 billion dollars by 2024. It is counted in one of the most promising new technologies that are hoped to change the future of businesses and the internet.
SleekPlay presents a blockchain-based platform that harnesses the computational power of devices to reinvent the monetization of content
Blockchain technology is making it possible to disrupt the way things are done in different industries and the monetization of content in the digital economy is long overdue a complete overhaul. 'The drawbacks of ads, together with its growing ineffectiveness and privacy related flaws, has flung the doors wide open for innovation and creative solutions that ensure users are protected and not sacrificed on the altar of profit making' says Isaac Ikoro, co-founder, SleekPlay.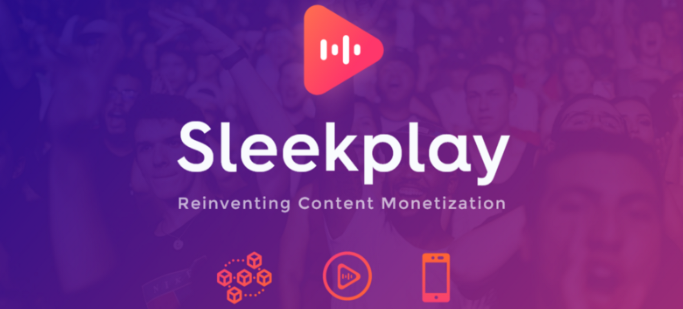 Sleekplay is a content monetization platform that reinvents the way digital content driven applications are consumed, distributed and monetized. Sleekplay harnesses the power of Blockchain computing to create a Unique monetization model that is profitable to developers and users of the network. The platform makes it possible to replace ads with a blockchain based approach.
PROBLEMS SLEEKPLAY AIMS TO SOLVE
The Ad model:
Generally, Users are given free access to content in exchange for viewing ads. However, these ads are interruptive in nature and impact negatively on overall user experience. Despite the poor experience, users are limited as to how much content they can access in an ad model scenario. Research has shown that, users on mobile devices find ads more annoying than on TV platforms
The Subscription Model:
Content is monetized by charging the user a fee on a pay as you use basis or monthly. However, the expectations of a generation have changed; users simply want things for free and any option that comes as such will be preferred by the user. The subscription fee model is not bringing in the required revenue to make these providers profitable.
SOLUTIINS PROVIDES
The Sleekplay Model:
This model gives application developers a new way to monetize content and offer users incentives for contributing the computational power of their devices. Users can enjoy premium access, quality experience and unlimited content at no cost whilst application developers generate revenue from the value of their user-driven contributions.
How it works: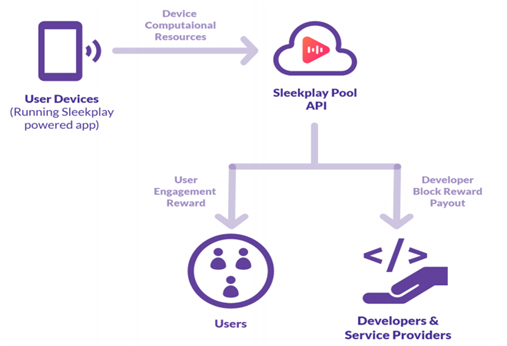 Users — Downloads and consumes content on SleekPlay-powered apps, games or services and receives incentives for their engagement.
Developers & Providers — Integrates with the SleekPlay platform to provide value to their users, while converting user engagement into revenue.
SleekPlay API — Handles the distribution and sharing of rewards and payouts to users and developers alike.
FEATURES
• It would allow transaction done by SKP which would be the digital token of the system
• It would also exchange trading platform features
• It would serve as a utility tool to incentivize content
• It would allow content to be accessed on mobile device as well
Advantages of Sleekplay:
Ad Free Experience : Users can experience their favourite applications without ad interruptions.
Play & Earn :  As users enjoy their favourite streaming apps and games, Sleekplay rewards them with SKP. Accrued SKP can be exchanged for digital goods or cash.
More revenue than ads :  Because of our goal system and incentives, developers earn more per user than with ads.
Positive experience : As mining eliminates the needs for ads, developers can deliver quality services and protect their brand equity.
Better User engagement :  Due to the unique Sleekplay goal system & user incentives, users engage more with applications, increasing revenue and conversion metrics.
Competitive edge : Applications integrating with Sleekplay attract more users than the competition, with the allure of earning SKP coins.
TOKEN DETAILS
Token  –  SKP
Pre-ICO Price  –  1 SKP = 0.008 USD
Price  –  1 SKP = 0.01 USD
Platform  – Ethereum
Accepting  -ETH
Minimum Contributio – 0.15 ETH or 0.012 BTC
Soft cap — 700 ETH
Hard cap — 2000 ETH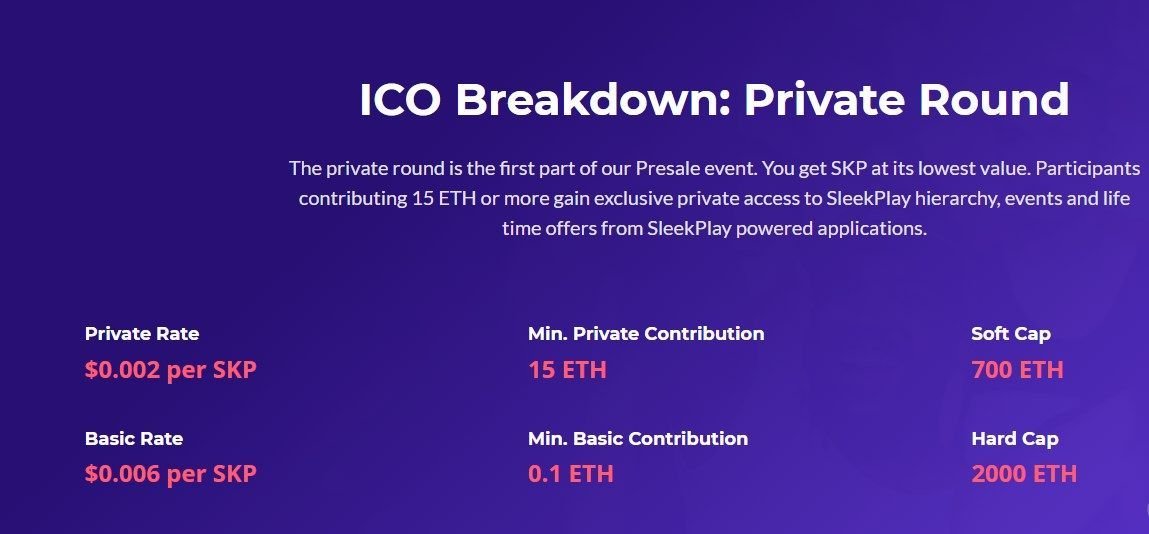 The Sleekplay Crowdfund:
PRE ICO
The Sleekplay pre-ICO will be done in two parts. First, we will have a unique private round which will commence on the 1st April, 23:59 GMT this event and its special rate is held exclusive for individuals contributing 15 ETH and above. These investors will have exclusive access to the entire project, the team and also stand a good chance to join the advisory board for the project. The private round will also offer SKP at its lowest value of $0.002. Our goal in this round is to raise $500,000.00. The second part of the pre-ICO will begin on the 14th May, 2018 at 00.00 GMT.

Main ICO Crowdfund
The main ICO will be announced in June. The main ICO will be run at a set price of $0.01 and once the hard cap is reached, the campaign will end. Any undistributed tokens will go into reserve.

Coin Distribution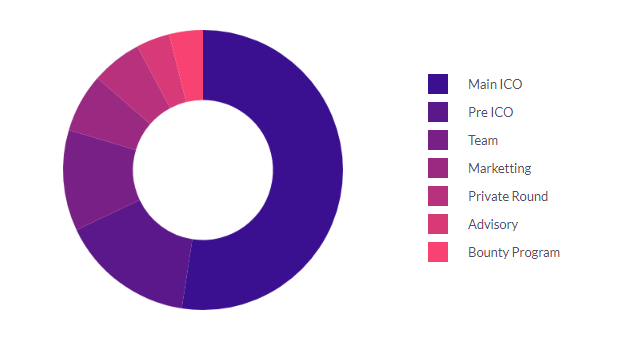 ROADMAP
Phase1: Crowdfund
Q1 2018
· Completion of Private round
· Marketing the Pre-ICO
Q2 2018
· Releasing the web wallet manager
· Completion of Pre-ICO
· Marketing the Main ICO
· Completion of Main ICO
Phase 2: Beta development and exchange listing
Q3 2018
· SKP on exchanges
· Release of GUI Wallet
Q4 2018
· Release of Sleekplay API with web miner Integration (beta)
· Closed testing with specific developers
Phase 3: Product Launch and Operations
Q1 2019
· Full release of API with native miner (beta)
· Open developer signups
Q2 2019
· Launch of the Sleekplay Platform
· Creating awareness to increase SKP adoption
· Further development of the Sleekplay platform
TEAM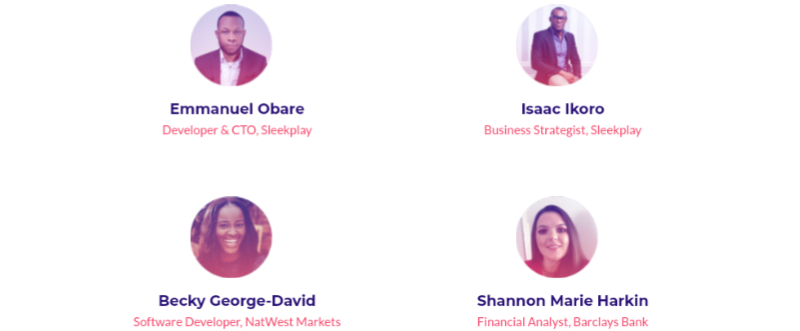 Emmanuel Obare- Developer & CTO, Sleekplay
Responsible for the Sleekplay blockchain and entire back-end infrastructure. He is an early adopter of Bitcoin and a cryptocurrency enthusiast. Studied software engineering at the University of East London. He is well travelled and has been part of various tech start-ups around the world
Isaac Ikoro- Business Strategist, Sleekplay
He studied Computer science at the University of Manitoba as well as business management. He is part of the development team building the Sleekplay platform and is also a seasoned consultant and business strategist, well-travelled and consults for governments in developing countries
Shannon Marie Harkin- Financial Analyst, Barclays bank
She is the financial analyst for the Sleekplay project overseeing all financial projections and decisions and the overall economics of the project. She has worked for Barclays Bank as a financial analyst, she is seasoned and vastly experienced.
FOR MORE INFORMATION PLEASE VISIT THE LINKS BELOW;
Website: https://sleekplay.com/
Whitepaper: https://www.sleekplay.com/docs/Sleekplay-Whitepaper-EN.pdf
ANN Thread: https://bitcointalk.org/index.php?topic=3245886.0
Telegram: https://t.me/sleekplayofficial
Twitter: https://twitter.com/sleekplay_io
Facebook: https://www.facebook.com/sleekplayofficial
BountyHive: http://bountyhive.io/join/SleekPlay?from=Brainerdpaul)
Bountyhive Username: Brainerdpaul
Referral Link: bountyhive.io/r/Brainerdpaul
BitcoinTalk profile link: https://bitcointalk.org/index.php?action=profile;u=1680409