I welcome you my dear subscribers and readers. Today we will talk about a very technological and interesting ICO project, Smart Containers, that is all set to eliminate the paper trails and allow for the automation of their innovative containers through smart contracts and their native cryptocurrencies.
Smart Containers aims to disrupt the logistics sector through the creation of temperature-controlled containers for pharmaceutical and food products across the supply chain. The objective is to eliminate the paper trails and allow for the automation of their innovative containers through smart contracts and their native cryptocurrencies.
Blockchain technology is widely used in Smart Containers business processes which makes it impossible to substitute or lose data. Using Smart contracts makes Smart Containers a reliable and impartial guarantor of fulfilling obligations to the investors/users of the project/platform.
Smart Containers is conceived to solve the following problems:
Wastage of Medicinal Product Due to Temperature Deviation: According to World Health Organisation (WHO) statistics, up to 40% of vaccines were compromised due to temperature deficiencies during transit. Affected vaccines have to be thrown out.
Inefficient Paper Trail: The logisitical process is extremely inefficient and complex, requiring hundreds of different paper documents just to send a parcel from a country to another. Additionally, coordinating communications among stakeholders along the process takes up a huge amount of resources.
Applications:
Smart Containers aims to create an integrated logistics ecosystem – called Logi Chain – backed by blockchain technology that will be seamless for the industry and stakeholders. Logi Chain will be an open logistics ecosystem that will facilitate shipment organization and administration through the use of blockchain technology. This will allow it to create a fully autonomous container that invoices itself through cryptocurrencies.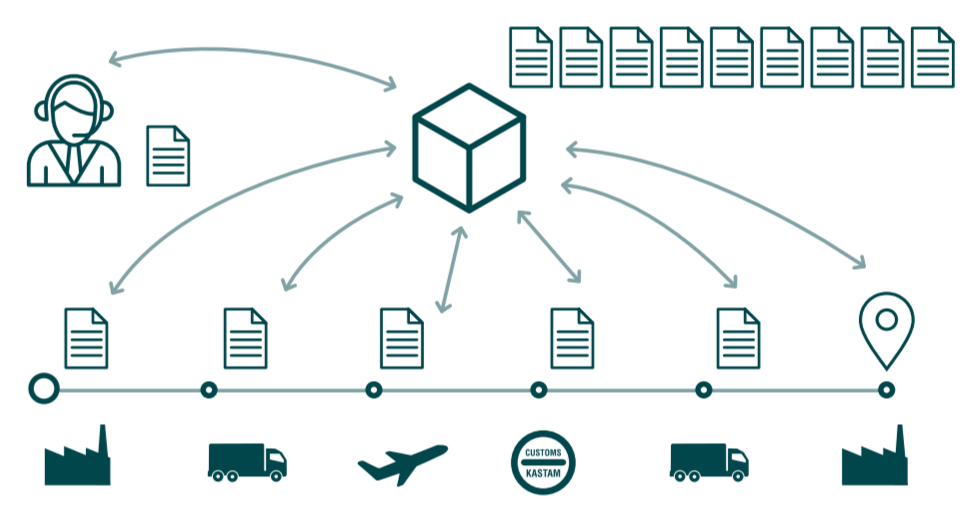 Here is how the process will work
Virtual Representation: A physical logistics unit – which can be a container, parcel or product – is replicated as a virtual product represented by a virtual chip on Logi Chain.
Virtual Chip: The chip is virtual and can be attained by all stakeholders at minimal costs.
Embedded Data: Various data, documents and attributes relating to the product can be embedded in the chip and made accessible to the relevant parties in the supply process. For instance customs officers, freight forwarders, contractors, shippers, buyers, warehouse workers.
The team is absolutely amazing and they have been working on Smart Containers as a whole for sometimes now. They've been dealing with shipping industry with vast experiences in managements and operations for decades. I have tracked the records of various members of the team and I can say that they are incredibly professional.
I personally have done a lot of digging on Smart Containers and I am yet to find any major red flag that would make me give up on investing in their ICO. Knowing how much the core members of the team have sacrificed to build everything from the ground up gives me more hope about the company as a whole.
Smart Containers 's reputation speaks for itself and is strongly supported by various facts and by real business model that works every day. By investing (cryptocurrency) in the project you can be 100% sure of the reliability of your investment, as you invest into business with real assets and real people.
Smart Containers group, completely, every one of its representatives work for the advantage of the project/organization and are constantly prepared to help in any matter. If there are any doubts or questions, you can always contact support — technical support is ready to help at any time. They are dependably in touch and don't dismiss any issue. For sure, at the present moment when we are discussing ICO ventures this reality is very crucial.
All models made by the Smart Containers advancement group are freely accessible, at the present time you can acclimate yourself with this platform. Smart Containers takes an interest in each conceivable crypto, blocking gatherings, and finish up genuine contracts.
ICO and Cryptocurrency
ICO is crowdfunding via use of cryptocurrency, which can be a source of capital for startup or existing companies. In an ICO a percentage of the newly issued cryptocurrency is sold to investors in exchange for legal tender or other cryptocurrencies such as Bitcoin.
Why you should invest on Early Stage
Early stage and existing companies might worth extremely low and have huge potential to fast-growing. Smart startup companies today can scale up hundreds of time faster than they could just a few years back. There's never been better time to invest. This opportunity now available not only for venture capital or institutional investors, but for retail investors and for you too.
Smart Containers will be issuing 2 coins: SMARC and LOGI
SMARC Tokens
SMARC Tokens are ERC20, dividend tokens that grant holders up to 20% of future profits. Not only will holders gain dividend from the business operations of Smart Containers, but potential exit gains – via an Initial Public Offering (IPO) – may also come into play in the long-term. The dividends and future exit profits will be paid out in ETH tokens. SMARC tokens aren't utility tokens and are purely used for capital-raising purposes backed by the business success of Smart Containers.
LOGI Tokens
The LOGI coin is also an ERC20 token that will be used to fuel the payment of smart contract transactions. LOGI tokens are utility tokens that fuel the LOGI chain ecosystem, where stakeholders can use it to gain access to and pay for a seamless and integrated shipping process with all data ingrained into the blockchain.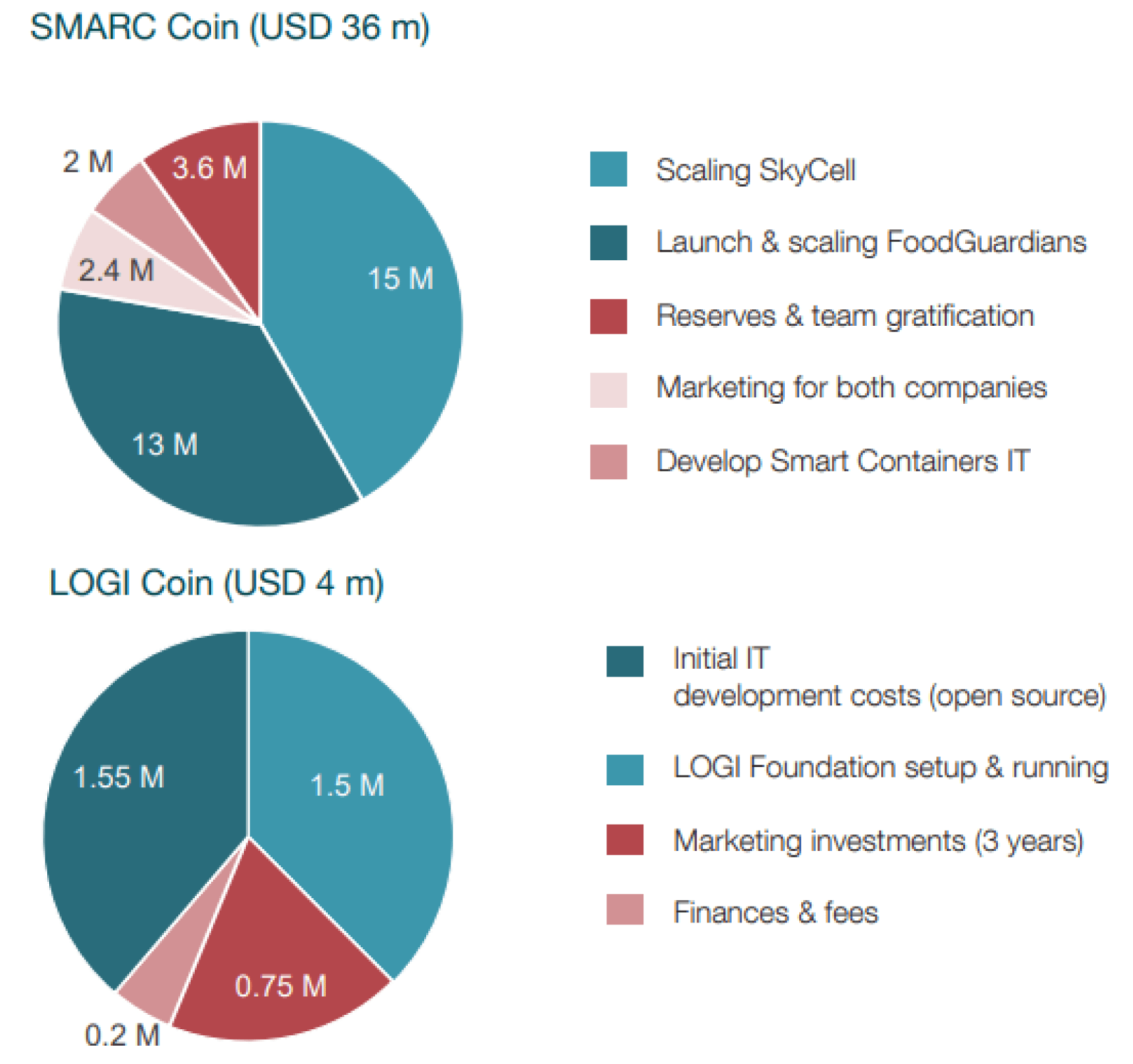 In other to participate in the ICO, follow these steps below
• Purchase the tokens: Smart Containers will issue a number of tokens during the ICO.
• Receive dividend payments: As a token holder, you have the right to receive payments equivalent to shareholder dividends.
• Convert your tokens into shares: As a token holder, you also have the right to convert your tokens into Ordinary Shares.
Token Information
Token: SMARC
Price: 1 SMARC = 0.432 USD
Platform: Ethereum
Accepting: ETH, BTC, Fiat
Hard cap: 36,000,000 USD
Country: Switzerland
Whitelist/KYC: KYC & Whitelist
Restricted areas USA, Iran, Syria, Sudan, Cuba, Burma, Côte d'Iv.
Road Map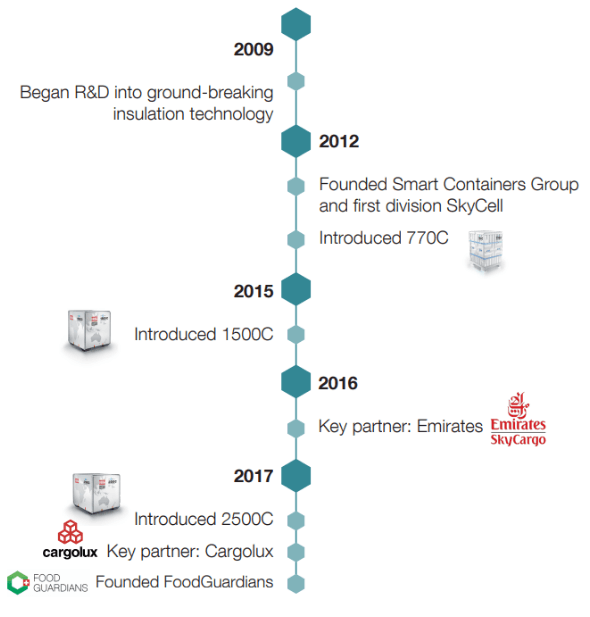 In conclusion, Smart Containers ICO is still ongoing and will come to an end in less than 2 days, on the 30th June, 2018. The good news is that it's not too late to take part in this one of a kind investment opportunity.
Please, never make your final decision based only on what you've read here. I advise you to do your own due diligence on the project and have personal conviction before making the final call.
For more info:
Website: http://smartcontainers.ch/
Whitepaper: https://goo.gl/g3edH2
Telegram: https://t.me/smartcontainers
Facebook: https://goo.gl/iKfyFk
Twitter: https://twitter.com/SMARC_ICO
ANN Thread: https://bitcointalk.org/index.php?topic=3058528.0
YouTube: https://www.youtube.com/channel/UC4NaVoE-RNhpvmSPN04Teaw/featured
Author: Cryptocraz
Bitcointalk Address: https://bitcointalk.org/index.php?action=profile;u=1698372