SMARTER THAN CRYPTO: THE FIRST TOKENIZED SMARTER THAN BETA CRYPTOCURRENCY PORTFOLIO.

Currently there are more than 1200 cryptocurrencie system existing on the global market. This is because of the huge potential it brings to businesses and the global market at large. In early-mid 2017, the market share of this industry was valued at 831 billion USD, with Bitcoin and Ethereum being the two most know and traded cryptocurrencies existing at writing time. With this being said, it's only evidential that the market for this commodity is alive and thriving. If cryptocurrencies exchange win the long fight for awareness and acceptance, the market cap might spike into billions and battle with other industries that have existed beyond 2009.
As new cryptocurrencies emerge on the market radar, they tend to strive to solve an existing issue to prove their relevance for the community and the human lives. So somehow, all these we see every day is a way to better man's living in the financial industry.
For instance, the cryptocurrency's existence has come to erase the hurtful policies by payment systems like paypal. Some countries in western Africa can't receive funds through paypal and this has limited the fluidity of global transaction. Cryptocurrency answered that question by permitting its exchange globally.
WHAT IS SMARTER THAN CRYPTO?
Smarter than crypto is another utility token than is tradable just like other cryptos, with same features but with a better preferred layers of functionalities. Its promises are to cut down the dependence on middleman for exchange and transactions. Bring more transparency and phase out the fees paid for management. All these are possible because of its independent and automated system of operation.
One of the reasons to invest on this market is the things you can get done with the Smart contract. The smart contract is designed to allow participants cash out for their assets at any time. This means the Smarter Than Crypto's value on the exchange will be protected and token holders can sell or exchange their tokens at any time and there won't be any fees charged for exit, advice or broker.
TOKEN DETAILS
Maximum Supply (Hard Cap): 25 000 000
Available for Purchase: 21 750 000
Minimum ICO Contribution: 0.04 ETH
Minimum Raise: $2 000 000
TOKEN DISTRIBUTION AND ICO ALLOCATION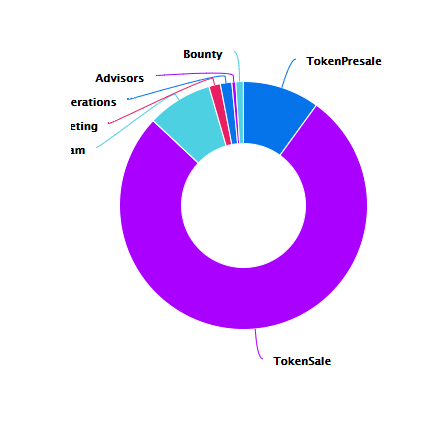 Token Type: ERC20, Ethereum Blockchain
Token Symbol: STC
Maximum Supply (Hard Cap): 25,000,000
Available for Purchase: 21,750,000
Price per token:
Pre-sale: $0.90 (first 10,000,000 tokens)
First 48 hours of ICO: $0.95
48 hours to week 2 of ICO: $1.00
Week 2-till end of ICO: $1.05
No new coins will be minted, created or mined after the ICO
Pre-Sale Period: Ongoing
Main ICO Sale Period: Q3 2018
Team tokens will vest over two years via a smart contract 'vault' to align team incentives with ICO participants.
PARTNERS

ROADMAP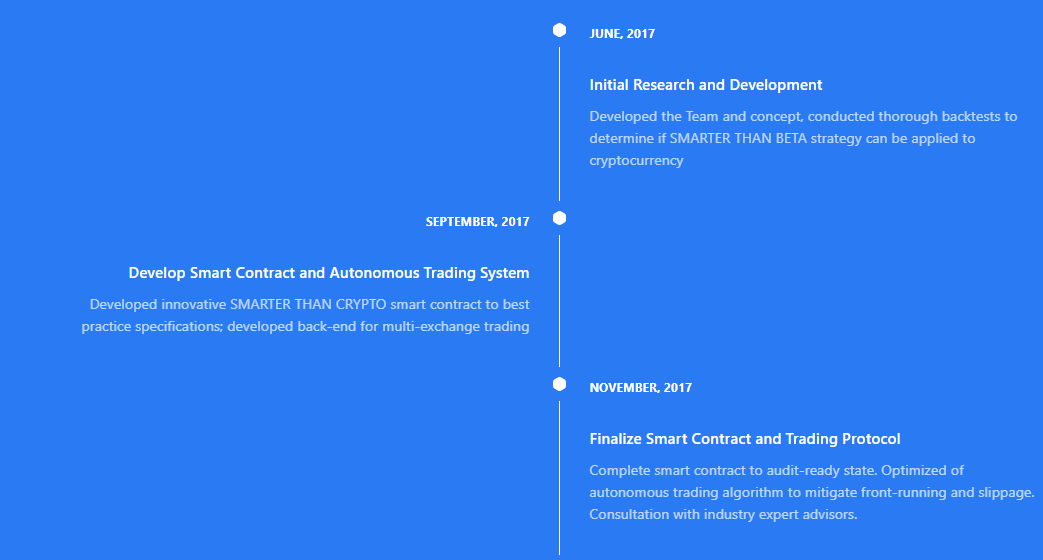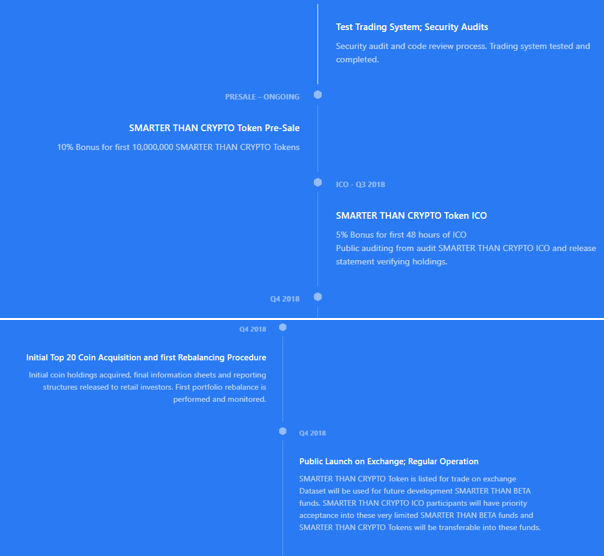 JUNE, 2017: Initial Research and Development, Developed the Team and concept, conducted thorough backtests to determine if SMARTER THAN BETA strategy can be applied to cryptocurrency.
SEPTEMBER, 2017: Develop Smart Contract and Autonomous Trading System. Developed innovative SMARTER THAN CRYPTO smart contract to best practice specifications; developed back-end for multi-exchange trading.
NOVEMBER, 2017: Finalize Smart Contract and Trading Protocol. Complete smart contract to audit-ready state. Optimized of autonomous trading algorithm to mitigate front-running and slippage. Consultation with industry expert advisors.
DECEMBER, 2017: Test Trading System; Security Audits. Security audit and code review process. Trading system tested and completed. PRESALE – ONGOING SMARTER THAN CRYPTO Token Pre-Sale, 10% Bonus for first 10,000,000 SMARTER THAN CRYPTO Tokens.
ICO – Q3 2018: SMARTER THAN CRYPTO Token ICO, 5% Bonus for first 48 hours of ICO. Public auditing from audit SMARTER THAN CRYPTO ICO and release statement verifying holdings.
Q4 2018: Initial Top 20 Coin Acquisition and first Rebalancing Procedure. Initial coin holdings acquired, final information sheets and reporting structures released to retail investors. First portfolio rebalance is performed and monitored.
Q4 2018: Public Launch on Exchange; Regular Operation, SMARTER THAN CRYPTO Token is listed for trade on exchange. Dataset will be used for future development SMARTER THAN BETA funds. SMARTER THAN CRYPTO ICO participants will have priority acceptance into these very limited SMARTER THAN BETA funds and SMARTER THAN CRYPTO Tokens will be transferable into these funds.
TEAM
Oliver Prock – Founder and CEO
Herald Heidinger – Managing Director
Mangesh Pharande – Database Special, Data analysis
Mayuresh Mirajkar – Software Engineering and Development
Prashaunt Navale – Full Stack Designer and Frontend Development
Anke Engel – Communications and Channel Management
Viktoria Lenth – Brand Management and Marketing
Laurence lau – Advisor
Karthik Lyer – Advisor
Yuan Li – Advisor
Adrian Gheorghe – Advisor
Victor Chow – Advisor
Website: https://www.smarterthancrypto.com/
Whitepaper: https://www.smarterthancrypto.com/doc/Smarter_Than_Crypto_whitepaper.pdf
ANN Thread: https://bitcointalk.org/index.php?topic=2779260.msg28429165#msg28429165
Telegram: https://t.me/stc_tokens
Facebook: https://www.facebook.com/SmarterThanC
Twitter: https://twitter.com/Smarter_Crypto
Reddit: https://www.reddit.com/user/SmarterCrypto/
Github: https://github.com/SmarterCrypto/Smart-Contract
Bitcointalk: https://bitcointalk.org/index.php?topic=2779260.msg
Medium: https://medium.com/@smartercrypto
BITCOINTALK USERNAME: thankyoulord
BITCOINTALK URL: https://bitcointalk.org/index.php?action=profile;u=2076086
WALLET ADDRESS: 0x2859DD117e5E186B2dec97b50012C66D0E7597Ad