SMATHIUM – A BLOCKCHAIN-BASED LOYALTY PLATFORM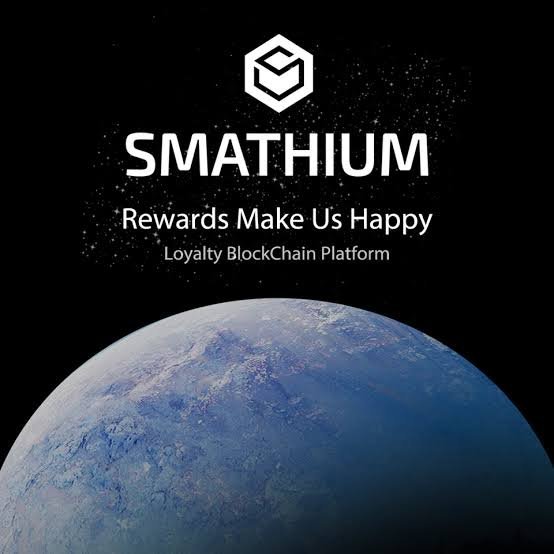 Executive Summary
Numerous trials of blockchain process are being made, but it is still difficult to find a project with over 9 years of experience of professional e-business and global network that affects our daily lives. Smathium project will not only identify the major problems marketers and customers face, but also suggest a way to reform them.
Current Market.
With the growth of loyalty program increasing annually, it will reach an expected 6.9billion dollars in 2023.
In North America, customers join 13.7 loyalty programs on average, with 87% of them seeking loyalty program specifically for loyal customers.
Problems of market
• Closed structure.
Currently, loyalty programs have closed structure which puts a limit to using or trading reward elsewhere, simply to gain lock-in effect( tying a user to a specific brand). This disregards a customer's rights and compels customers to neglect loyalty programs.
• Lack of differentiation and insufficient rewards.
Each year, about 30 million dollars of reward points expire each. A report from COLLOQUY proves that 57% of customers were ignorant about their acquired points and 37% did not even know the exact worth of their points. The companies in same Industry have uniform loyalty program (ex. Stamp coupon in Cafe), lowering differentiation, and the points seem impossible to use because the actual rate of point is really low.
• Lack of sustainability in loyal programs.
Rather than managing a sustainable loyalty program, companies aim to gain immediate results due to limitations on price recquired to managing a loyalty program, and of course, time. This leads to a failure of loyalty programs. As a result, customers's benefits is reduced, leading to a shortfall in new customers and failure in managing existing customers.
• Brand tied to platform.
A central server takes full control of trade in the current loyalty program. Thus, the brands, especially the micro enterprises, are tied to a platform that is centered on monopolization. Moreso, it is vulnerable to hacking and external attack because all the customers' information are in a central server.
Vision of Smathium.
Smathium introduces loyalty platforms based on block chain technology which solves the problems and limitations of the current loyalty program and provokes customers loyalty.
Through the Smathium platform, the brands can provide diverse services and benefits, where customers can have much more opportunities by having integrated and high quality reward points.
• Open Reward Structure
An integrated point can be used in all patnered brands of Smathium, not just a single point. This eradicates the problem of closeness in a loyalty program. An integrated reward point that can be transacted is an open reward structure for both customer and brand.
• Sufficient and Differentiated Reward System.
It is possible to introduce a Differentiated Loyalty Program that reflects the uniqueness and membership of the brand to it's customers. The brand can spend less on management expense and resource through Smathium, and this benefit can be returned to the customers.
• Sustainable Marketing and Effect of Sales Increase.
With Smathium, customized marketing for new product or service for a brand is possible with high quality. This will help develop a sustainable loyalty program and attract new and loyal customers. The increase of customers plays a vital role to sustain loyal customers of the brand. This leads to sales increase and profit improvement.
• Improvement of Security Transparency by Combining Block Chain.
A token system, Integrated as an open reward structure, enables free movement and transaction between countries through the transparency of the smart contract. The security is strengthened through the dispersed saving method of the transaction record. A brand is not tied to a platform, so a customer can enjoy reliable benefits.
Solution
The block chain based platform service built by Smathium can be applied in various loyalty programs and membership. It also provides one system by integrating and providing benefits which were separated in different brands.
TOKENOMICS
Token symbol: SMT
Tpe: ERC20
Total supply: 10 Billion SMT
PreICO price: 1 SMT = 0.003 USD
Price in ICO: 0.0060 USD
Average price: 0.01 USD
ROI: 66.67%
BONUS pre-ICO: 50% discount
ICO as IEO: 10% discount
Tokens for sale: 4,000,000,000
Min. investment: 10 USD
Accepting: ETH, TrueUSD, USD Coin, Paxos Standard, Dai
Distributed in ICO: 40%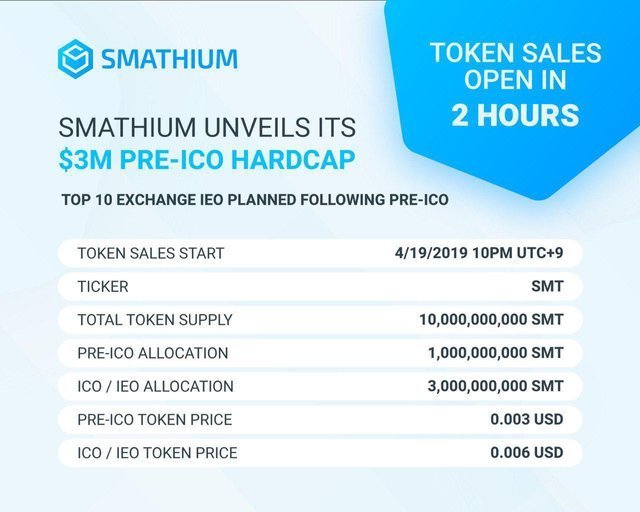 For more information visit below
Official web: https://smathium.io/?lang=en
Official Smathium Token Tracker: https://etherscan.io/token/0x4b4787aace23eb70da046bcc0ccfe28d4e4fb899
Official Telegram: https://t.me/joinchat/KrHV002fqNMYGIHmfKax8w
Official Telegram channel: https://t.me/smathiumofficial
Official Medium: https://medium.com/@smathium
Official Twitter: https://twitter.com/smathium
Official Facebook: https://www.facebook.com/smathium/
AUTHOR:
Suyati66
Profile : https://bitcointalk.org/index.php?action=profile;u=2632393
ETH address : 0x07C6F0a2dAC7c65336187aE356f1A7da302e3c50