Smathium ICO
Smathium ICO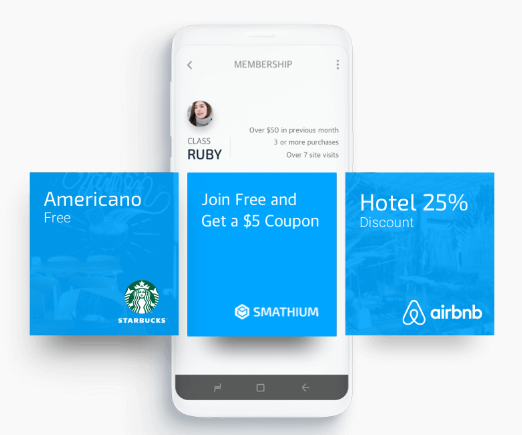 Smathium is a blockchain based loyalty platform that aims to solve the main challenges facing traditional loyalty programs.

Decentralized application (dApp) where all businesses can create their own loyalty gift programs that are supported by a single token.

A single loyalty point system that is united in small on / off-line retailers around the world involving everyday life.

Cafes, restaurants, grocery stores, and even shopping centers.

Smathium aims to bridge various brands by building a multi-business loyalty award platform that is open to all types of businesses.

As an integrated media exchange between users and brands, Smathium tokens can be used for transactions in all businesses registered on our platform and can be traded in exchange. In addition,
VISION Smathium Smathium Introduces a loyalty platform based on blockchain technology that solves the problems and limitations of current loyalty programs and provokes customers to be more loyal to the brand. through the "SMATHIUM" platform, brands can provide various benefits and services, such as membership in department stores, to customers. and customers can have more opportunities by having integrated and high-quality prizes and benefits
Loyalty Program Problems
Closed Structure

Customers cannot not use

Gifts they receive in other brands

Insufficient prizes

The prizes given are insufficient and

Don't attract interest from customers.

Lack of Differentiation

Gift program without differentiation

Make customers leave.
SMATHIUM application
This is the part where I'm excited. As a mobile user, I always look for free applications or that can make my life so easy. It is stated on the website that Smathium can be used to purchase affiliated merchants and business applications.
As you can see there is a Starbuck label, and AirBnb is the two most famous companies on the planet. Prizes from Smathium are almost the same as other business applications that have many benefits and are free. What is the advantage of Smathium is that token holders and users can be used for this kind of service. I am waiting for how the application will work. Only visuals on websites and applications are expected to be launched in Quarter 2 2019. Technically their project will run on a smooth blockchain application that I think is most liked by most people because we are in the era of cellphones. This is one thing I'm sure about Smathium. A simple explanation for those who don't know about the Smathium platform. They build a loyalty platform that challenges traditional ways of loyalty programs like Amazon, and other brands but cannot use coupons and free without difficulty. A decentralized Smathium application will be created to facilitate business from other traders and they will be intermediaries for the reward program. That means they will make tokens that can be used for all services along with their affiliated merchants such as Starbucks, restaurants, hotels and shopping centers.
Platform SMATHIUM
Anyone Who Can Enjoy the Benefits of Membership Like Getting a Department Store
Anyone including the application business and small traders can provide their own unique programs to customers.

Give various programs to your loyal customers.
Examples of Benefits of Smathium in the center of use
The Help Center Can Give Income Benefits according to consumers instead of giving simple coupons.
Single Integrated Coin
Customers can receive their gifts in one form of cryptocurrency instead of different points for each brand.

Smathium receives legitimate assets for its customers.
Estimated Benefits
Brands purchased on the Smathium Platform can buy and sell benefits.

The Association Program is a new sales channel for large-scale sales for these brands.
SMATHIUM UPDATE
In this paper, Smathium is a few hours from PreICO. Many are approaching the event to be launched later when the platform is open. Also, this is a bold step taken by Smathium after reading the announcement made by Icodrops that one of the top exchanges will register Smathium for the IEO after the pre-trial was conducted. Hopefully everyone can participate in this event. Note, the PRE ICO price is 0.003 USD while the IEO is 0.006USD if you can buy it as early as possible later. You know very well that if a project enters the IEO a price increase is likely to occur. By joining PRE ICO you can save more for this event. ICOdrops never post unauthorized projects on their channel so I'm sure Smathium will succeed.
TOKEN ECONOMY
ROADMAP
TEAM
ADVISOR
Further information: