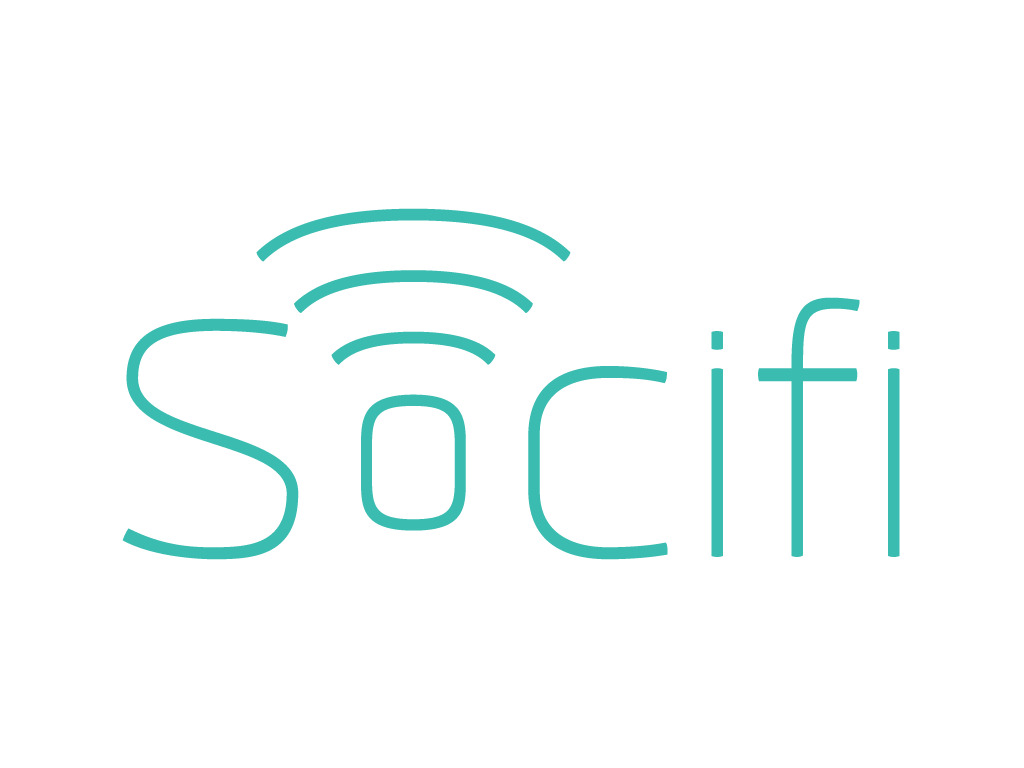 According to statistical market research, mobile internet/data is currently being used by over 3.2 billion smartphone users across the globe. As a result of this, there is huge advertising potential within this sector which is currently not being utilised is a technology that has been to cover for user mobile data expenses via the use of sponsored media content.
SOCIFI Vision
SOCIFI is able to provide people who are reaching the limits of what they can spend on mobile data the opportunity to connect to the internet with no additional costs. This is, for example, one of the key reasons why Facebook is making the Internet.org project.
In terms of vision, the goal is the same, but the approach is different. Free internet sponsored by local, regional or global sponsors (advertisers) may have a positive influence on economic growth and human lives. It also helps any participating MNO or Virtual Mobile Network Operator (VMNO) to invest to the network infrastructure and it allows for more people to be connected to the internet.
People invest and exchange their time for engagement with sponsored content and in return earn our new cryptocurrency GIF, which can, among other, be used for buying mobile data (or, we will seek to create, other sponsored services in the future). The same GIF tokens can in the future be used for buying media space from advertisers (sponsors) on the other side.
SOCIFI Features
Through the use of this app, users can access new age digital marketing options, but will not have to face constant ad bombardment.
(i) Reward Selection:
Though the use of SES, customers have the option to select which type of reward they would prefer.
(ii) Sponsor Selection:
Users will have the ability to choose the sponsors/ Ad content of their liking.
(iii) Full Screen Messages:
To increase customer engagement, the app will allow for "full screen messages" to be used. These messages will be able to incorporate audio files, videos and images.
SOCIFI Budget & Token Allocation
Socifi token (GIF) will be released during the contribution period. Socifi will sells ERC-20 compatible Ethereum-based GIF token. The aim of the token sale is to provide a discounted participation for the early adopters of the decentralized platform. To provide a functional lending market to such extent, early adopters are required. By purchasing GIF, the early adopters receives a discounted price for using the decentralized lending platform. The ICO has been structured to give the best opportunities to anyone who would like to participate from the very beginning, providing maximum flexibility and control for the participants.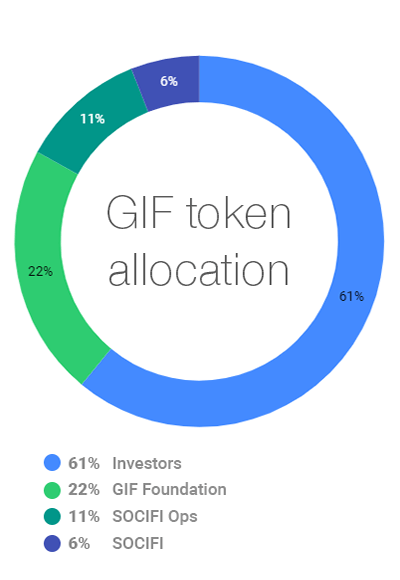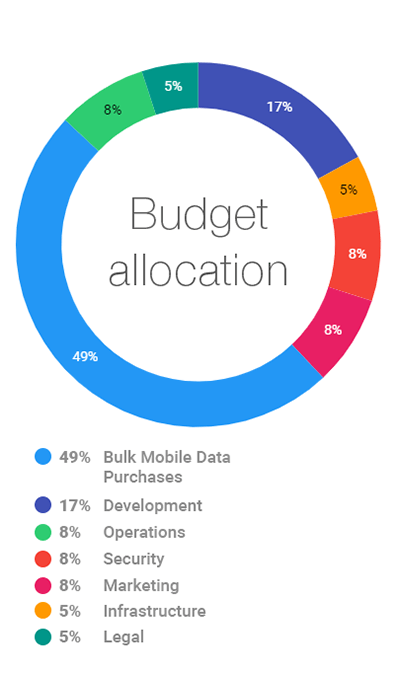 In all, there will be a total supply 5,000,000,000 (five billion) Tokens that will be created. Out of this large figure:
61% will be sold during the main+pre ICO.
39% will remain company founders and other key personnel.
Allocation of Tokens
As mentioned earlier, 61% of the native currency will be doled out to investors. However, the remaining 39% will be split in the following ways:
22% will be kept by the GIF foundation.
11% will be used to further enhance the Socifi platform.
The remaining 6% will be used for misc purposes.
Revenue Distribution
49% of all collected money will be used to "bulk purchase" mobile data across various countries/ regions (from different internet providers).
17% will be used for the further development of the Socifi app.
8% will be used to streamline operations and pay for admin costs.
8% will be used to pay for third party security services so as to bolster encryption mechanisms within the Socifi ecosystem.
Another 8% of the raised money will be used to market/ advertise this system all throughout the globe.
The remaining 10% will be used for maintenance purposes, as well as for the creation of a reserve/ contingency fund.
Unsold Tokens
GIF Tokens allocated to Pre-sale or Crowd sale, which will not be sold, will be airdropped (used as vouchers).
Vesting
GIF allocated to SOCIFI and GIF sold in the Pre-sale are subject to a vesting period. These GIF will be locked from entering the market to ensure price stability and dedication of the SOCIFI team and whitelisted investors to the project.
In Conclusion, Socifi aims to raise funds for the creation of a transparent, "blockchain-based Marketplace" that will allow customers, as well as service providers to reap profits in a sustainable fashion. Through the use of the platform, customers from any country will be able to gain internet access (Across LTE, 4g and 3g networks), in a cheap and unlimited manner.
For more information, visit
Website: https://www.socifi.com/
Facebook: https://www.facebook.com/SOCIFI
Instagram: https://www.instagram.com/socifi.life/
Twitter: https://twitter.com/socifi
Youtube: https://www.youtube.com/channel/UCCjFNUfrJzejOSRX7LQCesQ
Telegram :
https://t.me/joinchat/GgLrM0m_PvMyidStSRV58A
Author
nugezmils
BITCOINTALK PROFILE