Soundeon; Integrated Blockchain Music Platform

Blockchain technology is a transparent digital ledger of transactions and records that are immune to change or deletion. Offering additional traits of increased security, lower costs, time efficiency, and error resistance, blockchain has risen, fluctuated in 2017. The utility of blockchain technology is limitless, sparking the growing list of companies, industries, and government exploring its potential adoption. The blockchain is an immutable public ledger that records digital transactions.
ABOUT SOUNDEON
Soundeon is a decentralized and vertically integrated blockchain music platform, has made the leap and is launching its alpha version – the Music Token Sale layer along with "Talent Unleashed" contest. As proof of concept, Soundeon kicked off the launch with the "Talent Unleashed" contest that will encourage artists to hold their own Music Token Sale™ campaigns by reaching out to their fans and new audiences alike. Soundeon is a Blockchain platform that proposes a solution that'll invigorate the basic business with fairness, trust, transparency, and more importantly, independence. Users will be able to unleash the value potential of merging recorded music and ticketing into a great experience for the fans.
https://youtu.be/U_kYpuESDmU
The achievements of blockchain technology allowed Soundeon platform to create CreativeSmartContract (CSC) ™ -a copyright agreement, which is the basis of the platform. Information symmetry, the immutability and flexibility of CSC ™ increase the fairness, transparency, credibility and ease of its application, which are not present in the industry at present.
FEATURES OF SOUNDEON PLATFORM
SOUNDEON TIX
This is a Blockchain based ticketing solution that is optimized for the fans and is embedded on the Soundeon environment. Necessary measures such as dynamic QR codes and Creative Smart Contracts have been taken to prevent ticket scalping and fraud. Soundeon Tix was created to enable organizers take complete control of ticket resells on the primary and secondary market.
SOUNDEON MONITOR
This is all about the data. It includes royalty data aggregation form Soundeon and other third party providers. There is also an integrated data analytics that displays all aspect of creative input by the artist, such as royalty collection, copyright, ticket sales.
As such, fans will be able to track and analyse the royalty accumulation of their music portfolio. This accurate information will make it possible for them to make informed decisions when purchasing other musical assets.
SOUNDEON PLAYER
This is a music player that depends on Blockchain technology for a transparent royalty distribution. Artists that are using the Soundeon Monitor will have the option of distributing their work via this music player.
The player is expected to collect data, which is entered onto a validated decentralized registry, on the number of times a track is played. Consequently, Soundeon members are expected to receive a fair royalty distribution and a highly accurate listener analytics.
SOUNDEON EXCHANGE
This is a tokenization tool and a decentralized exchange of intellectual property. This is where users are supposed to purchase or sell their royalty income. So, songwriters, artists and tight owners that use the Soundeon Monitor to register their creations will be able to sell part or all future earnings of their work.
This makes it possible for independent artists to compete with the big labels. Also, it offers music fans the opportunity to create a diversified personal music royalty portfolio.
MISSION AND VISION OF SOUNDEON PLATFORM
View exceptional talents and allow creators to gain more control for their work. The implementation of the Soundeon mission was made possible in connection with the development of a new copyright management solution based on smart contracts, which ensures fairness, transparency and invariance of all operations performed and provides an opportunity for closer communication between artists and fans.
Combining the entire experience of the music industry into a complete cycle solution that provides transparency and innovates into the music industry. Creation of an ecosystem in which success depends on the efforts and talent of the creator, in which every artist can fully focus on creativity.
Soundeon proclaims the principle of equal opportunities for all, regardless of race, religion or family background. Our social responsibility is to promote art within communities that lack favorable development conditions. Soundeon distributes 10% of its income for charitable purposes.
Through the native implementation of technology – CSC, creative smart contracts (CreativeSmartContract) – the Soundeon protocol resolves the previously presented problems by developing the following levels of the original application:
TOKEN AND ICO DETAILS
This is a utility token that was designed to align economic incentives among users of the platform. Soundeon token is expected to be used as an incentive and reward for early adopters who contribute value to the platform through network effects.
Some uses of Soundeon token include;
• As a utiliity prepayment mechanism for services rendered on Soundeon
• Ensures a frictionless nature of tokenization
• It makes micropayment possible with low transaction cost
• Provides value to the listener
• Functions as liquidity facilitation mechanism for the artist
Please note that other form of payment will be accepted on the Soundeon environment. This include all major cryptocurrency and fiat currency.
The soft cap for the token sale is $3 million, while the hard cap us $7 million. This implies that, if this minimum cap is not reached, the funds will be returned to the contributors. Also, if the marketing phase of this project is not reached, the roadmap is expected to adjust. According to the whitepaper, this is to ensure platform longevity and tokenomic sustainability.
Any unsold token will be locked for a year. This measure will be taken to ensure the commitment of the Soundeon team towards the longevity of the media environment. After this lockdown period, the token will be used for the Soundeon global marketing campaign.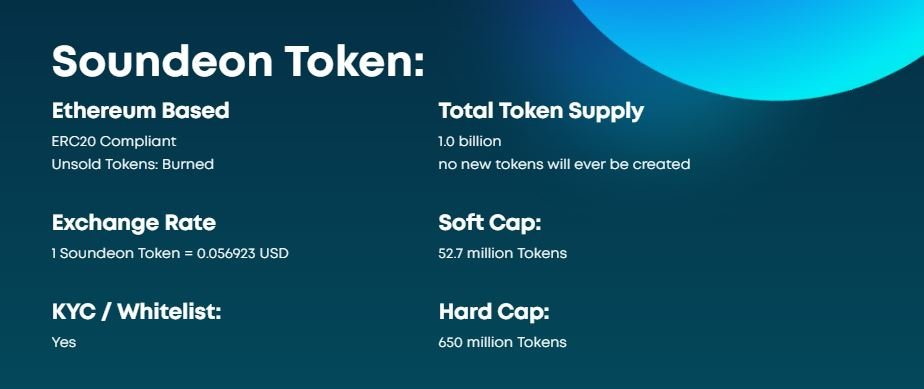 Token distribution:
65% of the tokens will be used for product development.
14% of the tokens will be given to the founders of the project.
4% of the tokens will be given to early supporters.
6% of the tokens will be given to councillors.
3% will be intended for the pool bounty.
2% reserve Fund.
6% of the tokens will be allocated to charitable programs.
ROADMAP AND DEVELOPMENT PERSPECTIVE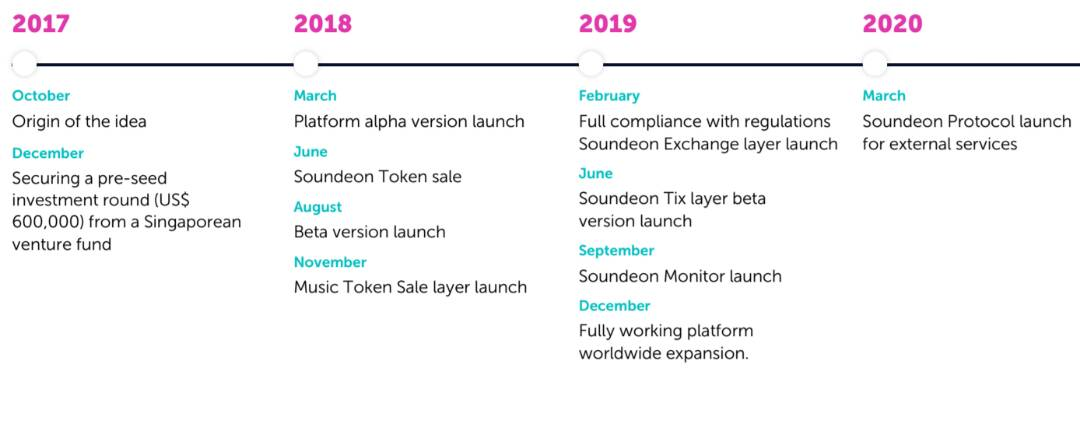 The Team: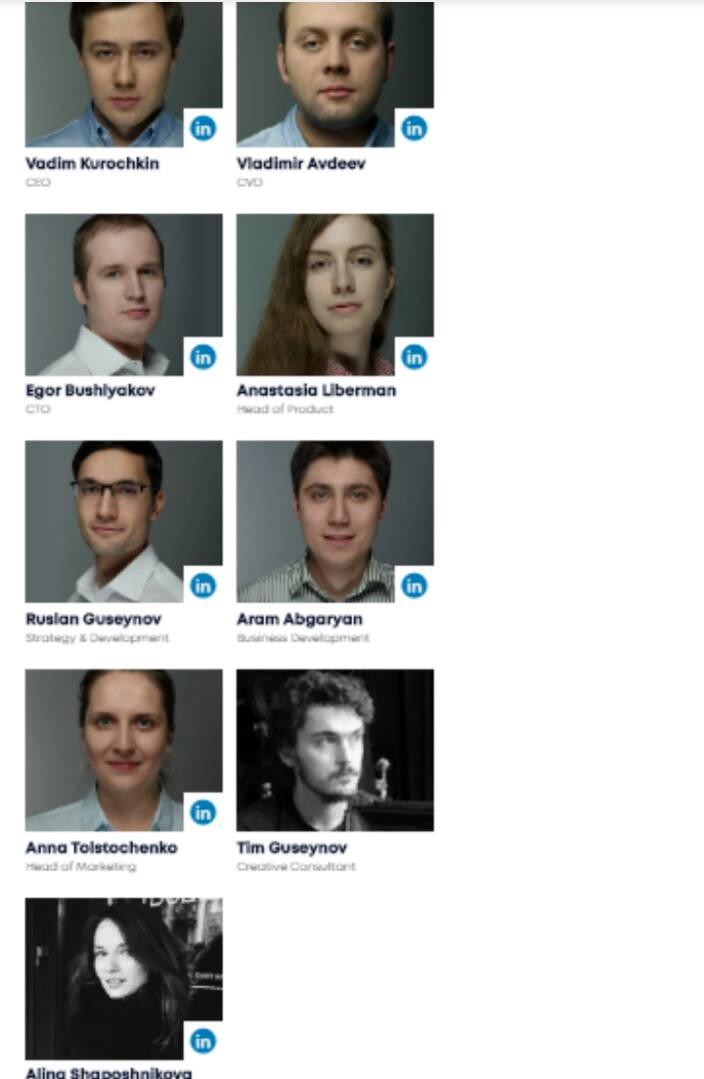 For more information:
Website: https://soundeon.com/en/
Whitepaper: https://soundeon.com/Soundeon_WP.pdf
ANN Thread: https://bitcointalk.org/index.php?topic=3377820.0
Twitter: https://twitter.com/soundeoncom
Telegram: https://t.me/soundeon
Facebook : https://goo.gl/dwBqxr
Author: Chinedum
Bitcointalk Profile link:https://bitcointalk.org/index.php?action=profile;u=2010004
ETH Address: 0x1f23fAF845C17F6Ac67054E1B2FA7e15E9c7A9B4