SPARKPOINT ECOSYSTEM…Reinventing Digital Payments, Building a Better Future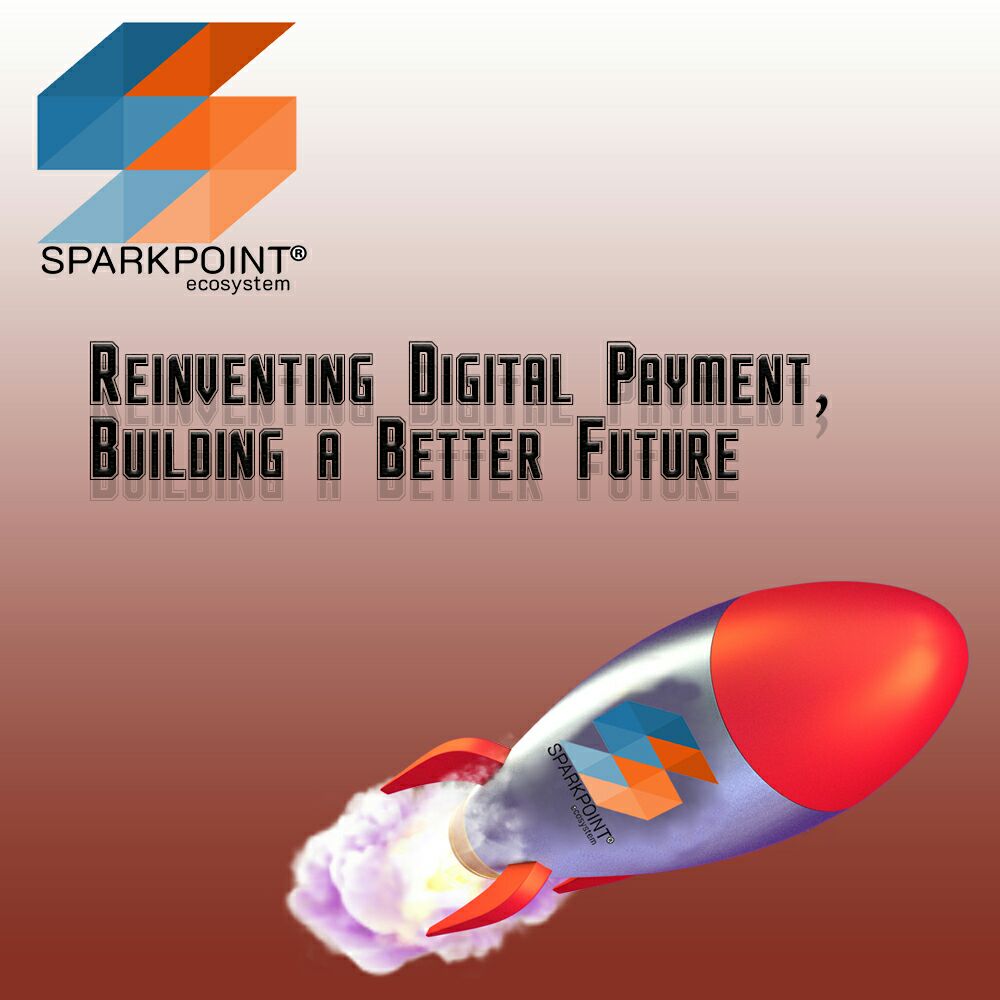 Dear Readers… today's article is going to be interesting and knowledge driven and without iota of doubt, I believe that after reading this article, you will key into this project with massive investment, because its a project many cryptocurrency enthusiast as well as blockchain universe have been waiting for because of its features, concept and ideas, as its going to proffer solutions to your mind-boggling questions that bothers on cryptocurrency digital payment. Today it is almost impossible to find the area where the cryptocurrency would not have reached. The popularity of cryptocurrency makes us think about ways and technologies that will ensure their accessibility for ordinary people in terms of digital payments, trading and exchange.
Signs of the emergence of such a project as Sparkpoint did not arise by chance. The old centralized paymeny system is imperfect, inconvenient and cumbersome. It can no longer fully meet the needs of our lives in the 21st century. Hence the need for global change in payment method. Blockchain technology has revolutionized the world of digital payment because of its Scalability, Transparency and Security
Sparkpoint
SparkPoint Ecosystem is a decentralized payment gateway with integrated crypto exchanges, blockchain based e-learning, gaming, and online store.
With four main functions, people can now settle bills, send and receive money, enrol in various e-courses and e-programs, shop, and entertain themselves in one platform. Not to mention, to earn and be rewarded!
SparkPoint Ecosystem aims to encourage people to participate in digitizing payment transactions by providing inclusive financial services integrated with blockchain technology, easing the hassle of transferring money & participating in cryptoccurency exchanges.
Provide alternative payment gateway with low-cost fees
Provide almost real-time transactions.
Promote financial literacy and blockchain technology awareness.
Provide safe and secure marketplace.
Continuously engage in financial technology innovation
Protect user's financial and private information.
Create innovative blockchain-based games.
Provide superior customer service.
TECHNICAL INFO
SparkPoint Token (SPRK) is the SparkPoint digital coin based on ERC-20 token standard following the Ethereum Blockchain. SPRK is designed to power the four different platforms in the SparkPoint Ecosystem, viz., SparkX, SparkPlace, SparkPlay & SparkRoom being the digital wallet, e-commerce platform, gaming and application store & e-learning portal respectively.
SPARKPOINT TOKEN
Symbol – SPRK
Decimal – 18
Blockchain Information – ERC-20 TOKEN
Total Supply – 20 000 000 000
Smart Contract Address – 0x8041cf5c01ac5b3d4557410df2bf1ae05447
THE PLATFORMS
SparkX
Decentralized payment gateway to pay bills, transfer remittances and cryptocurrencies with cryptocurrency exchange integration.
Spark Room
A blockchain based e-learning platform that offers wide variety of courses to promote financial literacy and raise blockchain awareness to stimulate financial inclusion.
SparkPlace
An in-application marketplace where user-members can sell, buy or offer services and is integrated with cryptocurrency as mode of payment.
SparkPlay
A store for games integrated with blockchain technology where user-members can play and earn rewards with real world value.
SPARKPOINT ROADMAP (DEVELOPMENT TIMELINE)
Q1-Q2 2018
Idea Creation
Project Envicion – Research on BLockchain Technology
Concept Development.
Q3 – Q4 2018
Smart Contract Development & Token Creation
Core TEam Establishment
MVP Mobile Wallet Development
Domain Acquisition Publication of Whitepaper – Building Global Community and support channels.
Q1 2019
Cryptocurrency Exchange listing – System design for web and mobile
Mobile Wallet demonstration
Particioation to more exchanges
Securities ad Exchange Commission Registration
SparkXe-wallet v. 1.0 release – Team Expansion
SparkRoom pre-alpha version.
Q2 2019
Airdrop and Bounty Token Distribution
SparkPlay design and development, Public Introduction
SparkRoom Beta web version launch
SparkX v. 2 release – SPRK integration to SparkRoom
SparkQ Launching the official public forum site of SparkPoint Ecosystem.
Q3 2019
SparkRoom v.1 release on mobile application
SparkPlay Open Beta version Release integrated with Blockchain Technology
Integrarion of Fiat Currency in SparkX
SparkRoom v.2 release
First batch release of SparkPlay games – SparkPlace design and development.
Q4 2019
SparkPoint Ecosystem Official Public Launching Event;
Introduction of Partners – Financial Literact Awareness Activities – Remittance and Transfer Company License
Official Releases of SparkX. SparkRoom, SparkPlay
SparkPlace beta version release.
Q1 2020
Third-party game integration with SparkPlay – E-money issuer license – Micropayment integration with fiat and cryptocurrency
Partnership with goverment agencies to digitize payments.
Q2 2020
Introduction of SparkPoint Ecosystem Prepaid Debit Card and Private Label Debit Card
SparkPlace official release worldwide.
SPARKPOINT TEAM
ANDY AGNAS: Chief Executive Officer
MARK BAJARO: Chief Technology Officer
KIM GAMORA: Chief Marketing Officer
PHELMAR CANADA: Web Developer
ALLAN MACATINGRAO: iOS App Developer
COLLETH BOZAR: App UX/UI Designer
KYLE PERALTA: Web UI Designer
DEXTER MITRA: Risk and Compliance Officer
For Further Information, Kindly Visit The Links Below. 
Website: https://sparkpoint.io
White Paper : https://www.sparkpoint.io/resources/SparkPoint-Ecosystem-Whitepaper-v1.1.pdf
Telegram: t.me/SparkPointOfficial
Twitter: twitter.com/sparkpointio
Facebook: https://www.facebook.com/sparkpointio
Medium: https://medium.com/theecosystem
Reddit: https://reddit.com/sparkpoint.io
Github: https://github.com/sparkpointio
Discord: https://discordapp.com/channels/516236513403731968/
Bounty Thread: https://bitcointalk.org/index.php?topic=5101643.0
ANN Thread: https://bitcointalk.org/index.php?topic=5100581.msg49359137&fbclid=IwAR1ijIxjBFJczjGv5Wo0Z1yXaMBtEvwTsXfs4QamidJTfn-RXoqiSU8VWtE#msg49359137
Author: kenadzen
My Bitcointalk Profile: https://bitcointalk.org/index.php?action=profile;u=2434087
Eth address: 0xD832130C93F9dE8b0aC0Fcbd0d3e8bA350B9f509