SPARKSTER: Bringing your ideas to reality

Cryptocurrencies are one of the most important inventions since the inception of the web. They are ushering in a new era of decentralization, privacy, and control of one's own data that has the potential to revolutionize many parts of society. There are currently over one thousand cryptocurrencies in use, with hundreds more being released each year. Their combined market cap has grown from $10 billion in 2016, to over $400 billion at the time of writing, having previously been much higher. Only 1% of the world's population own cryptocurrency. Companies involved with blockchain, the technology behind cryptocurrencies and altcoins are expected to experience significant growth over the coming years. Blockchain technology can solve dozens of previously intractable problems, like digital identities, supply chain integrity, data breaches and many, many more. The use of blockchain technology within society has been exponentially increasing since it was introduced to the world by Satoshi Nakamoto. The first use of blockchain technology was bitcoin. According to Gartner Insights, blockchain, the driving force behind the crypto market is estimated to grow in business value to $3.1 trillion by 2030. Blockchain is the fastest growing market in the world and the sparkster offers individuals an opportunity to benefit from the growth in value. The age of blockchain technology is just beginning. Before i proceed on this work lets take a look at this short video….
INTRODUCTION
Sparksters, we harness our innate human ingenuity, allowing us to bring ideas to life. With the right tools, we can solve the world's most pressing problems, unleash our creative potential, contribute to our society and change the world.
MISSION
Sparksters mission is to cultivating a generation of builders by turning their ideas into reality.
FEATURES
Drag and Drop Interfaces
Define behavior in Plain English
Integrate the world together
ECOSYSTEM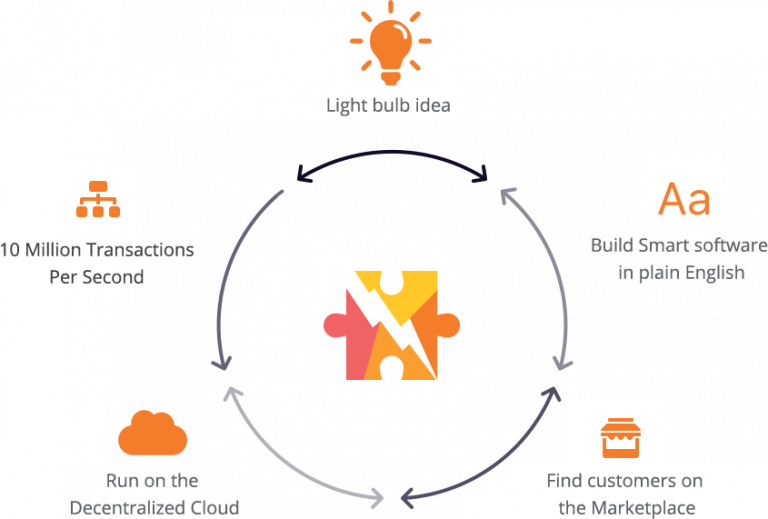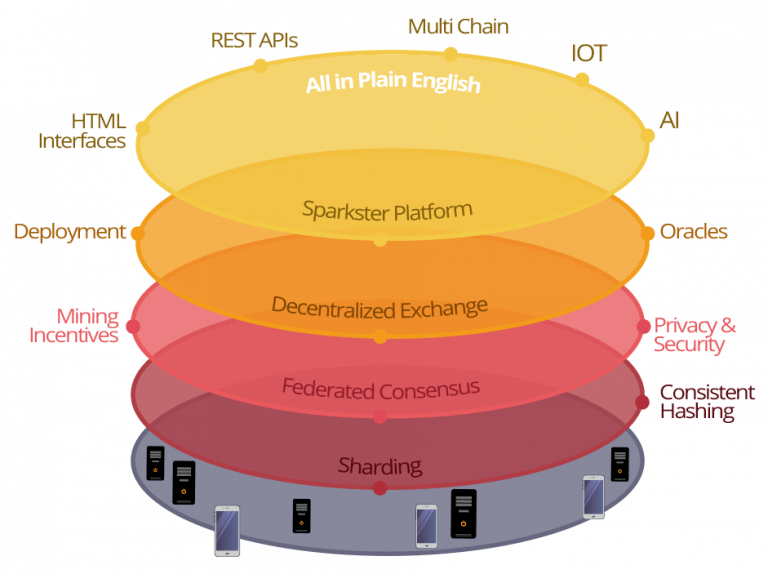 TOKEN SALE AND ICO
The Sparkster token is SPARK which will enable consumers to reward authors for their work and allow authors to contribute to the Sparkster marketplace. SPARK will be released through the Ethereum network and will be of the standard ERC20 tokens. Anyone can purchase the tokens except US citizens. All purchasers must complete the KYC and AML verifications. Purchasing of SPARK can be done using an equivalent amount of Ethereum (ETH). SPARK is an ERC20 utility token built on Ethereum blockchain with the total supply of 435,000,000.
TOKEN DETAILS
Token Symbol: SPRK
Circulating Supply: 290,000,000
Token Type: Utility
Initial price: $0.15
Technical Specifications: Ethereum ERC20
Token Sale Date: TBA
TOKEN DISTRIBUTION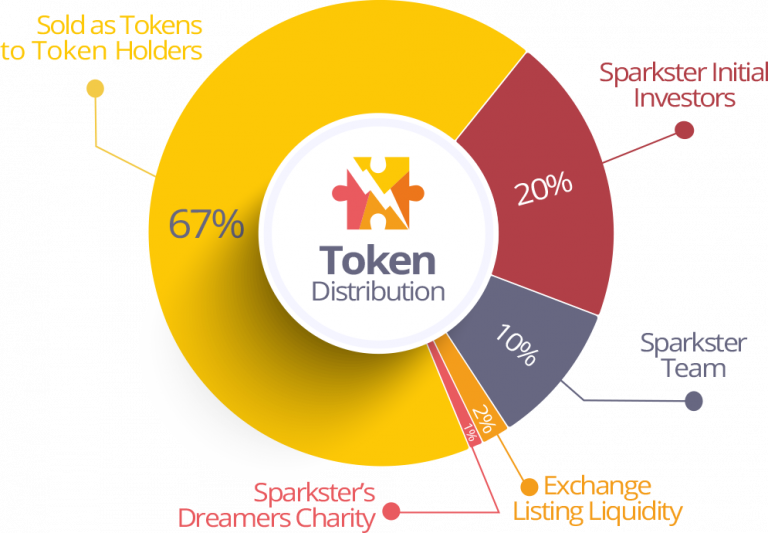 FUNDS ALLOCATION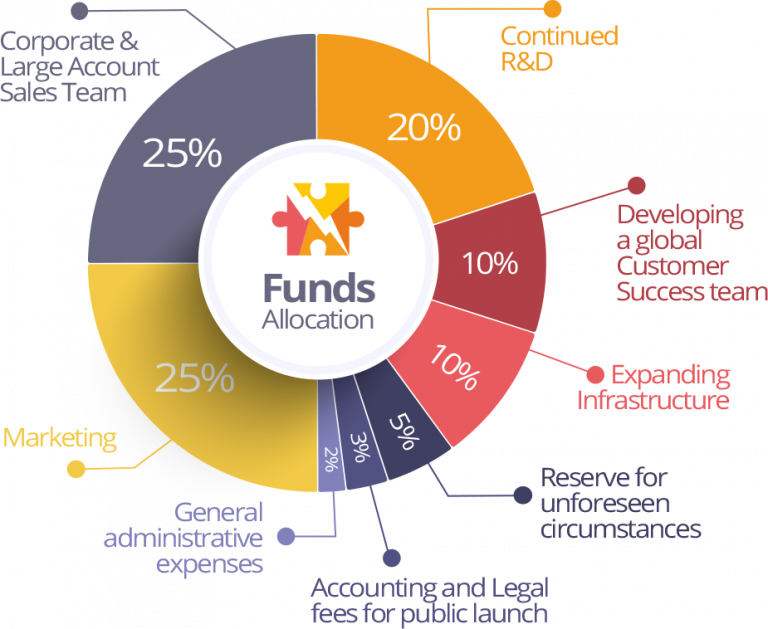 ROADMAP
2014
Platform development begins
2016
Internal platform beta release
2017
Jan: Platform testing completed
Jul: Signed partnership agreement with Libelium
Aug: Signed partnership agreement with ARM
Oct: Performance optimisation completed
Nov: Private beta program begins
2018
Jan: Decentralised cloud architecture planning completed
Mar: Decentralised cloud internal beta release
Apr: Public launch of fully functional platform
May: Launch of Sparkster Marketplace
May: File patent application to protect tech
Q2: Public release of platform for Arduino ESP devices
Q3: Public release of platform for ARM devices
Q3: Expects to be one of the first certified ARM mbed IOT platforms
Q3: Public release of mobile app supporting sensory input from mobile phones
Q4: Public alpha release of Sparkster decentralised cloud
Q4: Public release of full scale support to build AI powered apps
2019
Integration of NEO, Cardano, Stellar etc. to facilitate payment transactions
Launch of coddles data warehousing and analytics platform for enterprise
Product Stage
Launched Sparkster Marketplace and filed patent application.
Token usage
Spark tokens can be used to pay transactions is Sparkster Decentralized Cloud
MEET THE AMAZING TEAM

ADVISOR

For more information, please visit:
Website: https://sparkster.me/
Whitepaper: https://sparkster.me/#Whitepaper
Telegram Group: https://t.me/SparksterICO
Facebook: https://www.facebook.com/sparkster.me/
Twitter: https://twitter.com/Sparkster_Me
Reddit: https://www.reddit.com/user/Sparkster_me/
LinkedIn: https://www.linkedin.com/company/11440134/
YouTube: https://www.youtube.com/channel/UCAkXXoN7cFSEN-4SFtLFmHQ

Author: Seunola
MyBitcoinTalk profile: https://bitcointalk.org/index.php?action=profile;u=1925064