SportsFix Builds the next Generation live streaming platform for Sports Fans
Digitalisation has invaded all areas of society, with sport certainly no exception. It has transformed fans' relationships with their club or athlete, shrinking the metaphorical gap between the spectator and what's happening on the field of play or training pitch. For players too – both professional and amateur – it has augmented performance, pushed boundaries and removed barriers.

The Goal
SportsFix is Building the next Generation live streaming platform for Sports Fans.
The Mission
Sportsfix Mission is to redefine the sports content market by:-
Cutting out the middlemen
Connecting rights holders directly to fans through the SportsFix ecosystem.
This provides new revenue streams to rights holders and SportsFix alike and nurture the very premise of what sports fans are seeking. Combined with blockchain technology, SF will secure identity, payments, user viewing rights and act as a revolutionary marketplace for all providers and consumers of sports.
SportsFix Architecture
A framework of smart contracts is developed to automatically place transactions with various features such as unlocking, calculating and monitoring elements to provide a secure and transparent solution.
SF pledging transaction is initiated by the fans to unlock future content, for which they require to have SFT which can be bought either via an exchange or when they receive game day passes from their favourite clubs.
Once a fan pledges, a smart contract is run to place the transaction for which the users have full transparency of viewing.
The platform will utilize smart contracts to hold the fee and perform disbursement of the collected funds on obligations met as explained below.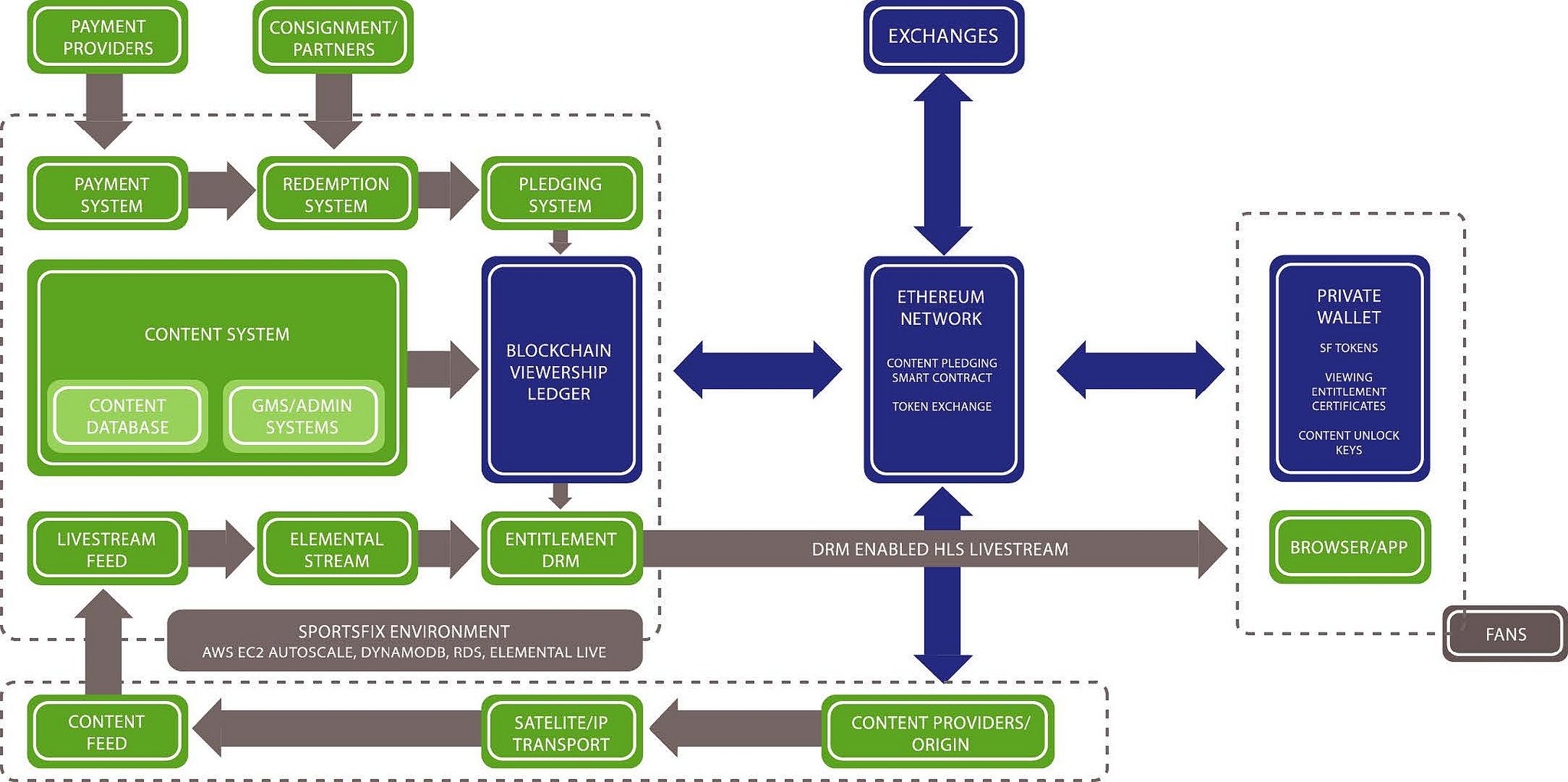 Overall SportsFix Architecture engagement with the Ethereum network and the Fans.

The Digital Rights Management System with the BlockChain subsystems as the main catalyst.
Product Roll-out
1. Phase 1
SF currently stands as an OTT 1.0 video streaming platform leveraging best-in-class streaming infrastructure from AKAMAI, AWS and other best-in-breed vendors.
Unique partnerships with major regional telecoms, retailers and other distribution partners allows SportsFix access to hundreds of millions of new users to grow its base.
The content strategy is positioned to meet the demands and match the demographics in each market.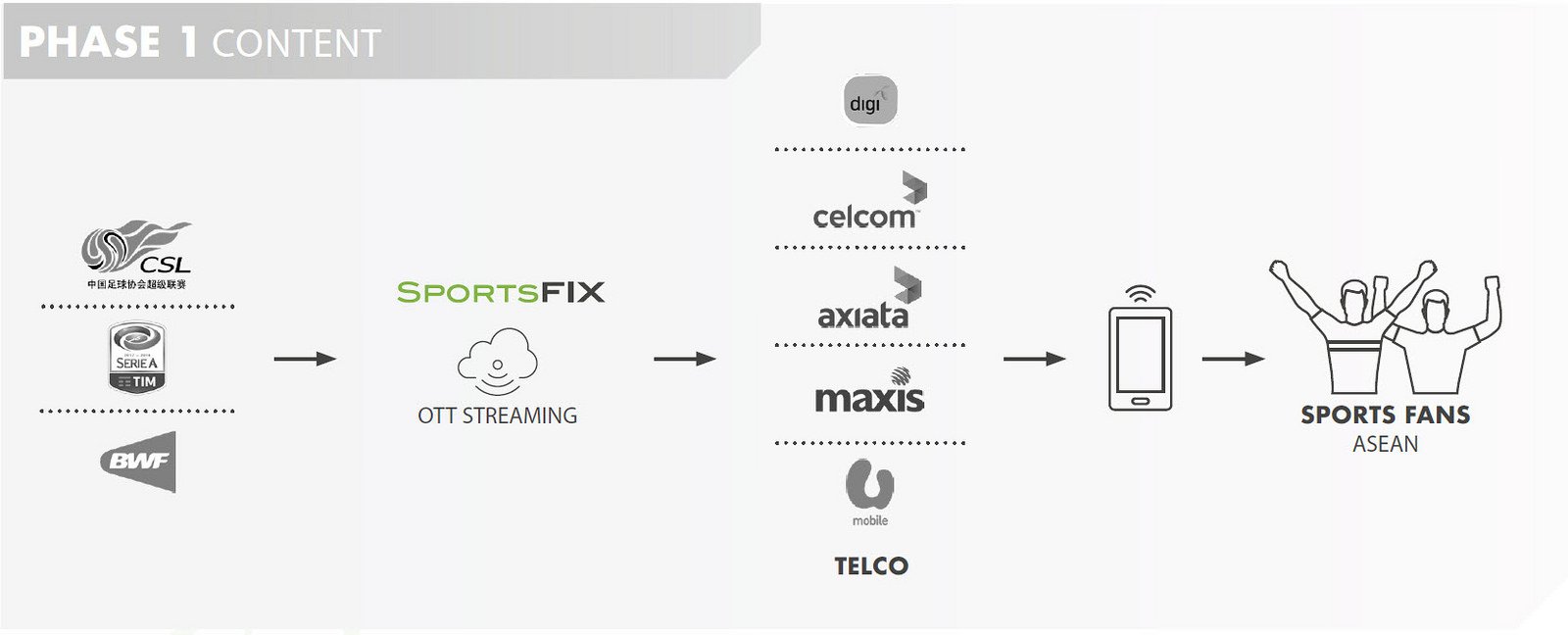 2. Phase 2
the platform will be extended to an OTT 2.0 decentralized ecosystem composed of two components including the Content Vault and Digital Stadium
Sports fans will be able not only to watch content, but to participate in the voting and distribution of popular global sports media rights.
This ecosystem will be powered by the SFT, a utility token based on the Ethereum blockchain.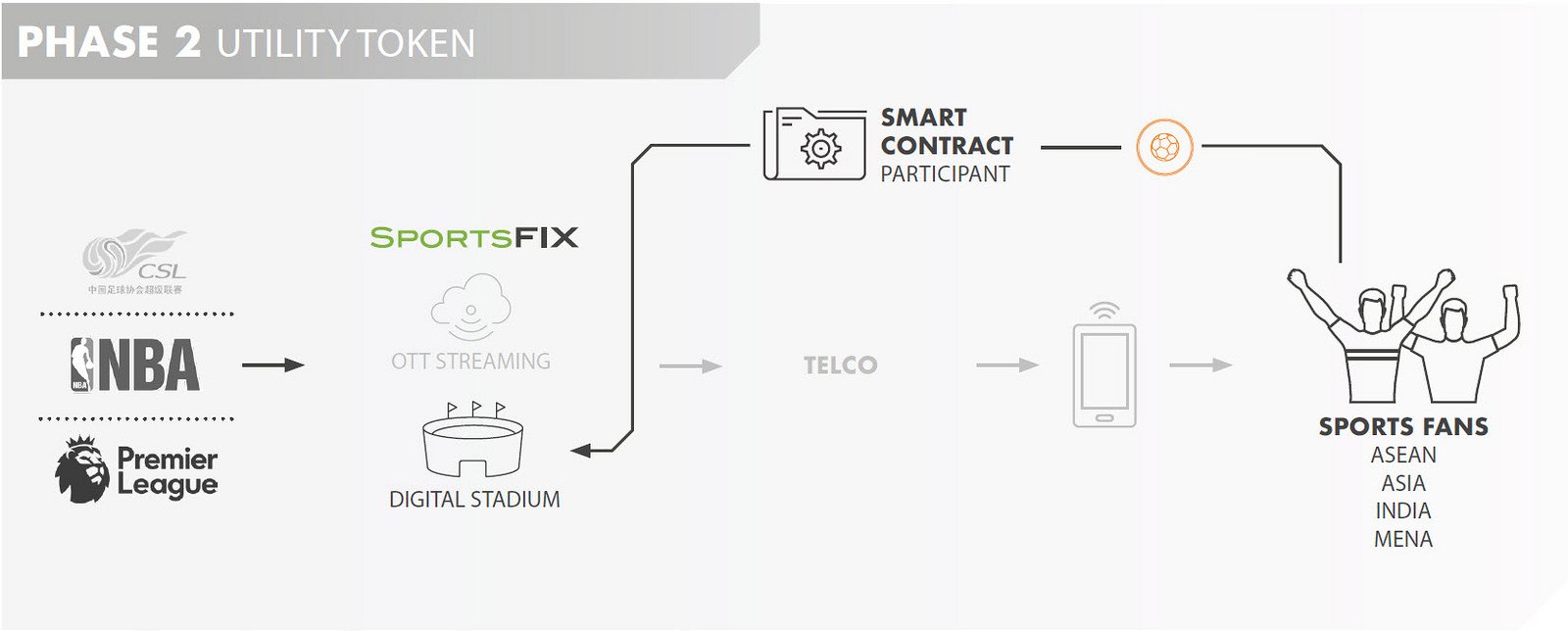 The SWOT Analysis
SWOT analysis is a framework used to evaluate a project's competitive position by identifying its strengths, weaknesses, opportunities and threats. Specifically, SWOT analysis is a foundational assessment model that measures what the project can and cannot do, and its potential opportunities and threats.
SportsFix SWOT Analysis
Now we'll run the SWOT analysis on the SportsFix Project to evaluate it.
1. Strength
• Strong relationship with sports content right holders globally
• Strategic content agreements and partnerships with league and sports club
• Strong partnerships with telcos and other operators
• Sachet pricing model
2. Weakness
• Existing platform limited to niche content
• No premium content (yet)
• Brand awareness
3. Opportunities
• Huge market potential in ASEAN (650M population)
• Mass market adoption of cryptocurrencies
• Decentralized/unbiased ownership model
4. Threats
• Piracy
• Competition from Traditional Pay TV
• Slow internet speed in emerging markets
• Content lock-up from "big players"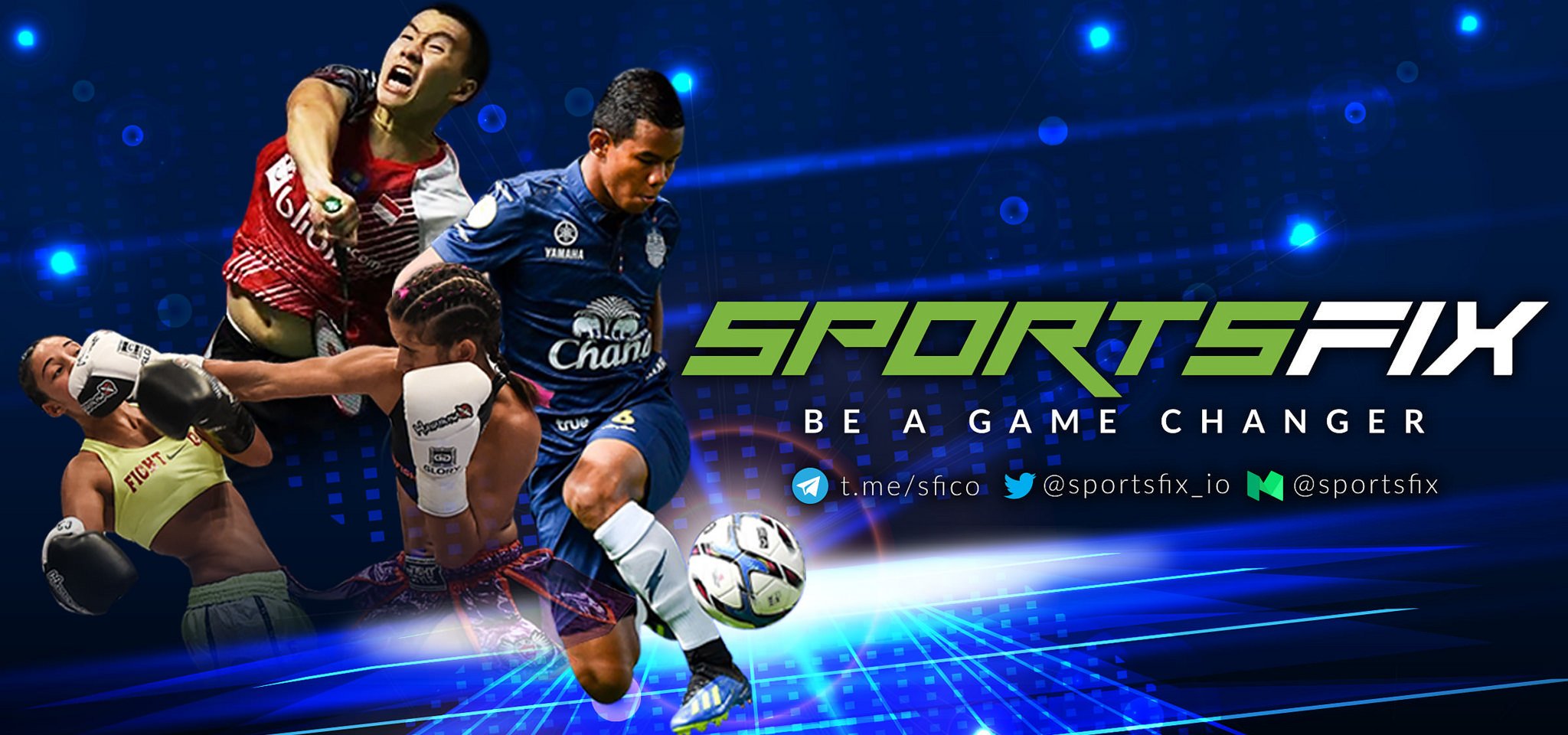 Finally
For every DS, a pledging period is defined within which all the user's pledges must go through. Upon reaching the required number of pledging tokens within the pledging period, pledgers receive the viewing entitlement in the blockchain viewership ledger which are traceable by the owners. SF maintains a DRM system to create viewing entitlements. Users are granted with entitlements keys stored in a blockchain viewership ledger that represents their viewing right by which they are able to access/unlock the contents which can be viewed in the DS.
---
✅Website: https://www.sportsfix.io/
✅Whitepaper: https://www.sportsfix.io/image/wp.pdf
✅Twitter: https://twitter.com/sportsfix_io
✅Facebook: https://www.facebook.com/sportsfix.io/
✅Medium: https://medium.com/@sportsfix/
✅Telegram Group: https://t.me/SFICO
✅Bitcointalk ANN: https://bitcointalk.org/index.php?topic=4380637.msg39045279#msg39045279
---
Author of article:
✅Bitcointalk username: Erik_Smuel
✅Bitcointalk profile link: https://bitcointalk.org/index.php?action=profile;u=2020517
✅My Ethereum Address: 0xA009D96EFB69bC8e328d43c4d18dd9B6d7422BC8