SPORTSFIX – Premium Decentralised OTT Streaming Platform for Live Sports
SPORTS, SPORT FANS AND SPORT CONTENTS:
Sports and sporting activities are a combination of endeavors to which at present time, many, about two-third of the world population is attracted. This population of sports participants(players and owners) and consumers(sport fans) keep increasing more than any other activities and the interest and enthusiasm that people have so far shown, are impossible to underrate.
THE PROBLEM:
As sport fans are unable to participate in their favorite sports, they would at least, be grateful to consume the contents thereof. These contents, as the economy of this present times reveal, is impossible to come freely and undiluted to its intended consumers. Sport consumers therefore, apart from paying to get these sport contents, also pay for other undesired added components, majorly advertisements, in a subscription which now equals an amount immeasurably higher than the actual sport content they get. The problem therefore is the issue of "shortchanging".
SportsFix WITH THE SOLUTION:
Having identified the major problem underlying the sport industry, it is reasonable to conclude that sport participants and fans across the globe would appreciate a system like SportFix, which will decentralize the consumption of sport content, eliminate the involvements of the bureaucratic middlemen, pay incentives for sport participation and consumption, and most importantly, provide raw and undiluted sport contents, altogether making the distribution process of sport content immeasurably less convoluted.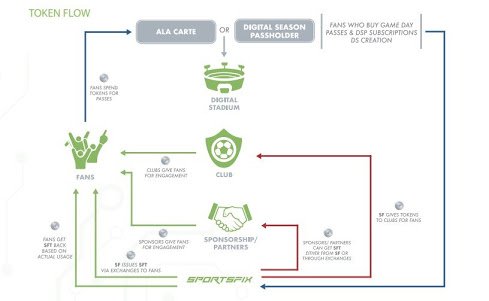 THE SportsFix "DIGITAL STADIUMS" ECOSYSTEMS
Sport Fans now have a new way of consuming all the contents that they require with no use of unreasonably high subscriptions. In this electronic innovation of sport content consumption and distribution that merges the blockchain smart contracts with the conventional OTT technology, which allows the consumption of televised content via the Internet, without the need to subscribe to any Satellite pay-TV services or traditional cable networks, sport fans, in large groups, may graduate among four major tiers;
The bronze stadium
The silver stadium
The gold stadium
The platinum stadium

There are outstanding features at each milestone or tier which allow sports fans derive base entertainment, affordable viewership, organize a community of viewers just like the traditional physical stadiums and interact with each other, ability to relate directly with their respective sports club sides and so many more. SportsFix digital stadium accomplishes the viewing of sports contents by a combination of live and Video-On-Demand (VOD) concepts as it creates an ultimate fan experience!
THE ECONOMY AND TOKENOMICS
The platform's economy will gain momentum with the circulation of the SportsFix tokens (SFT) which shall be used in the purchase of sports contents and also, for content providers to reward viewers for their participation. The token flow, as indicated in fig. 1.1 above is cyclic, continual and self-supporting. Based on a system of fixed amount of tokens, sport fans can unlocked new contents for view provided they are able to record an amount of SFT necessary to unlock such contents.
As a specific amount of these tokens initially go to content creators and club owners, the distribution of SF tokens will be according to the info below: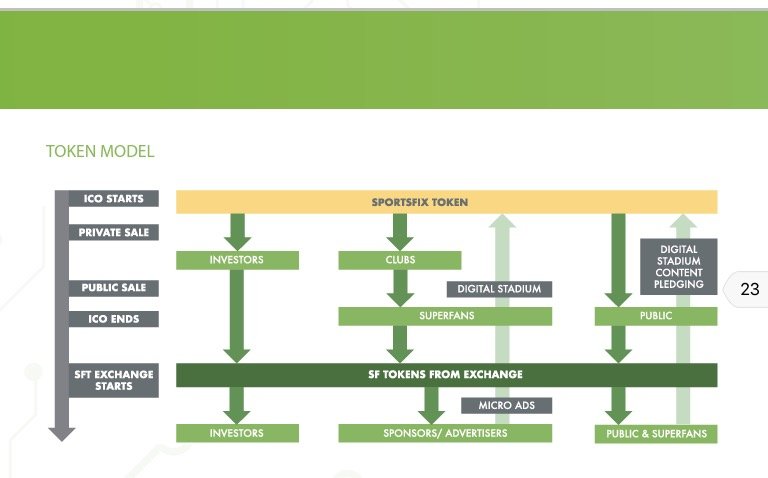 Sportsfix Target
Sportsfix vision is to redefine the sports content market by:-
Cutting out the middlemen
Connecting rights holders directly to fans through the SportsFix ecosystem.
This provides new revenue streams to rights holders and SportsFix alike and nurture the very premise of what sports fans are seeking.
Combined with blockchain technology, SF will secure identity, payments, user viewing rights and act as a revolutionary marketplace for all providers and consumers of sports.
Market Issues
Traditional TV is an antiquated model.
Arbitrage game by larger players that monopolize content.
Poor content discovery.
Aggregated price increases due to a convoluted system of international
No incentive for agents to be transparent about the pricing and process.
Fans end up with more content and channels than they really need
Rights holders sell rights of ALL clubs/teams in league format
Centralized media rights system.
Current revenue opportunities of clubs restricted by collective bargaining.
Unfair/ inequality of revenue re-distribution to clubs/ teams.
Displaced fans worldwide largely cannot access and watch their favourite teams/ leagues/events
Financial constraints for (smaller) sports/leagues/clubs to effectively develop a coherent digital strategy to reach those fans.
Little to No direct (two-way) communication between content creators and fans.
Traditional Broadcasters rely on antiquated viewing measurement systems.
Increasing restrictions and regulations of traditional/ major distribution platforms in their user data sharing willingness and capabilities.
Lack of personalization – One-size-fit-all approach by traditional distribution platforms.

Sportsfix Solutions
Through SF Digital Stadium (DS) concept, fans can connect with their favourite team and with each other and vote for their favourite team's sports content. This creates a new consumption model for sports content that is decentralized, affordable, and accessible.
Rights holders can disintermediate their content from middle man markups by direct delivery of their Live games via SF DS in smaller digital packages directly to their fans' smartphones.
The mass debundling can be accelerated and made transparent by blockchain coded smart contracts that will allow for new subscription models. The creation of SFT accelerates the trend of "debundling" of content by creating a powerful internal self marketing network effect for clubs to harness, through their fans building their own DS token ecosystems.
SF acquires the legal live streaming rights for sports content at the league level, unbundle the content to individual games or smaller highly personalized and contextualized digital content items. SF will then create a new token economy based on actual consumption of sports content that will create 1-1 engagement opportunities with sports clubs/ rights holders and fans through the exchanging of SFT.
A sophisticated and transparent data analytics platform in connection with SF DS economy will allow us to serve displaced fans by allowing them to request, vote and pledge for SF catalogue of international content rights.
SF token economy unlocks new opportunities where rights holders (Federations/Leagues/Teams) can tokenize their Live game/event rights and create a Digital Stadium where this ecosystem can flourish between fans and sport. Rights holders can empower and leverage their fan bases as their best marketers through the use of our SFT to connect with their displaced fans. The tokenization of sports content unlocks a new model of content distribution that is decentralized and universally more accessible.
By creating a token economy around sports content, fans go from a passive role to an active and engaged role. The SFT wallet allows for each fan to be identified and engaged individually. This creates new opportunities that never existed in the traditional broadcasting model. Clubs can now individually identify, engage, and reward fans through a number of new interaction opportunities through the use of the SFT. SF extensive data analytics platform (SF Analytics) will deliver highly personalized, contextualized and localized content for the fans to enjoy.
TOKEN METRICS
Token issued: SFT
Token Price (USD) : 0.10
Pre-sale duration : 4-8 weeks
Total amount SFTs sold: 440,000,000
Pre-sale discounts: 30-50%
Minimum cap ($): 2,000,000
Maximum cap ($): 37,200,000
SportsFix Digital Stadium
The SportsFix Digital Stadium is the ultimate fan experience combining the excitement of live and Video on Demand (VOD) sports content with the power of social media, gamification, predictions, fantasy leagues and e-commerce all driven by the SFT. It allows fans to:
Pledge and vote for their favourite content.
Control their own experience by only paying for their preferred content.
Engage directly with their favourite clubs.
Simulate live stadium experience by interacting with other fans within the DS.
Token Flow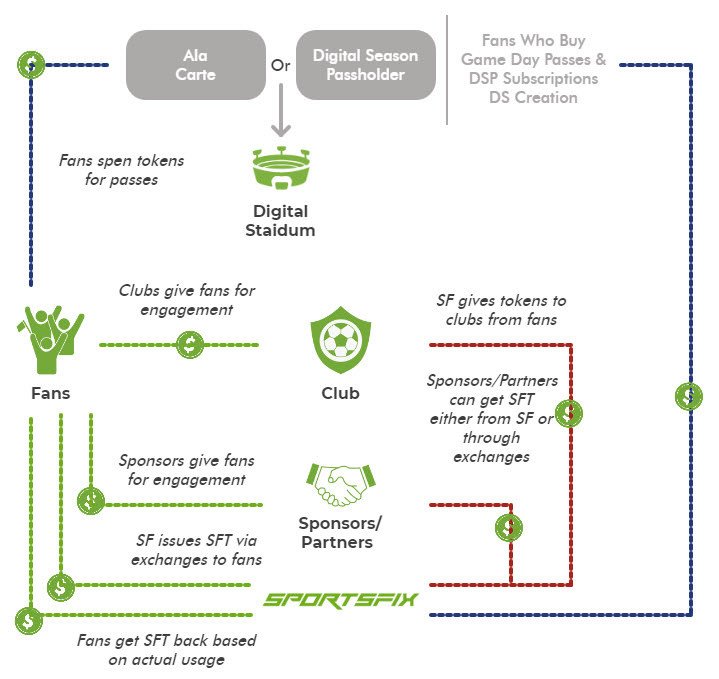 Token Allocation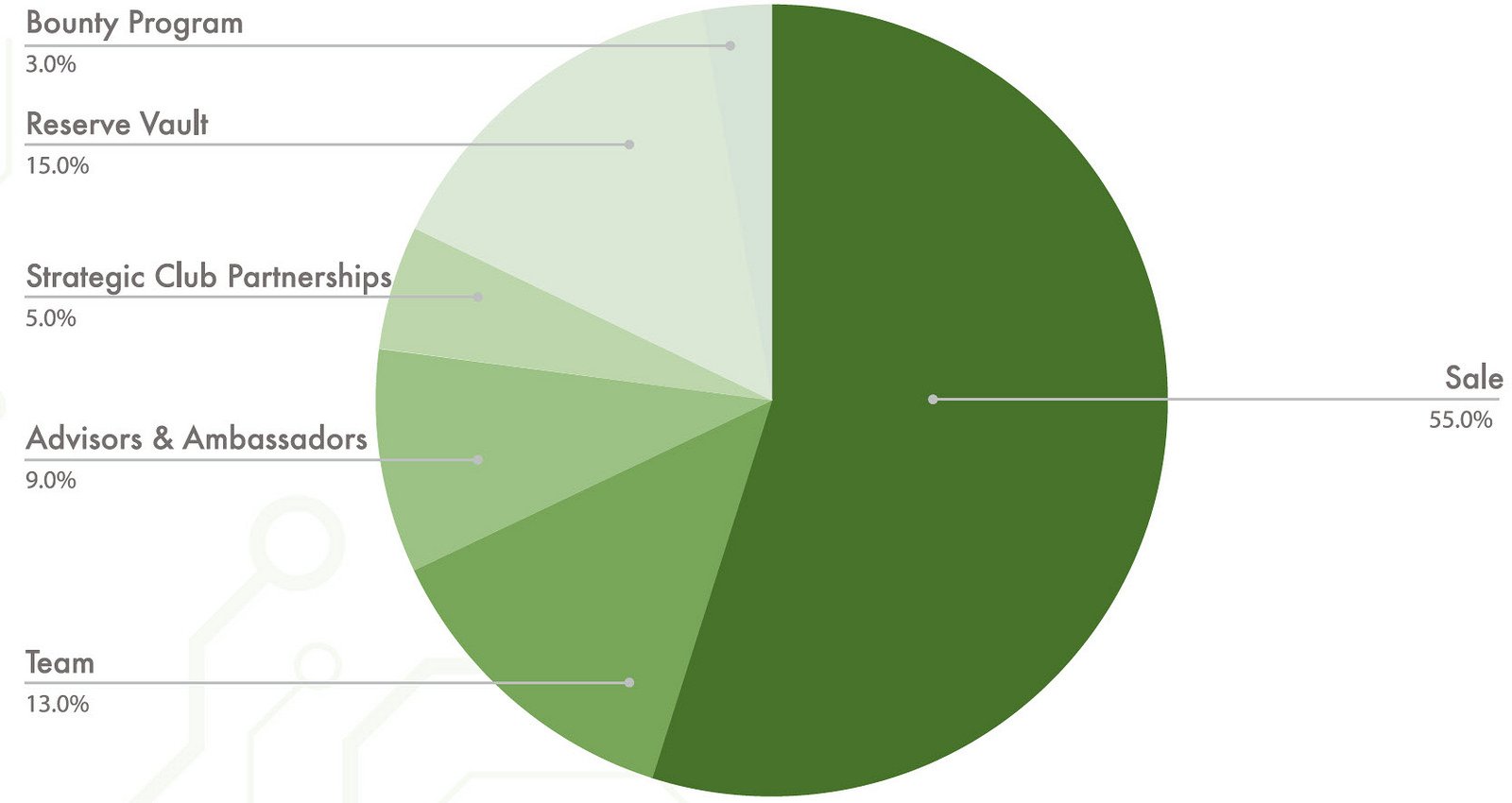 Roadmap

Finally
With the ICO, SF will enhance user experience to the OTT platform. Fans will be able to participate and engage with their fellow fans, favourite leagues and clubs while using SFT as a mode of payment throughout the platform.
---
Author of article:
✅Bitcointalk username:vlada058
✅Bitcointalk profile link: