About SportsFix
Imagine what combining the power of a "Netflix" platform with Blockchain technology would do to transform the most powerful content in the world – SPORTS. That's SportsFix (SF) for you.SF presents a revolutionary digital sports content ecosystem based on Blockchain technology; debundling and decentralizing sports media rights enabling micro-content rights investments, enforcing trust and immutable transparency via SF Tokens (SFT) and smart contracts built on the Ethereum network.In phase two – starting with issuing SFT – SF allows fans to participate and engage with their favorite leagues and clubs using the SFT as a mode of payment for content-related transactions on a blockchain. In phase three, SF plans to issue security tokens that provide fans a defacto fractional ownership of the content and the economics – fans owning a small piece of "their" team – and dividends are paid in form of SFT. The security of the token technology, full transparency of the ledger and the decentralized nature of a token based on the Ethereum blockchain will allow sports fans worldwide to take part in the emergence of a revolutionary ecosystem for sports content. This whitepaper does not cover nor makes any representation with respect to phase three, which will take place in early 2019.
Market Issues
1.Traditional TV is an antiquated model.
2.Arbitrage game by larger players that monopolize content.
3.Poor content discovery.
4.Aggregated price increases due to a convoluted system of international
5.No incentive for agents to be transparent about the pricing and process.
6.Fans end up with more content and channels than they really need
7.Rights holders sell rights of ALL clubs/teams in league format
Centralized media rights system.
8.Current revenue opportunities of clubs restricted by collective bargaining.
9.Unfair/ inequality of revenue re-distribution to clubs/ teams.
10.Displaced fans worldwide largely cannot access and watch their favourite teams/ leagues/events
11.Financial constraints for (smaller) sports/leagues/clubs to effectively develop a coherent digital strategy to reach those fans.
12.Little to No direct (two-way) communication between content creators and fans.
13.Traditional Broadcasters rely on antiquated viewing measurement systems.
14Increasing restrictions and regulations of traditional/ major distribution platforms in their user data sharing willingness and capabilities.
15Lack of personalization – One-size-fit-all approach by traditional distribution platforms.
Token Flow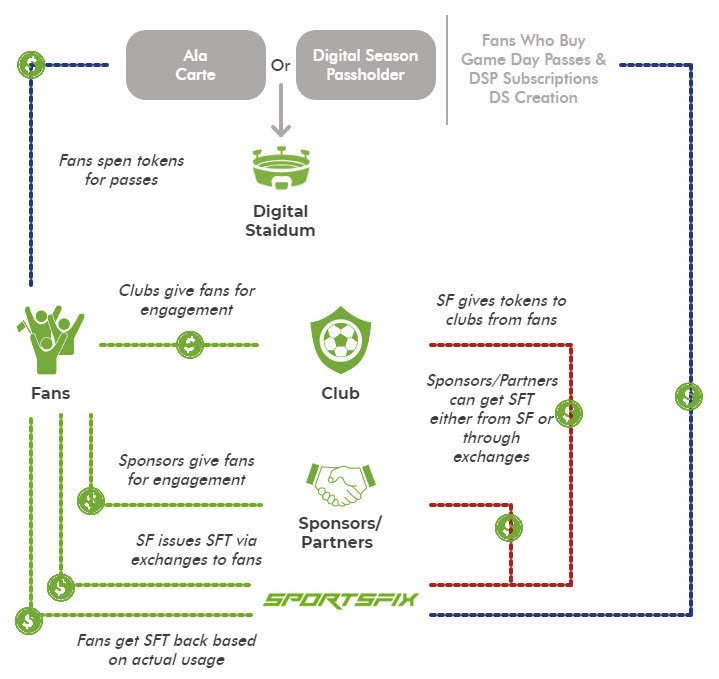 Token Allocation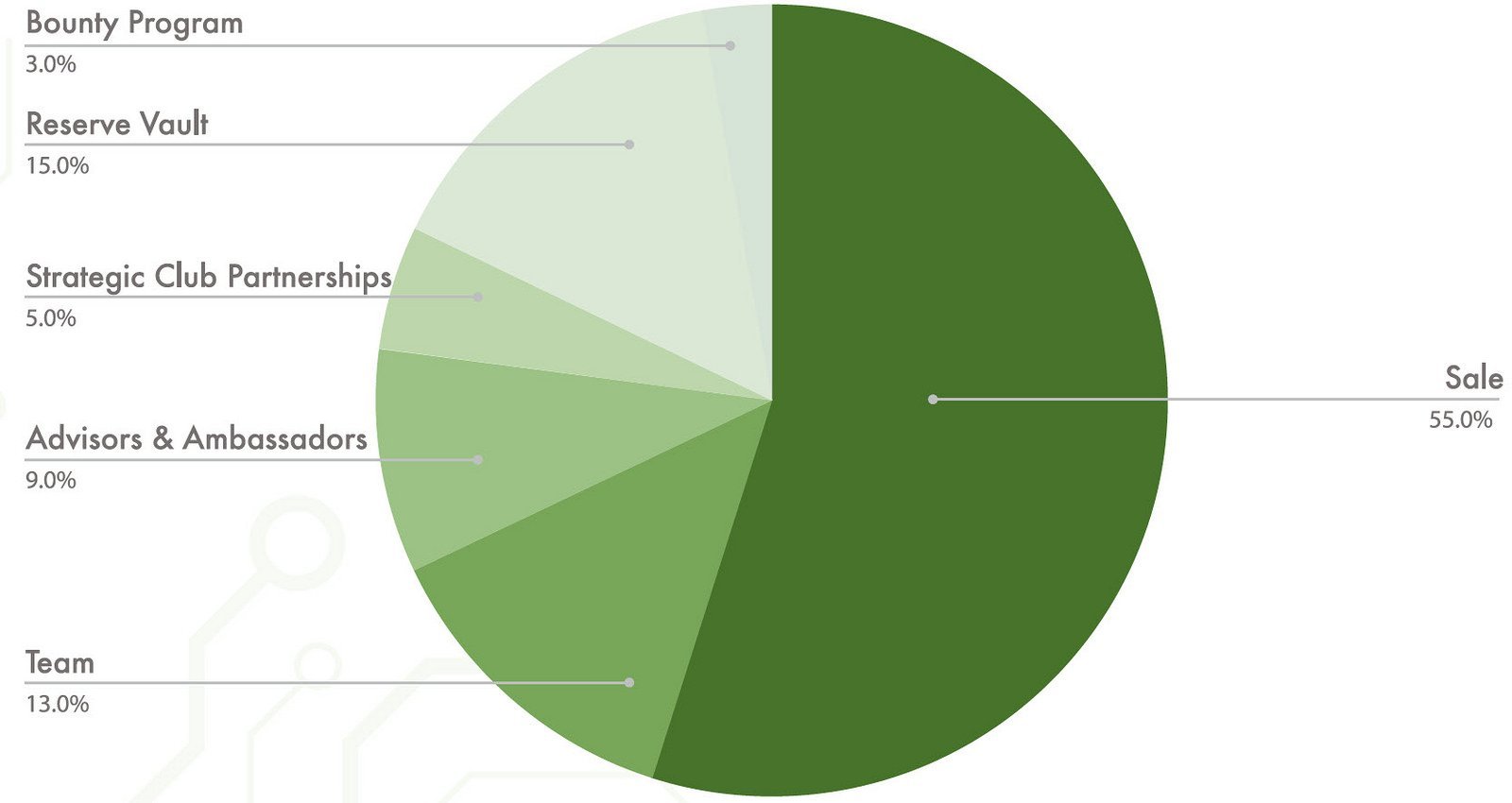 Roadmap

THE ECONOMY AND TOKENOMICS
The platform's economy will gain momentum with the circulation of the SportsFix tokens (SFT) which shall be used in the purchase of sports contents and also, for content providers to reward viewers for their participation. The token flow, as indicated in fig. 1.1 above is cyclic, continual and self-supporting. Based on a system of fixed amount of tokens, sport fans can unlocked new contents for view provided they are able to record an amount of SFT necessary to unlock such contents.
As a specific amount of these tokens initially go to content creators and club owners, the distribution of SF tokens will be according to the info below: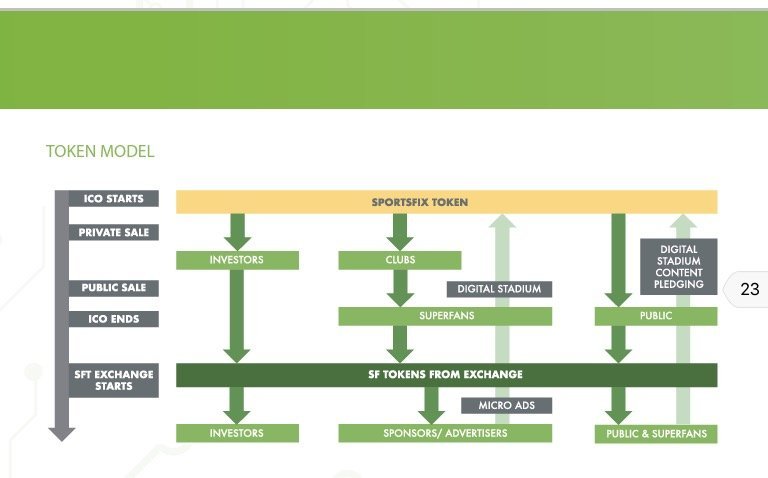 SportsFix ICO DETAILS
Symbol – SFT [ERC-20 Token]
Soft Cap – $ 2 million [Blockchain technology integration]
Milestone – 13.2 million [Expansion in ASEAN market, premium content and growth of the Digital Stadium (DS) economy]
Hard Cap – $ 32 million [Sports media content fund for opportunistic premium content e.g. Olympics, FIFA World Cup, ICC World Series etc.]
Maximum Token Supply – 800 million SFT
No. of Tokens Available for Sale – 420 million SFT (i.e. 55% of token supply)
Token Pricing
Private Pre Sale 1 – 1 SFT = $ 0.05
Private Pre Sale 2 – 1 SFT = $ 0.07
Public Sale – 1 SFT = $ 0.1
Advantages SportsFix Token
SF in the token provided to a limited extent.
SportsFix team has experience in the field of sports content and industry over the past 50 years.
A platform of digital streaming stadium OTT offering next-generation experience with premium crowdfunding.
Token SF design to appreciate and engage end users on the platform of the stadium digitally.
Model development of SFT is very dynamic.
CONCLUSION
Thus, the SportsFix project is one of the most promising projects which aims to decentralize sports media rights while presenting a digital sports content ecosystem hosted on the Blockchain technology and enforcing trust and transparency through deployment of smart contracts.
It aims to redefine the sports content market by cutting out the middlemen and connect right holders directly to fans through the SportsFix ecosystem.
For more information on the SportsFix project, please refer the following links: –
*Website: https://www.sportsfix.io/
*Whitepaper: https://www.sportsfix.io/image/wp.pdf
*Telegram: http://t.me/SFICO
*Twitter: https://twitter.com/SportsFix_io
*Facebook: https://www.facebook.com/sportsfix.io
*Bitcontalk ANN Thread: https://bitcointalk.org/index.php?topic=4380637
*Medium – https://medium.com/@sportsfix
*Subscribe on YouTube – http://www.youtube.com/sportsfixtv
Profilelink: