STEALTHCRYPTO – A Radically Decentralized and More Highly Interconnected World
INTRODUCTION
Since the emergence of blockchain technology in 2008 when Satoshi Nakamoto introduced bitcoin, there have been rigorous efforts to apply the blockchain to several aspects of the global business process, Blockchain technology has been described as having the potential to disrupt many industries with a low-cost transaction, immutability, and enhanced security. In the years that have followed, many other blockchain implementations have been developed with each one exhibiting unique features tailored to specific use-cases.
Blockchain has made it possible to issue just about any asset via a distributed ledger framework. With the aid of cryptocurrency tokens, these assets can be given economic value in order to initiate and validate several transactional processes. Several on-chain protocols have been developed by a number of startups and established companies alike in order to create blockchain-based solutions.
As more technological advancements are uncovered, StealthCrypto a decentralized global and quantum meshed network by Stealth Grid has come for good for total revolution.
ABOUT STEALTHCRYPTO
StealthCrypto is a decentralized global and quantum meshed network by Stealth Grid. Quantum Cyber Security for a new era of communication – They are developing the largest network of decentralized, incentive-based, self-sustainable quantum networks based on blockchain technology. Using proprietary end-to-end dynamic split encryption, dynamic split-geodistribution and quantum number generation, quantum key distribution, and authentication. The ultimate in secure quantum cryptography for data protection, as well as blockchain, communications, smart city platforms, IoT and banking. The team is creating a single Quantum Secure Digital Identity (QSDI) ecosystem that will be far superior to all existing, secure, private, and on-demand identification systems.
StealthCrypto and the Stealth Grid development team boast strong technical expertise and unique market knowledge, with 2/3 of R & D employees including an international team of security experts and a number of world-famous cryptographers.
VISION
The main goal of the Stealth Grid is to simplify the most secure, reliable, modern and advanced, decentralized and autonomous cryptography and encryption technologies and make them accessible to all. Stealth Grid is the first network to adopt the blockchain for real-time communication networks and industrial use. By joining the Stealth Grid eco-network, you can do everything you've done before: conversations, calls, exchange photos / videos and documents, without having to worry about security and privacy issues in your virtual world, whether your communication for personal or professional purposes. That is why it is called Stealth Grid Living Stealth in the digital network.
WHAT MAKES STEALHCRYPTO UNIQUE
Stealthcrypto is here to combat the looming security crisis; A complete robust decentralized, which is independent, major mesh network that works across most different standards of device communication. Stealth Grid's major cyber security solutions make decentralization, encryption and authentication faster, easier and stronger. Stealth Grid in one way or the other protects data from being conceded by using proprietary Stealth Crypto dynamic end-to-end split data encryption layered with Polymorphic Hashed Encryption which is Dynamically Split Geo Distributed, creating a meshed decentralized network for Stealth Crypto telecommunications, authentication, and data that uses proprietary AI Cyber Security.
Business Model
StealthCrypto has the experience and the expertise to protect your data using next-generation decentralized blockchain security technology to help defend against emerging challenges in an evolving threat landscape. Our high-performance network encryption for long-term data protection Quantum key generation and quantum key distribution. StealthCrypto makes cloud storage, IoT , and communications secure, and faster with StealthCrypto's patented StealthCrypto.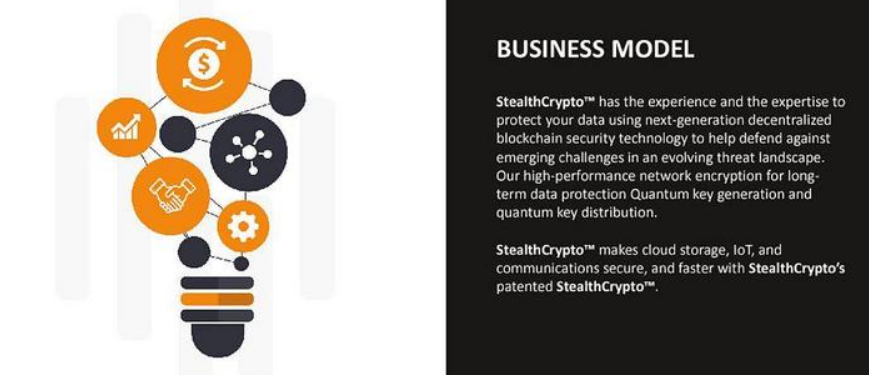 Quantum Cyber Security
Building a decentralized system of telecommunications and information storage is a stage for Stealthgrid. Besides decentralization, this communication system is also the bonus, independent, decentralized, independent, and complex telecommunication. While to allow it to occur Stealthgrid use blockchain technology.
The Stealthgrid system does the energy of information storage, telecommunications, and integrated communications which exist now. The embodiment of the would be to create architectural changes in server-centric systems into decentralized networks which will be owned and run by consumers.
Mesh Network of STEALTHCRYPTO Delivered Quantum Entropy
Quantum-powered StealthCrypto entropy engine cryptography that provides full quantum entropy (one quantum entropy bit per output bit) at the rates required for the data center, cloud, large-scale Internet (loT) and mobile applications. This will increase with the adoption of our decentralized Quantum mesh network that will create a quantum supercomputer.
With StealthCrypto NAS and the Smartphone model, StealthCrypto distributes the true entropy of a quantum source to correctly generate random numbers in data centers and networked devices (a concept similar to the NTP protocol) to ensure a consistent date / time.
Cryptography – Authentication
IBE authentication
Numeric identity
Cryptocurrency
payments
tokenization
communications
The Advantages
StealthCrypto Trust Centers (TC), or NAS systems, provide true peer-to-peer communication and data storage that can be integrated on one chip and can be configured for secure cross-domain communication between Standalone Trust Center or StealthCrypto Cloud. NAS servers. In this way, it's social by design. Stealth Grid products and solutions are based on the underlying thinking of creating a secure interaction ecosystem for consumers and business customers. Business opportunities today are diverse. Stealth Grid intends to position itself as a pioneer, global influencer and thought leader when it comes to using blockchain for cybersecurity purposes.
ROADMAP
Q1 2018, Quantum Cyber Security Solutions, to launch the peer communication product for cloud storage, file sharing, email and data encryption
Q2 2018, StelathCrypto Distributed Network, meshed PTP cloud storage network, in the end, dynamic split encryption with disruptive authentication algorithms
Q3 2018, Qubit Blockchain Development, to develop the Qubit platform and testing all thing to make sure it worked
Q4 2018, Blockchain Launching, Launch the blockchain system of the StealthCrypto
Q2 2019, Qubit Exchange Launching, in the end, Qubit Exchange will launch in the Q2 of 2018
Meet The Amazing Team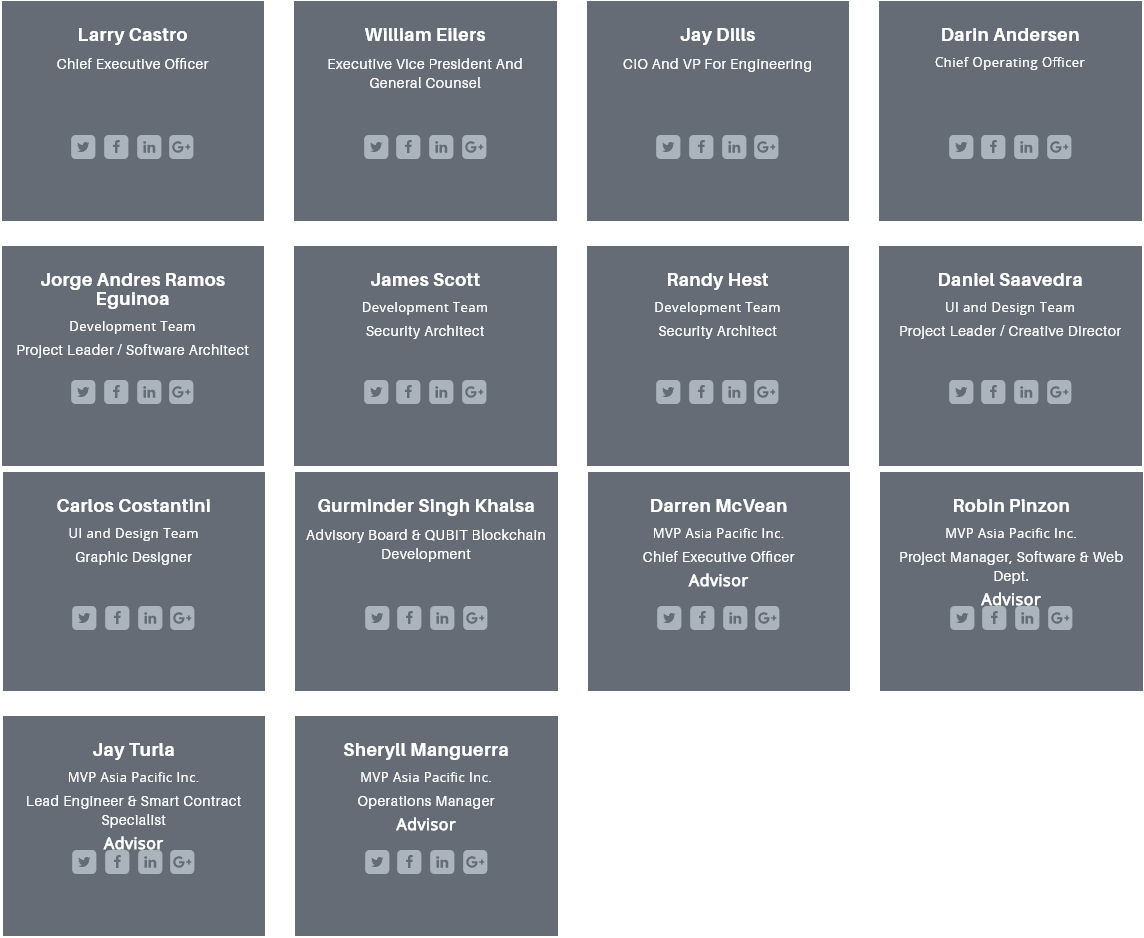 The STEALTHCRYPTO System
The StealthCrypto token is essential to the function of the StealthCrypto ecosystem. StealthCrypto is a functional token that will be used on the platform to access various features, products and fees. In addition, as StealthCrypto's services and products become more liquid and valuable over time, we expect they could be used to rebalance individual portfolios. In other words, the liquidity generated by StealthCrypto can allow users to move allocations between different currencies quickly and easily.
Token Details
Token Name: QMN
Currencies: US, ETH, BTC, LTC
Platform: Ethereum
Location: Gibraltar
TOKEN SALE "QMN"
Total token supply: 400,000,000
200,000,000 tokens for Stage 1 Token Crowdsale
Pre Tokens Sale to start on January 28, 2018. The initial token price (ICO) will be set at a minimum of S0 .50, or present market value above S0 .50, when ICO launches July 05, 2018. 200,000,000 tokens will be reserved for Stage 2 Token Crowdsale (50% of total).
Stage 2 will happen no sooner than 2020, and all tokens will be sold at market price, not at a fixed $0 .50 USO value (important note: all percentage below will be adjusted in accordance with actual amount raised, e.g. if we sell 70M of 1 00M tokens, the following numbers will be multiplied by 0.007)
STEALTHCRYPTO FUND
The StealthCrypto Fund operates as part of our business model, ensuring a stable token with a bright future. It is in our best interests to ensure that the STEALTHCRYPTO™ purchasing power grows over time and market manipulation is avoided. A total of 400 million tokens will be issued. This is how it breaks down in dollars during planning – the actual price is subject to change:
STEALTHCRYPTO ALLOCATION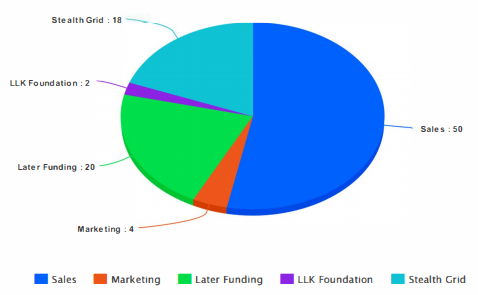 USE OF PROCEEDS
NOTE: This article is just a guide to prospective clients, investors and every person scorching for a slice of this amazing project,
You can get more information about these project with huge potential by following the link below:
Website: https://www.stealthcrypto.io/
WhitePaper: https://www.stealthcrypto.io/assets/images/pdf/whitepaper.pdf?pdf=View-Whitepaper
ANN Thread: https://bitcointalk.org/index.php?topic=3010702.0
Twitter: https://twitter.com/stealthcrypto_
Facebook: https://www.facebook.com/StealthCrypto-143787762986167/
LinkedIn: https://twitter.com/stealthcrypto_
Medium: https://medium.com/@stealth.crypto2018
Telegram: https://t.me/stealthcrypto2018
YouTube: https://www.youtube.com/channel/UCTSYh78jeNAo1KIXOIpLRUw
Author: bayo88
My BitcoinTalk Profile:https://bitcointalk.org/index.php?action=profile;u=2407711
NOTE
This article was issued for bounty campaign purpose, I am a supporter of this amazing project with huge potential and not a team member or its representative.