Stem Cell Innovations – Review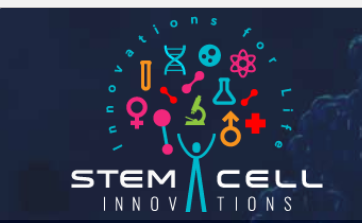 A new era has come Technologies are changing the world. What previously seemed to be impossible, today is already the reality. Cryptocurrencies are already transforming the business world by providing a decentralised platform that enhances business and would make cryptos more real in the minds of consumers.
Cryptocurrency is an innovative ecosystem, already doing its magic in business all over the world, and it is here to stay. In case you do not know, cryptos are digital currencies, that do not depend on banks to transact due to its blockchain security, which records every transaction in an open-source list that lives in every single computer that becomes a part of this technology. Transactions with cryptos are done directly from one person to another, without the need of a third-party like PayPal.
Overview
Stem Cell Innovations is changing the face of health care by expanding access to stem cell research, development, and treatments around the world using blockchain technology.
Stem Cell Innovations is steadfast in its international research, development, and implementation of stem cell therapy. We work to expand our network with professionals, labs, clinics, hospitals, and nonprofit organizations around the world to further this research and development. Our ultimate goal is to connect people who need treatment with a dedicated team of professionals who can provide personalized solutions based on patient factors and demographics collected in our dual blockchain-supported platform.
Our Vision
Is to provide a safe storage solution for users' medical data and give those users control over their individual stem cell records. Data related to a user's stem cell needs will be stored on the SCI blockchain. Such data will be accessible via our secure application. With access to our application, users will have the ability to not only share, but also limit the information doctors and medical organizations can see in an individual medical profile. Users will also have the ability to provide access to network providers to view individually-owned stem cell records for a limited time to facilitate treatment or consultation.
In addition to providing secure access to a user's medical information, the SCIApplication will allow users to seamlessly register for life insurance policies, bone marrow donor registries, and organ donation registries. Furthermore, the SCIApplication will also enable users to access their individualized stem cell profile, which will facilitate access to stem cell therapies and services in a convenient and straightforward manner.
Our goal
Is to bring stem cell therapies into the mainstream medical community while providing harmonious access to medical records for patients and their doctors. It is our vision to empower patients and reduce inefficiency in their access to medical care around the world.
The SCIApplication and website will be in full compliance with the Health Insurance Portability and Accountability Act of 1996 privacy regulations (HIPAA), and will keep user information safe and secure. In case of an emergency, users will be able to provide medical history to emergency responders in seconds via the SCIApplication on the user's phone.
The Brains behind the Project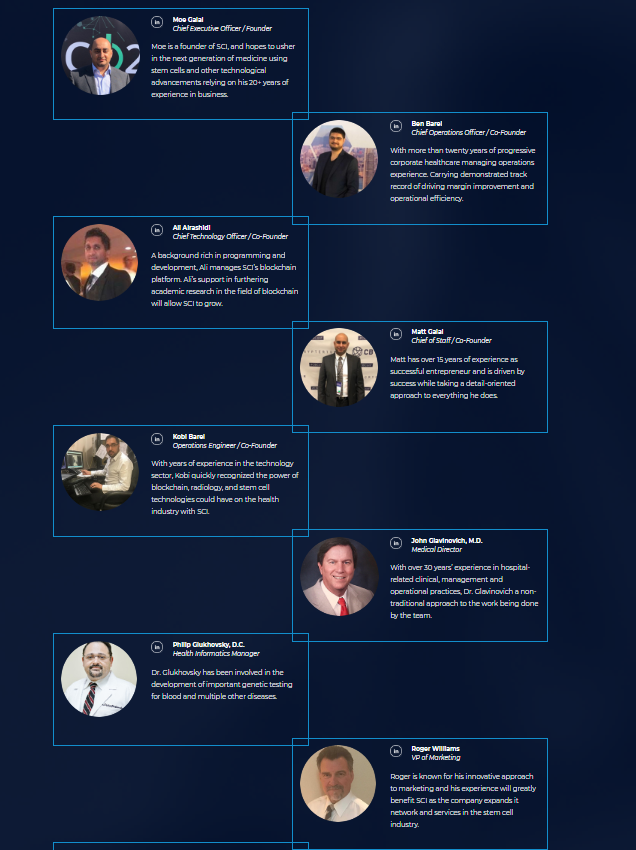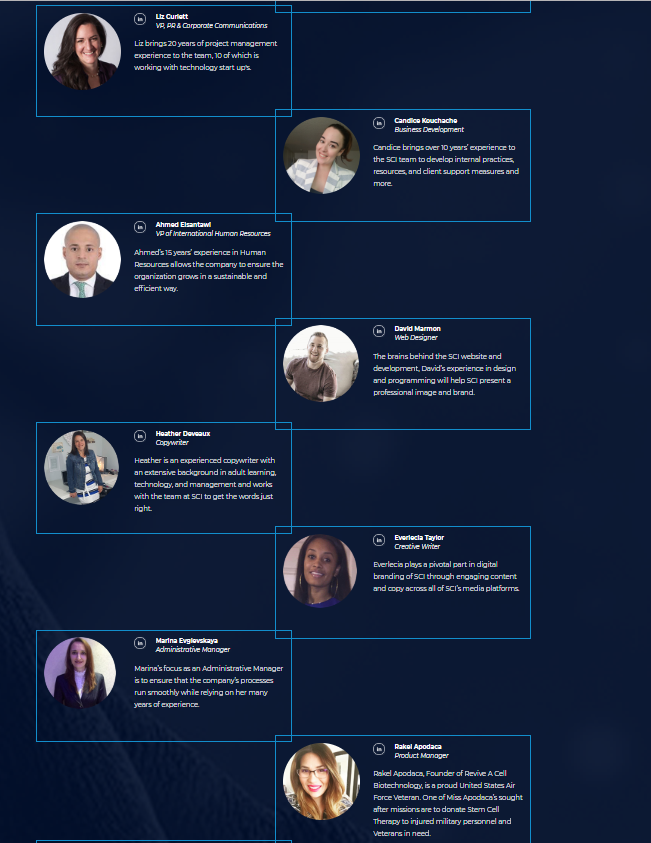 On their website, https://scia.io/ you can visit the "Team" section and simply by clicking on each team member's image or name you will be redirected to their professional linkedin profiles. Here you may consult and analyse each individual's expertise as much as you like. It's all been put there for us to see that they have what it takes to achieve their goals with ease and ultimately inspiring more confidence in all of us.
Token Details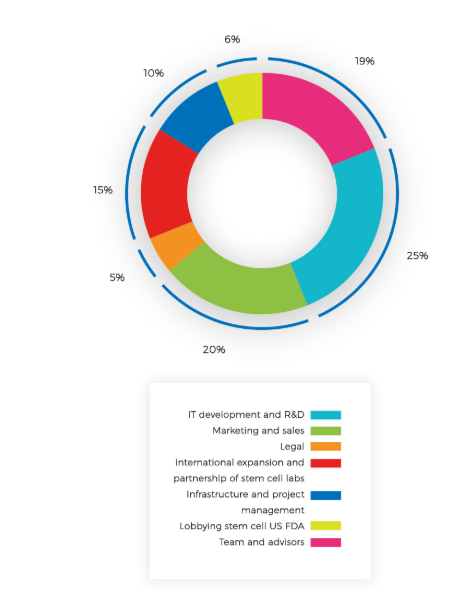 SCI's goal is to raise a maximum of $36,000,000 and a minimum of $3,000,000. Some of these numbers may change with ETH/ USD exchange rates and volatility throughout the ICO and launch phase of the company's growth. This document is based on exchange rate estimates at the time of writing. SCI will mint a total of 800 million tokens. Of these, 240 million tokens will be available during the token sale to start on September 17th, 2018.
Each token will be sold at $0.15. Should all 240 million tokens be sold, the raised funds will be $36,000,000. Tokens unsold from the 240 million will be burned. The funds raised during the token sale are to be used per the project roadmap above.
Pre-Sale from 17th September 2018 0800 HRS UTC/GMT to 29th October 2018 2359 HRS UTC/GMT. Main-Sale from 21st November 2018 0800 HRS UTC/GMT to 17th Janurary 2019 2359 HRS UTC/GMT.
The total number of tokens sold during the pre-sale period cannot exceed 60% of the total number of tokens initially put up for sale by the Main-Sale. If the number of requests received during the pre-sale period exceeds, request will be honored in the chronological order in line with the set limit, and excess orders will be returned to clients.
Roadmap

Useful Links
Website | https://scia.io/
Whitepaper | https://scia.io/#Roadmap
Medium | https://medium.com/@stemcellapp
Reddit | https://www.reddit.com/user/stemcellapp/
Facebook https://www.facebook.com/Stemcellapp/
Twitter | https://twitter.com/stemcellapp
Telegram | https://t.me/stemcellinnovations
BountyhiveUsername : funkyies
BITCOINTALK PROFILE: https://bitcointalk.org/index.php?action=profile;u=1971452