STREAMSPACE -Making It The Most Progressive Streaming Market In The World
The movie industry, like other subsets of the entertainment industry, is dominated by a handful of distribution leaders that retain the lion's share of profits generated in the industry. For filmmakers, this means that unless you are a "bankable" producer/director, you are at the mercy of a handful of large, powerful studios who have little incentive to deliver a return for your time and creative efforts. For most viewers, it means that you can only watch the handful of films that the studios want to support with broad distribution through theaters, network broadcast, and physical and digital distribution.
What this means is an erosion of choice for consumers as they mostly see the major
blockbuster releases promoted heavily by the studios and an erosion of income for
independent filmmakers who do not have access to "bankable" stars and multichannel distribution relationships.
StreamSpace intends to launch an innovative platform and community that will link creative, independent filmmakers with audiences that seek out quality, edgier film experiences.
There are nine key components to the StreamSpace platform:
• Secure storage method of the video content, based in part on Protocol Labs' IPFS. StreamSpace holds a provisional patent on its method for secure storage.
• Blockchain transaction ledger for enhanced transparency and security.
• Front-end decoder and embedded HTML5 player optimized for video streaming, initially on PCs, followed by the most popular consumer video consumption clients.
• Content recommendation engine that helps consumers discover new content that fits their tastes, based on viewing habits and reviews / ratings. Our goal is to lift the restrictions which currently inhibit discoverability by consumers.
• Secure digital wallet so consumers and filmmakers can manage their accounts and stored assets with confidence. A unique digital wallet format will allow the account value to be held in StreamShare tokens (SSH) and will support transferring to fiat or other digital currencies. A second digital wallet will be created to reward the individuals who support the network by offering storage capacity for content. This
second token system will be called StreamSpace Coins (SPC), which will be convertible to SSH.
• Community-focused front end for filmmakers to upload their products to StreamSpace's environment, set prices, and analyze statistics about the popularity or reviews of their content.
• Social media channels that link filmmakers to each other and to their audiences. A key element of StreamSpace's strategy is to give filmmakers the ability to circumvent the studio-driven promotion system and control their own marketing. Social media channels represent the most economical and innovative way for filmmakers to connect with their potential audiences around the world.
• Initial Coin Offering / Token crowdfunding campaigns for new film projects on behalf of filmmakers that are interested in this uncommon technique for raising the funds necessary for a small or mid-budget film project.
The StreamSpace solution in its first iteration will feature basic functionality of the first eight technical components noted above. The ninth element of the solution, ICO /Token crowdfund campaign support, will be offered on an as-needed basis, based on
the level of interest from filmmaker customers along with availability of StreamSpace
technical support resources. Subsequent iterations of the StreamSpace solution may
continue to expand and refine the functionality for both filmmakers and for consumer film aficionados.
The StreamSpace business is driven by some of the best marketing experts in the
industry. StreamSpace will continue to pursue its current lean, cost-efficient marketing efforts to grow the communities of filmmaker Owners and enthusiast Consumers.
As mentioned above, the StreamSpace community for filmmakers and indie film enthusiasts will include a set of social media channels that will help to promote the films in the StreamSpace ecosystem. These social media channels can be used to promote special viewings, festivals and other events that involve the filmmakers and key actors or other persons involved in the films, additional content, such as trailers and behindthe-scenes videos, as well as non-film revenue opportunities such as merchandise sales. The social media channels are also opportunities for film enthusiasts to post reviews and rating scores for the films and engage in dialogue with the filmmakers and/or other Owners.
Some potential enhanced features:
StreamSpace Technology
Digital Wallet & Smart Contracts
Digital wallet Ethereum i.e. Ethereum Virtual machine (EVM) which can carry out intelligent contract sent to run on network Ethereum. Self-enforcing contracts and cannot be manipulated or censored, which can make the programmer to automate various processes that traditionally requires the supervision of the Board. This could generate advantages in terms of security and transparency of the transaction along with transaction history.
Binary-Chain Blockchain Protocol
StreamSpace
 uses two separate systems with different coins Staking of mining or rewards, one for each of the two main processes are conducted throughout the blockchain. The most visible process involves the processing of transactions related to purchase or rent content: download video stream processing and transfer payments related to the experience of watching each.
The second, less visible process, involves maintaining a distributed storage streaming video content, with rewards based on the amount of storage allocated, the length of time that are supported, and the popularity of the content
Quality of Streaming Video Content
StreamSpace
 uses Dynamic Adaptive Streaming over HTTP (DASH), which ensures high quality streams over the internet. The original video file is split up into many smaller video file segments of many bitrates and resolution.
Crowdfunding Service for New Films
Sale token expressly designed to support funding for production of the new film or video projects; more information about some of these projects are provided at the competition. StreamSpace will improve the experience in conducting its own plus the ICO contacts that are created in the entire film industry and blockchain to identify the pool of potential investors StreamSpace with white paper.
StreamSpace
 provides a downloadable App in general internet browser, but with an initial focus on the PC running the major browsers, it also will be able to download on your smartphone and SVOD clients connected to the HDTV. For the initial release, StreamSpace akanmenggunakan browser based player that is optimized for Microsoft Windows and Apple's OS. StreamSpace will develop and deploy mobile applications on Android and iOS, and StreamSpace will target some major Internet TV client systems, including Google's SVOD Chromecast, Microsoft Xbox, Roku, Apple TV, Amazon TV api, etc. to allow consumers to add channels to your home screen StreamSpace Viewer
Planned Level and Use of Funds
The maximum distribution will be the sale of 40% of the total number of issued tokens, or 400 million SSH out of 1 billion total tokens . StreamSpace is aware of the potential securities laws associated with this type of fundraising mechanism, and is making every effort with our legal counsel to comply.
Stream ICO
TOKEN PRICE IS $0.23 USD
Token sale progress: 69,135,875.45 SSH sold
TIMING ICO: January 15, 2018 to February 27, 2018
OFFERING SIZE ICO: 250 million StreamShares (SSH)
PRICE ICO: Price increases by $0.01 per day
Funds held in Multi-Signature Wallet
The minimum purchase in ETH & BTC is $25. The minimum for all USD payments is $1,000. There is no maximum. You can buy SSH with Bitcoin, Ethereum and US Dollars. StreamSpace, LLC will withhold 600 million tokens for basic operation of the platform.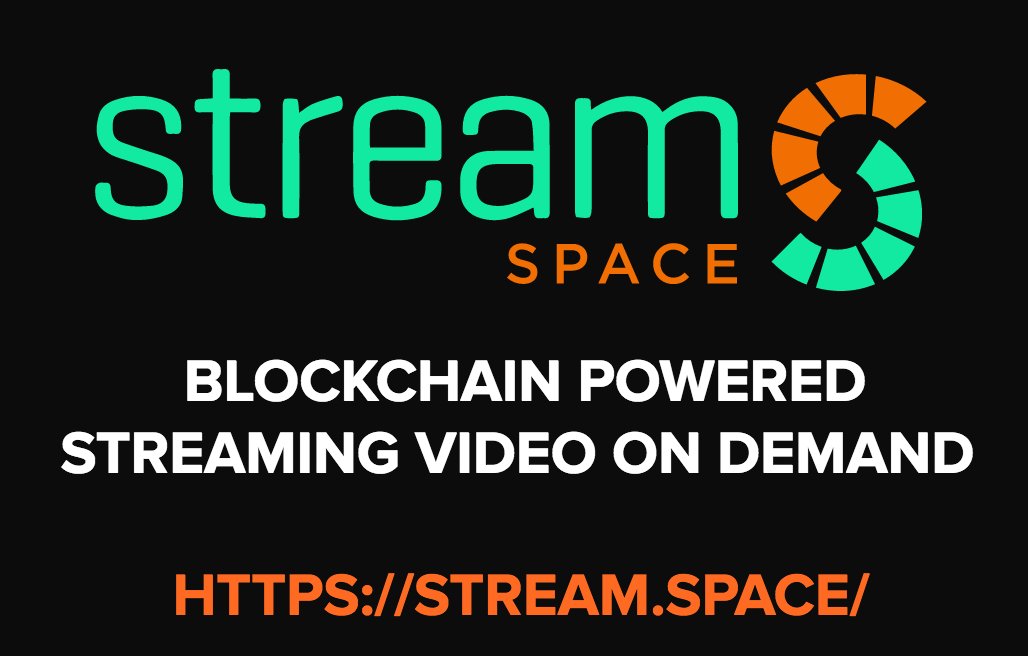 Team
Roadmap
Website | White Paper | ANN | Twitter | Facebook | Reddit
ETH : 0xD56DfE73C68E61518c307d795fa6cC9bd3DeeFC8
Btt Profile : https://bitcointalk.org/index.php?action=profile;u=1218176