Swap.Online – A protocol for decentralized cryptocurrency exchange

We create a service for the exchange of cryptocurrency and all the collected money will go exclusively for the development of the project,visithttps://swap.online/ more information.
Swap.online a protocol for decentralized exchange of cryptocurrency (DEP). Right in the browser. Without downloading applications. Without the participation of a third parties. Instantly
By using Bitcoin.js, web3.js, and the libp2p library in IPFS, Swap.Online created a cross-blockchain swap system directly in the browser. The full details of the system can be found below:
• The solution operates on an average 2 to 10 times faster than the existing stock exchanges (taking into account the time to deposit and withdraw funds). On average, the exchange takes 2 to 3 minutes.
• Swap Online does not store secret user keys. Moreover, even messages between users do not pass through our servers (we use IPFS).
• The exchange works right in the browser – users do not need to download or install anything.
• The platform already works between the Bitcoin and Ethereum blockchains, with Tether, and Lightning Network planned.
• Theoretically, Swap Online is able to work with most cryptocurrencies, except for those where there is no scripting language. Even for currencies like Monero, solutions will be created over time.
The source code of the exchange is published in GitHub, and the protocol is distributed as Open Source. The AirDrop is scheduled for June 30th.
The Swap.Online team is also engaged in commercial implementation and release of related products:
• For the B2C market (swap.online): Exchange solution for BTC -> ERC20 (with an orderbook and a reputation system)
• For the B2B market (b2b.swap.online): Widget in the form of html code, which allows accepting any cryptocurrencies directly in the wallet of the site owner by sending tokens in return. The solution has a confirmed demand both from projects in the crowdfunding stage and from those who are already making a real product.
• For large holders of cryptocurrencies: Ability to safely exchange cryptocurrency without bringing it to centralized exchanges (by replenishing the account only during the exchange).
• As part of research, the possibility of using the solution as a bridge for the sidechains is being studied.
Cross-blockchain cryptocurrency exchange among users on Atomic Swap technology.
Right in browser performance
Our solution works on Javascript that's why an exchange is possible even via a mobile phone
Instant
exchange
On average, the exchange takes 1 minute
Fraud defense
An exchange takes place right in blockchains independently from centralized entities such as server capacity, domain activities, and DNS service.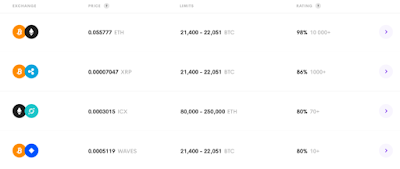 B2B solution for cryptoprojects funding
Swap.up Button is a script enabling the exchange of cryptocurrency for cryptoproject tokens with a single click.
  1.Broadens the circle of potential investors

Offer the users a wide selection of investing methods in one window – exchange Ethereum, Bitcoin, Monero, Litecoin, and Tether for the tokens of your project.
  2.Adaptation for any project

Swap.up Button is easily adapted and built in business process of any company.
  3.The solution deals with a large number of cryptocurrency and tokens

Theoretically, the technology can engage with the majority of cryptocurrency except for those ones without script language.
How does the job evaluation and distribution system work
At the end of each round, the team Swap.Online within 3 days evaluation of work on compliance with all rules and compliance with quality
On the basis of quality and quantity of works the most active 20% of participants are selected
The cost of 1 stack is calculated, which consists of the number of completed works.
After counting all the calculations, your stacks are transferred to tokens
Once all tokens are distributed, they are transferred to your ERC-20 wallets.
Allocation of total supply:
• Project 70%
• Bounty program 5%
• AirDrop 5%
• Team 20%(locked for a year)
Bounty Distribution
■ Signature Campaign (10%) = 1000 tokens for each round
■ Facebook (20%)= 2000 tokens for each round
■ Twitter (15%)=1500 tokens for each round
■ Medium (10%)=1000 tokens for each round
■ Telegram (5%)=500 tokens for each round
■ Blog & Media (15%)=1500 tokens for each round
■ Youtube (10%)=1000 tokens for each round
■ Translate & Other (5%)=500 tokens for each round
■ Github (5%)=500 tokens for each round
■ LinkedIn (5%)=500 tokens for each round
General Terms
All bounty participants are required to join Swap.Online Telegram group: https://t.me/swaponlineint
PLEASE ONLY USE BOUNTY THREAD FOR SUPPORT.
Tokens will be distributed every 2 week, on Monday to Wednesday.
Every Sunday users will send a report that the work is done. We will update this post every week to post a new google form link, don't report it in the thread.
Users must account for the work done on each of the social networks. To do this, you need to use a form campaign (Twitter, Facebook, Telegram, BTT). If the reports are not submitted before the end of Sunday, then the coins will not be assessed,Ann Thread : https://bitcointalk.org/index.php?topic=3914826.0 .
We reserve the right to remove you from any campaign at any time if we think you are not honest, or spam the forum.
We reserve the right to remove you from any campaign without explaining why we removed you.
In case we remove you from the campaign for any reason, we reserve the right to delete your tokens.
We may not accept you in the campaign for any reasons.
If your rank change during the campaign, you must contact the campaign manager Northi in a bitcointalk PM.
If you does not meet the minimum amount of posts, you will not receive any token for the current week. But you will not be removed from the campaign.
Using multi-accounts, cheating and spamming are not allowed. It will results getting all of your accounts permanently banned from all my campaigns.
Details Information :
Website : https://swap.online/
Facebook : https://web.facebook.com/Swaponline-637233326642691?_rdc=1&_rdr
Twitter : https://twitter.com/SwapOnlineTeam
Telegram : https://t.me/swaponlineint
Ann Thread : https://bitcointalk.org/index.php?topic=3914826.0
Author : Anggita dewi