SWINCA is planning to provide every both large and small investor with an opportunity become an owner of multiple properties across the world and to play on the field for large projects that are difficult to reach Tokenizing real-world assets on the blockchain is considered the right solution, every investor can transact between each other effortlessly and instantly. SWINCA will help are bringing liquidity to the market so that it happens transactions of assets instant, cost-effective and much easier.
WHY YOU SHOULD CHOOSE SWINCA
SWINCA allows all its investors to receive passive income, which will be available monthly.
SWINCA offers a wide range of functions and tools within its platform, so each investor will have the opportunity to manage his investment portfolio as he sees fit.
SWINCA allows you to invest in real estate around the world with minimal investment and minimal costs.
By reducing all secondary costs and the absence of intermediaries, SWINCA allows you to get the maximum return on your investment.
A competent strategy and simplicity of information will allow you to choose the desired vector of development.
PROBLEMS
There is no liquidity in the real estate asset market.
Transactions (buying, selling, exchanging) still takes time and are costly.
Offer limited to specific countries or categories.
Processes for ownership are counterproductive and takes months.
A lot of intermediaries and related costs limit investment opportunities.
Fractional investment is not a reality and minimum investment required are too high.
Difficult to access cross border, commercial or high yields opportunities.
Hardly possible to manage a diversified portfolio of real estate with small amounts.
Unfair Monopolistic (notaries, brokers) situations for retail investors.
SOLUTION
Tokenizing real world assets on the blockchain is one of the main use-case of the blockchain for 2019. Thus, by giving the possibility to large and small investors to participate in great investments, they can transact between each other effortlessly and instantly. By doing so, we are bringing liquidity to the market making transactions of assets instant, cost effective and much easier.
Also those transactions are fully transparents using the blockchain, which means that investors have now the possibility to take informed decision with open track record including all informations they need (occupancy rate, number of previous transactions, yields, value appreciation etc.).
The goal is to let anyone access to any real-estate investment opportunity worldwide. They can transparently choose what percentages of a flat, a house, an office or a land they want to invest in. That way they can benefit from a personalized real estate portfolio that is flexible to manage.
Swinca anticipates better returns on investments than most competitors and current solutions who aren't using blockchain for their real-estate assets. Participant can decide for a part of their rent income to be paid in SWI coin which is designed to intrinsically increase in value with Swinca over time.
SWINCA Masternode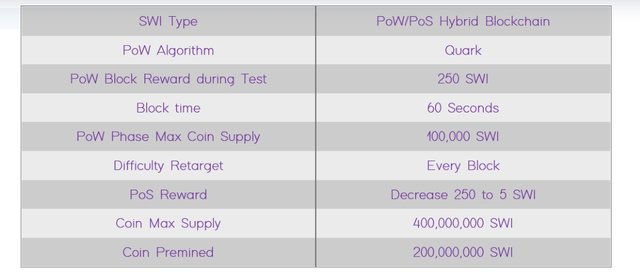 SWINCA network believes in a better and more green decentralized POS network, That is why SWINCA will retribute Masternodes and Pools for maintaining this open network.
ABOUT THE SWINCA COIN
SWINCA offers its depositors the opportunity to purchase their SWI coins on their official website. In total, 400 million coins will be allocated for sale, the price of which will vary depending on the sales stage from $0.10 to $0.60 per 1 SWI. In total, the developers intend to collect Hard Cap in the amount of 75 million us dollars. To buy SWI is possible using: ETH, BTC and with +100 other amount of cryptocoins.
Token Details
Ticker Symbol: SWI
Total coins supply: 400,000,000
Coin Price: $ 0.10 to $ 0.60
Soft Cap: $ 2,000,000 (Pre-sale) $ 10,000,000 (Crowdsale)
Hard Cap: $ 6,000,000 (Pre-sale) $ 75,000,000 (Crowdsale)
Payment methods: BTC ETH USDT +100 other cryptos
Minimum purchase volume: 500 SWI
Maximum purchase volume: No max
Date presale November 26 2018 to 25 January 2019 (60 days)
Date crowdsale: 1 February 2019 to 31 March 2019 (60 days)
Date of distribution: April 20, 2019 (or soon if cap is reached)
Allocation of Tokens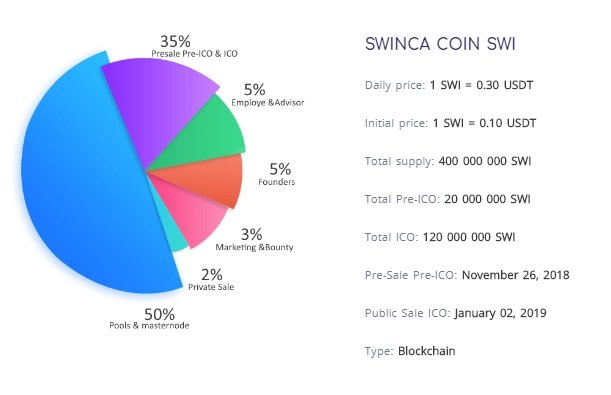 ROADMAP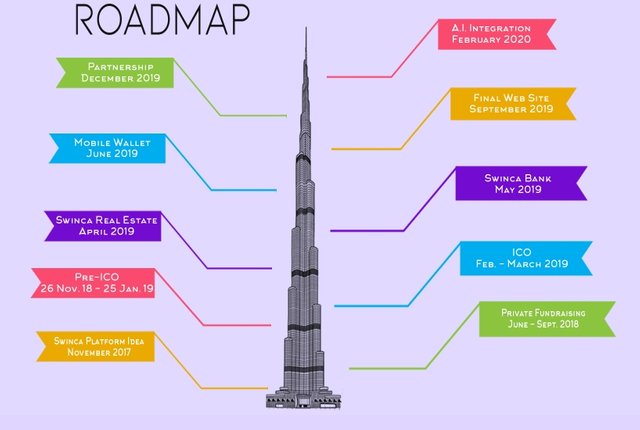 TEAM
ADVISORS
For more information, please visit:
Website: https://www.swinca.io/
Whitepaper: https://drive.google.com/file/d/1RHBWSafaQ56PvWyNvNcNtKcJwPOuRjS8/view
ANN Thread: https://bitcointalk.org/index.php?topic=5063576.0
Telegram: https://t.me/swincacoin
Twitter: https://twitter.com/Swinca2
Facebook: https://www.facebook.com/swincagroup
Medium: https://medium.com/@swinca
Github: https://github.com/swincacoin
YouTube: https://www.youtube.com/channel/UCfwSSuIIGA6RmAwq0yB64iw
Reddit: https://www.reddit.com/user/swinca
LinkedIn: https://www.linkedin.com/company/swinca
Author: TheMichaelMatch
My BitcoinTalk Profile: https://bitcointalk.org/index.php?action=profile;u=1326035
My Ethereum Address: 0x76CC93E01A6D810a1C11bBC1054C37CB395F14C8