ICO market is nowadays pretty similar to the Wild West during the gold rush period. It is possible to earn money very quickly, sometimes even good money, but you have to find a perfect spot, or in this case, a good project to invest. Common thing to the Wild West? No guaranties and almost no law. It is pretty easy to find bad cowboys which are going to promise you golden mountains to steal your last piece of bread. So in all this mess, if you want to find your gold nugget, you can trust just your own brain composites.
So did I and during my research I found the project in which I really put my faith: SWIPE. Very likely you haven't heard about them, project is made by great team members. Nevertheless, guys have an advantage, many other teams does not: already existing product made on a very perspective field. But these are not all pluses I found in this project. Below you can read the analysis and decide on your own, do you want to send some pennies to the pot.

ABOUT SWIPE
SWIPE Network is a decentralised mobile engagement data platform that will empower app developers with a suite of marketing tools (via SDK-software development kit) to monetise anonymised data transparently and fairly using blockchain technology.
App users will be rewarded for contributing their data while maintaining full control of privacy and data sharing. App developers can increase their app active usage and retention through the SDK. They can get more data from the SWIPE Network, and improve the apps based on the data obtained.
Swipe integrates and analyzes data from a variety of applications, the main objectives of the platform are:
To encourage users and application developers to share their high-quality statistics.
To provide a reliable data management system through smart contracts.Then representatives of this data will have control of what information they want to share,of property rights,of the policy of the monetization of this data and the distribution of income.
To provide "transparency" of the data.In the current world,there is no such transparency.The Forester's study showed that 8 out of 10 trading sites report a negative impact of the opacity of their statistical data sources.
Solving this problem has become one of the main tasks,as 72% of the trading platforms based on this data build interactions with their customers.
Privacy and security.
Swipe will specialize in areas that are clearly dependent on consumer feedback or need it for further growth.
Such areas are:
Optimization of marketing – It includes a budget analysis,a product mix and an analysis efficiency.
Consumer's behavior – It's an analysis of consumer's preferences and an analysis of the demographic shift.
Internal statistics of mobile platforms – The type of mobile device, the type of network used and its frequency,etc.
Advertising – Improved search for the target audience,based on user profiles and audience segmentation
How Does the Swipe Platform Work?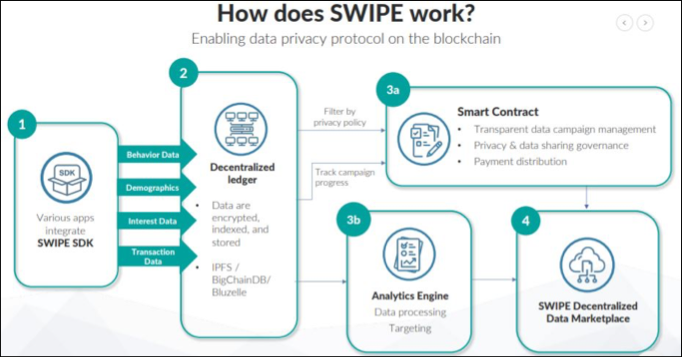 The main idea of developers is to motivate private clients and representatives of large companies to provide reliable data and use them for commercial purposes. Private customers receive remuneration in the form of tokens, which can be used to pay for goods and services, exchange them for other cryptocurrencies. Commercial structures get access to an extensive database of ordered data on potential customers, which is regularly updated and supplemented.
Developers identify three main modules on which the system is built.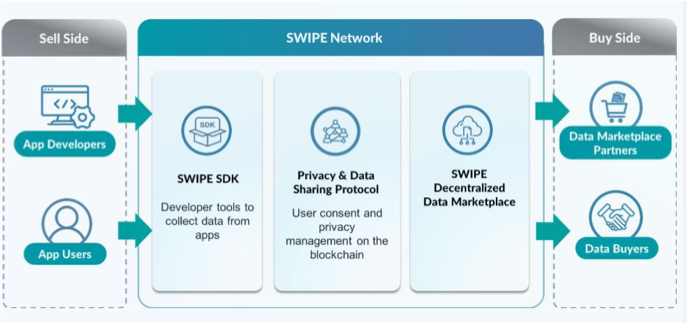 Swipe SDK – a tool for mobile applications developers, which simplifies data collection. Unlike traditional applications, SDK distributes heterogeneous information into categories so that data-buying companies can immediately use them for marketing research. This logic allows you to collect disparate information, not "adjusting" applications to each other, creating a single market of available information.
Privacy & Data Sharing Protocol – the terms of use of data received from users. Personal information of private clients is stored in an encrypted form on decentralized servers, protected from any unauthorized access. Each user chooses what data to share for a reward. You can change privacy settings at any time.
Swipe Decentralized Data Marketplace – an open platform for the sale of reliable data. The tool is used by the end users of information (statistical and advertising departments of companies, government accounting and control services, marketing agencies), as well as data processors, and adjacent blockchain-platforms.
WHY YOU SHOULD CHOOSE SWIPE?
SWIPE will create a database that will be analyzed and constantly updated.According to the developers' idea, companies will be able to share the information they have collected among themselves,and thus to achieve the most productive cooperation.
All data received from companies and users will be controlled by special agreements and smart contracts.This will increase security and confidence in the ecosystem.
Based on all the collected data, a set of unique content for each user will be created. Targeting advertising will become more interesting and more targeted than before.
For all the useful activities, whether it is providing useful information, viewing advertising, etc. the platform will reward its participant with SWIPE tokens.
SWIPE TOKEN ECONOMY
SWIPE Tokens are required to utilize the SWIPE Network. SWIPE Network will also release a wallet application, enabling app users and token holders to earn, manage, stake, send and receive SWIPE Tokens. Features provided by SWIPE Network are delivered through SWIPE SDK, a mobile software development kit that allows app developers to interact with the wallet application, display content on the lock screen/widget, display/track mobile ads, as well as perform data collection on their current app. App developers can easily embed the SDK with minimum changes to their current code base.
Token Distribution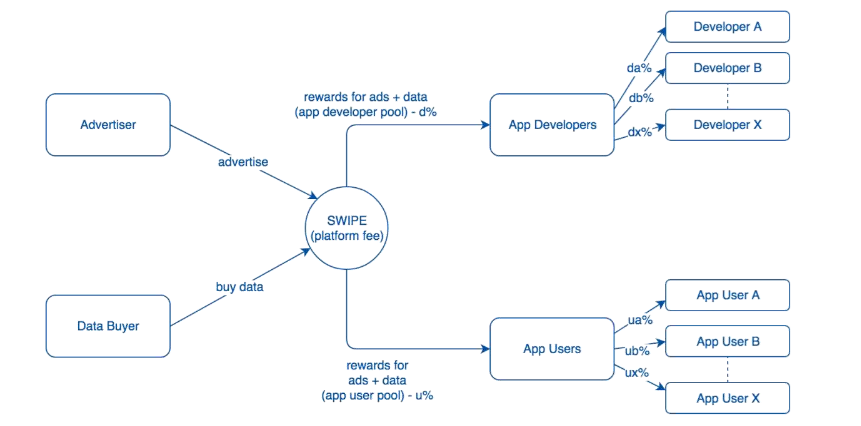 ROADMAP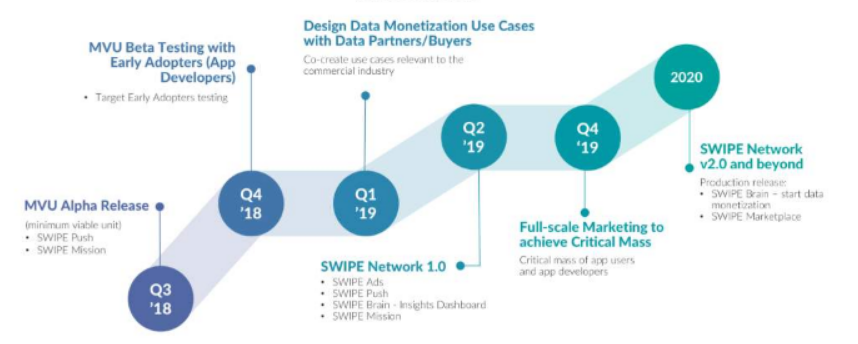 Above you can see the roadmap — how the team sees their nearest and long-term future.
TEAM MEMBERS AND ADVISORY MEMBERS TO THE PROJECT
Team seems to be the strongest part of this project. It consists of innovative and talented people. Of course I cannot complain if we talk about their professional level, guys indeed are experts on their field.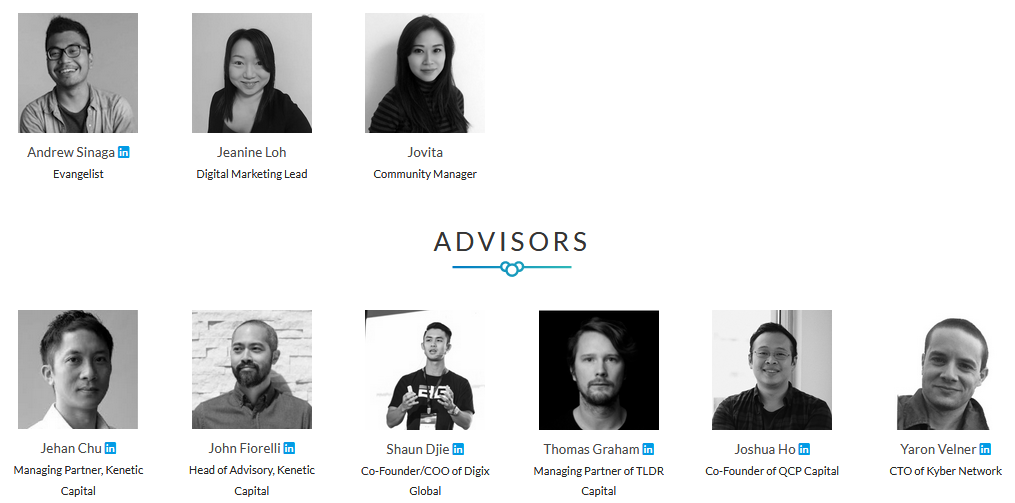 For more information, please visit:
Website: https://swipecrypto.com/
Whitepaper: https://swipecrypto.com/docs/SWIPE_whitepaper_rev1.1.pdf
Twitter: https://www.twitter.com/swipecrypto
Telegram: https://t.me/swipecrypto/
Medium: https://medium.com/swipecrypto
Github: https://www.github.com/swipecrypto
Reddit: https://www.reddit.com/r/swipecrypto/
Author: johnthedon
BitcoinTalk Profile Link: https://bitcointalk.org/index.php?action=profile;u=1860087