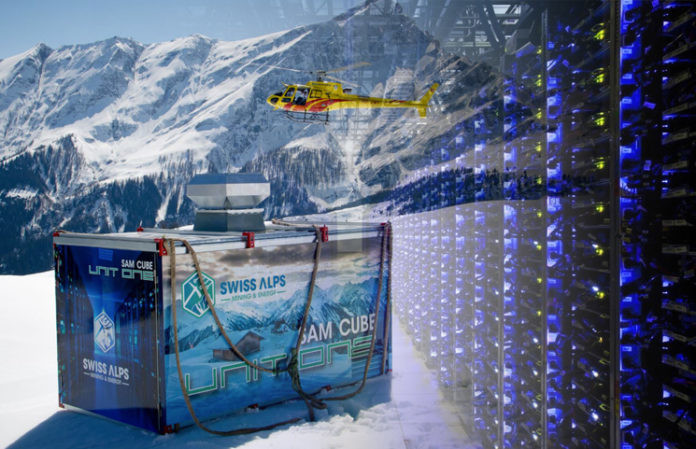 Project Website Whitepaper ANN Threads Telegram Open Chats Blog
Proof of work (POW) is data that is costly and time-consuming to produce but easy for others to verify. The Bitcoin POW mechanism is so costly that it consumes the same amount of electricity it takes to power a country like Switzerland in one year. Bitcoin's current estimated annual electricity consumption is 61.4 TWh, which is also equivalent to 1.5% of the electricity consumed in the United States.
The blockchain community worldwide faces strong headwinds due to the very energy-intensive mining process of crypto currencies and blockchain-based business applications. At the same time, in the Swiss alps, thousands of unused structures are disintegrating due to the fact that today's spatial planning law does not allow for residential use of these buildings.
Swiss Alps Mining & Energy aims to connects these two worlds by offering environmentally friendly mining facilities in unused buildings in the Swiss alps, powered by renewable energy only.
Source
Swiss Alps Energy AG (SAE) – the company Swiss Alps Energy AG (SAE) is Swiss Alps Mining & Energy's operating business. Members of the team come from fields such as blockchain technology, crypto currency mining and hyperledger applications developers and specialists, as well as civil engineers, infrastructure engineers, and energy experts. The team has successfully developed and launched several products, solutions and applications based on the blockchain technology. The company is currently going through the application phase in order to become a member of a Swiss self-regulatory organization (SRO).Swiss Alps Energy AG is a distributed ledger-based energy supplier and an operator of flexible modular mining infrastructures that are intended for longterm stationary use. Thereby, SAE preserves the aforementioned unused buildings in the Swiss alps and uses them sensibly and without interference with either building structure or the environment.
SAE plans to start operating crypto mining farms in the Swiss alps in 2018 – a pioneering project. These farms are situated in buildings no longer used by local farmers. SAE will at the same time operate small hydropower plants to produce the electricity needed for crypto mining.
Swiss Alps Energy AG aims to achieve the goal of being energy supplier, energy sales platform and neutral network node provider through its SAM Power Plant, SAM Cubes, and SAM Centers. Swiss Alps Energy AG provides the foundation for many future-oriented applications: financial asset custody and transfer, product tracking through blockchain and IoT in logistics and transportation, electronic records in healthcare, and identity management to simplify the KYC process for any conceivable industry are just a few examples of how distributed ledger technology can be used.
Components Of Swiss Alps Energy(SAE) AG
SAM Power Plants
By means of direct participation in or the purchase of green power plants such as hydropower plants, photovoltaic systems and wind power plants, SAE does not buy but produce the sustainable and cost-efficient power to operate the SAM Cubes. These power-generating units are the so-called SAM Power Plants. The energy produced is delivered to SAE's own cubes or halls, which end users/miners can also equip with their own miners.
SAM Cubes
The flexible and modular mining cubes provide cutting-edge automation and require little maintenance. In addition to highly efficient ventilation units, there is an Organic Rankine Cycle (ORC) system, which is in its project phase. ORC systems use the waste heat of industrial processes (through a downstream steam power process) to generate electricity and thus use the waste heat generated by the mining process to recover energy. SAM Cubes are located at high altitude, which facilitates the process of energy recovery, as altitude lowers the boiling point of water. No additional air conditioning systems are needed in outside temperature of up to 30 degrees Celsius.
SAM Smart Mining – samaiX©
SAE customers have the option to join SAM Smart Mining, also referred to as samaiX©. SamaiX, SAE's proprietary artificial intelligence, continuously calculates the coins are most profitable to mine, and then makes suggestions for miners so that they can adjust their mining accordingly.
SAM Centers
In each alpine area where Swiss Alps Energy AG will be operating cubes, a branch office will be installed, so-called SAM Centers. This ensures that in addition to the benefits from the protection of cultural assets the local municipalities may profit from tax revenues. It promote the economic viability of the respective community and may have a lasting postive impact on other sectors.
SAM Blockchain
At first, 5 to 10 selected blockchain frameworks will be available on the SAM PaaS. Among them are frameworks that SAE has established for the KYCAML (know your customer – anti-money laundering) solution and electricity distribution on the basis of the blockchain technology. On the PaaS platform, users can establish their own DLT network for production or development within minutes.
Native Utility Token (SAM)
The SAM token is an ERC20 compliance token on Ethereum Blockchain. It is an utility token that will be used for all services provided by SAE and also for the purchase of power and cubes.The SAM token can be used in different ways and guarantees the investor a high ROI through the very profitable mining alone. Since the number of tokens is limited and services and electricity can be paid with Sam in a further step, the token itself is expected to significantly increase in value. The ROI of the token in mining alone is expected to be over 200% over the next two years, and it can be assumed that the prices for crypto currencies in general will continue to develop strongly.
The SAM token can be used to rent mining infrastructure (including or excluding energy) or hardware as well as to buy SAM Cubes. Basically, Sam serves three purposes:
Lease and sale of mining hardware and SAM Cubes
Securing electricity costs and selling energy to renters
Setting up the Swiss alps blockchain as a service blockchain for companies, e.g. in the field of KYC solutions
ICO Details and Token Specifications
Token Name: SAMPreICO Price: 1 SAM = 0.60 USD
Price: 1 SAM = 0.80 USD
Bounty: Available
Platform: Ethereum
Accepting: ETH,BTC
Softcap: 5,000,000 USD
Hardcap: 100,000,000 USD
Country: Switzerland
Whitelist/KYC: KYC & Whitelist
Restricted Areas: USA, China
Token Allocation
A total of 239,682,53813 Sam tokens (100%) will be issued on the Ethereum blockchain using a smart contract. Sam will comply with the ERC20 standard and will be freely transferable on the Ethereum platform.These tokens will be the only Sam ever issued. Of this total:
14,583,333 Sam (6.0844%) will be sold in the forthcoming token pre-sale. SAE aims to raise $5000000 in this initial funding round. Subsequent token sales will be made at significantly higher prices.
65'178'571 Sam (68.9156%) will be reserved for the main token sale and for future token sales and activitie.
23,968,250 Sam (10%) will be reserved for the founding team and partners, of which 16,777,775 (70%of the 23,968,250) will not be tradeable for one year.
19,174,600 Sam (8%) will be reserved for early angel token owners and advisors, of which 11,504,760 (60% of the 19,174,600) will not be tradeable for 3 years.
4,793,650 Sam (2%) will be reserved for bounty campaigns.
11,984,125 Sam (5%) will be reserved for future contributors
Fund Allocation
The founders of SAE are responsible for the efficient and diligent use of all funds, thereby adhering to highest corporate governance principles.60% mining facilities/hydrowpower plants
5% development/blockchain/certification
5% workshop (cube construction)
18% fadministration, salaries/rents
2% legal costs
10% marketing/promotion expenditures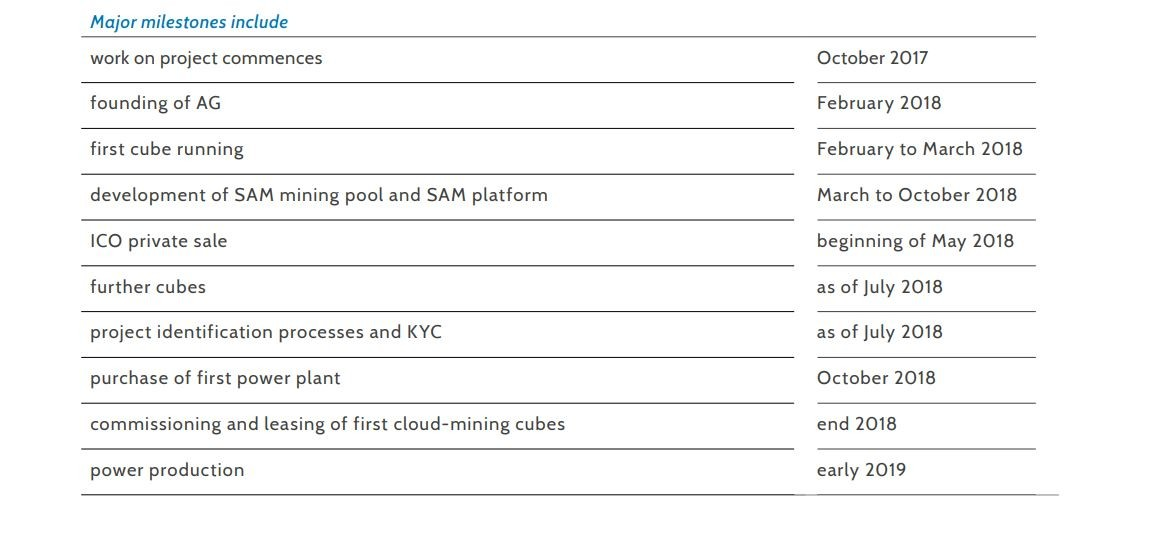 For details about the team and the ICO bonus system, check the project website
Whitepaper :https://swissalpsmining.io/pdf/whitepaper.pdf
Facebook :https://www.facebook.com/swissalpsmining/
Twitter :https://twitter.com/swissalpsmining
Telegram :http://t.me/swissalpsminingICO
Instagram :https://www.instagram.com/swissalpsmining/