Sylo- The tech that helps you stay you
In a world of mindless browsing and intrusive advertising, there are many possible problems with your data.
Sylo puts you back in control of your own digital world. It's a community of like minded people and businesses, who want full control over how they communicate and the information they share online. So when you wonder how to secure your information in the safest way?
Sylo will help you solve that problem. The Sylo protocol is a decentralized communication protocol that facilitates secure connectivity, standardization of users and applications on the Sylo network. The goal of implementing the Sylo protocol is to become an automated communications, storage, and billing automation network used entirely by third-party protocols.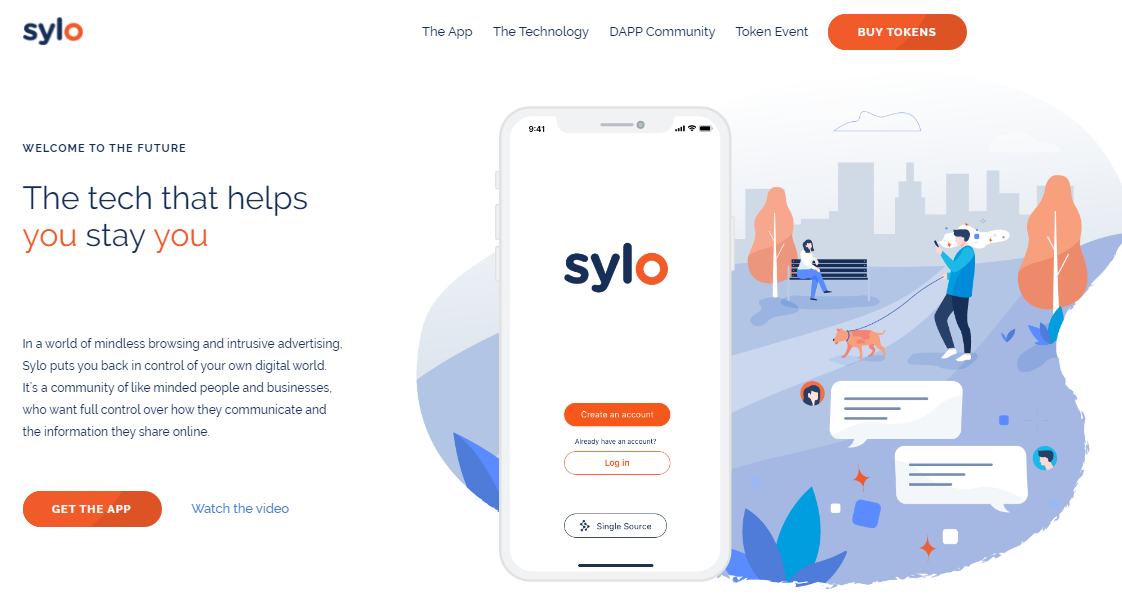 About the Project
The convenience vested with the project is the liberty to communicate only with the brands the users opt for. It also brings all the online applications at one place. The app secures the vital information that you provide to the third parties. The payment option in the app aids to the secure instant payments. All the transactions in the platform are made through the SYLO tokens which are ERC20 based and highly secured. This particularly acts as a dashboard to the information you share on the web and brings your authority back towards managing them securely. This would provide unfiltered security to your conversations with the brands you make digitally. Investing in their decentralised future for privacy is convenient as well.
The App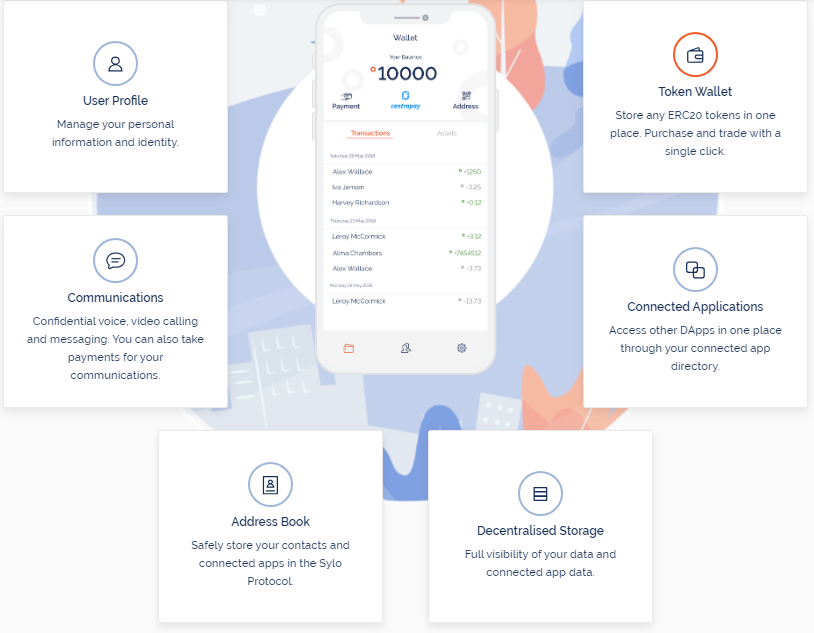 Speak : You own your words. With Sylo, nobody but you and your intended recipient can access a private message.
Spend : Soon you will be able to spend SYLOs at POS terminals in the real world and at checkout when you purchase goods and service online. Sylo and CentraPay have some exciting announcements coming soon.
Integrate : Who you keep in touch with is up to you. You might think having easy access to certain businesses or services will add value, and choose to opt-in to communications with them. Or not. It's all about putting you in the driving seat.
Roadmap
March 2017 : Sylo confidential communication app release: P2P confidential communication; 20,000+ professional users
January 2018 : Blockchain integration decision finalised. Sylo to become blockchain-enabled.
March 2018 : Sylo presale sold out
August 2018 : Sylo releases decentralised application in closed Alpha.
Quater 4 – 2018 : Publicly available crypto-enabled beta release : Fully decentralised Sylo communication functionality; Cryptocurrency wallet. send and receive payments; Sticker marketplace release.
Quater 1 – 2019 : Sylo gold release : MainNet release; Use real SYLOs in the Sylo app; SingleSource identity integration
Quater 2- 2019 : Sylo DApp marketplace release: Decentralised exchange application integrated. Atomic swaps of currency/tokens cross-chain
Quater 3- 2019 : SmartCity MVP release : CentraPay integration finalised. Spend cryptocurrency in the real world; Transport application integrated. decentralised transport; F&B application integrated. 'Walk away to pay' at restaurants; Event ticketing application integrated.; Sylo toolkit completed and open-sourced
Quater 4- 2019 : Public release of the Sylo Replication Node: The Sylo platform is completely decentralised.
Quater 4- 2020 : Replication node incentivisation complete
Token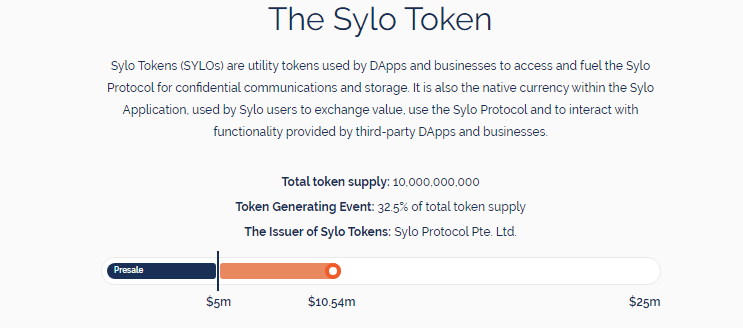 Symbol : SYLO
Start Price: 1 SYLO = 0.0087 USD
Total Supply : 10,000,000,000
The goal of the project is $ 25 million and is currently $ 10 million.
Personal opinion
Sylo – A project with good vision, clear objectives and practical ideas. The roadmap is clear and the app easy to use but incorporates many new features compared to similar projects. With the fact that they have sold $ 10m, they can be sure that the project community is very good and they have an effective marketing strategy.
If you are a smart investor then so do not try to learn more about the project from the information sources below:
Website: https://sylo.io/index.html
Whitepaper: https://sylo.io/downloads/whitepaper_en.pdf
Telegram: https://t.me/sylo_io
Bounty0x: @violett1119
This article was created in exchange for a potential token reward through Bounty0x