Synapsecoin

Synapsecoin global crowdfunding system that seeks to connect investors with business ideas to develop their projects, providing the highest level of privacy and security for both investors and entrepreneurs. Synapsecoin users will have all the necessary tools and capabilities to provide liquidity for thousands of business and social projects through our local, national and international Synapse coin financing system, thereby contributing to social development and technological progress. In addition, Synapse's offer in the digital market offers a high percentage of profitability, security and full transparency through blockchain technology and smart contracts, allowing each investor to see in real time their financial status.
SYP is a cryptocurrency which connects investors with entrepreneurs, for it develops two big projects: A Crowdfunding platform that uses Blockchain technology and Criptowasi its own Exchange, where you can exchange SYP and other Crypto-currencies easily, safely and economically. Two giants that guarantee security and transparency. We live in a free and fair future based on transparency, where good projects will finance and open to the world without limitations. We offer the best opportunities, accelera progress in all sectors of the world, using our own exchange (CriptoWasi) for its commercialization.
Our users will have all necessary tools and opportunities to provide liquidity to thousands of business & social projects through our local, national and international Synapsecoin financing system, thus promoting social development and technological advancement. Likewise, our proposal in the digital market offers a high percentage of profitability, security and total transparency through Blockchain technology and smart contracts, allowing each investor to see in real time their finance status.
The Blockchain technology is an example of technological advances of our age and has allowed connect thousands of people worldwide, giving them the opportunity to achieve financial growth and over the years had been develop new systems as The Crowdfunding based on Blockchain technology which solves the problems of traditional Crowdfounds. Thanksfulness to the Blockchain technology and crowdfunding system, Synapsecoin is able to offer advanced solutions to different problems, such as the lack of liquidity of hundreds of entrepreneurs in the world, who seek answers in projects through crowdfunding by connecting them with investors..
We see that the world has changed and the opportunities do not coincide. And these opportunities come only once in your life, so we present Synapse coin, a new style of investment, a collective system of financing using blockchain technology, one hundred percent innovative, where the investor can find a number of innovative projects (previously filtered by a team of platform specialists ). And the entrepreneur will be able to find a team of specialists, consultants in various fields who will be able to make your project a reality by connecting it with investors.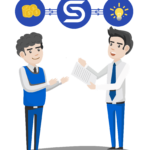 Source: https://www.synapsecoin.net/Content/img/en-US/whitePaper.pdf
Synapsecoin can offer cutting-edge solutions to various problems such as lack of liquidity from entrepreneurs in the world who seek answers in projects through crowdfunding by connecting them with investors. Like any other project, Synapse coin requires significant investment to gain a foothold in the market and the Synapsecoin team has decided to raise funds for the project through an initial coin offering ( Synaps coin). Synapsecoin is based on the ERC20 Protocol, an Ethereum smart contract that is modified according to the requirements of the project. This is a key feature that makes possible the highest level of security, privacy, comfort for investors and users. This smart contract will provide a quick exchange

After the campaign fundraiser is over, the team Synapsecoin will seek to provide investors with connections with the platform during the ICO, to enable them to study and understand the investment ecosystem that will allow the first customers to test the platform and try out all the functions of the ecosystem. SYP will only be a currency exchange accepted as a form of investment. The exchange fee from other cryptocurrencies will pass through the cryptocurrency "SYP", which you can exchange in your own exchange — CriptoWasi. The exponential growing of the markers SYP is a safe and strategic in new markets. Each new market will create additional demand for new users, which will allow the Synapsecoin team to negotiate new alliances with large companies. These strategic alliances are made to attract customers to the Synapsecoin platform. After the ICO, the Synapsecoin team will focus on a rapid expansion strategy in order to reach the global market.
Token name: ETHEREUM, BITCOIN, LITECOIN
Symbol: SYP
Decimal standard ERC20: 18
The role of the token: the Token utility
Use of the sign: currency Exchange within the platform.
The total amount of the offer: 990, 000,000 SYP
Designated cash: 297, 000,000
Sale period: December 1, 2018 UTC 21: 00 to February 28, 2019 UTC 21: 00
Token available for sale: 693, 000,000 (70% tokens distribution)
Contract: 0x7853a395abf4aac78e69ed9f7b93238a44b0f017
Contract reference: https://etherscan.io/token/0x7853a395abf4aac78e69ed9f7b93238a44b0f017
415, 800,000 tokens to be distributed in 4 stages:
Accept payments: ETHEREUM, BITCOIN, LITECOIN.
Wallet compatibility: Myetherwallet, Metamask.
Personally, I recommend everyone to invest in SYNAPSECOIN because THIS ICO offers us a lot of opportunities and benefits that other projects can not give! Together we can support the project and promote it to the leaders! Good luck and wish you pleasant moments and days! SYNAPSECOIN is a leader in blockchain technologies.
For more information you can learn from the technical documentation of the project, as well as ask questions in the main forum thread or in the telegram chat of the project, the bounty company is also active. Join Synapsecoin, good luck all
visit our website or social networks, we will provide more information:
INSTAGRAM: : https://www.instagram.com/synapsecoin.crypto/
REDDIT : https://www.reddit.com/user/sypcoin
LINKEDIN : https://www.linkedin.com/company/synapsecoin
TWITTER : https://twitter.com/Synapsecoins
MEDIUM : https://medium.com/@synapsecoinico
TELEGRAM : https://t.me/joinchat/GsjKX0eGScNWNxF1ZaHQPw
Author (rawon ayam)
Bitcointalk Profil Link: https://bitcointalk.org/index.php?action=profile;u=1397196