SYNCHROBIT
INTRODUCTION
Hi dear readers, I am here again to talk to you about new technology and ideas. While the world of Blockchain is growing rapidly, it also supports the formation of new projects and ideas. You can think of blockchain technology which is more adapted to our daily life as a new version of internet. If you are an investor, you have to follow the news well. I continue to help you with this. If you spend just a few minutes each day reading my articles, you can learn about new projects and news in the world of blockchain. Today, 
I 'm
 going to 
tell you
 about the 
Synchrobit
 project developed by the London based software company 
SYNCHRONIUM LTD
 .
SYNCHRONIUM LTD Company and Ecosystem
Many of the new projects nowadays are built on personal assurances without any basis behind them. But today it is a product of a real software company with Synchrobit offices that we will review. In this respect, the project becomes more advantageous than the existing ones. Synchronium stands out as a software company with headquarters in the UK, America and many countries around the world. 
When you
 examine the 
web sites in
 detail, you can find many projects that they have already realized on technology, industrial software and omni projects. They also designed an ecosystem, and Synchrobit, which I am going to talk about today, is just one part of this ecosystem.
What is the Synchrobit Project?
Designed as the trading platform of the ecosystem, Synchrobit is a hybrid platform where person-to-person (P2P) trading can take place. Synchrobit users will be able to trade fiat money or crypto money using the platform. With SynchroBrain ™ AI support, it aims to help users get the most out of the platform by reducing their risks. SynchroBrain ™ will provide data analysis support for AI users, allowing them to approach their trade from a more advanced perspective. At the same time, users can benefit from smart contracts.
What are the Problems of Market Places? What are SynchrobitSolution Suggestions?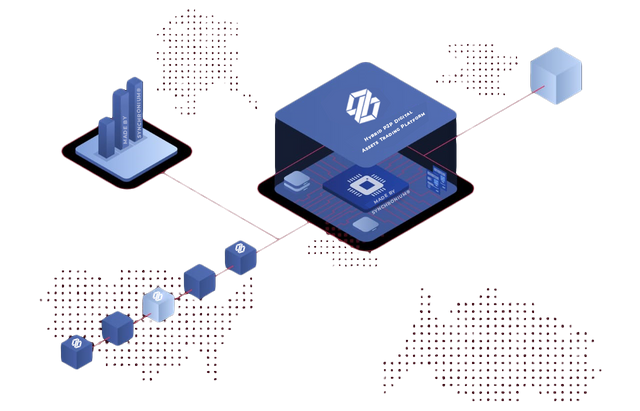 The main problem of Market Places is security. The founders of most trading platforms are in the shade, not known and recognized by anyone, often known only by their nicknames. At the same time, on most platforms, all user investments are in the wallet of the platform, which is a major security issue. We watched the collapse of many platforms in 2019. Cryptopia and similar markets disappeared with all the assets of the users. Synchrobit is completely transparent and reliable thanks to the company support behind it. P2PSince it is a hybrid platform based on the principle, the investments of the users are always safe. Users can access their money at any time. All transactions provided by the Ethereum network can be monitored, allowing you to observe all wallet movements on Synchrobit.
Another problem with the market places is that there is little variety and as a result, users have to choose from very limited options. Once the integration is complete, many values ​​and crypto currencies on the ecosystem will be processed.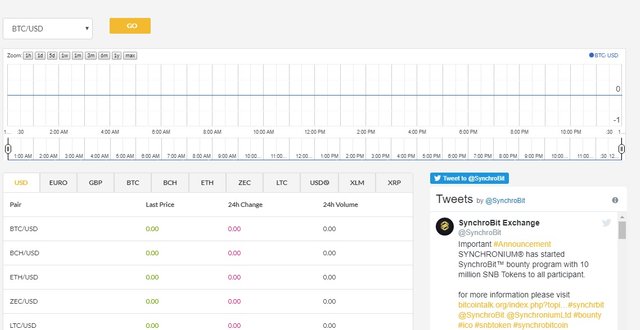 Another problem that we frequently encounter especially in crypto currency trading platforms is the fact that users cannot use transactions such as usdt or tusd. 
You will be able to
 trade with fiat money on 
Synchrobit
 . When depositing or withdrawing, you will be able to trade in fiat currencies if you wish. At the same time, if you want to leverage transactions on the platform (Margin trading) you will be able to improve your trade. The platform has already been designed and you can even browse through the website if you wish.
Investment support is a feature that has been missed by most platforms. Cryptofolio ™ has been developed and presented to users for detailed analysis . We are talking about a system equipped with dynamics that will enable users to make a profit by reading the market correctly. We also designed the Percentage Allocation Portfolio Manager (PAPM ™) program for professional users on the platform .
You have surely experienced problems in many platforms regarding customer service. 
Thanks to Synchrobit's
 professional communication team, you will be able to solve your problems on the platform as soon as possible.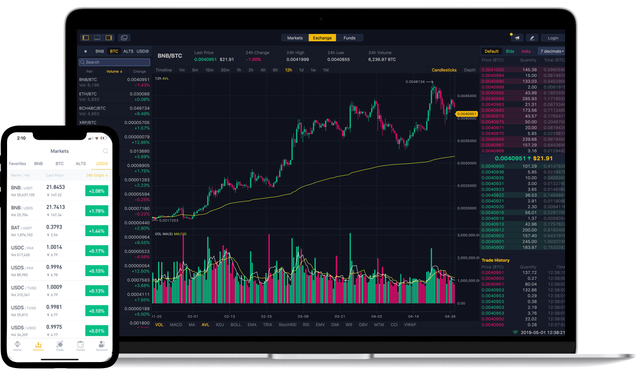 One of the biggest expectations of users from a trading area is in fact simplicity and ease of use. When you examine the Synchrobit trading area, you can see for yourself that a platform is created for people who do not have technical knowledge to benefit easily.
Seconds are very important for traders. A delay of a few seconds can cause huge financial losses. The trade engine developed by Synchrobit, on the other hand, will have the capacity and capability to perform more than one million transactions per second without any problem. In this way, you will be able to manage your investments very quickly and instantly.
What is SNB Token?
It is a currency and investment tool that will be used in all areas of the platform, enabling you to perform transactions on the platform at very low fees. Trade transactions with SNB Token will be offered to users free of charge. Produced as an ERC-20 token based on smart contracts on the Ethereum network.
How Can I Invest?
If
 you plan to generate income by investing on the 
Synchrobit investment page
 , you can invest in the first round at 0.20 USD until 30 September. You should not be late because it will be arranged on a first come, first served basis. The investment process will basically continue through different tours until 28 December 2019. We are already talking about a project supported by many stock exchanges. After the investment process is completed, cooperation will be established with the major stock exchanges of the community and more people will be able to access them. In addition to fiat currencies such as Dollar, Euro, Pound, you can also participate in the investment process with crypto currencies such as BTC-ETH-Zec-BCH-Xrp-USDT-LTC.
Who is the Project Team?
The team consists of experts in their fields and experts in the field of blockchain technology. You can contact team members via LinkedIN or Twitter addresses, or get an idea by reviewing their CV. 
The project team was
 introduced on the team tab with clear credentials.
General Evaluation:
Synchrobit
 is designed to be very transparent unlike many other projects.project has become one of the promising projects of the future with the support of SYNCHRONIUM LTD. First of all, they don't sell dreams. It is very easy and reassuring to reach the company through their open addresses or phone numbers. In addition, the CVs of all team members seem to be enough to implement the project. In the future, a platform that we often talk about is designed. I think the process will appeal to more users with windows application or android and ios applications that will be published soon. You can use the links I will share with you to get more detailed information about the project. If you have any questions or problems, please do not hesitate to contact me and share your ideas. Yours truly..
ACCURATE INFORMATION
Author: Bentadem11
My BTT Profile: https://bitcointalk.org/index.php?action=profile;u=1530135
My ETH : 0xC12c4ce6f433C2b39494aE9460055E76D828e34c