Everyone knows how essential our personal data is. However, most of us aren't aware of the circumstances if we just give away our data to get access to various services on the internet.
Here's the scenario:
You signed up an account to various social networks like Facebook, Twitter, LinkedIn, Google Plus and more.
These social networks gather billions of data (including yours) to sell your data to various companies. That's one of the methods that they make money. They sell your data between a dollar to a hundred.
Companies allow themselves to buy ads and target them at you in an effective approach.
When you signed up for a free Facebook, Twitter or Google account, your data is stored with them. Most of the users don't care if they're giving away their data as long they're enjoying these "free services".
However, they didn't realize that these social networks are generating profit off our data, and not us. I understand how you feel right now because I've felt the same way too. Now that you understand the reality of it, here's a question that's probably gonna make sense to you.
What if there's a way we could #TakeBackOurData and profit from it? Is it possible? 
For me, it's possible as long there's creativity and innovation. With the rise of blockchain technology, there are lots of possibilities that you could create something that can improve our lives. It gives us infinite possibilities to create projects that is completely out-of-the-box.
Even if there are several projects that are kind of impressive to me, there's one that clearly attracts me. It's something that I've never seen before, and it looks unique and achievable for many years to come. If you want to trade or exchange personal data in a safe and secure way, you should continue reading until the end of this post.
Without further ado, it is time for us to explore why #Datum could be one of the best projects in the blockchain world. Are you ready?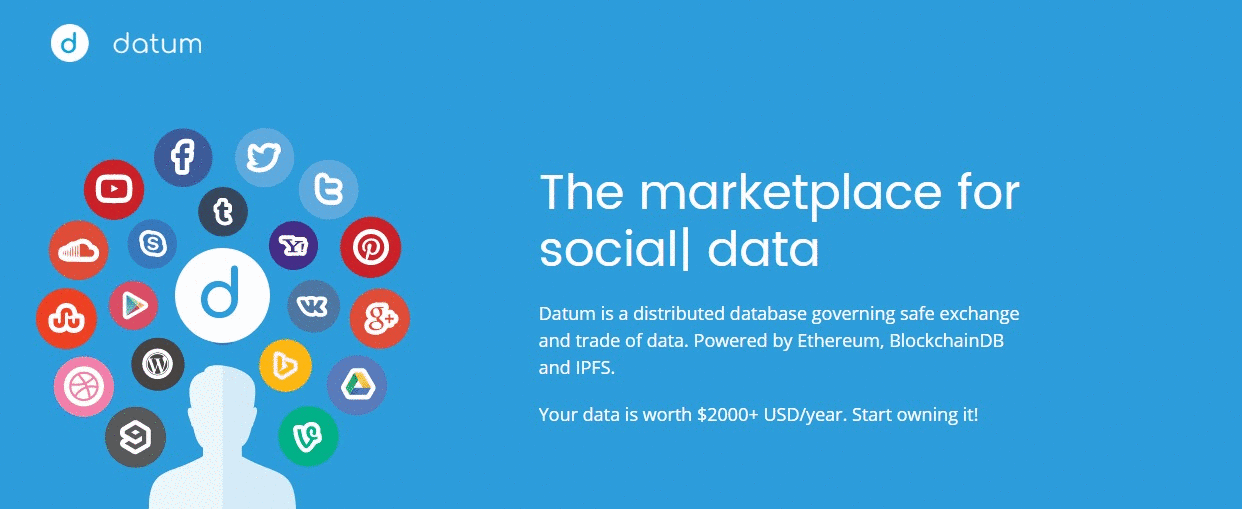 First and foremost, what is Datum? How can it benefit us all?
Although there are some decentralized marketplaces like Datum, it simply focuses on IoT and social data. You'll get profit for just storing your data, which was powered by IPFS, BigchainDB, and #Ethereum. Not only that Datum is decentralized, but it was backed up by a blockchain ledger that distributes noSQL database that has high performance.
It allows you to backup essential data anonymously from smart homes, wearables, social networks and other IoT devices in a safer way through its state-of-the-art technology. Under the terms of each user, they can sell or share data to others.
In this way, you can privately secure your data that isn't controlled or owned by any huge entity. The structured data that you want to store is encrypted, which you're the only one who has the key to access anything about it.
This is their official website: https://datum.org/
Who started the Datum project?
The CEO and co-founder of the Datum project is no other than Roger Haenni. Before Datum was introduced to the world, Roger was a co-founder of SwissInvest, StockX, Kosi and PCP.ch, and was a serial entrepreneur and tech wizard until now. Just like the other CEOs and co-founders who were built under the #blockchain technology, Roger is a man with a vision. He's a guy who likes to innovate and creates something that was beyond his imagination. It leads him to make Datum project a reality. Roger believes that we all deserve not to be taken advantage by various large entities on using and storing our data for them to profit.
Roger's co-founders are Gebhard Scherrer (operations) and VC Tran (marketing). He assembled a strong team of experts and advisors with over a hundred years of experience in management systems and building huge scale data processing. For me, I think their entire team is absolutely amazing.
I am highly impressed with the concept and vision of their project. Do you want to know why I am so excited about Datum's project? Here's how it works:
In the decentralized platform, users like me should pay a small gas fee to process the data that we submitted.
To make our data safe, the storage node will replicate it to the other nodes after receiving our data.
After the data is safe, the consumer has the willingness to buy our data.
When it happens, users like me shall receive a purchase offer from the buyer. After that, the buyer's details will be revealed. As a user, we can choose to accept or reject the buyer's offer.
If users like me accept the offer, we will receive DAT tokens and the buyer gets what he or she wants by getting the decryption key.
When using the Datum app, it cuts off the middleman when we try to sell our data to the consumers. The DAT token allows users to earn a percentage for every transaction in selling the data as long the storage nodes are running well. DAT tokens are considered to be deflationary assets because they get destroyed once you sent them to purchase data.

Final words
For me, Datum is changing the way we control our data and profiting from it. When Datum officially launches in the market, I'm so excited and can't wait to use their app. Yes, we're all grateful for what Facebook, Twitter, Google and other free services have in store for us. We all have fun in using their services until today. However, the more we use as long our data is with them, the more money they will make from us.
With Datum, we will finally #TakeBackOurData and profit from it. With this app, it would easily attract millions of users worldwide by signing up a free account and earn tokens at the same time for completing simple tasks. The entire Datum team is doing a great job in putting up this amazing and innovative project.
I would like to thank them for creating this project because it gives us endless possibilities to make a difference of our respective data. I can't wait for the Datum app to be officially launched soon as scheduled in their roadmap. Since data is the "new oil" in today's era, it is the perfect time for all of us to take advantage of it with Datum.
Thank you so much for taking your time in reading my post about Datum. I hope that it'll enlighten you to finally check out this wonderful project. Cheers!
"This article was created in exchange for a potential token  reward through Bounty0x"
Webiste: https://datum.org/eng?locale=en
WhitePaper: https://datum.org/assets/Datum-WhitePaper.pdf
BoutyOx Profile –  ertyhopt